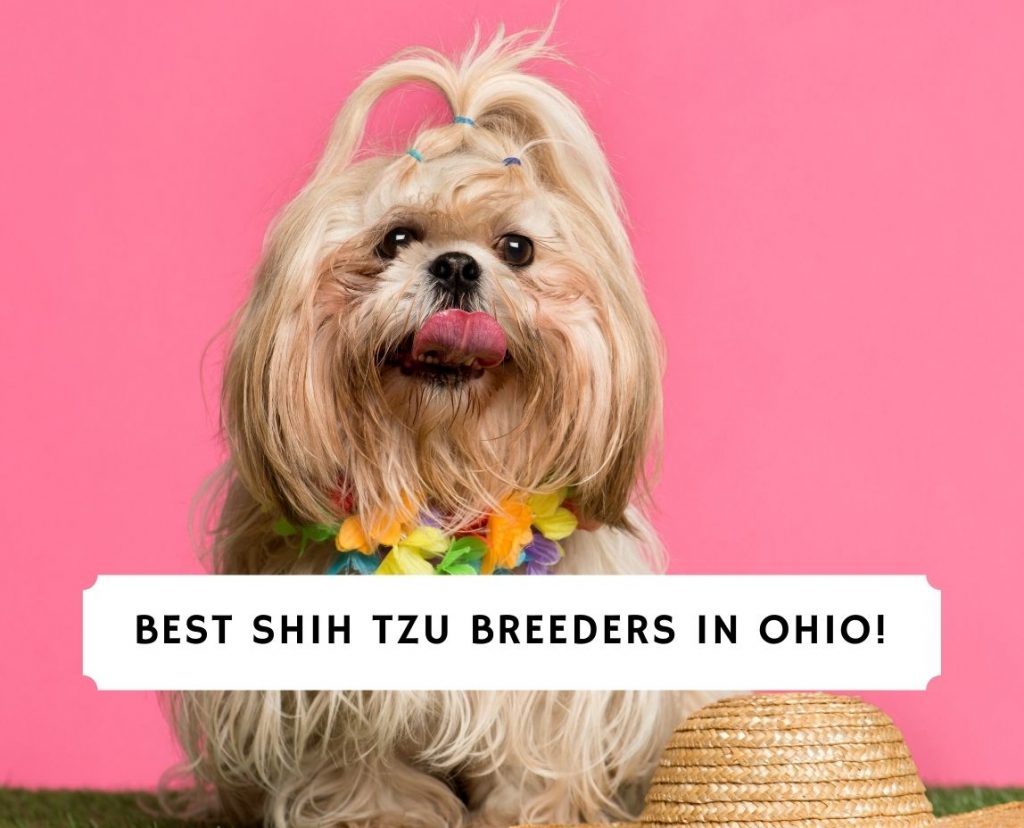 Since you're in search of the best Shih Tzu breeders in Ohio, here's a little fun fact about this dog breed we think you should know. Though most people think of the Shih Tzu hailing from the royal imperial palaces in China, the Shih Tzu breed descended from Tibet. They are believed to be the result of breeding a Lhaso Apso and the Pekingese dogs way back before 1000 BC though they still were not even known by those who resided outside the Chinese palace walls until the 1930s.
Throughout the years, Shih Tzu puppies for sale in Ohio have become very popular! However, it's important to purchase from a reputable breeder if you want your puppy to be healthy and happy.
Other articles you would like :Poodle Breeders in Ohio and Cavapoo Breeders in Ohio.
Shih Tzu Puppies For Sale in Ohio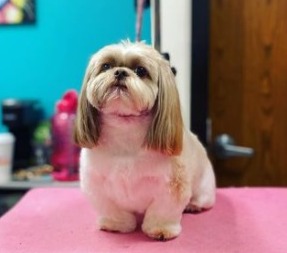 If you're planning to purchase from unknown Shih Tzu breeders in Ohio, we recommend that you do your research before putting down a deposit. There are many Shih Tzu puppy mills that should be avoided due to their unethical practices. Additionally, when possible, we highly suggest that you visit the breeder in person to check out their facilities and breeding practices. With that in mind, here's your list of the best Shih Tzu breeders in Ohio!
1. Penny-Stichter Manor Shih Tzus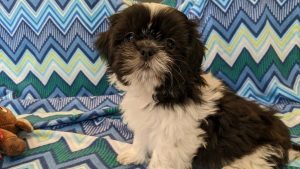 The first on the list of Shih Tzu breeders in Ohio is Penny-Stichter Manor Shih Tzus. Nancy began Penny-Stichter Manor Shih Tzus with belated sister Anna, who has been breeding classically flawless Shih Tzu companions that she cuddles with and loves endlessly from the moment the litters are born all the way until the puppies find their new forever homes. Shih Tzu puppies from Penny-Stichter Manor have been so revered by former families that repeat customers frequently come back for another Shih Tzu family member.
Read the raving 5 stars that this breeder has received from those who have been lucky enough to receive a Shih Tzu puppy. There is no doubt that these Shih Tzu puppies in Ohio are well cared for and raised with beautiful temperaments as a breeding focus. Taking a look at all those adorable faces also have their way of telling that story!
With each Shih Tzu puppy's sale comes a 1-year health guarantee, records, vaccinations, and dewormings. There is no charge to get onto Penny-Stichter Manor's waitlist for their prized Shih Tzus though there will be a deposit required once the puppy is chosen. If you're looking for a specific Shih Tzu color, you might have to wait on the waitlist.
Penny-Stichter Manor Shih Tzus Details
2. Glamorous Shih Tzu Ohio
Are you looking for an AKC quality imperial Shih Tzu (also known as an imperial)? Or Maybe an AKC quality small standard Shih Tzu? Glamorous Shih Tzu is a hobby breeder and the owner, Tyra, offers outstanding Shih Tzu puppies in small sizes. Most puppies will be ready to go to their new homes by 8 weeks though some teacups may need more time depending on what the breeder deems best. When you bring your Shih Tzu puppy home, they will have had their first round of vaccinations, dewormings, and possess social skills.
Make sure to get in contact with the Shih Tzu breeder if you are looking for a puppy because you'll need to make a deposit. If you aren't really in the market for a puppy, know that there is also the option of purchasing an adult Shih Tzu if you make inquiries. There are also options for ground shipping and deliveries, per a pet nanny, for an extra fee if you are in love with Glamorous' puppies but live further away. 
Glamorous Shih Tzu Details
Location: Mechanicstown, Ohio
Telephone: 330-205-2373
Email: hillyer10@frontier.com
3. Jackson Ohio Chapter of Shih Tzu Puppies
With 11 years of experience in breeding exquisite Shih Tzu puppies in Ohio, Sandy produces puppies that are well-adjusted, healthy, loving dogs who have been commendably socialized by the time they arrive home to their new families. By the countless glowing, positive reviews from former satisfied families, it is quite evident that Sandy puts her heart and soul into every puppy that is born to her in-home hobby breeding program. You can spend hours observing an abundance of videos and pictures made available on her Facebook page.
Look at former and currently available Shih Tzu puppies for sale in Ohio to get a feel for the type of puppy she offers to interested buyers. Sandy is easy to communicate with, and once a puppy is picked out, she keeps families up-to-date on the progress of their puppy up to the day they come to pick them up and take them home. She also provides a puppy care package that will go home with all new family members too. Come to her with your questions and secure your place on her waiting list, so with the arrival of her next litter, you will be able to bring home your new Shih Tzu.
Jackson Ohio Chapter of "Breeder of Shih Tzu Puppies" Details
4. Richmond Kennel Ohio
The last on the list of Shih Tzu breeders in Ohio is Richmond Kennel. Breeding for the finest of long flowing coats, happy dispositions, cute flat faces, and quality breed standards are the characteristics you will discover in all puppies here at Richmond Kennel. Whether you are interested in a standard Shih Tzu (9-16lbs), small standard Shih Tzu (9-12lbs), or even an imperial Shih Tzu (under 8lbs), they got you covered. When reviews of this breeder mention many families were coming back two or even three times for another puppy, the quality speaks for itself.
Located just outside of Columbus, Ohio, their Shih Tzu puppies can wander, play, and be free in their home in London. The breeder, Kim, devotes her time to imparting individual attention and love to her litters, so each one goes to new homes ready to be added as a friendly and cheerful part of the family. Non-refundable deposits will be between $200-$500. The full price will be determined by size, color, pedigree, and if you would like complete or limited AKC registration. Richmond Kennel prides itself on sparing no expense on the care of every puppy in its litters, so if you are looking for a "cheap" Shih Tzu, then this is not the place for you.
You will receive a 1-year health guarantee, and all Shih Tzu puppies for sale in Ohio will be up-to-date on necessary vaccinations and deworming. Make sure to read through Richmond Kennel's contract so you know what needs to happen when purchasing one of their pups. Shipping and microchipping services are also available.
Richmond Kennel Details
5. That Puppy in the Window
That Puppy in the Window is perhaps one of the most popular Shih Tzu breeders in Ohio. She is highly recommended and considered to be a reliable source for a beautiful, quality Shih Tzu puppy. They update their website based on upcoming litters but you can also contact them to find out when they have anticipated litters or to know if they have available puppies.
You will find that there is another breeder in Ohio with a similar name. The two breeders are not affiliated so it is important to differentiate between the two in that manner. The website has lots of pictures of their dogs and their puppies but they also share some testimonials of past puppies adopted out as well.
You can see articles and updates as far back as 2009, which tells you that Kathy has been in this for a long time. Kathy shares a beautiful story behind raising Shih Tzu's, inspired by her parents and their pup. She uses Life Abundance Premium Health Food so the dogs are getting quality nutrition from the beginning.
You can also find information for training, grooming and feeding so you can completely plan for your pup.
Shih Tzu Breeder Information
6. Hidden View Farms
Hidden View Farms is a family-owned and operated business out of Lancaster, Ohio that has been around for more than 20 years now. This is a professional dog breeding group that breeds a number of different dogs. They have a large variety of breeds since it is a professional group. The unique thing about this group is that dogs are well cared for and raised. The puppies and adult dogs all get raised and cared for according to their lifestyle needs.
They do breed shih Tzu's, among other types of dogs and they are very welcoming and open for questions and sharing details. This group is highly rated and people turn to them often for purebred dogs.
This is not your average in-home operation but rather a large-scale breeding service. It is NOT a puppy mill either so keep that in mind. They do require a deposit in order to hold a dog but they will answer any questions you might have.
Their customer service is excellent. The group is comprised of licensed breeders who are all ODA and USDA licensed. They have routine inspections to ensure the highest standard of care for all dogs. They also have really fair pricing when you compare to other breeders out there.
Every pup comes with a health guarantee and has been given the necessary basic health care such as vaccination and heartworm treatments prior to adoption.
Shih Tzu Breeder Information
7. Miracle Shih Tzu
Last but certainly not least, we bring you Miracle Shih Tzu. This site is about far more than just finding a Shih Tzu breeder. Janice has been raising shih Tzu's since 1970, when she got her first pet. She has put together almost a complete guide for any Shih Tzu lover. Her site is a great resource for finding a pup but also for learning about the breed and perhaps even learning about breeding your own.
Janice has gone through intense training and education to try to be the best breeder she can possibly be. She has a large number of certificates to show her education. While she has been an owner since 1970 and has tried breeding a couple of times since then, she started Miracle Shih Tzu about 8 years ago. She has bred other breeds as well but now only breeds the Shih Tzu.
She has several family members that help out as they are able but for the most part, Janice breeds and raises the pups on her own. They are all born and raised in the home. She works hard to make sure they have basic care as well as socialization and their health needs.
All pups are bred to AKC breeding standards. She primarily breeds for pets but does occasionally work with other breeders only when she knows their integrity and their practices.
Shih Tzu Breeder Information
Location: NE Ohio, between Cleveland and Akron
Phone: 234-380-5363
Email: Use contact form on website
Website: https://miracleshihtzu.com/
More Information About Shih Tzu Puppies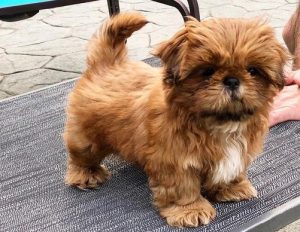 The Shih Tzu is a toy breed that retains the #20 spot on the AKC popularity list and is outgoing, perky, and vibrant. Shih Tzu means "lion dog," and they are also known as "chrysanthemum-faced dogs" because their facial hair grows in any which way around their all-black pigmented noses. Their coats are long and luxurious, coming in many different colors ranging from white, silver, and gold to red and liver with an array of markings. Their elegant coats do require great care in daily grooming, so it continues to flow and keep the Shih Tzu puppies look glamorous most of the time as they partake in their favorite activity – sitting on their human's laps.
They tend to be especially drawn to children. Shih Tzus are sturdier than other toy breeds and do have much energy even though they do love laps and can be so very happy living in small spaces such as apartments. Their small packages weigh around 9-16 pounds and get up to about 9-10.5 inches high. You'll enjoy a Shih Tzu's companionship for about 10-18 years. The price of a Shih Tzu puppy from reputable breeders in Ohio is anywhere from $300 to $1,550+. It's all is dependent on color, sex, quality, and papers or no papers.
Conclusion For Shih Tzu Breeders in Ohio
You pay for what you get. That is a very common saying in everyday life for many items we purchase. This phrase can be applied perfectly when describing animals bought from someone offering "cheap" puppies. Sadly, use this phrase as a red flag to steer clear of the dogs being offered by these unethical breeders, as it can spell disaster for your puppy. Yes, a higher price is paid for dogs from reputable breeders because they have put in the time, effort, care, and expenses needed to properly breed for the purebred standards and care for the litters that are then born to them.
Shih Tzu puppies are a sturdier toy breed, which means you have to pay attention to them, just like any other dog. Find a breeder who makes you comfortable, is friendly, and open with any of their breeding practices. You are paying the money for quality, so do not be shy about asking questions and getting answers.
If traveling to these Shih Tzu breeders in Ohio is a distance, you can check out our recommendations from other states:
For more information about the Shih Tzu dog breed, watch "All About The Shih Tzu – Traits and History" from AnimalWised down below: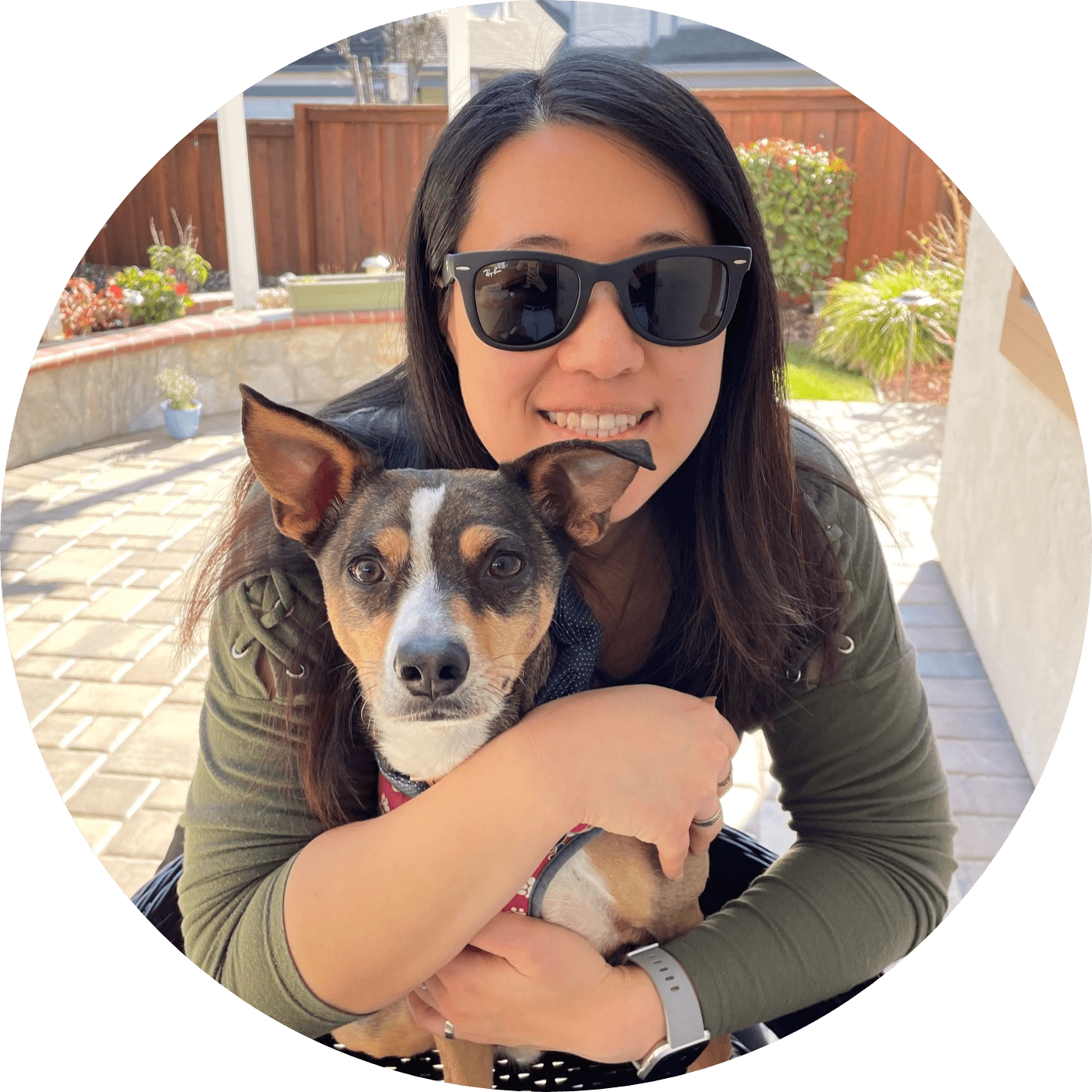 Dr. Sabrina Kong graduated from the Royal Veterinary College in England in 2016 and has been working at a small animal clinic in Northern California since then. She grew up in the Bay Area and got her bachelor's degree from Cal Poly San Luis Obispo. She also became a Certified Canine Rehabilitation Practitioner through a program at the University of Tennessee.
When she isn't in the clinic taking care of her four-legged patients, she enjoys traveling and trying new foods with her friends and her three-legged dog, Apollo. She adopted Apollo from her clinic when he was a puppy with numerous health issues. Dr. Kong truly cares about taking care of animals.