Known for their elegant coats and friendly personalities, the Shih Tzu can make a great family dog for all ages. They may be small but they're also very outgoing and peppy in their personality. The American Kennel Club places them in the Toy Group and is ranked as the 20th most popular breed among purebreds. It's no surprise that you'll find many Shih Tzu breeders in North Carolina. So how do you choose?
Other articles you would like: Yorkie Breeders in North Carolina and Poodle Breeders in North Carolina.
Shih Tzu Puppies for Sale in North Carolina
If you're ready to welcome a Shih Tzu puppy into your home, one of the most important next steps is to find a breeder that has your future puppy's best interest in mind in terms of health, socialization, and happiness.
Working with a breeder to get your Shih Tzu puppy can have several added benefits like knowing their medical histories, getting started on basic training, and a lifetime supply of support and resources.
As you search for the right Shih Tzu breeder in North Carolina, be sure to ask questions about their breeding practices and read reviews from past puppy parents. Finding a breeder you can trust can provide the confidence you need in welcoming a new puppy into your home.
To help you get started in the process, here we share some of the top breeders for Shih Tzu puppies in the North Carolina region. Below you'll find a quick overview of the breeder as well as some initial contact information if you're interested in learning more about purchasing a puppy.
1. Daisy Patch Shih Tzu North Carolina
As a small home breeder, the team at Daisy Patch prioritizes the health and well-being of their puppies. They are raised in a home in Asheville, North Carolina, alongside other dogs as well as children. Their Shih Tzu puppies are bred with a particular emphasis on both health and temperament.
You can browse upcoming and current Shih Tzu litters to see if there's a puppy ready to go. Otherwise, you can follow a reservation process. Puppies are placed in order of a waiting list. The availability may also depend on what gender and color puppy you're looking for.
When their Shih Tzu puppies are ready to be brought to their forever homes, they come fully equipped with a puppy care kit. This tote includes a book about Shih Tzus, a blanket with a familiar scent, toys they love, a sample of puppy food, and a health record indicating their history and status.
You'll also receive helpful grooming resources like dog shampoo, a leash, and harness as well as other grooming supplies for their complex coats. Their Shih Tzu puppies in North Carolina can be picked up when they are at least 10 weeks old. If you're interested in purchasing a puppy, you can begin the process by submitting an application.
This questionnaire allows you to share what kind of puppy you're interested in as well as what kind of pet owner you are. In addition to an application, you can also submit a deposit to reserve a puppy until it is ready to join you.
Shih Tzu Breeder Details
2. Carolina Shih Tzu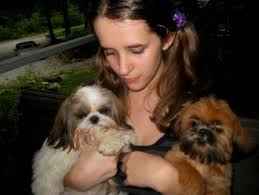 Puppies at Carolina Shih Tzu are raised within their home in Spruce Pine, North Carolina, and showered with love and care. They are passionate about providing puppies that are both pampered and healthy. They also have puppies that have rare and rich colors you may not find elsewhere.
Their Shih Tzu puppies engage in thorough socialization prior to joining their new homes. They come with a written health guarantee to ensure they're all set to go. Online you can see their current and upcoming litters and can be notified when puppies are ready to be selected or picked up.
If you're interested in a Shih Tzu puppy or upcoming litter, you can submit a deposit to secure your spot. Browse their large selection of photos of past puppies that will make you fall in love with Shih Tzus even more. If you're looking for an adult dog rather than a puppy, you may be able to find one at this breeder as well.
Shih Tzu Breeder Details
3. Frilly Fido Shih Tzu NC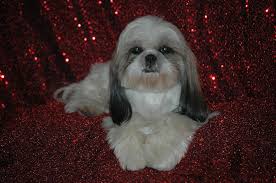 Discover a community of Shih Tzu lovers with the team at Frilly Fido. Here they have Shih Tzu puppies available for purchase. On their Facebook page, you can browse albums of photos of past puppies and parent dogs so you know what you can expect in your own Shih Tzu puppy.
You can learn more about their purchasing process and the availability of current and upcoming litters by connecting with them via phone, email, or by booking an appointment on their Facebook page. This Shih Tzu breeder is located in Red Springs, North Carolina.
Shih Tzu Breeder Details
4. Shih Tzu by Martha North Carolina
With a dedication to quality, this Shih Tzu breeder has received the "Breeder of Merit Award" from the American Kennel Club. They prioritize the health, temperament, and appearance of the Shih Tzus and love sharing them with others.
All their Shih Tzu puppies for sale in North Carolina are raised within a home environment and are up to date on their vaccines and deworming when they join your family. If you're interested in purchasing a puppy, you can start the process by connecting with them via phone or email.
You'll learn about their availability on their website and you can move to secure an application and deposit. This deposit holds your reservation for an upcoming Shih Tzu litter. Then, when a puppy is ready, you'll be able to pick up your puppy when they are 11 or 12 weeks old. When you pick up your puppy, you're responsible for the remainder of the cost.
Shih Tzu Breeder Details
5. RoxCpups Shih Tzu Nc
The team at RoxCpups has developed a specialization for this particular dog breed. Since 1998, they have been breeding puppies and sharing the joy and love of them with others. For what it's worth, this is one of the oldest Shih Tzu breeders in North Carolina we could find.
The parent dogs are all AKC registered and come from a lineage of quality and health. All their Shih Tzu puppies are well socialized in a home environment with other dogs and people. When puppies are ready to go home, they are all up to date on their vaccinations and deworming. They also come with a full written health guarantee.
Online you can see any current and upcoming Shih Tzu litters and puppies. If none are available, you can be placed on a waiting list for an upcoming group or wait for a new littler to be scheduled. To determine their availability, connect with them via phone or email to determine your next steps. They are located in Sanford, North Carolina.
Shih Tzu Breeder Details
More Information About Shih Tzu Puppies in North Carolina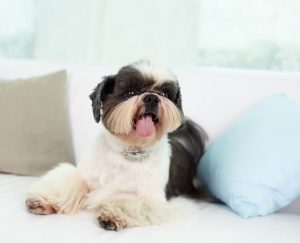 Their appearance is perhaps one of the most recognizable features of the Shih Tzu. They have large dark eyes that are nestled in a furry face with long hair. Their coats can come in a variety of colors, shades, and markings.
This breed has even taken on the nickname "Lion Dog" due to its furry face and bold mane. One thing to keep in mind with their coat is their heightened need for grooming. These wild manes should be brushed every day and bathed every three to four weeks.
For those who don't care to manage the long hair on a Shih Tzu, they can also be clipped short by a professional groomer. No matter how you style a Shih Tzu's hair, they are adorable and friendly family pets.
Shih Tzus can pack a lot of cuteness into a small size. They tend to grow to be only between 9-10.5 inches tall and just 9-16 pounds in their weight. Their size makes them easy to carry and fun to snuggle. Their small size also allows them a larger life span with an average expectancy between 10 and 18 years.
As small dogs, Shih Tzus also don't require large backyards to satisfy their exercise needs. While they need regular exercise, they can also expend their energy by playing indoors, like fetch or other games.
Their short legs also help them to get in their exercise with not too much extra effort. They are also fairly easy to train and thrive on positive reinforcement. Patience may be required, but a well-behaved a happy puppy will be worth the effort.
Especially for families with small children, the Shih Tzu can be an ideal family pet. They are very friendly and cuddly to hold. They love to snuggle and spend time with their family. Their easy-going personality and small bodies can be great matches for both small apartment dwellings and larger homes. With their sweet temperaments and small size, the Shih Tzu can be a great fit for many people.
Conclusion for Shih Tzu Breeders in North Carolina
From their deep, dark eyes to soft, elegant coats and their sweet temperaments, the Shih Tzu can make a great family member for a variety of lifestyles. If you're ready to move forward in bringing one into your home in North Carolina, start by finding a reputable and trustworthy breeder.
Ensure they have quality and ethical breeding standards and are willing to provide support and resources as needed. With a breeder you can trust, you can move forward with confidence as you bring a Shih Tzu into your family.
Check out these other articles: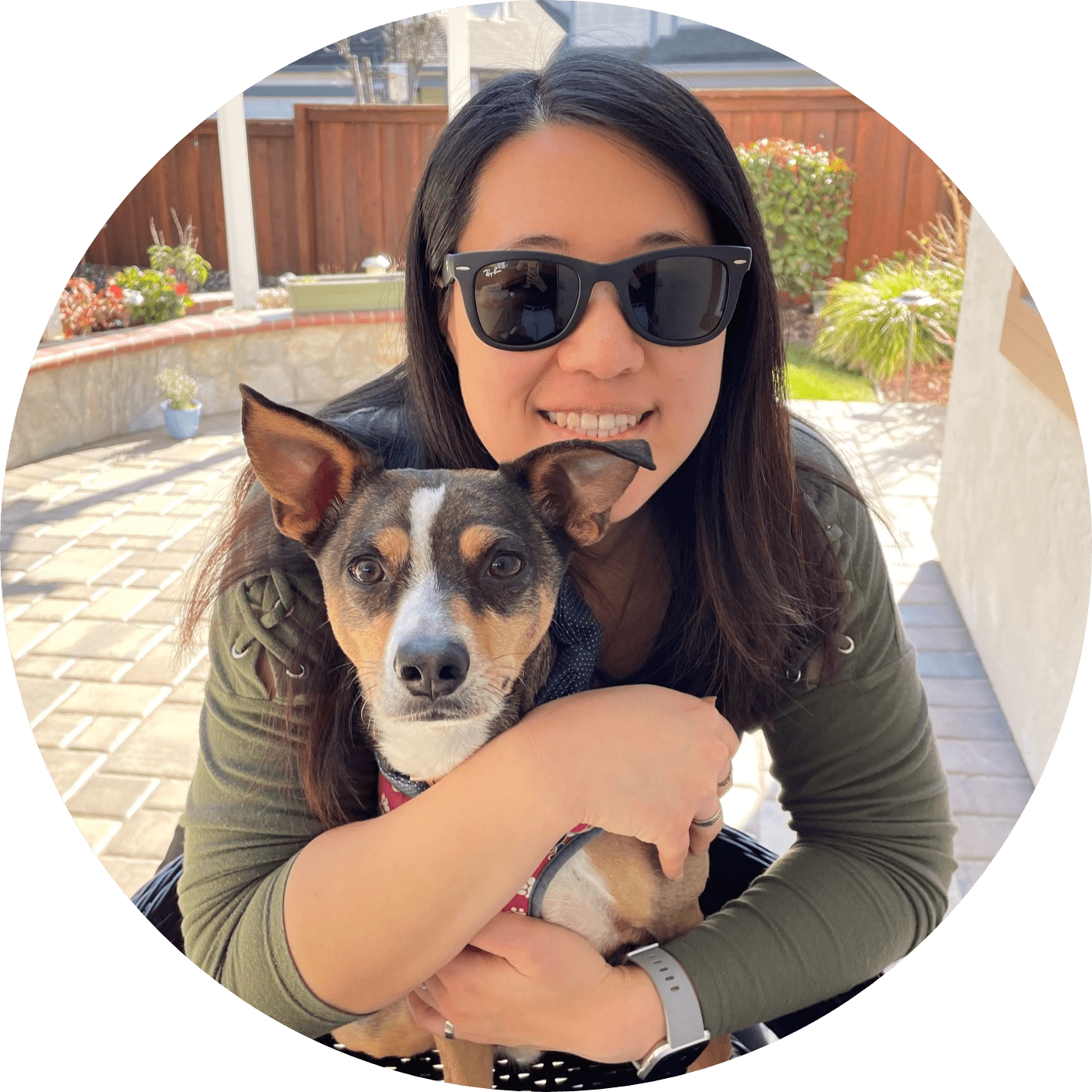 Dr. Sabrina Kong graduated from the Royal Veterinary College in England in 2016 and has been working at a small animal clinic in Northern California since then. She grew up in the Bay Area and got her bachelor's degree from Cal Poly San Luis Obispo. She also became a Certified Canine Rehabilitation Practitioner through a program at the University of Tennessee.
When she isn't in the clinic taking care of her four-legged patients, she enjoys traveling and trying new foods with her friends and her three-legged dog, Apollo. She adopted Apollo from her clinic when he was a puppy with numerous health issues. Dr. Kong truly cares about taking care of animals.