If you're looking for a dog that is fiercely loyal, devoted to all members of your family, and intelligent, then you're probably in search of the best Australian Shepherd breeders in North Carolina. Fondly known as Aussies, this breed of dogs is as faithful as they come. They can be quite territorial around strangers also making them the ideal guard dog. Initially, they were bred for their high intelligence and energy, which helped farmers manage livestock. However, their tricolor coats have made Australian Shepherd puppies in North Carolina extremely popular.
If you don't plan on using all their strengths on a farm, then you'll have to prepare to spend plenty of time in the sun tossing a Frisbee or playing in the water. Of course, only the best breeders can produce puppies that display the best traits we have all come to love about the typical Aussie. So to help you find your next companion, we've thoroughly combed through the internet and examined reviews to locate the Australian Shepherd breeders in North Carolina.
If you're from North Carolina and you're open to raising any kinds of dog breeds, you might be interested in: Poodle Breeders in North Carolina and Goldendoodle Breeders in North Carolina.
1. Cooper Australian Shepherds
This wonderful kennel belongs to the Coopers, Gene, and Linda, who fell in love with their first Aussie way back in 2005. Since then, they've raised plenty of fun-loving Australian Shepherd puppies that would be a fantastic addition to your home. A quick visit to their YouTube channel will acquaint you with the lovely dogs they're raising, and you can make a deposit on their upcoming litters. You're sure to have peace of mind because all their puppies come with a certified pedigree from the American Kennel Club (AKC).
You can tell they're passionate about raising hale and hearty Australian Shepherd puppies in North Carolina, with the lots of stamina perfect for working or turning you into an exercise enthusiast. If you're interested in pricing, you'll have to reach out to them directly. This Australian Shepherd breeder also does have several reviews rating them highly for the value of their puppy. They are in Gold Hill, North Carolina.
Cooper Australian Shepherds Details
2. Litton's Aussies North Carolina
While this is a smaller Australian Shepherd breeder in North Carolina, they have a lot of experience in working with Aussies. They're particular about producing puppies full of life and eager to jump on a new task. Their dogs are quite intelligent, and after some training, they would make wonderful aid dogs for people with various disabilities. Litton's Aussies conduct its breeder operations a bit differently. All potential patrons have to reach out, discuss what type of puppy they would like, and join a waiting list.
Seven weeks after the puppies are born, the breeder lets interested owners know if there's an Australian Shepherd puppy perfect for them and then they can proceed with the purchase.  Their average mini-sized Australian Shepherd puppy for sale in North Carolina goes for about $2000 or more. If you want a toy-sized puppy for sale, you'll be paying in the neighborhood of $2,500 – $4,000. There are no extra fees for shipping because such services are unavailable. You'll have to pick up your puppy from the breeder's residence.
Litton's Aussies Details
Address: South Boston, Virginia
Website: Litton's Aussies
Telephone: +1 434-471-1856
3. BriarRidge Australian Shepherds NC
If you're looking for an Australian Shepherd who is in excellent health and has the best temperament and conformation, BriarRidge can help. Right from birth, each of their Aussie puppies in North Carolina receives lots of love and attention. They are socialized pretty early and have plenty of affection to give. In addition, all dogs undergo genetic testing to ensure they are free from a congenital disease, have the sharpest minds, and the most beautiful coats. A lot of their puppies go on to be show dogs which speaks to their excellent genes.
If you plan on including your pet in your Christmas postcard, consider booking an appointment with BriarRidge. Prices for these exceptional Australian Shepherd puppies for sale in North Carolina start at $1,800, but you'll need to drop $300 of that as a non-refundable deposit. Not only are their puppies up-to-date on vaccinations, but they also have verified certificates from ophthalmologists. Plus, these breeders are always reachable for help throughout the lifespan of your new pet.
BriarRidge Australian Shepherds Details
4. Holly Spring Farm Australian Shepherds
Holly Spring is a small family-owned farm in central North Carolina that takes its breeding hobby seriously. They raise all their dogs using puppy culture, ensure they are potty-trained, comfortable with a leash, and have a warm temperament. Growing up on a farm, you can be sure they're used to being outside, so if you need a friend that will keep you active, you've found the right breeder. They've very upfront about what genes each Australian Shepherd carries. As an owner, you're aware of what diseases they might be predisposed to later in life.
That doesn't mean they aren't careful when cross-breeding. Holly Spring is very diligent with their work and cautious in their selection process to produce the healthiest dogs. Once you've gone through their list of available Australian Shepherd puppies in North Carolina, you'll have to fill an application form so they get a good feel of your home. After that, you can join the waitlist by placing a deposit.
Holly Spring Farm Australian Shepherds Details
5. Farm Pups North Carolina
Farm Pups pride themselves in producing the perfect furry companion for cowboys and cowgirls. After all, what's a farm without a fun-loving dog running around? The owner, Heather Moore, and her associates put a lot of thought into their cross-breeding process and have more than seventeen years of experience in the game. All Farm Pups in North Carolina have AKC registration and are up-to-date with their vaccinations as required.
If you're interested in adopting one of their Australian Shepherd puppies then you need to join their waiting list by making a $100 deposit. Once on the list, you can be specific about your request in terms of gender and genetics. They'll do their best to cater to your needs.
This breeder will also keep you updated with photos once the Australian Shepherd puppies are born and you can reserve your new companion with another $100 deposit. The price of their Australian Shepherd puppies for sale ranges from between $1,500 – $2,000. Bear in mind that once your puppy is older than nine weeks, a $50 per day fee is applicable if you don't pick them up on time. Of course, you can always have them shipped directly to your home.
Farm Pups Details
6. Fox Aussies North Carolina
If you're searching for a dog that is not only healthy and strong but beautiful, then look no further than Fox Aussies in Harmony, North Carolina. They pride themselves on their immersive breeding process that produces dogs with the silkiest coats. In January 2020, one of their dogs, Midnight, was even featured in a magazine. Booking a date to tour is necessary for the Australian Shepherd puppies' safety. You can't visit if you've recently been to another farm because pregnant dogs or puppies have a weaker immune system.
Health is an utmost priority for this Aussie breeder in North Carolina, and it reflects in the average life span of their dogs which is 12-15 years. You can rest assured that each puppy will be up-to-date on its vaccines. In addition, you can scroll through their Facebook profile to see the available puppies or make a deposit on an upcoming litter. You'll have to call them to discuss pricing, as it is not displayed.
Fox Aussies Details
Conclusion for Australian Shepherd Breeders in North Carolina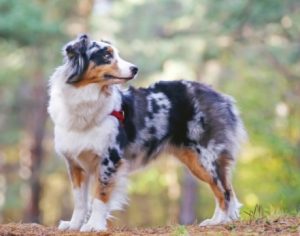 Australian Shepherd dogs are the ideal family pet. Their loyalty is unwavering and you can be sure they'll stick with you at all times. They have one the best dog temperaments and owners are often quite pleased with how affectionate they are towards the whole family.
Australian Shepherd puppies in North Carolina also make great farm animals or aid dogs because of their wit. Of course, you'll only find these attributes when you contact the right breeder. Don't be afraid to reach out and ask as many questions as you'd like. We hope you find the perfect Aussie for your home in North Carolina.
Other articles you might like: Labradoodle breeders in North Carolina and Aussiedoodle Dog Breed Guide.
If you're looking to learn more about the Australian Shepherd, check out this informational video:
Garrett loves animals and is a huge advocate for all Doodle dog breeds. He owns his own Goldendoodle named Kona. In addition, he volunteers at the Humane Society of Silicon Valley, where he fosters dogs and helps animals. Garrett enjoys writing about Doodles and believes that dogs can teach humans more about how to live than humans can teach a dog.
Why Trust We Love Doodles?
At We Love Doodles, we're a team of writers, veterinarians, and puppy trainers that love dogs. Our team of qualified experts researches and provides reliable information on a wide range of dog topics. Our reviews are based on customer feedback, hands-on testing, and in-depth analysis. We are fully transparent and honest to our community of dog owners and future owners.