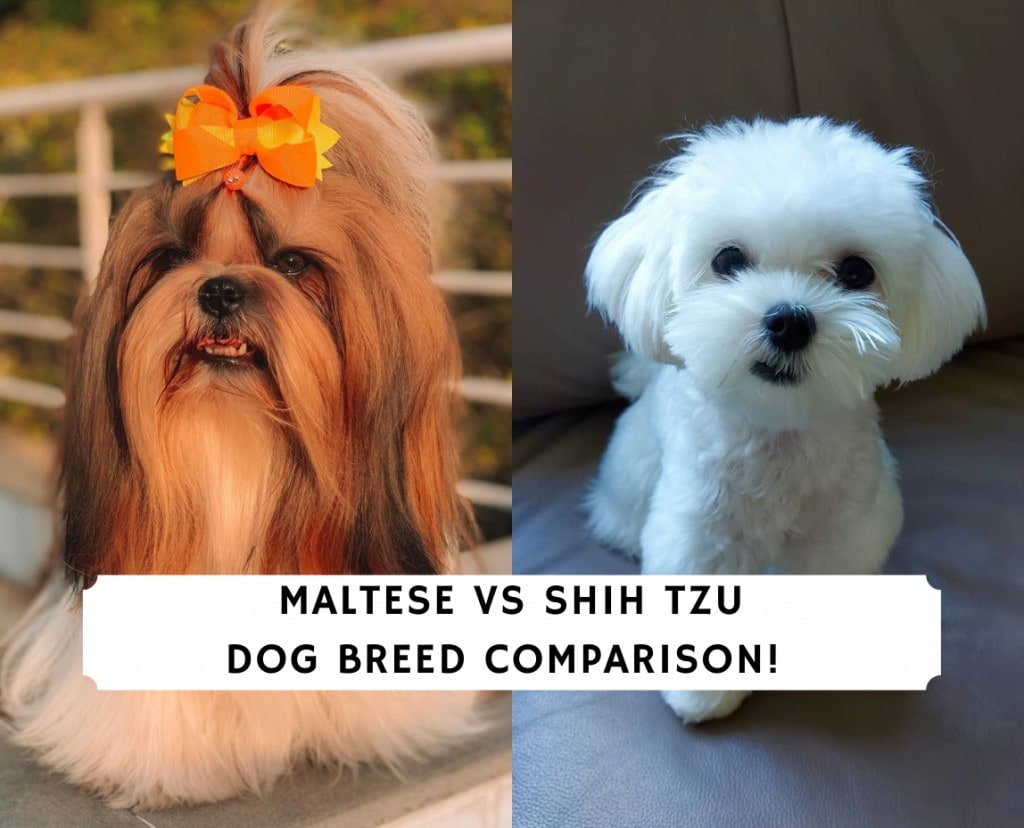 The Maltese is a very cute and petite white dog with long hair. Shedding little, their coats continue to grow in length and can vary from pure white to slightly yellow, especially around the ears. The Shih Tzu, which is actually pronounced "sheet-zoo", originates from China and is stouter and wider than the Maltese. However, the Shih Tzu is still a small dog with white, brown, and black markings.
The Shih Tzu has a short snout and tends to be more stubborn than the Maltese. Also, both of these dog breeds are very energetic and considered outgoing breeds, but Shih Tzus is calmer. Protective of their owners and possessions, the Shih Tzu and Maltese both embody the best qualities within smaller dog breeds.
The Maltese doesn't actually appear to originate from either island of Malta or the city in Italy. This article will fill in all the important details about the Maltese vs Shih Tzu while comparing their temperament, health, and other unique characteristics. Let's get started!
Other articles you would like: Goldendoodle vs Labradoodle and Cavapoo vs Malipoo.
What is the Maltese?
The Maltese is a pseudonym, as it's unclear where exactly this breed originates from, but one thing is for sure: they're cute and regal canines. They're known for their silky coats of slightly wavey hair and prissy demeanor. In fact, according to the American Kennel Club (AKC), the Maltese is the #37 most popular dog in the world.
The Maltese looks somewhat like a Pomeranian and seems to have originated from a common ancestor. This breed shows up in Greek and Roman ancient texts. In addition, Aristotle mentions the Maltese in some of his writings which means they likely come from royalty.
This breed has been around for a long time, yet its popularity continues to grow. They're popular among families, although small children can be hazardous to these pets due to their small stature and bone fragility. Kid's can often times harm the Maltese by stepping on them.
The Maltese is one of the lower shedding dog breeds due to the quality of their hair. They're outgoing, fearless, and willing to bark whenever something is happening or amiss outside which makes decent watchdogs. They also tend to be less jumpy than Pomeranians, preferring to snuggle instead.
What is the Shih Tzu? 
The Shih Tzu has a shorter snout, in the vein of a Pug or English Bulldog, but they're more luxurious with long wavy hair. They are golden yellow, brown, and white mixed together for a wonderful look. A common color expression for Shih Tzu is an almost all-white coloring with darker features around the head and behind the ears.
The Shih Tzu, as you might have guessed, originates from China and was bred for the upper class originally. Now that their popularity is widespread, many families from around the world can enjoy their uncanny looks and relaxed attitudes. In fact, they are the #20 most popular dog breed according to the AKC.
Although they do like to play, especially with other Shih Tzus, they're just fine being the only pet in the family. The Shih Tzu is well-behaved with other small dogs and distrusting of strangers at first. If you love this breed, then you're aware that they'll happily wag and greet anyone their owner's trust after a short while.
Shih Tzu dogs come in many different color patterns, from mostly brown to mostly white and everything in between. A common color pattern for these dogs is off-white with dark markings on the rest of their body.
The Shih Tzu is a breed that often shows up at shelters and rescues, as owners are enticed by their beauty, but then realize they have needs that can't be ignored. Moreover, this dog breed tends to be stubborn when untrained which leads to owners becoming overwhelmed.
Maltese vs Shih Tzu Size: Which is Bigger?
The Shih Tzu is slightly bigger than the Maltese, although not by that much. In general, they're noticeably heavier than the Maltese, however, their height is similar and can even be shorter depending on the litter and individual puppy.
The Shih Tzu is more prone to weight problems than the Maltese. The Maltese will ordinarily stay slimmer, depending on the quality of diet and amount of exercise that they receive on a weekly basis.
The Maltese is perfect if you're looking for a very small dog for your apartment or condo. They typically don't need much space outside to run around in, and you can even train them to use the bathroom inside. The Shih Tzu is perfect if you're okay having a slightly bigger canine that needs to go out every day on a walk for 30 minutes.
Shih Tzu vs Maltese Temperament: How do they behave?
The Maltese have a more outgoing personality on average and are sometimes completely unafraid of bigger dogs. The Shih Tzu can be more reserved around other animals and even people they don't know.
The Maltese can be comparable to a Pomeranian in their energy levels and outgoingness. However, the Shih Tzu is fully outgoing with people they know well and, of course, their humans.
The Shih Tzu is perfect for more relaxed homes, while the Maltese is great for fast-paced households. Both are semi-good guard dogs who will yap at the smallest noise outside, which many older dog-owners rely on for security. Both breeds respond well to training, although the Shih Tzu is more intelligent, at least according to the experts.
Maltese vs Shih Tzu Life Span: What's Their Life Expectancy?
The life expectancy of a Shih Tzu is around 10-13 years, while a Maltese can expect a lifespan of about 12-15 years. The Shih Tzu might have a shorter life as a rule, but that doesn't mean this is always the case. Some can live up to 18 years in good health.
The Shih Tzu may have a shorter life on average, but this can easily be outweighed by a good diet, preventative care, and exercise. Often, smaller dogs become overweight due to lack of exercise and poor-quality food. The responsible dog owner will ensure years are added to their lives by providing the level of care and love they desire and deserve.
Next in this article, you'll learn which health risks are more relevant to each of these breeds. Preventative care can decrease these risks, and your veterinarian may have additional steps and choices that can increase your dog's health in different life stages.
Shih Tzu vs Maltese Health: Are They Prone to Health Conditions?
The Maltese as a breed is known to develop eye and skin issues, although not as common as the Shih Tzu. Although skin and eye issues occur less than a Shih Tzu, they both struggle with these issues more than other dogs do. The Maltese also has a propensity for Hip Dysplasia and certain neurological disorders, both of which can be devastating and usually impact older dogs.
The Shih Tzu has some risks related to their eyes, skin and even breathing issues that most dogs are safe from. Regular hygiene helps avoid skin-fold issues on the face, and they're overall not as affected by face-fold issues as a Pug or English Bulldog.
Maltese vs Shih Tzu Appearance: What do They Look Like?
The Maltese is a little white dog that always looks puppyish. They have similar roots to Pomeranians and share their lively demeanors and luxurious hair. The Maltese is noticeable by its bright white fur that rarely diverges in color, if at all, from pristine white.
Maltese are sprightly and narrow, compared with the Shih Tzu. The latter is stout for a small breed of dog and has different colors and varieties of patterns. The Shih Tzu is usually brown and white with golden accents. They have long and wavey hair that some owners choose to style or cut in different aesthetic styles.
Maltese vs Shih Tzu Grooming: How Much do They Require?
Both of these two breeds need either regular haircuts, usually from trips to the groomer to stay healthy and looking good. They don't need excessive brushing, since their hair isn't prone to matting, but still benefit from soft brushing and occasional trimming between visits.
The Maltese may also need some additional care related to grooming as their nails tend to grow slightly faster than the average. Both the Shih Tzu and Maltese need to have their nails trimmed by a groomer or owner regularly.
This helps to avoid pain when they walk, which can occur when their nails are too long. Remember, unlike cats, dogs can feel their nails and even tend to bleed when their nails are cut too short, impacting the blood vessels located inside of each toenail.
Maltese vs Shih Tzu Training: Can They be Easily Trained?
The Maltese and Shi Tzu both need to be trained to understand that their owner is the head of the pack. Both of these original breeds will take control if no one else does, to the detriment of your whole household. They're similar in how intelligent they both are, however, the Shih Tzu is slightly more intelligent.
The Shih Tzu is more likely to accept higher-level tasks, as compared with the Maltese. Maltese are somewhat more limited in terms of the range of tasks they'll learn, so consider another pet if your priority is taking them to the agility course or other high-level tasks.
Maltese vs Shih Tzu Costs: Are They Expensive to Look After?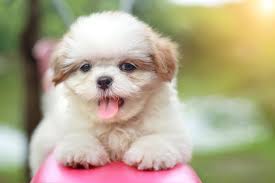 The Maltese and Shih Tzu are both relatively affordable to look after. The main costs after the initial downpayment are for grooming and veterinary care. As long as your puppy is healthy, they should grow up healthy and only incur average grooming bills. You can even save money by learning how to clip your dog's nails and trim their hair on your own.
As with any dog breed, you can spend as much as you want on these furry friends. You might be tempted to buy clothing for the winter, as well as toys and other equipment all year round. The Shih Tzu and Maltese are fairly low maintenance, but still, need regular veterinarian care and grooming to live as long and healthy as possible.
Conclusion for Maltese vs Shih Tzu
The Maltese and Shih Tzu are both very loveable small dog breeds and I'm sure you'll be happy with either one. In general, though, the Shih Tzu is slightly larger than a Maltese in terms of weight and height. In addition, the Maltese tend to live longer than the Shih Tzu due to their smaller size. Both both breeds require regular grooming and are generally pretty friendly dogs. The Maltese will be higher energy than the Shih Tzu. We hope you learned something about these two dog breeds!
Other articles you would like:
Garrett loves animals and is a huge advocate for all Doodle dog breeds. He owns his own Goldendoodle named Kona. In addition, he volunteers at the Humane Society of Silicon Valley, where he fosters dogs and helps animals. Garrett enjoys writing about Doodles and believes that dogs can teach humans more about how to live than humans can teach a dog.
Why Trust We Love Doodles?
At We Love Doodles, we're a team of writers, veterinarians, and puppy trainers that love dogs. Our team of qualified experts researches and provides reliable information on a wide range of dog topics. Our reviews are based on customer feedback, hands-on testing, and in-depth analysis. We are fully transparent and honest to our community of dog owners and future owners.