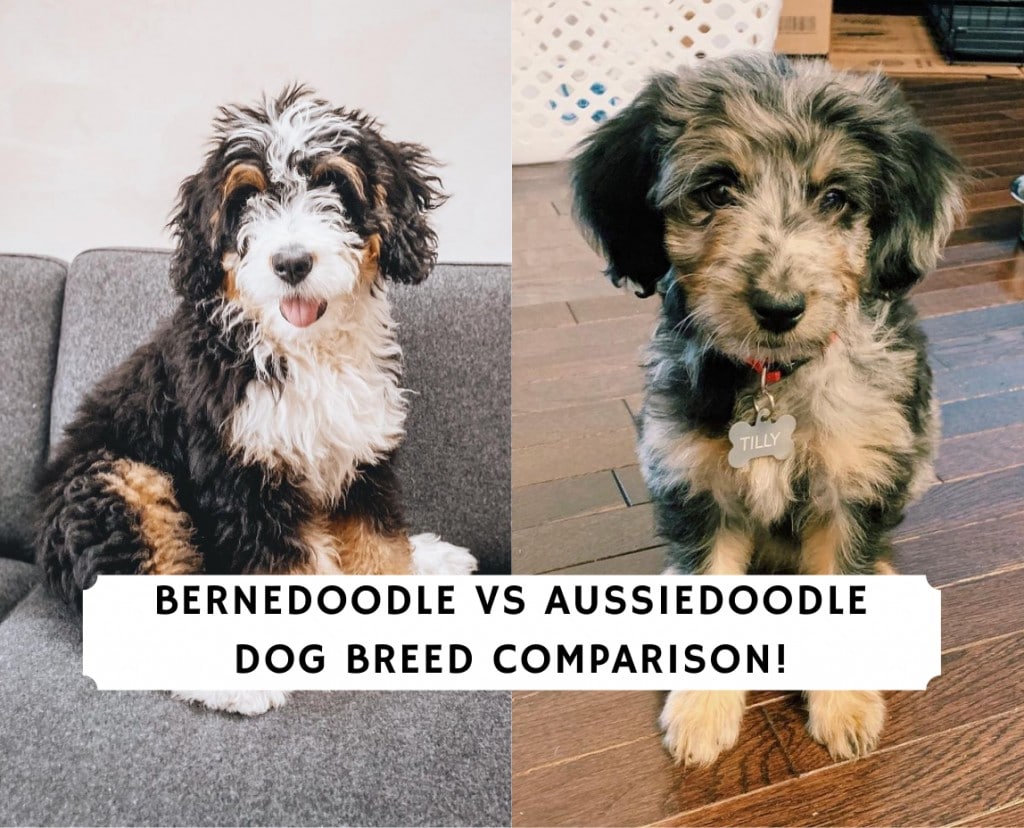 Cute, fluffy, and family-friendly, bot the Bernedoodle or Aussiedoodle make great pets! These hybrid dogs are easy to train, require frequent grooming, and are tons of fun. However, the Bernedoodle and Aussiedoodle are very different dog breeds. If you are trying to decide between a Bernedoodle or Aussiedoodle, the answers to the following questions will help you choose the best option for your family!
Here's a short summary of some of the major differences between a Bernedoodle vs. Aussiedoodle:
Aussiedoodles tend to have a lot more energy than a Bernedoodle. While both dog breeds are considered herding dogs, you'll need to live an active lifestyle if you want to get an Aussiedoodle.
typically come in distinct tri-
color
coats with brown, white, and
black
colors. On the other hand, Aussiedoodles can come in tri-colors but with a
redmerle
merlecoat
.
When comparing the standard Bernedoodle and the standard Aussiedoodle, the Bernedoodle is a much bigger dog. This is because Bernese Mountain Dogs can weigh over 100 pounds, while the Australian Shepherd weighs up to 70 pounds.
Both dogs will require grooming. However, the Bernedoodle tends to require significantly more grooming due to their coat type and fast growth of hair.
Other articles you would like: How Much does an Aussiedoodle Cost? and Bernedoodle vs Goldendoodle.
What is a Bernedoodle? 
Charming and friendly, Bernedoodles are a perfect mix of a Poodle and a Bernese Mountain dog. Their Poodle heritage creates their curly hypoallergenic and nonshedding coat. In addition, the Poodle is one of the smartest dog breeds in the entire world. The combination of genetic traits and high intelligence makes the Poodle very common to crossbreed with.
Bernese Mountain Dog makes a Bernedoodles personality fun and goofy. They are technically considered herding dogs that originated in Europe, but they have a calm and easygoing demeanor which makes them great dogs around families with children.
The combination of both the Poodle and Bernese Mountain Dog makes the Bernedoodle special because they inherit some of the best genetic traits. You can expect a fluffy, friendly, and low-key dog.
What is an Aussiedoodle?
Aussiedoodles have Poodle and Australian Shepherd parents that pass down their superior traits. The Australian Shepherd parent passes down their Einstein-like intelligence and high energy to their offspring. In addition, you'll oftentimes see the rare merle color coats in Aussiedoodle.
The Poodle dominates genetics create a coat that doesn't shed much and is great for people with pet allergies. This makes the Aussiedoodle hybrid dog breed cute, hypoallergenic, and incredibly intelligent. However, when breeding two highly intelligent dog breeds, you will need to actively exercise them and mentally stimulate them for several hours a day. A bored Aussiedoodle can be destructive around the house if you don't give them attention. 
Which breed is bigger? 
Bernedoodles and Aussiedoodles come in several different sizes because there is no purebred standard. However, Bernedoodles do tend to be significantly larger than an Aussiedoodle if you are comparing the same size.
In general, there are three main Bernedoodle sizes:
Standard Bernedoodles stand up to 29 inches from the shoulder and can easily weigh over 80 pounds.
Mini Bernedoodles are 18 to 22 inches tall and can weigh between 20 to 45 pounds.
Micro Bernedoodles are bred with a toy Poodle parent and will only grow up to 12 to 17 inches in height. They typically weigh between 10 to 24 pounds. 
There are also three common sizes of Aussiedoodles with slightly different names:
Standard Aussiedoodles stand anywhere from 15+ inches at the shoulder and weigh between 40 and 70 pounds.
Mini Aussiedoodles are 11 to 15 inches at the shoulder and weigh between 20 and 40 pounds.
Toy Aussiedoodles stand 10 inches or less and weigh less than 20 pounds. The average weight will typically be between 10 and 15 pounds.
Depending on ancestry Bernedoodles or Aussiedoodles can be small or big. Generally, Bernedoodles are larger than Aussiedoodles in most circumstances. 
Temperament: How do they behave? 
Bernedoodles are playful and affectionate which makes them great playmates for young children. Moreover, they are quite goofy and enjoy having a lot of attention. Bernedoodles do tend to be a bit skittish and sensitive so pet parents should beware of hurting their feelings or scaring them in any situation. Socializing this breed from a young age will help them feel comfortable and confident around strangers. 
The Bernedoodles intelligence allows them to pick up on social cues and commands even when they are in an unfamiliar environment and around strangers. They have a charismatic and charming personality that becomes more apparent with training. All of these wonderful traits and a great temperament combined with a fun sense of humor make the Bernedoodle a high in demand dog breed for many families. 
The temperament of the Aussiedoodle comes from their inheritance and their environment. However, their temperament often depends on a variety of factors such as the mother or both parents because they are easily influenced by the behaviors of those in their current environment. Socialization also has a lot to do with how they react to a variety of situations. It's very important that you socialize an Aussiedoodle from a young age.
The Aussiedoodle has a natural herding ability built into their DNA that comes from their Australian Shepherd parent. Owners of Aussiedoodles often report their dog trying to herd together family members and children by gently bumping against family members to encourage them to go where the dog wants them to be. Sometimes light nipping is involved with the herding process but an Aussiedoodle can be trained not to do this very quickly. 
Aussiedoodles are not aggressive or shy either. They have a well-balanced personality, have extreme intelligence, and the need to do a job for their owner. Training an Aussiedoodle to do things and rewarding them with treats and positive reinforcement will help them feel useful and fulfill their desire to work. Aussiedoodles make great family pets but are more suitable for older children rather than younger children due to their nipping. 
Lifespan: What is their life expectancy? 
The Bernedoodle has a life span of 12 to 18 years and the Aussiedoodle has a span of 10 to 12 years. In general, both the Aussiedoodle and Bernedoodle are very healthy dog breeds. Since they are a crossbred dog, the Bernedoodle and Aussiedoodle both inherit a trait called Hybrid Vigor.
Hybrid Vigor essentially means that any hybrid dog will be healthy than the parent purebreds. This is because purebred dogs continue to breed within their bloodlines which continually passes down genetic diseases to their offspring. By crossbreeding a dog, you eliminate many of those genetic diseases.
Health: Are the Bernedoodle and Aussiedoodle prone to health conditions?
Bernedoodles are overall a healthy dog breed but are at risk of inheriting and experiencing ocular diseases, allergies, and predisposed elbow and hip dysplasia. They have the ability to gain weight quickly and require a healthy diet and exercise to prevent obesity. 
On occasion, they can develop skin issues such as hot spots because of their thick coats. Excessive licking and chewing of a specific area on the body is a sign a dog has a hot spot. 
Aussiedoodles inherit a variety of health conditions from their parents and are at risk of developing cataracts, hip dysplasia, autoimmune thyroiditis, sebaceous adenitis, and progressive retinal atrophy during their lifetime. Not all Aussiedoodles will experience these conditions but some might. Asking a breeder about the ancestral line and their breeding program will help determine if the risk for developing these conditions is low or high. 
Appearance: What do they look like? 
Bernedoodles have curly coats, floppy ears, and an adorable expression on their face. They inherit the chubby gene from their Bernese Mountain dog parent and tend to gain weight easily. Their coat has a variety of colors and depends on their ancestry. The most common Bernedoodle colors are tri-color, white, black, and brown. You can read more in our article called the Types of Bernedoodle Colors.
Aussiedoodles often have a curly coat that can look scruffy sometimes and can be in a variety of colors. They have floppy ears and cute facial expressions. The most common Aussiedoodle colors are merle, chocolate, black, and white. You can read more in our article called the Types of Aussiedoodle Colors.
Grooming: How much do they require? 
Both the Aussiedoodle and Bernedoodle have similar types of coats that are inherited from their Poodle parent. It's often curly, shaggy, or frizzy. Longer hair is more difficult to groom since it has the potential to tangle and knot easier than shorter hair. 
Grooming requirements for both of these breeds include brushing their coat four times a week, frequent clipping session, nail cutting, and bathing. The Bernedoodle and Aussiedoodle are considered high maintenance dogs due to their curly coat. A pin brush or slicker brush is perfect for their coat and makes it easy to detangle knots, mats, and tangles. 
Training: Can they be easily trained? 
Generally, yes the Bernedoodle or Aussiedoodle is easy to train because they inherit extreme intelligence from their parents and ancestors. However, it depends on the specific dog and their personality. Some dogs learn quickly while others need more time to train. 
The Aussiedoodle can be trained to herd animals on a farm or ranch which will make them a useful family pet while the Bernedoodle will be your best couch potato buddy and a relaxed dog that enjoys being around the family. 
Costs: Are they expensive to look after? 
Affording to support a dog is the main concern for many Aussiedoodle and Bernedoodle owners. The following list is items you need to consider when deciding to get a dog. 
Pet fees – Check with your apartment or condominium complex for the number of fees you need to have a pet on the property. Typical costs involve a $500 non-refundable deposit and monthly fees that are tacked onto the rent such ranging from $20 to $50 or more. 
Food costs – Bernedoodles and Aussiedoodles have a healthy appetite that requires a balanced diet. Especially for Bernedoodles since they inherit their appetite from their Bernese Mountain dog parent. Calculate food and treat costs per month and try to purchase in bulk to save money in the long run. 
Veterinarian care – Veterinarian care is required throughout the entire lifetime of these breeds. They need vaccinations, regular checkups, and any ailment treated immediately. Veterinarian care can become expensive and it's wise to contact a local office to ask for general pricing for office visits so you can calculate the cost properly. 
Bedding – Both of these dog breeds love to take a nap and cuddle up in a soft bed. Large dog beds that are created for long-lasting use are recommended. 
Toys – Bernedoodles and Aussiedoodles are highly intelligent and need plenty of toys, including interactive designs, to keep their minds stimulated and to keep them busy. Toys can be purchased in bulk at an affordable price and are especially helpful if you have more than one dog. 
Crates and kennels – Dogs need a den-like environment to call their own, even if they are already sleeping in your bed. They need this secure area to feel safe while left alone. Crates and kennels are also useful for training purposes. They are available in a variety of colors, styles, and sizes. 
Doggie Daycare – If you don't plan to leave your Doodle at home alone while you are at work or away from home, doggie daycare will become the go-to place for your dog. Inquire further about daycare pricing so you can work it into your budget. 
Grooming – Doodles have a curly and scruffy coat that needs frequent grooming and clipping. If you plan to take your dog to a professional groomer, you need to find one that has all the services your dog needs at affordable prices. 
Pet Health Insurance – Many new pet parents are surprised to hear about health insurance for their dog but it helps save a lot of money, especially if your dog needs frequent checkups for ear infections and other chronic issues such as allergies. 
Making a choice between a Bernedoodle and an Aussiedoodle might feel overwhelming but the facts above should help you narrow down your decision. 
Aussiedoodle vs Bernedoodle: How to Decide?
When making your decision consider the cost of raising a pet if you have children in the household, the age of the children in the household, and the size of your home. 
These dog breeds need plenty of room to run around and play. If they don't have access to a yard, a few daily walks per day or a visit to the local dog park is recommended. If either of these breeds becomes bored they tend to chew up furniture, clothing, shoes, and other household items to let out their built-up energy. 
Both the Bernedoodle and Aussiedoodle also need to be socialized in different environments such as a dog park, rides in the car, and being around strangers. Early socialization is recommended to all environments the dog will encounter in their lifestyle. 
Potential pet owners who are looking for a dog that will do some work on the farm or ranch will hit the jackpot with an Aussiedoodle since they naturally want to herd things including toys and people. 
Current owners often report their Aussiedoodle herding their toys into one area and finding piles of different things around the house and yard. If you get an Aussiedoodle you can put them to work and they will love every moment. 
Conclusion for Bernedoodle vs Aussiedoodle
Both the Bernedoodle and Aussiedoodle make excellent family dogs, but especially the Bernedoodle. This fluffy ball of fur is an excellent playmate for children of young ages. Their goofy personality and sense of humor make them easy to be around and entertaining. Just beware not to give them too many treats because they tend to pack on the pounds rather quickly. 
Cute, fluffy, sweet, and intelligent describes both of the Aussiedoodle and Bernedoodle dog breeds. Whichever one you choose will fill your home and life with joy, love, and happiness. 
Don't forget that both like to be the center of attention so get ready to give tons of hugs and affection to these adorable dog breeds. Are you ready to adopt or purchase a Bernedoodle or Ausssiedoodle? Find a reputable dog breeder in your area by conducting an online search today! 
Check out these other articles:
Garrett loves animals and is a huge advocate for all Doodle dog breeds. He owns his own Goldendoodle named Kona. In addition, he volunteers at the Humane Society of Silicon Valley, where he fosters dogs and helps animals. Garrett enjoys writing about Doodles and believes that dogs can teach humans more about how to live than humans can teach a dog.
Why Trust We Love Doodles?
At We Love Doodles, we're a team of writers, veterinarians, and puppy trainers that love dogs. Our team of qualified experts researches and provides reliable information on a wide range of dog topics. Our reviews are based on customer feedback, hands-on testing, and in-depth analysis. We are fully transparent and honest to our community of dog owners and future owners.