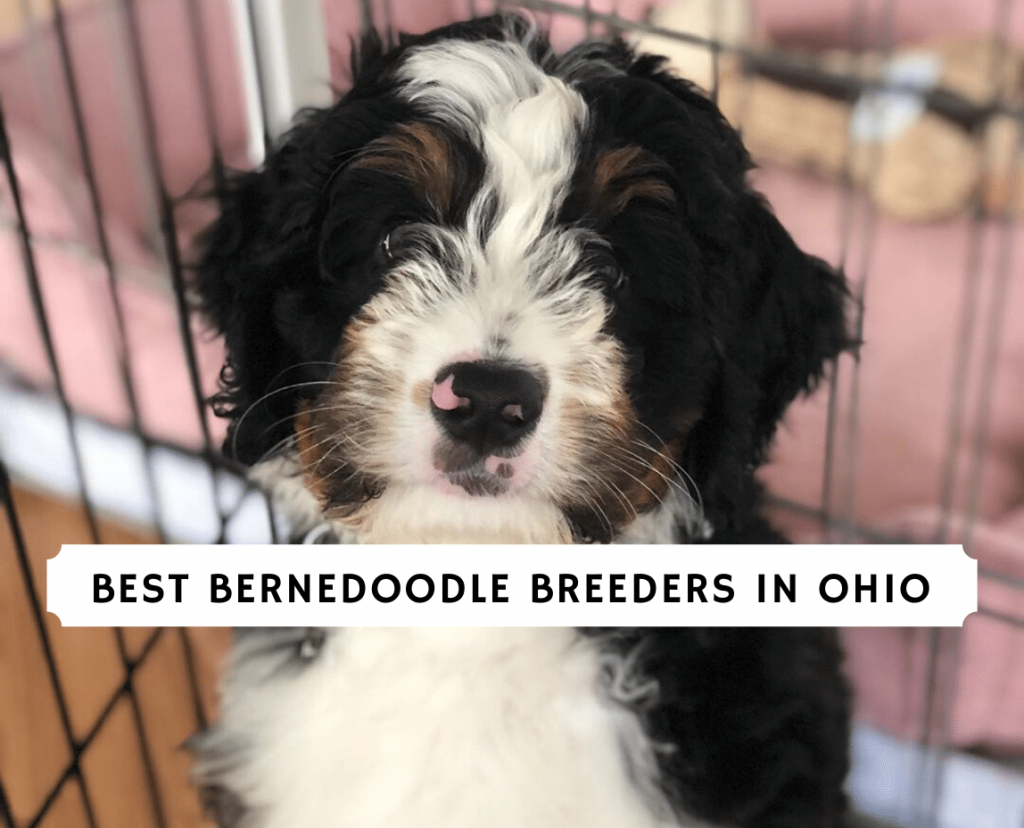 The Bernedoodle is a hybrid dog with a genetic pedigree from the Bernese Mountain Dog and the Poodle. Bernedoodles make for the ultimate, cuddly soft playmate for your family by encompassing the clown-like behavior of a poodle and the laid-back nature of a Bernese Mountain Dog. This designer breed has become very popular in the past decade so be wary of unscrupulous breeders. Luckily, we have done much of the research for you so keep reading if you are interested in finding the perfect pet for your family.
If you are looking for the best Bernedoodle breeders in Ohio then we're here to help. Have a look through our Bernedoodle Breeders Guide list for Ohio below. We have no doubt that once you see those teddy bear eyes of a Bernedoodle puppy, that your heart will melt. Though we have done much of the research for you finding Bernedoodle breeders, it is important that you discuss further details with a breeder and ask as many questions.
Any reputable breeder will also interview you as they want to ensure that their beloved Bernedoodle puppies are going to loving homes. Responsible breeders will breed not only for physical qualities and characteristics but also for temperament and health. It is important to remember that a Bernedoodle is a hybrid breed therefore there can be great variance in the size, temperament, and coloring of Bernedoodle puppies depending on the lineage. A good breeder will match a Bernedoodle puppy to your family's lifestyle.
PuppySpot is a family-friendly marketplace for anyone who's in search of a companion. We placed PuppySpot first on this list of Bernedoodle breeders because of how reliable and easy it is to get a puppy. There's a reason why PuppySpot is trusted by over 200,000+ families around the United States.
Unlike the possible encounters with Bernedoodle puppy mills when you're searching for breeders off on your own, PuppySpot requires breeders to pass a 100 point screening process, be licensed, and be registered. The marketplace accepts fewer than 10% of all candidates that apply, and that shows that strict PuppySpot is. This process is even backed by the American Kennel Club, which is the largest dog organization in the United States.
When you're trying to find a Bernedoodle companion on your own, you'll have to get accepted and sometimes wait several months or years for the arrival of your puppy – especially since Bernedoodles have become so popular. By using PuppySpot, you can avoid the long waiting process and jump right into connecting with a breeder with an available Bernedoodle puppy. Before continuing down this list of Bernedoodle breeders in Ohio, click the link below to PuppySpot below to see if you'll find what you're looking for. Even a puppy isn't located in Ohio, they have their own airlines to fly them out to you.
Bernedoodle Puppy Information:
Generation: All Generation Bernedoodle Puppies
Size: Miniature, Medium, and Standard Bernedoodle Puppies
Bernedoodle Breeder Details: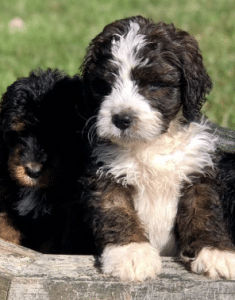 Located on 12 acres in the rolling hills of Southeastern Ohio, Buckeye Ridge Bernedoodles know their dogs. They have been raising Bernedoodles since 2013 and Australian Labradoodles since 2003. Puppies are hand-delivered in their home to ensure the best start in life for your new best (canine) friend. All breeding dogs go through vigorous genetic testing. Angie and Paul offer personal attention to all of their puppies and their forever homes and are just a phone call away if you have any questions. Puppies all have a two-year health guarantee.
Buckeye Ridge Bernedoodle Breeders is located approximately 1 hour from Columbus, Ohio.
Bernedoodle Puppy Information:
Generation: Multi-Gen Bernedoodle Puppies
Size: Standard Bernedoodle Puppies
Bernedoodle Breeder Details: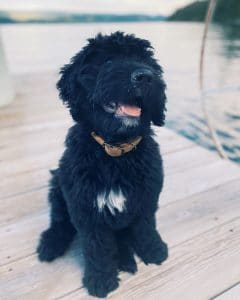 Angle Breeze Puppies is located on a doggie oasis of 36 stunning acres in Ohio. Since 2003, this husband and wife team have raised countless Bernedoodle puppies. Owner testimonials showcase the love and attention that these breeders have for their Bernedoodle puppies and ensuring that they go to the best forever homes. All puppies have a physical exam by a veterinarian at six weeks of age and are ready for adoption at 8-10 weeks. A health contract includes a genetic guarantee.
Angel Breeze Puppies of Ohio is located in Coshocton County which is just over 1 hour east of Columbus. It's also about 2 hours south of Cleveland, Ohio.
Bernedoodle Puppy Information:
Generation: F1 and F1B Bernedoodle Puppies
Size: Standard Bernedoodle Puppies
Bernedoodle Breeder Details: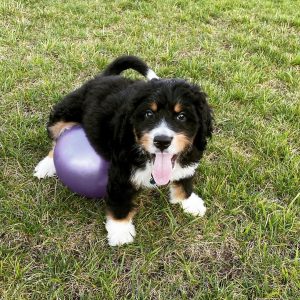 Bernedoodle Buddies puppies receive extensive in-home nurturing, socialization, and early teaching. Puppies are exposed to a wide variety of stimuli including clicker training and more. Puppies are raised using Puppy Culture protocols which is an incredible undertaking that leaves a lifelong impression on these adorable Bernedoodle puppies and helps them get a great the best start in life before becoming a lovable companion pet for your family.
Bernedoodle Buddies is a Good Dog Approved breeder. All breeding dogs are OFA certified or pending for hips and elbow dysplasia. Puppies receive come complete with a receiving blanket with the lingering scent of mother and siblings, as well as a variety of toys, collar and leash, and starter puppy food.
Bernedoodle Buddies of Ohio is located in Westerville, Ohio which is extremely close to Columbus, Ohio. It's also about 2 hours southwest of Cleveland, Ohio.
Bernedoodle Puppy Information:
Bernedoodle Breeder Details:
Contact: Rachel Jones
Location: Westerville, Ohio (Close to Columbus, Ohio).
Phone: 1-317-695-6930
Email: bernedoodlebuddies@gmail.com
Website: Bernedoodle Buddies of Ohio
Facebook: Bernedoodle Buddies
Instagram: @bernedoodlesofthelowcountry
Doncie Doodle puppies are bred on a farm in Batavia, Ohio. Puppies are hand-reared for optimum socialization and engagement. This breeder specializes in both Aussiedoodles and Bernedoodles and also has St. Bernedoodle puppies on occasion. Check out their Facebook page for the cutest puppy videos you will ever see.
Doncie Bernedoodle puppies are located in Batavia, Ohio. This is extremely close to Cinncinati, Ohio, and is located in the southwest region part of Ohio. It's also about 1 hour south of Dayton, Ohio.
Bernedoodle Puppy Information:
Generation: F1 and F1B Bernedoodle Puppies
Size: Mini, Medium, Standard Bernedoodle Puppies
Bernedoodle Breeder Details:
Location: Batavia, Ohio (Close to Cinncinati, Ohio)
Phone: 1-513-543-7475
Email: donciedoodles@gmail.com
Facebook: Facebook Page
Celebration Poodles & Doodles have been raising AKC Poodles for over 10 years and since 2017 have been breeding medium and standard sized Bernedoodles. Puppies are born and raised in the home for engaging socialization before joining their new families at about eight weeks old. Note that Celebration Poodles & Doodles will not ship puppies and prefer to meet each of their puppies forever families in person. They are happy to assist with transportation through Ohio as well as to Chicago and West Virginia. Goldendoodles puppies are also sometimes available.
Celebration Poodles and Doodles is located in Columbus, Ohio. Columbus is about 1 hour east of Dayton and 2 hours southwest of Cleveland, Ohio.
Bernedoodle Puppy Information:
Generation: F1 Bernedoodle Puppies
Size: Medium and Standard Bernedoodle Puppies
Bernedoodle Breeder Details:
Location: Columbus, Ohio
Phone: 1- 614-580-6004
Facebook: Facebook Page
More information about the Bernedoodle Breed
The Bernedoodle has been bred since 2003 starting in Ontario, Canada. Bernese Mountain dogs are known for their gentle and loyal nature which combines beautifully with the prolonged lifespan, cleverness, and hypoallergenic coat of the Poodle.
Bernedoodle coats come in a variety of colors including black, black and white, black and brown, and tri-color which tends to be the most expensive and sought-after color. It's relatively common to see a Bernedoodle contain multiple colors.
Bernedoodles come in three sizes depending on the size of Poodle that the Bernese Mountain Dog is mated with: Standard, Medium, and Mini. Since the Poodle and Bernese Mountain Dog are virtually polar opposite in terms of personality, you may get a dog with a lot of energy or a more relaxed dog.
The standard Bernedoodle stands 23-29 inches at the shoulder and can weigh in at 50-90 pounds. For a larger dog, they have a relatively long lifespan of 12-15 years. The medium Bernedoodle stands slightly shorter at 18-22 inches at the shoulder and weighs in the range of 25-29 pounds on average. The smallest Bernedoodle often called the mini Bernedoodle, stands 12-17 inches at the shoulder and can weigh as little as 10 pounds.
Most Bernedoodles have a great lifespan of around 12-15 years.
How to choose a Bernedoodle Breeder in Ohio
Bernedoodle breeders seem to be popping up all over Ohio but unfortunately, not all are as reputable as they should be with appropriate breeding for health as well as physical markings. In Ohio, there are quite a few Bernedoodle breeder options for you to consider. Here are some Top Tips to choose a Bernedoodle breeder in Ohio:
Do thorough research – There are several Bernedoodle breeders in the state of Ohio, but sadly, not all of the breeders are as loving as those on our list. Ensure that you do thorough research on where your new puppy is coming from before you swoon over their cute and fluffy appearance.
Contact the Bernedoodle breeders – Every reputable Bernedoodle breeder should be happy to answer your questions, regardless of how mundane or silly you may think they are. You should be able to visit their establishment, or at have least a video call with them to meet your puppy's parents. Puppies should not leave their mother before 8 weeks so you should be able to meet the mother of the litter and assess her temperament, personality, coat color. Be wary of any breeder that seems more interested in the money you are paying rather than the loving home that you are providing.
Ask for health checks for the Bernedoodle parents – All trustworthy breeders will have a medical history for their Bernedoodles and will be transparent with this information.
Where do you find a Bernedoodle Breeder in Ohio
There are several Bernedoodle breeders in Ohio. We have investigated and researched for you, but we also recommend that you continue to discuss with a breeder your preferences on generation, coat color, and size. From the year 2017, breeders can be part of the United Bernedoodle Registry to maintain and document the pedigree as well as the health and reputation of their dogs. You can search there to find a reputable breeder.
What does F1, F1B, and F2 mean?
​F1 Bernedoodle is a first-generation cross between a Poodle and Bernese Mountain Dog. The F1 cross is considered the healthiest, as the puppies have the least likelihood of inheriting genes for common inheritable diseases.
F1B Bernedoodle is a backcrossed dog. In the case of an F1B Bernedoodle, this would be mating a Bernedoodle with a purebred Poodle. The associated puppy is going to be 25% Bernese Mountain Dog and 75% Poodle. F1B puppies are very likely to be hypoallergenic and non-shedding which most pet owners are looking for.
F2 Bernedoodle is a second-generation cross as a result of mating an F1 Bernedoodle with another F1 Bernedoodle. Though this provides for more uniformity in puppies, this also often results in more genetic problems associated with purebred dogs in general since the hybrid vigor diminishes.
F3 or Multi-Generational Bernedoodle is produced by mating an F2 Bernedoodle with another F2 Bernedoodle.
Conclusion for Bernedoodle Breeders in Ohio
Bernedoodles are just about the cutest, fluffiest dog that you can imagine. Picture if you could bring your most cuddly teddy bear to life and you would have yourself a Bernedoodle. The demand for this breed has exploded over the past decade so puppies may be difficult to source and waitlists are likely long.
If you are happy getting Bernedoodle for a low cost and are an experienced dog owner, then consider speaking to any of the Bernedoodle breeders on our list about becoming a guardian family. Many times, breeders need families to take care of their precious dogs until they are ready to have a litter, at which time they would go back to the breeder for a few months. Whether you get a Bernedoodle puppy or raise one as a guardian dog, we do not doubt that your new pet will be the envy of all in the dog park and the best friend of your children.
Garrett loves animals and is a huge advocate for all Doodle dog breeds. He owns his own Goldendoodle named Kona. In addition, he volunteers at the Humane Society of Silicon Valley, where he fosters dogs and helps animals. Garrett enjoys writing about Doodles and believes that dogs can teach humans more about how to live than humans can teach a dog.
Why Trust We Love Doodles?
At We Love Doodles, we're a team of writers, veterinarians, and puppy trainers that love dogs. Our team of qualified experts researches and provides reliable information on a wide range of dog topics. Our reviews are based on customer feedback, hands-on testing, and in-depth analysis. We are fully transparent and honest to our community of dog owners and future owners.