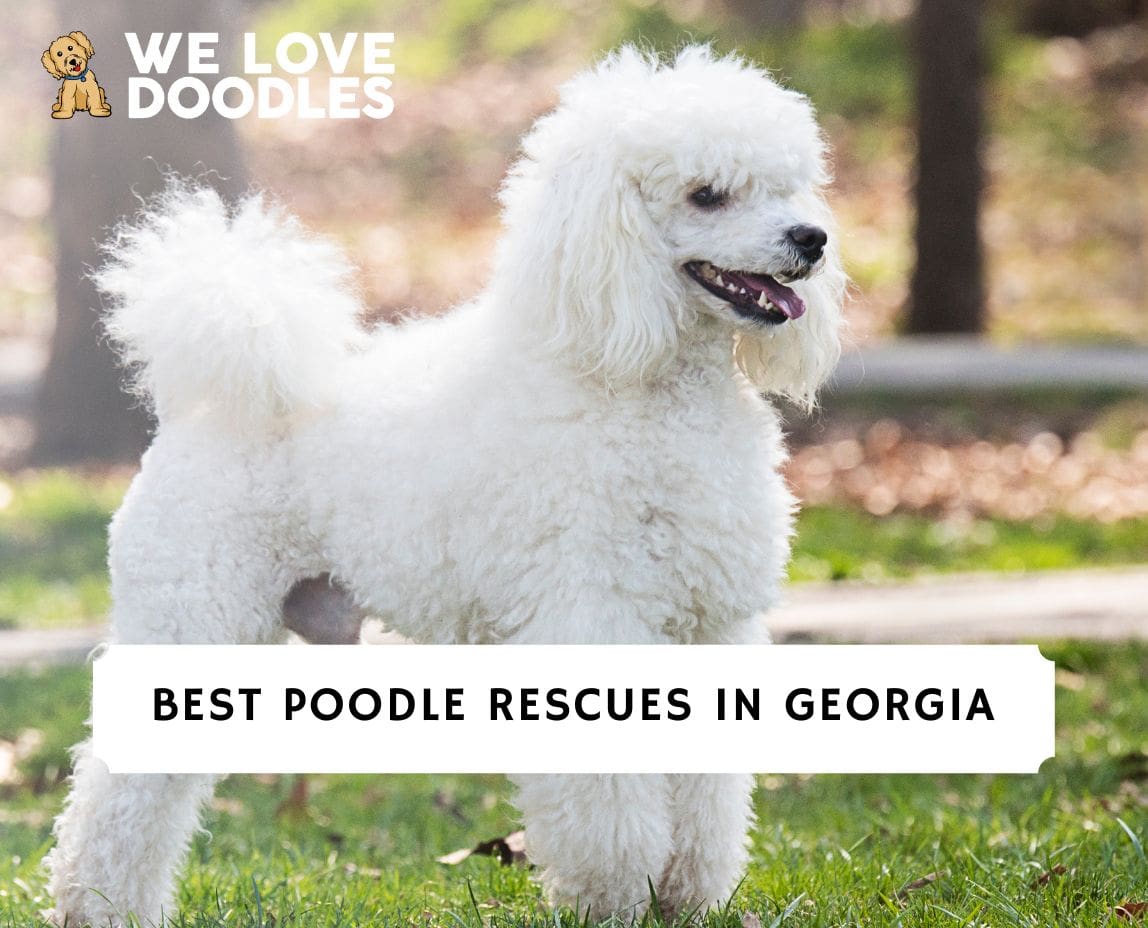 The Poodle is a smart, friendly, and highly trainable dog breed. Unfortunately, Poodle rescues in Georgia are constantly taking in neglected Poodles; these dogs may be surrendered for any number of reasons. "Pet parents" change their mind about dog ownership, the dogs are abused or neglected and removed from homes, or they may just have been abandoned. 
You can change the life of a poodle – and change your own life – by adopting a pup from a Georgia poodle rescue. Check out the list of reputable and responsible non-profits in the Peach State and begin your quest for a new companion today!
Before you scroll down this list of Poodle rescues in Georgia, you can check out these other rescue shelter recommendations from our team at We Love Doodles: Best Doodle Rescues in Georgia and Best French Bulldog Rescues in Georgia.
1. Georgia Poodle Rescue
The first Poodle rescue on our list is Georgia Poodle Rescue. This non-profit organization is based in Alpharetta, convenient to Atlanta, Athens, and Marietta residents. The shelter was established in 2009, and the team takes pride in matching Poodles with the perfect homes based on temperament and other factors.
You'll need to apply to adopt a Poodle from Georgia Poodle Rescue. Select a dog you're interested in, then request the application by emailing the GPR team. There is a $20 application fee, which is non-refundable and payable through PayPal. Once your application is received, you'll need to bring each family member – including the dogs – to meet the puppy you're interested in adopting.
Families with children under 10 years old are generally not considered. The cost to adopt a dog through Georgia Poodle Rescue may vary slightly, but you can expect to pay around $500 for your puppy. Dogs are spayed or neutered, vet-checked, and up-to-date with medical treatments like vaccinations.
Georgia Poodle Rescue Details
2. Atlanta Humane Society
The Atlanta Humane Society is one of the oldest non-profits in Georgia. They originally began as an effort to protect the welfare of women, children, and animals and now focus solely on animals in the Atlanta community. They're a 501(c)3 non-profit, and they rely on the support of donations, volunteers, and foster families.
To adopt a pet from the Atlanta Humane Society, you'll first view the adoptable puppies. Once you find a Poodle you're interested in, visit either the Duluth or Alpharetta Humane Society location. There, you'll fill out an application and meet your puppy. Most families bring their pets home the same day. Adoption fees for dogs vary.
You may pay $200 for a puppy, $352 for an adult, or nothing at all for a sheltered pet over a year old. The fee-free adoption does not apply to foster animals. Your dog will be vet-checked, microchipped, and vaccinated before going home with you. Not ready to provide a permanent home for a Poodle just yet? That's okay. You can donate, volunteer, or apply to be part of the foster network.
Atlanta Humane Society Details
3. Best Friends
Best Friends is a nationwide Poodle and pet rescue with a large presence in Georgia. The Marietta-based non-profit has no physical facility; instead, they rely on a large network of foster families across the state. Your new companion may be just down the road from you. To adopt from Best Friends, you'll need to begin by finding a dog you can't live without.
The next step is a (virtual) meet & greet, during which you'll ask the adoption counselor any questions and will meet your puppy. If you require a physical meeting, arrange this with your counselor. Once approved to adopt, you'll pay $100 for a puppy or $50 for an adult Poodle.
The adoption fee covers all medical attention and boarding costs your dog has incurred and spaying or neutering the dog. Should you be interested in providing a temporary home for a dog, let Best Friends know. The team is always in need of foster homes to care for puppies and cats while they wait to find a forever home.
Best Friends Details
4. Paws Humane Society
Paws Humane Society is next on our list of the top Poodle rescues in Georgia. This group is a non-profit organization, and the group dates back to 1969! This shelter specializes in rescuing and rehoming dogs, cats, and small animals in Georgia, particularly in Atlanta. To adopt from this Poodle rescue, you'll need to apply for a specific pet.
Find the Poodle you love, then complete the adoption application. A counselor will chat with you to ensure the dog is a good fit for your home. Then, you can finish the online application, submit your payment, and pick up your puppy. Adoption fees through Paws Humane Society are comparatively low.
Senior dogs cost $40, adults cost $90, and puppies cost $140 to adopt. In some cases, you may be able to "hold" a dog if they are not quite ready to go to a new home. Your dog will be spayed or neutered upon arrival at your home. Of course, all dogs are checked by a veterinarian and administered the appropriate vaccinations.
Paws Humane Society Details
5. FurKids
The next Georgia Poodle rescue we researched and loved is FurKids. This is a wonderful organization based in Atlanta that is 100 percent volunteer-run. Unique to this shelter is that they let kids of all ages help out – your dog will have been socialized with even the tiniest assistants!
FurKids utilizes a network of over 400 foster homes, and they're always looking for more. Contact the organization if you're interested in providing a temporary sanctuary for an animal. If you're ready to adopt, you'll need to browse the available pets, then fill out an application.
Once you're approved to adopt, the FurKids team will guide you through the remainder of the process. You can expect to pay anywhere between $175 and $500 for a pet, depending upon its breed, age, and other characteristics.
Dogs will be spayed or neutered and microchipped in addition to receiving routine veterinary care. Want to support FurKids further? Check out any of their four thrift store locations in Georgia. You may also consider donating your gently used clothing items to your nearest shop.
FurKids Details
6. Mostly Mutts Animal Rescue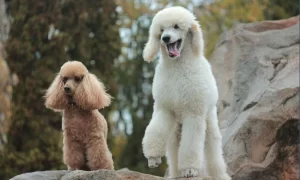 Mostly Mutts Animal Rescue is another Atlanta non-profit, and one of the top Poodle rescues in Georgia. They have a facility, but many animals are being cared for in foster homes while they wait to transition to a new family. If you're interested, the shelter offers foster opportunities to Atlanta families, including short-term "breaks" for dogs that need a short vacation from a shelter.
If you're ready to commit to adopting a dog, you'll need to agree to a thorough application process. Expect to fill out a paper app, then conduct a phone interview and possibly even a home visit. Once you're approved to pick a puppy, you'll pay $299 to finalize the adoption.
Mostly Mutts commits to assisting adoptive families for the lifetime of their pet. For instance, they offer training classes in the facility. If you'd like to support the shelter, you can have your child read to a dog, shop through Amazon Smile, or make a monetary donation to the organization.
Mostly Mutts Animal Rescue Details
7. Coastal Pet Rescue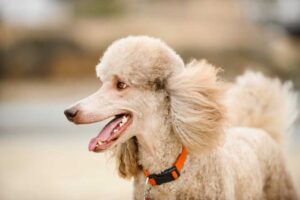 Coastal Pet Rescue is a great option for our readers who live on the Georgia coast. This shelter rescues dogs and cats, and Poodles frequently cross the threshold of this non-profit facility. Adoptable pets are usually fostered, but the team does have a physical facility that adoptive families can visit.
The adoption process is simple; you'll complete the application and agree to a home visit. The shelter does have restrictions, of course. For instance, no one under 18 may adopt an animal. You must also agree to keep your pet indoors as a part of your contract. Expect to pay between $100 and $250 for your Poodle, depending upon the age of the dog.
The adoption fee includes all medical care, including spaying or neutering, microchipping, and necessary shots. Please note that if your dog is still in need of medical care after going home with you, you will be financially responsible in most cases. Speak with your shelter volunteer for more information.
Coastal Pet Rescue Details
8. Sally Wetherbee Adoption Center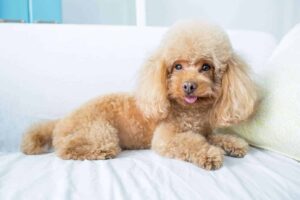 Those who live in the deep south of the Peach State will want to check out the Sally Wetherbee Adoption Center. This shelter works in concert with the Albany Humane Society to house dogs in an air-conditioned, home-like environment until it's time to go home with you. The adoption fee through this organization ranges greatly, depending upon the "adoptability" of the puppy.
You can pay as little as $129 or as much as $767 for a dog, so be sure to check with the shelter about a particular dog you're interested in. Your dog will arrive at your home altered (spayed or neutered) and current on all necessary shots and worming treatments. They will have the opportunity to visit with a vet for a follow-up after adoption, and you'll receive 30 days of MetLife pet insurance, too.
While waiting for the right dog to come along, you can schedule a doggy date. This "dating service" will match you with a dog you can take out for the day. Bring your pal to the doggy park for free, or hang out with him for a few hours. You can pick up your puppy and make a weekend of it if you like.
Sally Wetherbee Adoption Center Details
Conclusion For The "Best Poodle Rescues in Georgia"
Residents of the Peach State who are looking for a Poodle to adopt should consider taking a look at this list of the best Poodle rescues in Georgia. By adopting instead of purchasing a new puppy, you'll be giving a dog another chance at a happy, healthy life.
As with any adoption, you'll want to visit the shelter in person, if possible. Once you've found a shelter you trust and a dog you love, you're on your way to bringing a loyal companion into your family.
For more guides similar to this list of Poodle rescues in Georgia, you can check out:
Before you bring home a Poodle companion from a rescue shelter in Georgia, you can learn more about this dog breed by watching "12 Things Only Poodle Dog Owners Understand" down below: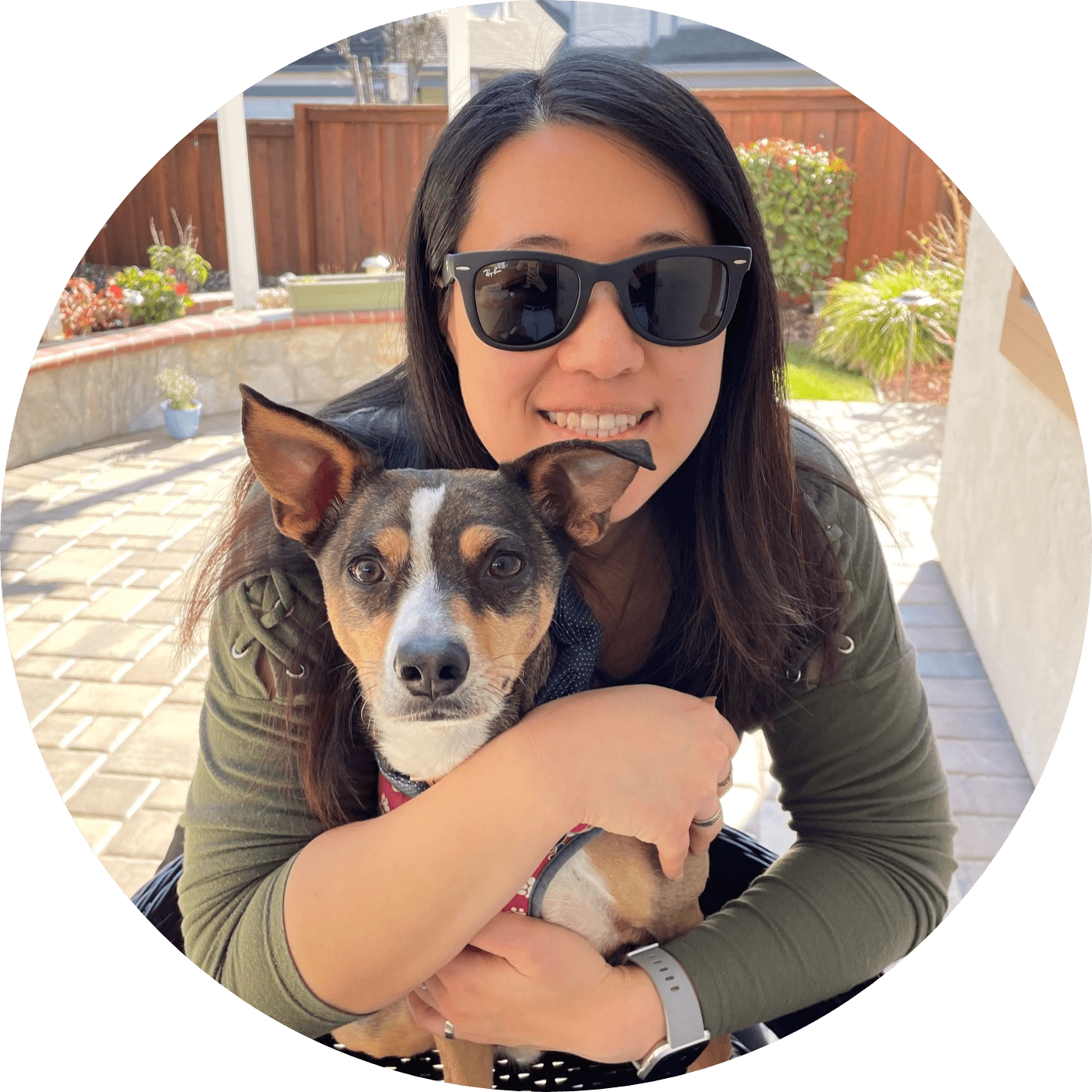 Dr. Sabrina Kong graduated from the Royal Veterinary College in England in 2016 and has been working at a small animal clinic in Northern California since then. She grew up in the Bay Area and got her bachelor's degree from Cal Poly San Luis Obispo. She also became a Certified Canine Rehabilitation Practitioner through a program at the University of Tennessee.
When she isn't in the clinic taking care of her four-legged patients, she enjoys traveling and trying new foods with her friends and her three-legged dog, Apollo. She adopted Apollo from her clinic when he was a puppy with numerous health issues. Dr. Kong truly cares about taking care of animals.