Here's what you need to know if you're searching for the best Doodle rescues in Georgia. Known for their curly coat and adorable name, Doodles are incredibly popular just about everywhere, including Georgia.
They are a favorite among Doodle Rescues in Georgia people who have allergies. If you want a smart, sweet, and good-natured family dog, you need to consider doodle rescues in Georgia. Doodles are normally a mix between a Poodle and any other breed.
However, the most famous Doodle dogs are Goldendoodles and Labradoodles. The versatility offered by the breed is a major reason why you should adopt a puppy from a pet rescue.
Before scrolling down this list of Doodle rescues in Georgia, check out these other recommendations from our team at We Love Doodles: Best French Bulldog Rescues in Georgia and Best German Shepherd Rescues in Georgia.
Find a Doodle Rescue Near Me in Georgia
Here are some of the best options that you need to know about.
Doodle Product Recommendations: Best Dog Steps For Cars and Best Dog Brush For Tangles.
1. Where The Wild Things Are
One of the best Doodle rescues in Georgia is Where the Wild Things Are. It is a non-profit all-breed dog rescue that always has adorable puppies available that you can adopt. It posts the new litters on its Facebook page regularly.
Although it is a reputable big dog rescue in Georgia that specializes in rescuing guard dogs, no dog is too big or small for it! If you want a specific type of puppy, such as a Labradoodle or Goldendoodle, you can send an email to the pet rescue.
Then, it will share details, including pictures and adoption dates, with you. Where the Wild Things Are has outstanding facilities for retraining, resocializing, and rehoming dogs.
Each dog gets to run, swim, play, explore, and exercise. Doodle lovers are always welcome to visit and meet the dogs before taking one or a few with them to their homes.
Dog Rescue's Details
2. Georgia Poodle Rescue
Update 10/16/2023: We can no longer recommend this dog rescue. Please see this news article here.
The next puppy rescue in Georgia that you need to know about is Georgia Poodle Rescue. It is a registered non-profit organization that rescues, rehabilitates, and offers a sanctuary to stranded and unwanted Poodles. The pet rescue also provides resources to educate people to own and maintain animals.
After each poodle has been rehabilitated and trained, it becomes available for adoption. Adopters have the option to return these loving creatures if they are unable to care for them. In order to express your interest, you have to first complete their adoption application and submit an application fee through PayPal.
You are required to pay for the adoption to offset the medical and nutritional costs incurred. As it has been around for quite some time, its adoption process is rather straightforward. Each dog is vaccinated, sprayed, treated for worms, and tested for heartworm. The rescue center also treats serious medical problems, which ensures that you get a healthy puppy.
Dog Rescue's Contact Details
3. Best Friends Lifesaving Center
Best Friends Lifesaving Center is a popular big dog rescue in Georgia. Although they deal with dogs across the country, they have a rescue center in Atlanta that you can visit to meet dogs and decide which one to get for your home.
The main goal of the organization is to ensure that there are no homeless dogs. Thus, you will find all types of Doodle mixes on their website. All the dogs that are available for adoption are vaccinated and neutered.
Moreover, the rescue center also offers an education program to guide first-time adopters. But, you must be patient as the adoption process takes some time. Your application will be thoroughly reviewed by the volunteers, after which you will be contacted to learn more about yourself and what you are looking for.
With an extensive network of supporters, Best Friends Lifesaving Center is making a change in the lives of Doodles across the country. There are many celebrities that also play their part by helping raise awareness for the organization.
Dog Rescue's Details
4. Carolina Poodle Rescue
Last on the list of Doodle rescues in Georgia is Carolina Poodle Rescue. Although its home base is in South Carolina, it volunteers in various states, including Georgia, North Carolina, Texas, Virginia, and New York. This non-profit not only serves Doodles buts just about every dog breed.
It mostly offers Goldendoodles and other Poodle mixes. You will need to cross the state border to meet with the puppy of your choice to finalize the adoption. The first thing that you need to do is view the available dogs to determine which dog you want to get for your home.
As there is no waiting list for dogs, you must apply for adoption if you are ready to bring a specific puppy to your home within the next two weeks. You can click the photo of a dog to read more about its personality and what it needs from a forever home.
Since the descriptions are written by the caretakers, you can gain a ton of insight about the dog when you read them. Start your adoption application today by providing your basic information. Only if you have been approved would you be told to visit the farm.
Dog Rescue's Details
How to Choose The Best Doodle Rescues in Georgia
Finding the right Doodle rescue is not easy. As there are plenty of rescue centers out there, you need to know what to look for. This is where the following tips will come in handy.
Reputation: Before you choose any pet rescue, you should learn more about its reputation. Find out about what people have to say about their service and if they are even worth considering. Fortunately, it has become extremely easy to evaluate the reputation of rescue centers—all you need to read reviews left by customers on Google, social media, and Yelp.
Health Checks: The next thing that you need to consider is health checks. It is best that you choose a pet rescue that performs health checks to ensure that the dogs are perfectly healthy. You can contact the center to find out more.
Health Warranties: Choose a pet rescue that offers health warranties as they make all the difference. As adopting a Doodle is a huge decision, you need to ensure that there are health warranties in place so that if anything goes wrong, you can ask the center for help.
DNA Testing: Since hereditary diseases are quite common among dogs, you should select a rescue that performs DNA testing and shares the results with you. It would ensure that you have nothing to worry about. You never know which disease the little creature might be suffering from. Hence, to stay on the safe side, you must seek DNA results. In fact, you can even ask the rescue about their insights.
Vaccinations: When you adopt a dog, you will need to pay an adoption fee. To ensure that you get the most out of the fees, you should pick a rescue that vaccinates all the puppies. Otherwise, you would have to spend additional money on getting the dog vaccinated and neutered. The more information that you can gather, the better.
Communication: Lastly, you also need to determine how the pet rescue communicates with you. The easier it is to communicate with them, the less stress you would experience and vice-versa. This is why it makes sense to select a center that streamlines communication and provides all the information that you need.
Questions About Doodle Rescues in Georgia
What Is The Cost of Dog Adoption in Georgia?
If you live in Georgia, you will need to spend around $150 to $450 to adopt a dog. On top of the adoption fees, you are encouraged to make a donation as pet rescues rely on donations to continue operations. Otherwise, they would be unable to keep doing what they do. Even a small donation goes a long way.
Are There Doodles in Georgia?
The residents of the Peach State love dogs and can expect to find all types of breeds, including Doodles.
Can Georgia Residents Get A Dog?
Dog adoption in Georgia is on the rise. There are restrictions on getting a puppy. However, you should check with your landlord or the apartment management to make the right decision.
Conclusion For The "Best Doodle Rescues in Georgia"
Adopting a Doodle from a pet rescue allows you to save a life. It ensures that the puppy leads a happy life. When you adopt from a rescue center, you can rest assured knowing that the puppy has received all the necessary training.
Besides, a rescue Doodle will provide you with a lot of love that will make you forget about all your worries. It can be highly rewarding to adopt. So, what are you waiting for? Reach out to any of the above rescue centers in Georgia.
For more guides similar to this list of Doodle rescues in Georgia, you can check out:
Before you adopt a Doodle from a rescue shelter in Georgia, you can learn more by watching "How to Prep For a Rescue Dog" down below: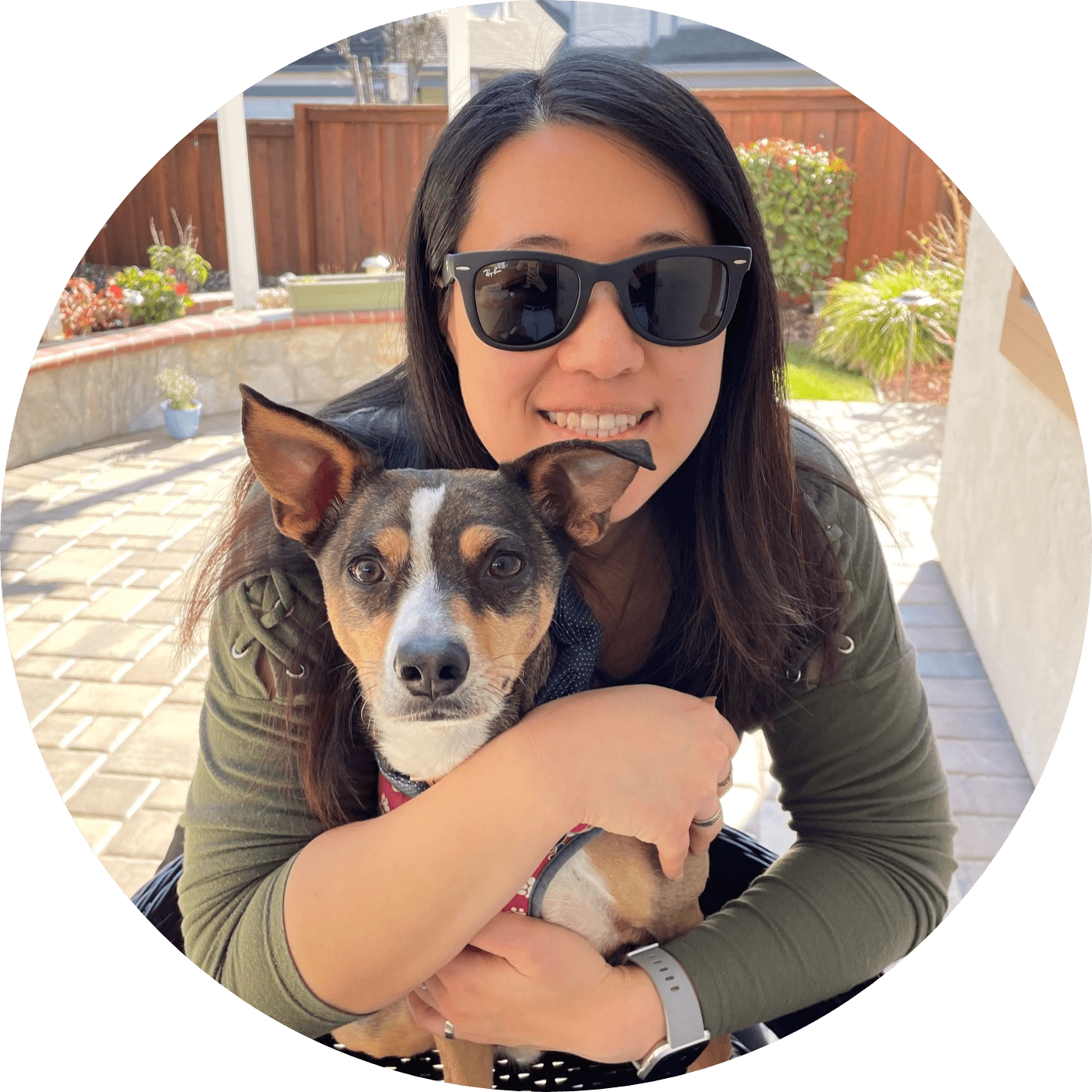 Dr. Sabrina Kong graduated from the Royal Veterinary College in England in 2016 and has been working at a small animal clinic in Northern California since then. She grew up in the Bay Area and got her bachelor's degree from Cal Poly San Luis Obispo. She also became a Certified Canine Rehabilitation Practitioner through a program at the University of Tennessee.
When she isn't in the clinic taking care of her four-legged patients, she enjoys traveling and trying new foods with her friends and her three-legged dog, Apollo. She adopted Apollo from her clinic when he was a puppy with numerous health issues. Dr. Kong truly cares about taking care of animals.