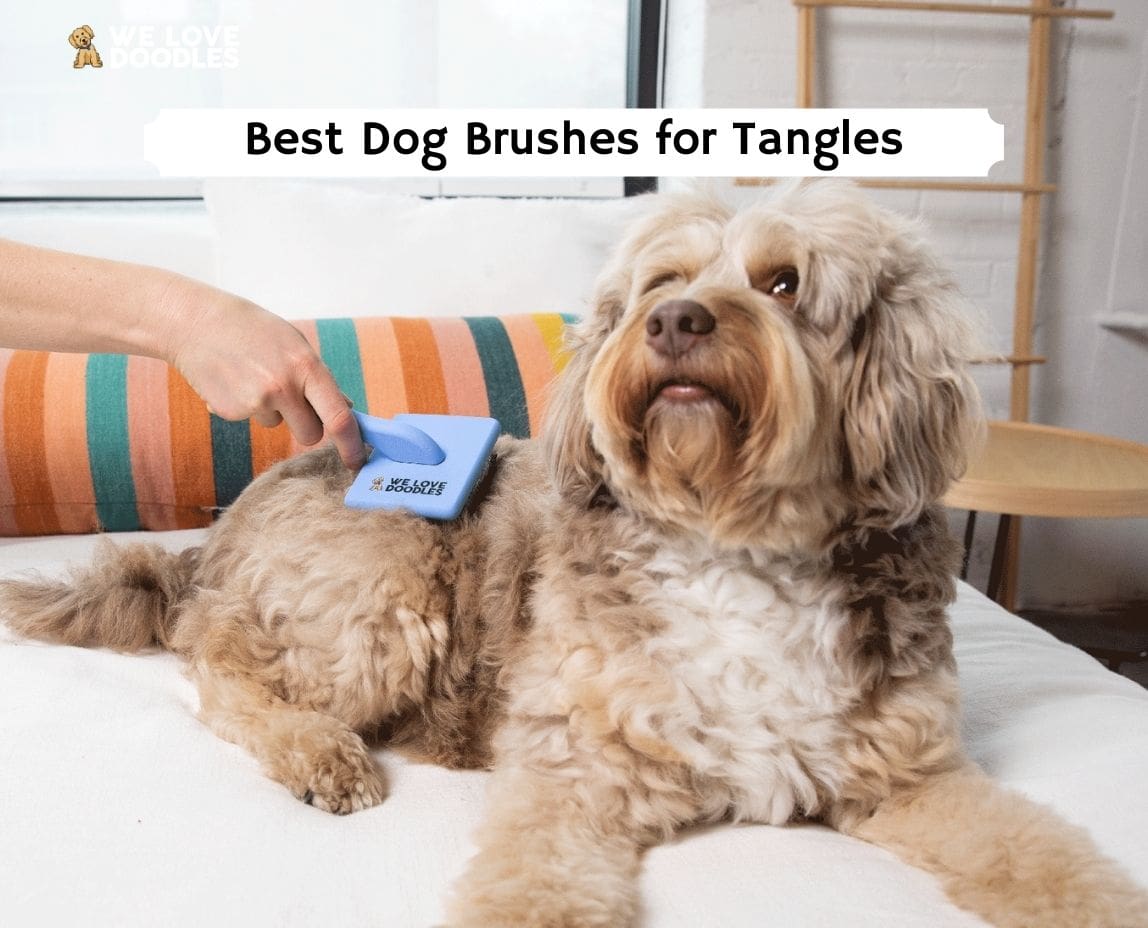 The fifteen best dog brushes for tangles compares the best grooming products for dogs! Browse our recommendations to find the best dog brush for tangles at a glance!
Many dog parents presume that they're doing a great job brushing, when in reality, they've only been brushing the topcoat, leaving behind a thick matted pelt underneath. Sometimes professional groomers can get these mats out, but it takes plenty of time and is a painful experience for your furbaby.
The other alternative is to clip it off. For example, if you plan to bathe your dog, make sure that you brush out all the tangles from the coat before bathing with a detangling spray since tangles can become impossible to remove after a bath. 
To avoid putting your furbaby through this ordeal, it's essential to groom your dog thoroughly by brushing and combing him regularly with dog brushes for tangles. 
Whatever the choice of dog grooming brush you use, it is essential to be super gentle when using these and to avoid excessive pulling on tangles. If the tangle is too extensive, either cut it out or visit a professional groomer.
Brushing Your Dog
The benefits of brushing your pup are numerous, but it's most importantly an essential step in caring for their health and coat. When you groom your dog regularly, you'll eliminate mats, burrs, and, most importantly, tangles. Regular brushing also does the following:
Stimulates the blood supply to the skin

Distributes coat oils

Removes dead hair

Severe matting can prevent the skin from doing its job of regulating and protecting a dog's body temperature.
What are the best dog brushes for tangles?
There is no perfect brush for all dogs. It depends on what type of coat your pet has. For example, if you're a first-time pet parent choosing the best dog brush for tangles may be confusing, but the slicker brush should be your first tool in your grooming kit.
Combo brushes are ideal because they are versatile enough for most dog breeds. There are mainly four types of dog grooming brushes that you can use: slicker brush, bristle brush, rake, and pin brush.
Slicker Brush
This brush is best to use on medium to long hair dogs. It takes a fair amount of time and effort to brush a dog with a thick coat, so first-timers may want to start with a slicker brush that has flexible pins that are not too sharp. 
Slicker brushes are a good choice if you have medium to long-haired dogs. These types of brushes will remove mats quickly and gently, but be careful not to brush down too harshly on your pup's skin with these because they can irritate them!
If you have a long hair breed or an adult rescue pup, you should use a wired slicker brush specifically made for long hair. The wire pins are smoother and allow for better detangling. 
It's also very effective in getting rid of dead undercoats and mats from adult dogs that haven't been groomed before. So, for example, if you have a smooth-coated dog breed like a Pointer or Boxer, use brushes with short bristles or a flexible grooming glove.
If you have a dog with short hair that quickly sheds like crazy, these brushes will be perfect for them. The bristles are tightly packed, which helps remove loose hair while massaging their skin simultaneously!
Rakes
The rake is used to remove tangles and dead undercoats from your dog's coat. It should match the length of their fur with how far it will reach into thick canine coats, so you get all that tough dirt-resistant skin without hurting them!
Shapes & Sizes
Slicker brushes come in different sizes and shapes and feature hundreds of short wires embedded in a firm rubber backing. These brushes should not be used on smooth single-coated pups or hairless dogs.
Slicker brushes work well for dog breeds like the Poodle, with curly non-shedding coats, while combs or stiff bristle brushes are suitable for dogs with medium-length hair that sheds, such as Retrievers.
The gentle slicker brush will feature softer wire bristles that are either curved or straight. This works best on pups and smaller breeds. The larger version of the slicker brush works well for pulling dead undercoats and packed fur from all dog breeds.
Best Dog Brush for Tangles in 2022
Here is a list of the best dog brushes for tangles to keep Fido looking his best in 2022.
The slicker brush is one of the best dog brushes for soft tangles on your pet's skin yet effectively removes mats and loose hair.
In a rush? Here are the top picks!
Product
Best Overall
We Love Doodles Slicker Brush
Runner Up
Chris Christensen Slicker Brush
Luxury Pick
Chris Christensen Oval Brush
Image
The We Love Doodles slicker brush is the best on our list in terms of performance and cost and we're not trying to be biased. We spent 2 years designing our slicker brush specifically to remove tangles, mats, and knots from a dog's fur. The metal pins are extremely long so it doesn't matter if your dog has a long single or double coat. Additionally, the pins are bent at a 45-degree angle as to not scratch your dog's skin.
The handle is also made of solid wood and is designed to be ergonomic since we know that brushing our dogs is a daily chore. At half the cost of the next best brush, Chris Christensen, we strongly believe that this is the best brush for tangles. 
If you're not fully satisfied with this slicker brush, we will give you a 100% refund no questions asked. We've bought almost every slicker brush on the market before we started designing ours. We truly believe that this slicker brush is the best in terms of performance and is offered at an affordable price.
Designed by Chris Christensen, this slicker brush is an excellent choice for pet owners who want a similar feel to a traditional slicker brush. We like that it's made of durable materials with a rubber handle. The design provides easy grip and comfortable grooming. 
This pet detangling brush is made for professional groomers and show dogs. It's designed with larger standard pins to grasp the hair and save time and energy during pet grooming. 
This premium dog slicker brush has a cushioned pad that retracts the soft and scratch-free pins to grasp tangles and knots. We like this pet brush because it features a unique GroomGrip rubber coating that is great for using in the bath to prevent the brush from slipping in your hands. 
It also has an ergonomic handle that will help avoid fatigue brushing. It is the best dog slicker brush for Poodles, Goldendoodles, and Labradoodles because of its ability to remove tangles and mats with ease. With this brush, you can fluff, detangle and style with one tool. This is available in three sizes to fit your breed and size of dog. 
Features
Made for professional groomers and show dogs

Miracle grooming brush for dog tangles

Cushioned pad retracts soft and scratch-free pins to grasp tangles and knots. 

Designed with larger than standard pins to grasp hair

Numerous sizes available
Many professional groomers recommend the Chris Christensen Oval Pin brush for long or short fur pets. We like this dog brush because t's crafted with the ground and polished tips on the pins for comfort. They glide through the coat quickly. 
The brush is made of solid light beechwood with an easy-grip handle, and the cushion is also very durable and long-lasting.
This is a high-quality dog brush for tangles made in Germany for those who demand quality and perfection and is ideal for delicate and fragile coats!
This pet comb was designed to stimulate natural oils within the skin and coat, promoting healthy and shiny hair. The brush works well on most breeds of dogs and is gentle enough to use on pets with sensitive skin. This product has over 1,600 positive reviews.
Features
High-quality dog grooming brush

Affordable

A Chris Christensen dog grooming product

Crafted with lightweight, durable Beechwood body

Made in Germany
Beeps Magic Coat detangling brush for dogs is a new pet grooming brush designed to eliminate mats, tangles, and loose hair. This dog detangling brush is a rubber detangling pet brush unique in its geometric design. The takeaway with this dog de-matting brush is that there are 438 bristles with 32 different heights and 16 different thicknesses.
This is an excellent de-shedding brush because the rubber bristles gently grip loose fur and help mitigate your pet's shedding. This is a 3-in-1 overall pet grooming brush. It promotes a healthy coat by reducing shedding, detangling hair, and maintaining grooming needs. 
Even a pair of tweezers is located in the handle to help groom your furbaby. We like this dog brush because it's gentle enough to use while bathing your pup and removes dirt and grime.
You can use it on any fur type or length, making it great for all pets. It is an excellent detangling grooming tool that makes a beautiful brush for dogs with long coats. 
Longer fur can quickly become tangled or matted. The rubber bristles in this pet brush promote a smooth, tangle-free coat. Use it on wet or dry hair to gently massage and pamper your pet. This is one of the best de-shedding brushes for dogs you can get. Here's the takeaway:
Features
Affordable

Rubber dog hair brush for tangles

Suitable for long, thick, curly, & fine coats

Gentle & safe

3-in-1 overall pet grooming brush

Ergonomic handle

Fun green color option
The Hertzko soft pet brush is one of the best dog brushes for tangles that can be used on all dog breeds, from puppies to seniors. The slicker brush has a large handle and dense, fine pins, perfect for removing dead undercoats and loosening mats. 
It can 'grab' stubborn fur even in hard-to-reach places and works well on long, medium, or short coats. The brush is excellent for tear stains, ticks, and fleas. It's suitable for dogs with sensitive skin, too, as the bristles are rounded at the tips to reduce scratching and irritation of the skin.
You can comfortably grip this brush while grooming your dog. It has a non-slip rubber coating, and the long-lasting pins will not fall out easily. There is also a bonus e-book included on de-shedding your pet – it's like getting two products in one!
We like this detangling pet brush because it features fine pins for removing mats and loose undercoats. It also has a long handle with a soft rubber grip that provides extra comfort while grooming. The broad head is perfect for big dogs. 
Top groomers and veterinarians recommend this product for pet owners to ease brushing time. It's designed in the USA and has over 4,500 positive reviews.
Features
Over 4,500 positive reviews

Soft and gentle plastic bristles 

Comfortable, strong, and durable

Affordable

Comfort-grip and anti-slip handle 

Reputable pet brand
"We have a labradoodle with long curly hair. This kit shows great promise."
"Love these. They are comfortable to use and really worked well with the Matt removal"
The Pet Magasin's Double-Sided brush is one of the best dog brushes for tangles that comes with three different tools – an undercoat rake, double-sided de-matting tool, and de-shedding comb. 
The long tooth double side brush is premium quality stainless steel, which will not rust or corrode. The plastic handle is comfortable to hold and allows for maximum grip so you can brush your pet more efficiently.
This professional styling toolset works great on long-haired dogs of all varieties – especially those with thick undercoats like German Shepherds, Golden Retrievers, and Huskies. 
The undercoat rake is perfect for removing tangles and mats, while the de-matting tool breaks down giant matted clumps without breaking or splitting hairs.
The de-shedding comb is lightweight yet sturdy, with sharp serrated blades that easily remove loose hair on any dog breed – it works well on short hair too! There are no bumps or ridges on the comb, making it safe to use even if your pet has sensitive skin.
If you have more than one dog at home, this is an excellent choice for grooming tools because it combines three different options in one affordable deal. 
We like this set because it comes with three other tools suitable for removing large mats and tangles, de-shedding, or de-matting your pet's hair. The quality stainless steel construction means the tool is rust-resistant and will last for years to come. This product features over 1,600 positive reviews and features the following: double-sided brush, long tooth undercoat dog rake, and de-matting comb.
Features
Three-piece set of dog grooming brushes

Affordable

Over 1,600 positive reviews

Reputable pet brand

Features a double-sided dog grooming brush

Comfortable, padded, and ergonomic

Sturdy & well made
This dog brush is considered a "cat comb" because it's excellent for working on cats and dogs. It has two sides: one side with short pins and the other with longer pins (for de-shedding). 
The HOP brush dishes remove sebum & dander and leave the coat shiny and healthy. It's also the perfect brush for bathing and can be used wet or dry. It stimulates your pet's circulation, stimulates muscles and joints, and is the only brush recommended for pets with skin allergies. 
Both sides will effectively remove mats, tangles, and loose hair quickly and painlessly. We love that this brush works on cats and dogs. This is the best brush for dogs with dried mud, mud-built up of grease undercoat, or stubborn matted fur. 
It will cut grooming time in half! We like that it has a long ergonomic handle that feels sturdy and stable when brushing—also made out of wood, which allows you to get more leverage when brushing.
This brush is ergonomically designed for both comfort and ease of use, which means it'll feel great against your pet's skin while you're brushing them. It also works fantastic on cats with long or short fur. 
It angles at 45 degrees and will help reach pets' undercoats down on their bellies. The dog brush features boar's bristles with a natural handmade bamboo handle that's easy to hold.
Features
Great alternative to a metal bristle brush.

Effective yet gentle

Soft rubber tips quickly scrub away dirt, dead skin & loose fur

Crafted with soft boar bristles

Bamboo brush with an easy-grip handle

Double-sided

Two months' free replacement guarantee
The Bamboo Groom by Majestic Bombay is one of the best dog brushes for tangles that gets rid of loose undercoats, debris and dirt from the topcoat. It also reduces shedding in seconds. The unique design allows you to groom your dog with minimal effort and is super gentle on your pets.
This best pet brush offers a natural petting sensation while removing loose hair, dirt, and debris from the topcoat. It has a gentle plastic grip that provides excellent handling and can be used on long or short hair – even cats! 
The Bamboo Groom works well on sensitive skin to remove mats without irritating your dog's skin. It features boar hair and is excellent for all coat types.
We like that this brush is made from solid wood with an ergonomic design that makes it easier to grip the handle. It also won't slip out of your hands while you're grooming your dog.
Features
Affordable

Bamboo construction

Elastic band: ergonomic shape

Crafted with boar bristles

Suitable for all pets and coats
We recommend the Pat Your Pet gloves for pet owners looking for dog brushes that do not cause trauma or panic in their pets. These grooming gloves are great because they offer a unique massage feature – just apply gentle pressure with your fingertips while brushing to stimulate blood flow and promote healthy skin. 
The glove's surface is covered in bristles that allow you to easily brush even the most hard-to-reach areas. The dog hair remover set will make your grooming routine go from a tedious task to a relaxing experience that both you and your pet will love.
The gloves are an excellent choice for a dog brush to use on all breeds, including cats and other furry pets. They work well to remove mats and tangles from your pet's coat – even giant matted clumps! 
Each glove has dozens of bristles that gently lift dead hair while you massage the skin. This is one of the best dog brushes formats and is an excellent choice for a pet with thin or sensitive skin.
We like the gloves because they protect your hand from cuts and scrapes and can be used with minimal effort. All you need to do is gently brush your pet's coat with the soft bristles, then go back over them using light pressure to lift tangled hair.
Note: Gloves are one size fits all but have the potential to stretch over time if they are too small on your hands. This product has over 3,500 positive reviews.
Features
Affordable

Over 3,500 positive reviews

Easily removes loose hair and dirt

Reaches hard-to-reach areas

Enhanced 5 finger design

Adjustable wrist strap
"It works well for my Labradoodle and her curly hair. Happy with it for the price."
The Show Tech Transgroom Tuffer Than Tangles slicker brush for dogs with tangles is an excellent tool for the detangling process. We like this detangling brush for pets because the bristles are not too stiff, but they get the job done. The detangling pet brush features pins in sizes: extended or regular. Pin hardness choices are firm, soft, or regular.
These brushes make quick work of brushing out thick coats. The Show Tech features angled, extra-long pins penetrate thick coats faster and deeper. The bristles on this brush are medium stiffness, making it a tremendous detangling comb for all coat types.
The bristles flex and bend around tangles without scraping or cutting the skin. In addition to being gentle, this groomers tool for dogs is also effective at removing loose fur, dirt, and any other particles that are stuck in your pet's coat. 
The pins are super strong yet supple enough to quickly and easily brush out heavy coats without causing damage. The pet brushes are lightweight & ergonomic crafted with a curved head for easy access to hard-to-reach areas.
This brush is designed to be used on all shedding breeds of dogs, including poodles, retrievers, shepherds, among many others. We recommend using this product with pet shampoo, but it can be used with a conditioner.
Features
Affordable

 Suitable for mats & tangles in thick coats

Crafted with angled pins for optimal grooming

Firm, soft, or regular options

Lightweight & ergonomic
This brush-and-comb tool is an excellent choice for pet owners looking to remove mats and tangles from their dog's fur quickly and easily. This brush is made from high-quality soft TRP rubber material that won't irritate your pet's skin and can be used on long or short hair. 
It features a comfortable adjustable handle for easy use and prevents your fingers from feeling fatigued after a grooming session.
The rubber material is super soft and gentle on your dog's skin. The anti-slip grip makes it easier to control the brush, and the antibacterial material is excellent for pets with sensitive skin. 
We like this bathing dog brush because it's easy to clean, and the anti-slip rubber material is gentle on your dog's skin. It also features an adjustable ring grip handle to fit different sizes of hands comfortably.
The adjustable handle provides a comfortable grip and fits any hand size, making it one of the best choices for pet owners who often struggle with getting a good brushing action with other brushes. It works well on long or short fur and is one of those must-have pet grooming products.
We like that this brush is soft yet durable and will not lose bristles after regular use. It works well to remove mats and tangles from your pet's fur but can be used on short hair without damaging or ripping their coat. 
This is an excellent choice if you are looking for a dog brush to help remove mats and tangles. This product has over 4,600 positive reviews and comes in a fun blue or yellow color.
Features
Affordable

Gentle

Two-pack kit

Fun & stylish colorways

Crafted with high-quality soft TRP rubber material 

Flexible to get into body contours while bathing & grooming

Over 4,600 positive reviews
"I got this to brush out the hair of my two toy Poodles to keep them from getting matted. It is laminated wood, very beautiful and well made, and the plastic bristles are colorful! The bristles are also soft, so my dogs, who normally don't like to be brushed out, were quite happy to let me brush them till my arm wore out."
The Hop Ultimate 2-in-1 dog grooming brush is soft and gentle enough to remove and eliminate loose, dead fur, hidden dirt, debris without irritating your pet's skin and leaving scratches. We like double-sided grooming brushes because they make grooming less complicated!
Each pin features the shape of an "S" and is helpful for both straight-haired pets and curly-haired pets. This brush also has soft boar bristles that wipe loose hair and quickly remove dust and dirt. The soft round pin tip on the soft side evenly distributes natural oils for smooth, shiny hair.
The adaptive flexibility of this dog brush for tangles eliminates all tugging, tearing, pulling, and ripping, providing ouch less brushing and detangling! This grooming brush is an excellent choice for pet owners looking for a lightweight tool to remove mats and tangles from their dog's fur. 
It works well on all breeds of dogs, including those with long or short hair.
The anti-slip grip provides a comfortable hold that makes it easier to control the brush. 
The gentle bristles work well to remove mats and tangles from all types of fur, eliminating tugging and pulling on your dog's skin. The large breed detangler loosens tangles quickly and gently with less pain. This means a healthy and tangle-free coat.
As one of the best brushes for tangles, we like that this product is easy to clean and antibacterial. It works great for pets with sensitive skin and can be used on long or short fur without damaging, ripping, or pulling their coat. 
The design of this brush makes it easier to detangle your pet's fur without tugging at the skin like some other dog brushes. The gentle bristles are soft enough for any breed and gentle enough for long or short fur without pulling. This dog brush for tangles has over 1,000 positive reviews.
Features
Unique & fun design

Double-sided rainbow dog slicker brush for tangles

Bamboo with soft boar bristles to optimize grooming experience

Each pin is crafted with an S shape for straight-haired and curly-haired pets.

Ergonomic & eco-friendly handle

Features a breathable rubber surface that can be used on a dog's scalp
This is the best dog brush for long hair on this list. The wooden pin brush is designed to eliminate painful pulling and is the safest, gentlest way to detangle hair. Trusted by dog show exhibitors, professional groomers, and breeders worldwide, this unique, all wood brush will make daily grooming an enjoyable experience for both pup and pet parent. 
It's 100% static-free and also made in Germany. We like this dog grooming brush for tangle because it is a lightweight, durable thermo-treated Ash wood body. The real wood pins delicately separate the tangle from the rest of the hair and greatly reduces painful pulling. 
This dog brush is perfect for wet coat and style drying. The pins are ground and polished to provide maximum comfort for pets who have sensitive skin, mats, or knots quickly. This brush is excellent for short and long hair and can be used on wet or dry coats. It makes brushing feel more like a massage.
Features
Affordable

High-quality Chris Christensen grooming product

Lightweight, durable thermo-treated Ash wood body

Made in Germany

Brown or black wood color options

Numerous size options are available.
This high-quality dog grooming brush is specifically designed for hard-to-reach areas like dog's faces. This dog brush has firm bristles to help with minor tangles and mats. It's suitable for detailing. 
The ultra-soft detailer can be used for delicate areas like ears and eyes using short, gentle strokes around the face and delicate areas. We like this product because it's super soft and gentle enough for sensitive skin and on the face. It's lightweight and is made with soft bristles to remove loose hair and provide finishing touches. 
This brush is excellent for dogs with allergies, hot spots, or pets who suffer from severe itching caused by allergies. The firm bristles help to detangle. This is an excellent option if you have a dog with sensitive skin. This product is made by Biosilk and features over 1,600 positive reviews.
Features
Affordable

Gentle facial pet brush 

A Biosilk pet product

Silver color
This dog brush is perfect for Poodles, Yorkies, Shih Tzu's, and most furry pets. This soft Pin Brush gently removes mats and tangles with minimal pulling. It's the best dog brush to remove mats, loose hair, and dead undercoat during the brushing or de-shedding process. 
We like that it has a comfortable ergonomic design that makes brushing feel like a massage. This is also a rotatable dog brush that is multifunctional and gentle on your pet.
Also in "V" shape, for pet massaging, suitable for Yorkies, Poodles, puppies, and other small animals. The stainless steel pins are ground at 90° for optimal grooming results. This brush is safe and gentle on pets with sensitive skin (like most Yorkies) or allergies with severe itching. The handle has an anti-slip grip to make it easier to use in the bath, and it's made with durable ABS plastic.
This is a great dog brush for long hair breeds. It features stainless steel pins that are rounded and smoothed to provide optimal comfort while eliminating tangles and mats from your pet's hair. It's also great for curly or long coats and is perfect for Yorkies. 
The ergonomic rubber handle makes brushing easy and painless. Its lightweight design adds comfort while the soft bristles gently remove mats and tangles without pulling on your pet's hair. It's excellent for increasing circulation in pets who have musculoskeletal issues. This brush reaches the undercoat and is a perfect de-shedding brush. This product has over 1,300 positive reviews.
Features
Affordable

Effective slicker brush for dogs

Rotatable dog brush

Over 1,300 positive reviews

Ergonomic handle that's anti-skid 
What are the main reasons for tangled knots in dogs?
Winter Season: If your dog is long-haired, the cold winter winds and low humidity can cause tangles. Mud: If your dog has long hair, he might get tangled in mud during his daily walk. 
Brushing: You may be brushing your dog often, but some dogs need a little extra attention when it comes to grooming brushes. Infection: If your dog has some kind of skin infection, he may get tangled knots on his skin.
Chemicals: These can be caused by flea treatment or any other type of spray. Tangles are very common if your dog swims a lot because the chlorine in pools can lead to knotting.
How can I prevent tangles in my dog?
The best way to prevent your dog from getting tangles is by brushing him often. But you also need to know which brush is the best for your dog.
What kind of brushes do I need for my dog?
If you own a dog that's prone to tangles, you must have the right brush to avoid discomfort for both the dog and the pet parent. There are several types of brushes, such as:
Wide-toothed comb: The best option for dogs with long fur is a wide-toothed comb that will brush out tangles without causing pain, but it can lead to breaking of hairs if you are not careful.
Slicker brush: A slicker brush has flexible bristles, perfect for removing mats, tangles, and loose hair. This brush can be used safely on most dog breeds. It is best to use a slicker brush with soft bristles for tiny breeds. 
De-shedding comb: For dogs with dense coats, investing in a de-shedding comb can be a great way to remove tangles. 
Fine-toothed comb: A fine-toothed comb is perfect if you want to remove tangles from your dog's undercoat.
What are some tips on how to use a brush for my dog?
If you want to brush your dog, you must consider his hair length, skin type, and breed. Here are some tips to ensure that you are using the right brush:
Thoroughly check your dog's skin for any possible conditions, such as allergies or skin infections.
Start with the undercoat when brushing your dog's hair to avoid breakage from the topcoat.
Mix a few drops of essential oil with your dog's shampoo or conditioner to make his coat shiny and soft.
Avoid using strong-scented shampoos or other types of products that might irritate your dog's skin.
When brushing long hair, use a soft bristle brush to avoid causing discomfort or pain. Use high-quality grooming products that do not cause irritation or itching. Take the time to brush your dog often but gently. This will remove any possible tangles and help avoid fur breaking.
Give your dog a gentle massage as you brush him. This will not only make the experience more pleasant for your dog, but it will also help you bond with him.
How to detangle my dog's hair?
There are numerous tools and techniques for removing tangles and solving matted and felted coats in dogs. If you have a dog breed with long hair, there's always the potential for messes.
Shaving or clipping matted or felted coats
Sometimes the easiest thing to do is shave or clip them off to avoid inflicting pain on your pets. Dematting is extremely painful. Yet with today's dog grooming products, they can sometimes be brushed out. 
If you use specially designed shampoos, conditioners, and dematting tools for dogs, removing tangles can be done with less pain inflicted. That said, the trick to dematting in a humane manner means knowing how to do it. If you're not a pro at this, it's best left to a professional groomer. 
Understanding the difference between felted and tangled hair is key. Yet, sometimes you can get both felted and matted patches on the same dog. When it involves the body coat, it's more humane to shave off the felted part to avoid hurting your pup. In some cases, you'll be able to remove matted areas around the ears, face, and tail by brushing them out.
Felted hair in dogs
This is when large areas of skin cannot be seen due to a high concentration of tangled hair. Manageable mats are usually. Some groomers don't brush out a dirty coat because it may damage the hair. Dirt and oils in the coat may help to hold the mat together, whereas a bit of water may be beneficial in helping to remove mats.
Professional groomers recommend washing the coat using pet shampoos and conditioners to smooth out individual hair shafts and make brushing easier. 
You can then use a high-velocity dryer to lift the mat up and away from the skin while drying. Additionally, you can use detangling sprays and apply them to a damp coat, but with this, you'll need to wait until they dry before trying to remove the mat. 
After that, you should use a special detangling dog brush to begin the dematting process. For example, if your matt is super large, using other dematting tools like the wide-tooth Poodle comb is good. You'll need to work from the outside in on the mats while the coat is wet so that you can break apart the mats. 
Once you've reduced the size of the tangles, detangling is much easier, and you're able to reduce the tension on the dog's skin and allow for your furbaby to be more comfortable. 
Here's the takeaway:
Cut through the sections of the tangles (from root to tip) to reduce the size

Shorten the length of the hair with scissors before you begin brushing out the tangle
Where can I buy a brush for my Tangled dog?
If you are looking to purchase a brush for your dog, there are many different places to find one. One such place would be at an online store like Amazon or PetSmart.
You can also buy a brush from your vet's office or a pet store. They might not have the same selection as we do, but they will have a brush that you can use. Just remember to read the reviews on WeLoveDoodles before buying anything, including dog brushes.
Long & fluffy breed coats
These types of dogs benefit from frequent brushing and often need professional grooming. The breeds include the following:
Golden Retriever

Bernese Mountain Dog

English Springer Spaniel

Rough Collie
Some double-coated dog breeds have a heavy undercoat that should be groomed with a shedding blade or grooming rake to allow optimal grooming.
Terrier dog breeds
Some of these breeds, like the Schnauzer, will have long coats that need professional clipping and daily grooming at home. A metal comb and a soft slicker brush are excellent choices for grooming these long-haired terrier breeds.
Low shedding dog breed coats
These include the Poodle, Doodle, Portuguese Water Dog, and Bichon Frise. If you're planning on showing your Poodle, you'll need to be motivated to learn how to groom your Poodle properly. 
This takes on a complex art form that is probably best done by a professional groomer. Opt for a soft slicker and metal comb for these breeds.
Corded dog breed coats
Breeds like the Puli and the Komondor have unusual corded coats. This should never be brushed and is always managed by hand with the help of a professional groomer or breed expert. The corded coat should be dampened with water, and the cords separated and twirled. 
The length is controlled with trims to keep it from getting dirty. Regular maintenance around the facial areas is needed to clean eye matter, food bits, and burrs.
Northern dog breed coats
Suppose you examine breeds like the Siberian Husky, Shiba Inu, or Samoyed. In that case, you'll see that they have a naturally harsh outer layer with a thick undercoat to provide warmth during the cold winters. A slicker brush, shedding rake, and metal comb are recommended with regular grooming with these breeds.
Comb
The comb is another vital tool to have at your disposal when grooming your pup. Long-toothed combs, especially ones featuring several offset rows, are beneficial for use in dog breeds with long hair, like Collies. 
These types of dog grooming combs are also helpful for removing tangled clumps of hair or for removing clumps of loose undercoat hair when your pup is going through seasonal shedding.
Ensure the comb has wide teeth (similar to human hair combs) for effective brushing. It's essential to check that any grooming tool you buy is comfortable to hold and easy to use. The last thing you want is to groom your furbaby to become an unpleasant task.
When choosing the best brush or comb, look out for well-made and sturdy ones. You want a tool that will last for years and will not break when you're brushing your pup. 
The best dog brush for tangles should also be easy to clean and preferably made of safe material that won't harm your pet's skin.
There are many professional grooming tools on the market today, but you don't need all of them for your best friend. You can choose which are most essential to have when it comes to brushing, combing, and detangling your pet's coat.
How often should I groom my dog?
VCA Animal Hospital adds that "daily brushing of any dog that sheds will cut down dramatically on the amount of loose hair and dog dander floating around the home, and will also cut down on the amount of hair that the dog swallows in the course of self-grooming with his tongue."
Regular brushing is necessary, especially for dogs with long silky, curly hair. This keeps the hair from becoming tangled or matted, especially around the ears, in the armpits, or along the back of the legs. 
VCA also explains that you should inspect your dog's body every day to check for bumps or new lumps, fleas, and ticks, as well as for tangles, mats, and clumps of hair that could have developed underneath the armpits, groin area, or behind the ears.
Other articles you would like:

Claudia Bensimoun is a writer who specializes in dog content and veterinary topics! Aside from writing for We Love Doodles, Claudia also writes for other major dog blogs like Fido Friendly, Animal Wellness Magazine, and the United States Dog Agility Association (USDAA). She has a ghostwritten over 50 different dog e-books. Her passions include animal welfare, veterinary research, and wildlife conservation.
Why Trust We Love Doodles?
At We Love Doodles, we're a team of writers, veterinarians, and puppy trainers that love dogs. Our team of qualified experts researches and provides reliable information on a wide range of dog topics. Our reviews are based on customer feedback, hands-on testing, and in-depth analysis. We are fully transparent and honest to our community of dog owners and future owners.