Just like human children, puppies have weaker immune systems than adults. They need vaccines to prevent them from contracting dangerous diseases and protect them from germs. Puppies can begin receiving certain vaccines as early as three weeks old. Your veterinarian will most likely recommend the 7-in-1 shot for newly born dogs. But what is the 7-in-1 short for puppies?
The 7-in-1 shot vaccine provides an easy way to protect your little furry friend from common diseases.
Before you read our in-depth answer to the question, "What is The 7-in-1 Shot For Puppies," you can check out the answers to these other dog-related questions from our team at We Love Doodles: What to Expect at a Puppy Social! and When Do Puppy's Eyes Change Color?.
What Does the 7-in-1 Shot Protect Against?
The 7-in-1 puppy shot is a combination of seven different vaccines. Keep reading to learn more about the diseases this vaccine combination protects against.
Adenovirus
Adenoviruses were first discovered in dogs in 1930. Young dogs are at the highest risk of contracting these viruses. Adenovirus is contagious and spreads through contact with another infected animal or surface. Puppies, whose immune systems are still developing, struggle to fight off these infections.
Some symptoms of Adenovirus include:
Upper respiratory tract infections
Fever
Lethargy
Anorexia
Vomiting
Diarrhea
Enlarged lymph nodes
Abdominal pain
Enlarged liver
Severe infections often lead to death
Adenoviruses can often lead to hepatitis in dogs.
Hepatitis
Canine hepatitis is a medical condition that indicates an ongoing enlargement and scarring of the liver. Hepatitis has several possible causes, including:
Liver cancer
Canine bacterial infection
Toxic substances ingestion
Cysts
Gallstones
Diabetes
Some endocrine diseases
Puppies can contract infectious canine hepatitis by coming Into contact with the Canine Adenovirus1. The hepatitis vaccine portion of the 7-in-1 shot will increase the chances of keeping your puppy safe from this often fatal condition.
Canine Distemper
Canine distemper is a highly infectious disease that affects dogs across the globe. It spreads through transmission from one infected animal to another. Protecting your pup from canine distemper is incredibly important. Puppies often cannot fight off this infection with their weak, developing immune systems.
Symptoms of canine distemper include:
A two-phase, or diphasic, fever
Low white blood cell count (also known as leukopenia)
The presence of mucus build-up, also known as catarrh, in the GI and respiratory tract
Pneumonic complications
Neurological complications and irregularities
You should seek veterinary attention immediately if your puppy is displaying any unusual symptoms.
Parainfluenza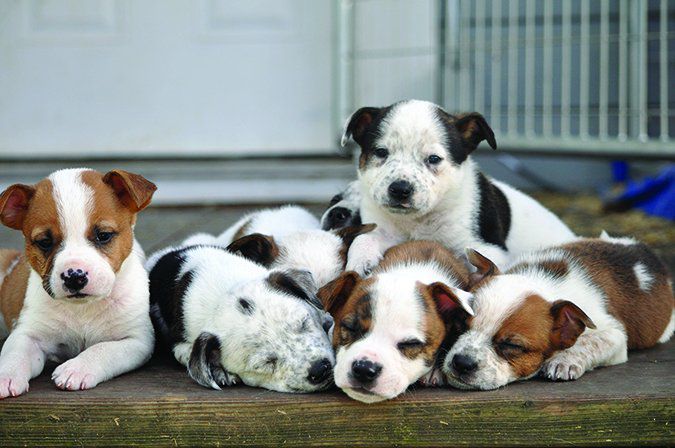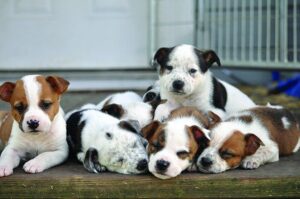 Parainfluenza is a contagious viral infection that can affect and be transmitted by dogs. Like the above diseases, this infection spreads via contact with an infected animal, area, or surface. Parainfluenza can lead to death in puppies.
Some symptoms of parainfluenza include:
Low-grade fever
Decreased appetite
Cough
Pus, mucus, or bloody discharge from the nose
Decrease in energy level
Puppies should be kept in a safe, germ-free environment before receiving their parainfluenza vaccination. This will ensure the puppy does not come into contact with the virus.
Parvovirus
Parvovirus is a common cause of fatality in puppies. This vaccination is critical to your puppy's health and well-being.
Symptoms of parvovirus include:
Lack of appetite
Lethargy
Decreased energy
Depression
Sudden onset of high fever
Vomiting
Diarrhea
Puppies that have not yet gotten their vaccines should stay in a safe, germ-free environment. Anyone who handles a puppy should do so with clean, washed hands.
Leptospirosis (Two Types)
Leptospirosis is common in rural areas. There are two kinds of leptospirosis. Both can be contracted by contact with infected wild animal urine. Infections resulting from leptospirosis are bacterial and can cause severe damage to the kidneys and liver.
Symptoms of leptospirosis, also called "lepto", are:
Lethargy
Increased thirst
Fever
Loss of appetite
Vomiting
Joint or muscle pain or discomfort
Discolored urine
Jaundice (yellowing of the skin and eyes)
Puppies are not at immediate risk for lepto infection if they are kept in a safe environment. The best way to prevent lepto is to avoid allowing your dogs to drink from any water source other than a clean bowl or another container that you provide for them.
When to Give 7-in-1 Shot For Puppies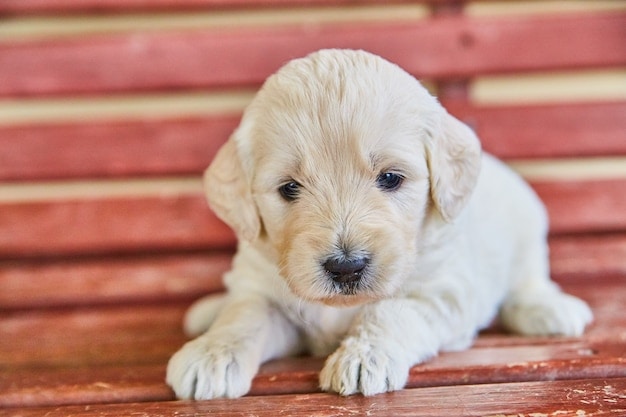 Puppies younger than 12 weeks should not receive the 7-in-1 shot. The reason for this is specific to the leptospirosis vaccines. Lepto vaccines are considered unsafe before this age.
All puppies need to begin receiving their core vaccines by the time they are six weeks old. Core vaccines are necessary vaccines for all canines and include:
Rabies
Parvovirus
Canine distemper
Adenovirus
Parvovirus, canine distemper, and adenovirus vaccines are almost always found as a combination vaccine. These vaccines are usually called either DAP or DHP.
Does My Puppy Need the 7-in-1 Shot?
Non-core vaccines are not necessary for every young dog, but some puppies may require them depending on where they live and their lifestyle. Non-core vaccines include:
Leptospirosis
Canine influenza
Lyme
Parainfluenza
Bordetella bronchiseptica
The 7-in-1 shot may not be necessary. For example, since leptospirosis is only found in rural areas, only pups that explore rural wildlife areas need to be protected against this specific disease. Leptospirosis comes from wild animal urine. If you don't think your dog will come into contact with wild animal urine, you do not need to protect against Leptospirosis, making the 7-in-1 shot unnecessary for your pup.
If you and your vet determine your pup needs a lepto vaccine, hepatitis vaccine, and parainfluenza vaccine, the 7-in-1 shot may be a good choice.
Some medication labels claim the 7-in-1 shot is safe for puppies six to eleven weeks old.  However, you should always vaccinate with caution and consult a veterinarian before administering any vaccine. Typically, the first dose of the 7-in-1 shot should be given at 12 weeks, and the second dose can be given at 16 weeks.
What is a 5-in-1 Shot?
A 5-in-1 shot is similar to a 7-in-1 shot, but only includes five vaccinations instead of seven. This vaccine combination protects against canine distemper, parvovirus, adenovirus, hepatitis, and parainfluenza.
The 5-in-1 shot can be given between six and nine weeks of age.
Where to Buy the 7-in-1 Shot For Puppies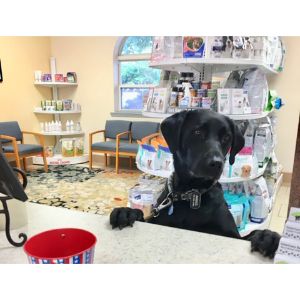 You can purchase the 7-in-1 shot at pet supply stores such as PetCo, PetValu, PetSmart, and Tractor Supply.
It's best to have your pets vaccinated by a licensed vet or vet tech. Veterinarians carry all necessary vaccines, and this is the safest place for vaccines to be given in case your pet has a bad reaction. And reactions do happen!
How Much is the 7-in-1 Shot For Puppies?
The 7-in-1 shot ranges from $100 to $200. The cost depends on the brand you purchase and how much the retailer charges. While this may seem expensive for a vaccine, it's vital to remember that it is seven vaccines, not just one.
Possible Side Effects of the 7-in-1 Shot
Like all types of medications, the 7-in-1 vaccine may cause side effects. These side effects can differ from pup to pup and range from moderate symptoms to severe reactions.
Common moderate side effects include:
A lump or bump at the injection site that should dissipate within a week
Sneezing and sniffles
Fatigue
Mild fever
Decreased appetite that should resolve on its own within a day or two
If your puppy has a severe reaction to a vaccine, contact your vet immediately. Things to look out for include:
Breathing difficulty
Uncontrollable panting
Hives, itchiness, and swelling could indicate the onset of anaphylaxis shock
Vomiting
Diarrhea
Lethargy
Discharge and swelling at the injection site could indicate an infection
Puppies have underdeveloped immune systems and may have an easier time undergoing a small number of vaccines at a time. This way, if there is a reaction, it will be easier to pinpoint the specific vaccine that is responsible.
Frequently Asked Questions
Does the 7 in 1 shot cover parvo?
A 7-in-1 shot protects puppies from Parvovirus, Adenovirus, Canine Distemper, Hepatitis, Parainfluenza, and two types of Leptospirosis.
Can I vaccinate my own puppy?
Unless you are a trained veterinarian, you should think twice before vaccinating your dog on your own. Veterinarians have specialized training and can help in case your puppy has a bad reaction to a vaccine.
Can I take my 8 week old puppy outside?
You can typically begin taking your puppy for outdoor walks as early as one week after their first round of vaccinations. Consult a veterinarian before taking your puppy outside for the first time.
Pros and Cons of The 7-in-1 Shot For Puppies
Vaccinating your puppies is an efficient way to protect them from deadly diseases. The 7-in-1 vaccine for puppies is an excellent choice for some dogs. As always, it does have its pros and cons.
The benefits of the 7-in-1 shot include the convenience of tackling seven vaccines at one time. It may even save you money over paying for the vaccines separately.
On the other hand,  seven vaccines may be too many for your pup to receive in one shot. Furthermore, the lepto vaccine is inappropriate for puppies under 12 weeks old, and you may be vaccinating your puppy against diseases they are not in danger of contracting.
Always consult your vet with any questions. They will be able to provide you with the most accurate professional advice to suit your pup's specific needs.
If you find this guide, "What is The 7-in-1 Shot For Puppies," helpful, you can check out these other dog-related articles from our team:
You can learn more about dog vaccinations by watching "Understanding dog vaccinations – Purina" down below:
Garrett loves animals and is a huge advocate for all Doodle dog breeds. He owns his own Goldendoodle named Kona. In addition, he volunteers at the Humane Society of Silicon Valley, where he fosters dogs and helps animals. Garrett enjoys writing about Doodles and believes that dogs can teach humans more about how to live than humans can teach a dog.
Why Trust We Love Doodles?
At We Love Doodles, we're a team of writers, veterinarians, and puppy trainers that love dogs. Our team of qualified experts researches and provides reliable information on a wide range of dog topics. Our reviews are based on customer feedback, hands-on testing, and in-depth analysis. We are fully transparent and honest to our community of dog owners and future owners.