Whether you live in the middle of Mississippi or rural New York, there is just something about dogs in the country – their wildness, their toughness, and their connection with the natural world – that makes them unique.
But, how can you give your country dog the name it deserves? How will the whole world know your puppy is a bonafide country dog? In this article, we'll break down the best country dog names to help you out.
Other articles you would like: Duck Hunting Dog Names and Spiritual Dog Names.
Badass Country Dog Names
If you're looking for a country dog name that conveys that your dog isn't here to mess around, check out this list, which ranges from the noble and powerful to the "pawsome" and cool:
Commander – For a dog with a dominating presence.
Hunter – Great for a dog that's single-minded and in control – and who likes to bring you treats.
Chief – A name for a dog that knows it's the head of a household.
Hoss – Based on the southern slang word, this is a name for a dog that's sturdy and tough.
Prowler – For a dog that knows how to wind along those quiet country lanes.
Arrow – For a dog that's quick and dextrous.
Bullet – Great if your dog can take off in a flash without warning.
Bugle – Great for a dog that loves to announce its presence, whether through barks or just with a general racket – especially in the early hours of the morning.
Bull – For a big, bulky dog that doesn't mess around.
Shooter – For a dog that knows how to protect its territory.
Striker – Great if your dog is a lean, mean, fighting machine.
Killer – If your dog is adept at hunting, this is the name for them.
Crusher – A great name for a big, strong dog, or an ironic name for a smaller dog.
Bolt – For a dog that can start running in a flash.
Lancer – A stellar name if your dog seems like they'd fiercely protect your property.
Daredevil – For a dog who gets itself in the wackiest situations with no fear.
Marksman – Excellent for a dog that you'd take hunting with you.
Rawhide – A perfect name if you want to pay homage to the Old West.
Deacon – For a dog that's authoritative and powerful, yet friendly.
Renegade – Great if your dog just cannot be kept under control.
Country Girl Dog Names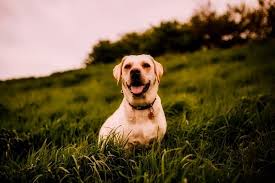 If you want a more feminine name for your four-legged country girl, consider these monikers that will let everyone know your dog is a cowgirl at heart.
Grace – For a dog with natural poise and elegance.
Hope – For a dog that helped bring you out of a dark moment.
Charity – If your dog is friendly and kind to a fault, this is the name for her.
Matron – Great name to honor the powerful country women in your life.
Lady – For a dog who seems like she'd be royalty in another life or a sweet southern belle.
Mabel – This name derives from the Latin for "lovable," so it's a great name for a tender, cuddly female dog.
Mackenzie – A trendy name for the modern dog.
Polly – No, not like the parrot – this name derives from the names Mary or Dorothy.
Pixie – For a delicate, possibly mischievous dog.
Riley – A great name if you want a dog with a popular, recognizable name.
Sheba – An homage to the biblical Queen of Sheba which is perfect for an imperious or powerful dog.
Sweet Pea – A cute name if your dog is just the sweetest – or a funny one if she isn't so nice.
Tomboy – For a female dog that can keep her own with the boys.
Whitney – Maybe in honor of Whitney Houston, or maybe because you love how the name rolls off the tongue.
Willow – For a classic tree in the U.S. South – also a popular name that conveys wisdom.
Teresa – A European name associated with saints and holy people.
Honey – For a dog that's friendly with just about everyone she meets!
Harley – Great for a dog that can run far and fast, just like the motorcycle.
Dottie – A more classic name for the old-fashioned kind of dog.
Buttercup – A floral name for an especially sweet pooch.
Related: Strong Female Dog Names.
Country Boy Dog Names
If you're looking for some more masculine fare, try out one of these names. They convey just the right kind of rough-around-the-edges charm you will find in country boys and country dogs alike.
Rusty – For a dog with a ruddy red coat of fur.
Chip – A more diminutive name that fits a smaller or more charming dog.
Bubba – The kind of name that just seems to fit perfectly with a squat, gruff dog like a bulldog.
Aloysius – This name, the Latin version of "Louis," conveys aristocratic charm and nobility, and is perfect for a more elegant dog.
Chase – Great name for a dog that loves to run after everything, including balls, frisbees, or its own tail.
Junior – For a dog that's a chip off the old block–whether his own father or yourself!
Roscoe – This is an antiquated name for a revolver, and it might suit a more crotchety or old-fashioned dog – or simply one with an old soul.
Colby – Whether you love the cheese or love the college of the same, name, this is a great way of honoring either!
Tennessee – A name that just rolls off the tongue – and named after one of the greatest U.S. states, to boot!
Jackson – A first name and surname that's been used for U.S. Presidents, leaders, military figures, and cities.
Beau – French for "beautiful" or "boyfriend." Great for a charming young dog that gets a lot of attention from other pooches.
Tanner – Named after the profession of leatherworking, but great no matter what your dog's opinion on leather jackets is.
Mason – For a dog that's hard as stone and tough as rock, just like the workers this name honors.
Marshall – For a dog that seems to command the attention of an entire room when he walks into it.
Champ – For a scrappy fighter of a dog that never gives up, no matter the odds.
Bandit – A great name for dogs that are always getting themselves into trouble.
Cooper – A name for shoemakers, but also a hip modern name for a male dog.
Diesel – For a dog with black fur or who loves to hang around trucks.
Brody – A name of Scottish origin that's great if you want your dog to be blessed with an up-and-coming popular name.
Blake – An English name that means "white," but that has also been the first or last name of poets, artists, singers, and more.
Country Dog Names Based on Nature
If you want to give your country dog a name that reflects the rich natural landscape of the countryside, you can't go wrong with any of these excellent names.
Oak – For a dog that's tough and resolute.
Storm – Great if a dog is unpredictable and tempestuous.
Thunder – For a dog with a mighty roar (or bark).
Sand – For a dog that's as much at home on the beach as in your house.
Flame – For a dog with fiery and unrestrained passions.
Cyclone – A great name if your dog is borderline out of control.
Pine – Inspired by the trees that dominate much of the American South and Northeast.
Tide – For a dog that enjoys time in the ocean.
Peak – Great for a white or gray dog that seems to belong on the mountainside.
Snow – Another ideal name for a dog with a wintry coat of gray and white.
Smoke – For a dog with black or gray fur, or one with a mysterious personality.
Coal – If you live in Appalachia or want to honor your dog with a name inspired by the region, you can't go wrong with this one.
Rocky – For a dog you could take on any trip to the mountains or hikes.
Briar – For dogs who love to get down and dirty in the weeds.
Clay – Ideal for a dog that's born and bred in the Carolinas or Georgia.
Ash – A name inspired by the leftovers after a fire or the massive, imposing trees.
Creek – For a dog that likes getting wet on a hot day.
Lavender – For a sweet dog who smells especially good – or comically bad.
Sage – For a dog that loves to go foraging for herbs or other treats.
Bobcat – A feline name for a dog that's more than a little fierce.
Dog Names Based on Country Music
One of the best ways to decide on a dog name is to draw from the prestigious history of country music. Here are some options:
Elvis – Elvis Presley
Conway – Conway Twitty
Dolly – Dolly Parton
Armstrong – Louis Armstrong
Trace – Trace Adkins
Tim – Tim McGraw
McGraw – Tim McGraw
Urban – Keith Urban
Garth – Garth Brooks
Taylor – Taylor Swift
Strait – George Strait
Underwood – Carrie Underwood
Shelton – Blake Shelton
Cash – Johnny Cash
Jason – Jason Aldean
Nelson – Willie Nelson
Woody – Woody Guthrie
Denver – John Denver
Rascal – Rascal Flatts
Reba – Reba McEntire
Dierks – Dierks Bentley
Rucker – Darius Rucker
Shania – Shania Twain
X – Lil Nas X
Kenny – Kenny Rogers
Lambert – Miranda Lambert
Lynn – Loretta Lynn
Patsy – Patsy Cline
Lewis – Jerry Lee Lewis
Travis – Randy Travis
Joplin – Janis Joplin
Kris – Kris Kristofferson
Billy Ray – Billy Ray Cyrus
Conclusion for Country Dog Names
Whether you live in the country or just love the lifestyle, naming your four-legged friend a country-style name is a great way to show off their personality and your love of the simple life.
Other articles you would like:
Garrett loves animals and is a huge advocate for all Doodle dog breeds. He owns his own Goldendoodle named Kona. In addition, he volunteers at the Humane Society of Silicon Valley, where he fosters dogs and helps animals. Garrett enjoys writing about Doodles and believes that dogs can teach humans more about how to live than humans can teach a dog.
Why Trust We Love Doodles?
At We Love Doodles, we're a team of writers, veterinarians, and puppy trainers that love dogs. Our team of qualified experts researches and provides reliable information on a wide range of dog topics. Our reviews are based on customer feedback, hands-on testing, and in-depth analysis. We are fully transparent and honest to our community of dog owners and future owners.