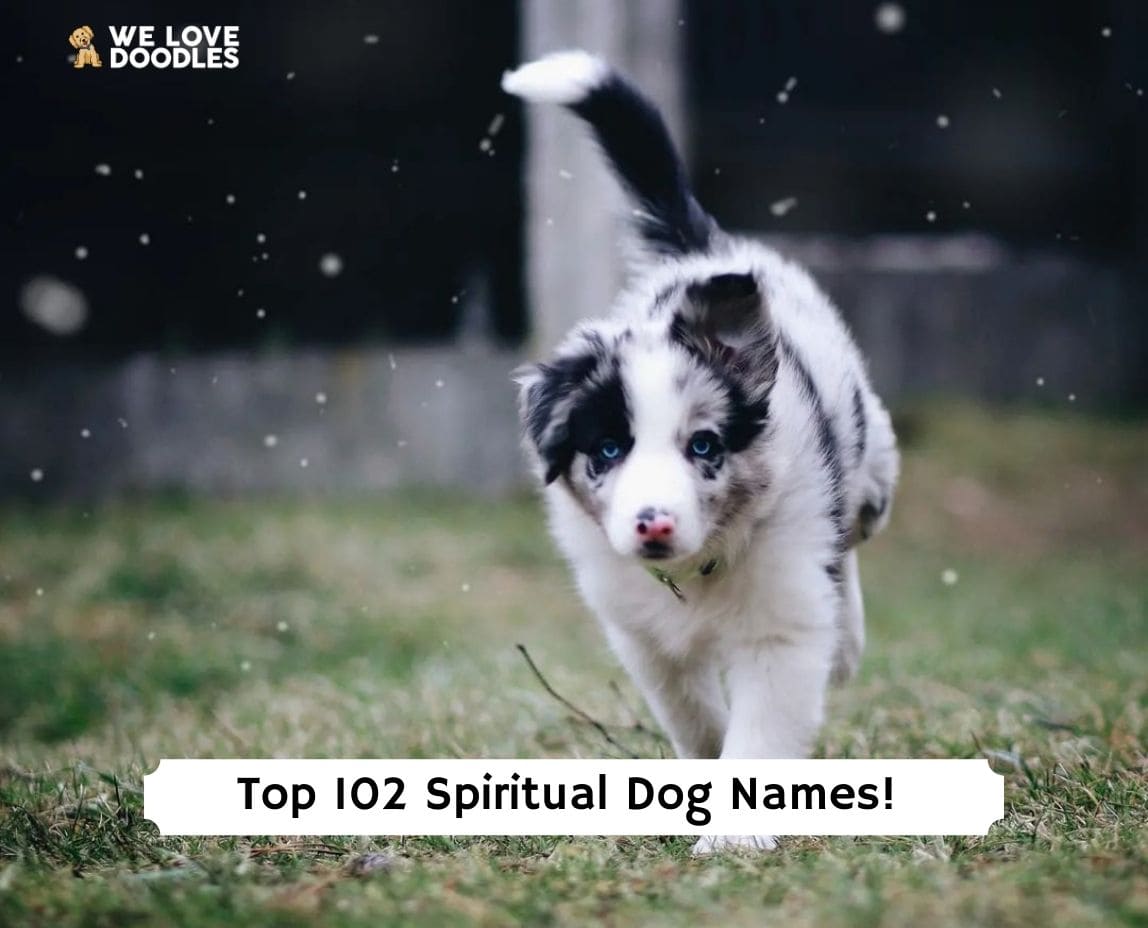 A spiritual dog name is excellent for any dog that you feel was heaven-sent. Or, perhaps your dog just means a lot to you on a soul level. 
No matter your religion, beliefs, or spirituality, there's a spiritual dog name on our list that should fit your dog well. Read on to see the top 102 spiritual dog names to name your puppy! 
Other articles you might like: Evil Dog Names and Viking Dog Names.
Spiritual Names for Dogs
Looking for a more generally spiritual name? Here are some ideas. 
Buddha-

The name Buddha means "awakened one" or "the enlightened one."

Eartha-

The name Eartha is derived from Earth and would be perfect for a dog that loves nothing more than running and playing outside.

Gaia-

The name Gaia is the Greek personification of Earth.

Karma-

Karma is the law of cause and effect in Buddhism.

Cedar-

Cedar is associated with inner peace, wisdom, and good fortune.

Lotus-

Lotus symbolizes purity of the inner soul, beauty, strength, and love.

Willow-

Willow is associated with magic, fairy tales, fantasy, and enchantment.

Sunflower-

The sunflower is associated with happiness, joy, cheerfulness, and good luck.

Echo-

Echo was a nymph in Greek mythology who could repeat or mimic what she heard and is ideal for a dog that loves to sing or howl.

Summer- Summer has its origins in Old English and would be perfect for a dog that has a sunny disposition.
Harmony-

Harmony is to be at peace with everyone and everything. The name Harmony will show that your dog is a very peaceful creature.

Tink-

Tink is the sound of a small bell or a light ringing noise.

Faerie-

Faerie is a small, mischievous figure in early modern English literature and folklore.

Guru-

Guru is a spiritual leader in certain faiths.

Talisman-

Talisman is an object believed to contain magical properties.

Crystal-

Crystal means a clear, transparent form of mineral or glass.

Chakra-

Chakra is a Sanskrit word for "wheel" or "circle."

Moon-

Moon represents serenity, intuition, dreams, and cycles.

Amethyst-

Amethyst is a purple stone that is said to have healing powers.

Omen-

Omen is a sign that foretells what is to come.

Serenity-

Serenity is the state of being calm, peaceful, and tranquil.

Aura-

Aura refers to an invisible field or atmosphere that extends beyond matter.

Zenith-

The name Zenith refers to the highest point, or peak, of something.

Bear-

This name suggests that a dog has a spirit animal of the bear, known for its patient and protective nature.

Leo-

Leo is the Latin word for lion, a powerful animal, and a noble name for an extremely powerful mastiff or another large dog breed.

Eclipse-

Eclipse is a celestial event when the Earth, moon, and sun align in an almost straight line.

Rainbow-

Rainbow is the sign of a multicolored arc in the sky, which suits a dog that always cheers you up when it's gloomy.

Aries-

Aries comes from the Latin word for a ram, the zodiac sign for people born between 21 March and 20 April.

Gemini-

The name Gemini comes from the Latin word for "twins."

Eternity-

Eternity is a reference to the concept of timelessness.

Nebula-

Nebula refers to a vast cloud of interstellar dust, gas, and plasma that shines by reflecting the light of nearby stars.

Lunar-

The Latin word for moon, this name refers to the light it gives and the ebb and flow of its phases.

Freedom-

Freedom is a state of being free from restraints or confinement.

Acacia-

The Acacia tree is a symbol of endurance and beauty.

Culturally Significant Names for Dogs

Many cultures have traditions and spirituality that make for great names for dogs. If you're part of one of these cultures, try these spiritual dog names. 
Aslan

–

Aslan is a Turkish word for "lion."

Luna-

The name Luna comes from the Latin word for moon.

Nuit-

Nuit is taken from the Egyptian word for "night" and would be perfect for a dog with very dark fur.

Dharma-

Dharma is a Sanskrit word meaning moral, good, natural, and righteous behavior.

Bodhi-

Also known as Bodhidharma, Bodhi was the founder of the first school of Zen Buddhism.

Bluebell-

The name Bluebell is derived from Gaelic and fits a dog with blue eyes.

Cadfael-

Cadfael is a Welsh name that means battle-worthy and would fit a fearless dog.

Kodiak-

Kodiak is the name of an enormous bear and would be an excellent name for your dog if it is larger or has an intimidating size.

Zoë-

Zoë is the Greek form of Zoe, meaning 'life.'

Lakota-

Lakota is the name of a Native American tribe.

Maya-

Maya is the name of an ancient civilization in Central America.

Kismet-

Kismet is a Turkish word that means 'fate.'

Moksha-

Moksha means "liberation" or "salvation" in Sanskrit.

Sakura-

Sakura is the Japanese word for "cherry blossom."

Baron- Derived from the Germanic words meaning "noble" or "freeman," this indicates that your dog comes from noble bloodlines.
Bella-

Bella is the Italian word for beautiful and feminine.

Shakti-

Shakti is a Hindu word that refers to the divine feminine aspect of the universe.

Maximus-

Maximus is the Latin word for "the greatest," which will suit your dog if it is the greatest in your eyes.

Nami-

Nami is the Japanese word for wave, which signifies change.

Ameera-

Ameera is another variant of Ameerah, which means "princess" in Arabic.

Pharaoh-

Pharaoh comes from ancient Egyptian rulers who were gods on Earth.

Quigley-

Derived from Gaelic words meaning "bringer of good luck."

Voltaire-

Voltaire is the name of a French writer who wrote satirical novels and poems.
Biblical Names for Dogs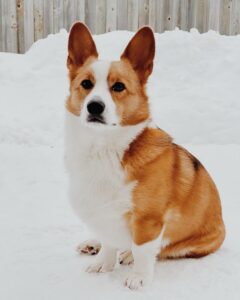 Here are some of our favorite spiritual names for dogs. 
Angel-

Angel comes from the Latin word for "angelic messenger."

Divine-

Divine is derived from Latin and means of or belonging to God.

Glory-

The name Glory has its origin in Latin and means to shine brightly.

Grace-

The name Grace has its origins in Latin and would fit a good-natured dog.

Inca-

The name Inca means 'In the Heavens' in the Incan language.

Spirit-

Spirit is intangible evidence of a supernatural being, presence, or life force.

Halo-

Halo is of English origin and means 'radiance'.

Faith-

Faith is the act of trusting and believing in something.

Ariel-

Ariel comes from the Hebrew word for "lion of God."
God and Goddess Dog Names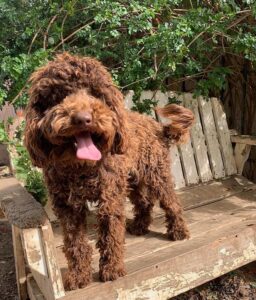 Some of our favorite Gods and Goddesses from Greek mythology and religions can make for wonderful spiritual dog names. 
Gandalf-

The name of this powerful wizard in "The Lord of the Rings" trilogy is perfect for the dog you hope will accompany you on your journeys.

Odin-

Odin is the "All-Father" in Norse mythology who led his warrior-sons into battle.

Loki-

Loki is a trickster god, also of Norse mythology.

Horus-

Horus is an Egyptian god often associated with the sun.

Hera-

Hera is the Greek queen of the gods.

Thoth-

Thoth was a Greek god of knowledge, writing, magic, and the moon.

Djehuti-

The name Djehuti appears in Egyptian mythology as a god of wisdom and knowledge.

Aurora- Aurora is the Roman goddess of the dawn who appears each morning after the darkness of night.
Kali-

Kali was the Hindu goddess of destruction and change who defeated evil with her sword.

Shiva-

Shiva is the Hindu god of creation and destruction, a fitting name for a dog with boundless energy and enthusiasm.

Rama-

Rama was a legendary king of ancient India, considered a model ruler and ideal human.

Lakshmi-

Lakshmi is the Hindu goddess of wealth, good fortune, and prosperity.

Poseidon-

The name Poseidon has its origins in Greek mythology and is fitting for a fearless, powerful, and adventurous dog.

Venus-

The name Venus has its roots in Roman mythology, where the name referred to the goddess of love.

Isis-

The name Isis has its origins in ancient Egyptian mythology, where the name referred to a goddess who was a mother figure.

Ganesha-

Ganesha is the Hindu god of new beginnings and overcoming obstacles.

Artemis-

Artemis is the Greek goddess of hunting, wild animals, hills, and woods.

Zeus-

Zeus is the leader of the twelve Olympian gods in Greek mythology.

Juno-

Juno is a Roman mythological goddess who was the protector of Rome.

Zephyr-

Zephyr is the Greek god of the west wind. This name will suit a dog that has a gentle and calming presence.

Duke-

This name refers to a nobleman of high rank.

Eos-

Eos is the Greek Titan of the dawn.

Orion-

Orion refers to the constellation named after a hunter in Greek mythology.

Neptune-

Neptune is the Roman god of the sea, making this name one for a dog who loves water and swimming.

Apollo-

Apollo is the Greek god of the sun, light, truth, and healing.

Atlas-

Atlas is the name of a Titan in Greek mythology forced to hold up the world on his shoulders.

Chiron-

Chiron's name comes from the centaur, who trained several Greek heroes, including Aries and Hercules.

Hercules-

This name comes from the Greek mythological hero known for his strength.

Midas-

Midas is the man in Greek mythology who turned everything he touched into gold.

Valkyrie-

Valkyrie was a female warrior of Norse mythology, and the name would suit any strong and fearless dog.
Spiritual Dog Names From Pop Culture 
Here are some dog names that can remind you of your favorite movies, while also being an excellent spiritual name for your dog. 
Link-

Link is the protagonist's name in the popular video game The Legend of Zelda.

Obi- Obi is a short form of Obi-Wan, which is the characters' names in the Star Wars film series.
Tinkerbell-

A fairy in Peter Pan, the film. 

Merlin-

Merlin is the name of a powerful wizard in Arthurian legends, and is also a popular character in the beloved TV show, Merlin. 
Conclusion for Spiritual Dog Names
There are plenty of dog names to choose from in the spiritual realm, whether you're going for a Biblical name or something from Greek mythology. We hope you liked our list of the top 100 spiritual dog names. Which was your favorite? 
Other articles you would like:
Garrett loves animals and is a huge advocate for all Doodle dog breeds. He owns his own Goldendoodle named Kona. In addition, he volunteers at the Humane Society of Silicon Valley, where he fosters dogs and helps animals. Garrett enjoys writing about Doodles and believes that dogs can teach humans more about how to live than humans can teach a dog.
Why Trust We Love Doodles?
At We Love Doodles, we're a team of writers, veterinarians, and puppy trainers that love dogs. Our team of qualified experts researches and provides reliable information on a wide range of dog topics. Our reviews are based on customer feedback, hands-on testing, and in-depth analysis. We are fully transparent and honest to our community of dog owners and future owners.