When it comes to naming a female dog, Disney characters are a great source of inspiration. Female Disney characters are brave, beautiful, and intelligent—perfectly suited for your new female puppy.
With so many movies and characters to search through, choosing the best Disney female dog names can be a challenge. Cute Disney dog names can reference characters that were dogs, other animal characters, or popular human characters like the Disney Princesses.
To help, we've put together a list of cute Disney puppy names. Read on to find the greatest Disney pet names girl dogs will definitely appreciate.
Other articles you would like: Cartoon Dog Names and Star Wars Dog Names!
Best Disney Dog Names Girl Dogs Will Love
Here is a list of girl Disney dog names based on some of our favorite Disney characters.
Famous Female Disney Dogs
Sometimes the best option is to choose a name from a classic Disney dog.
Perdita – Perdita is the female dog protagonist in 101 Dalmatians and is known for her ladylike and polite personality.
Nana – Nana is the loyal dog of the Darling family in Peter Pan. At the beginning of the film, she pretends to be the children's nanny and is very protective of them.
Georgette – Georgette is the spoiled poodle in Oliver and Company.
Stella – Stella is Charlotte's lovable pet bloodhound in The Princess and the Frog.
Lady – Lady is the sophisticated and elegant female dog in Lady and the Tramp.
Popular Female Disney Animals
Aside from dogs, there are plenty of other inspiring female Disney animal characters to name your puppy after.
Dinah – In Alice In Wonderland, Dinah is Alice's mischievous kitten.
Dot – Dot is the young and brave ant princess in A Bug's Life.
Faline – In Bambi, Faline grows up with Bambi and later falls in love with the titular character. (Bambi)
Kiara – Kiara is Simba's outgoing daughter in The Lion King II: Simba's Pride.
Nala – In The Lion King, Nala is Simba's childhood friend who supports his return to Pride Rock.
Abby – In Chicken Little, Abby Mallard is a kind and supportive friend. (chicken little)
Bianca – In The Rescuers, Miss Bianca is a classy and intelligent mouse committed to helping those in need.
Bonnie – Bonnie Hopps is the mother of one of the main characters in Zootopia, and works as a carrot farmer.
Judy – In Zootopia, Judy Hopps breaks barriers by becoming the first rabbit police officer.
Grace – Grace is a sweet cow who is notorious for her bad singing in Home On the Range.
Marian – Maid Marian is a famous literary figure and the female protagonist in Robin Hood.
Robin – Although Robin Hood is a male character, Robin is a great gender-neutral name that would suit a female dog well.
Olivia – Olivia is the young hero in The Great Mouse Detective.
Pearl – Pearl is the cute pink octopus in Finding Nemo.
Dory – Finding Nemo wouldn't be the same without the iconic fish Dory.
Bailey – Bailey is a goofy beluga whale in Finding Dory.
Duchess – In The Aristocats, Duchess is a glamorous cat and devoted mother.
Marie – Marie is the sweet girl kitten in The Aristocats.
Winnie – In Winnie the Pooh, Winnie is actually short for Winifred.
Vixey – Vixey is the attractive female fox in The Fox and the Hound.
Disney Princess Dog Names
Disney princesses are kind, smart, and beautiful, making a princess the perfect namesake for your beloved girl dog.
Tiger Lily – Tiger Lily is the young Native American princess in Peter Pan who is rescued by Peter from the clutches of Captain Hook.
Tiana
Anna
Elsa
Ariel
Adelia – One of the sisters in The Little Mermaid.
Alana – One of the sisters in The Little Mermaid.
Andrina – One of the sisters in The Little Mermaid.
Arista – One of the sisters in The Little Mermaid.
Attina – One of the sisters in The Little Mermaid.
Aquata – One of the sisters in The Little Mermaid.
Aurora
Belle
Cinderella
Giselle – In Enchanted, Giselle is a modern and humorous rendition of the classic Disney princess who is always full of hope and optimism.
Jasmine
Merida
Leia – Star Wars is now owned by Disney, which means this list would be incomplete without honoring Princess Leia.
Sofia – Princess Sofia is a popular character from the children's series Sofia the First.
Rapunzel
Raya – Raya is a brave adventurer and the main protagonist in Raya and the Last Dragon.
Snow White
Vanellope – In Wreck-It Ralph, Vanellope von Schweetz is the princess in the game Sugar Rush and Ralph's closest ally.
Moana
Mulan
Kida – Kida is an intelligent leader in Atlantis: The Lost Empire.
Mia – Mia Thermopolis is the clumsy–and elegant–student-turned princess of Genovia in The Princess Diaries.
Iconic Female Disney Names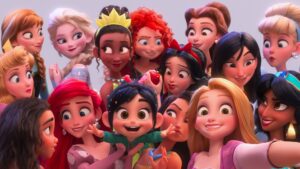 While they may not be official Disney princesses, these female Disney characters are legendary in their own right.
Tinker Bell
Wendy
Vidia – Vidia is a sassy and stubborn fairy that lives in Pixie Hollow in the Disney Fairies books and movies.
Anita – Anita is the human owner of Perdita in 101 Dalmatians and is a sweet and talented fashion designer.
Charlotte – Charlotte la Bouf is Tiana's pampered but ultimately selfless best friend in The Princess and the Frog. (Charlotte la Bouf in Princess and the Frog)
Evangeline – In The Princess and the Frog, Evangeline is the name for the special star with whom Ray the firefly is deeply in love.
Alice
Fauna – Fauna is Aurora's sensitive and thoughtful fairy godmother in Sleeping Beauty.
Flora – Flora is Aurora's attentive and responsible fairy godmother in Sleeping Beauty. (sleeping beauty)
Merryweather – Merryweather rounds out the fairy godmother team in Sleeping Beauty with her stubborn and tough personality.
Babette – In Beauty and the Beast, Babette is an attractive maid who has been turned into a feather duster.
Daisy – Daisy Duck is a classic Disney character known for her spunky attitude and signature purple shirt.
Minnie – Minnie Mouse is sweet, kind, and always there for her friends.
Esmeralda – In The Hunchback of Notre Dame, Esmeralda is a bold young woman who stands up against oppression and injustice.
Laverne – Laverne is a funny gargoyle who keeps Quasimodo company in the bell tower in The Hunchback of Notre Dame.
Jessie – Jessie is a loyal and tough cowgirl in Toy Story, and eventually serves as a love interest for Buzz Lightyear.
Bo – In Toy Story, Woody has an ongoing flirtation with Bo Peep.
Megara – Megara is the attractive and bold heroine in Hercules.
Hera – In Hercules, Hera is Hercules' regal goddess mother.
Mirabel – Mirabel is the main protagonist in the beloved animated film Encanto.
Willow – In Pocahontas, Mother Willow is a wise and supportive spiritual guide.
Colette – Collete is a tough and spunky professional chef in Ratatouille.
Eve – Eve is an intelligent robot in WALL-E who must go against the authorities to do what is right.
Helen – Also known as Elastigirl, Helen is both a fantastic superhero and a great mom in The Incredibles.
Violet – Violet is the shy teenage daughter in The Incredibles with the power to turn invisible and create protection shields.
Jane – Jane is the intelligent researcher who falls in love with Tarzan in Tarzan.
Joy – In Inside Out, Joy represents a young girl's positive and hopeful emotions.
Riley – Riley is the main human protagonist in Inside Out.
Lilo – Lilo is a precocious girl who befriends an alien in Lilo and Stitch.
Mary – Mary Poppins is a beloved character known for being "practically perfect in every way."
Penny – Penny is an innocent orphan in need in the film The Rescuers.
Amelia – Amelia is the captain of the ship in Treasure Planet.
Sarah – Sarah is the protagonist's single mother in Treasure Planet.
Sally – Sally is a spooky heroine in The Nightmare Before Christmas.
Elizabeth – In Pirates of the Caribbean, Elizabeth Swann is a brave and headstrong heroine who eventually becomes a pirate captain, pirate lord, and Pirate Queen!
Kim –Kim Possible is the unstoppable teenage secret agent protagonist of Kim Possible.
Sylvia – Sylvia Marpole is the beautiful, intelligent, and dedicated librarian (and love interest) in An Extremely Goofy Movie.
Jessica – Jessica Rabbit is the sultry and sophisticated femme fatale in Who Framed Roger Rabbit?.
Female Disney Villain Dog Names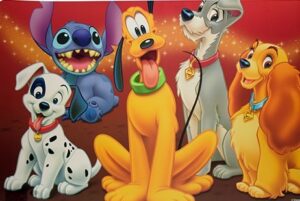 If your dog has a mischievous side, you may want to turn to Disney villains for some inspiration.
Cruella – Cruella de Vil is the main villain of 101 Dalmatians and is an eccentric fashion designer obsessed with dalmatian fur.
Ursula – Ursula is the formidable but entertaining villain in The Little Mermaid.
Vanessa – In The Little Mermaid, Vanessa is Ursula's attractive human alter ego designed to lure Prince Eric away from Ariel.
Maleficent – Maleficent is the terrifying villain in Sleeping Beauty who casts a sleeping spell on Aurora.
Lady Tremaine – As the evil stepmother in Cinderella, Lady Tremaine does whatever it takes to keep Cinderella away from Prince Charming.
Anastasia – Anastasia is one of the evil stepsisters in Cinderella, but sequel films portray her nicer side.
Narissa – Narissa is the scheming evil queen in Enchanted.
Gothel – Mother Gothel is the central villain of Tangled.
Yzma – Yzma is the scheming and hilarious villain of The Emperor's New Groove.
Shego – Shego is a bad-to-the-bone female villain and henchman to the nefarious Dr. Drakken in Kim Possible.
Conclusion for Girl Disney Dog Names
We hope that you found a great Disney dog name for your girl dog! Remember, try to choose a name that is relatively short since you'll be calling your dog's name a lot. Additionally, make sure that it is easy to pronounce and doesn't sound familiar to any of your family members or close friends. Best of luck naming your new girl dog!
Other articles you would like:
Garrett loves animals and is a huge advocate for all Doodle dog breeds. He owns his own Goldendoodle named Kona. In addition, he volunteers at the Humane Society of Silicon Valley, where he fosters dogs and helps animals. Garrett enjoys writing about Doodles and believes that dogs can teach humans more about how to live than humans can teach a dog.
Why Trust We Love Doodles?
At We Love Doodles, we're a team of writers, veterinarians, and puppy trainers that love dogs. Our team of qualified experts researches and provides reliable information on a wide range of dog topics. Our reviews are based on customer feedback, hands-on testing, and in-depth analysis. We are fully transparent and honest to our community of dog owners and future owners.