So you've lovingly taken in a three-legged dog. What now? We're here to help you answer the pressing question, What do you call a dog with three legs?
Your brand new pet is unique and likely clever by circumstance. When someone asks your new friend's name, they expect something creative!
That's why we've compiled a list of the best 3 legged dog names, each complete with an explanation. And don't worry, this list is far more creative than the clever but all too common name, Tripod. Keep reading to find the name that best fits your furry friend's personality.
Other articles you would like: Strong Female Dog Names and Manly Dog Names!
Sports-Related Names for Dogs With Three Legs 
Triathlon: Triathlon is a race that includes three activities—running, swimming, and cycling. It also requires immense strength! Is any further explanation necessary?
Triathlete: Triathletes are the impressive athletes that compete in triathlons. We think your three-legged pup is just as awe-inspiring and worthy of the same title.
Tricycle: If your friend is missing a front leg, this name is extra charming. Two in the back and one in the front—just like a tricycle!
Trike: If tricycle doesn't roll off your tongue easy enough, shorten it to trike! Trike typically refers to a three-wheeled motorcycle; two in the front and one in the back.
Three-wheeler: 3 legged dogs can move impressively fast, hence all the motor wheel references.
Strike: Three misses to strike out in baseball, and three legs to strike out your heart!
Hat trick: A hockey term that warrants a celebration of hat tossing when the same player scores three goals.
Hatty: Desire something with a similar meaning but shorter than Hat Trick? Try Hatty.
Threepeat: The name Threepeat roars champion. Chances are your three-legged boy or girl is a champ worthy of a Threepeat title.
Brainy Three-Legged Dog Names 
Pi: Pi is a play on the mathematical constant, 3.14. If you're into math or physics, the name Pi is a fun way to symbolize that your dog does not quite have four but is still pretty impressive. If you want their name to indicate their sweetness, alter the spelling to Pie.
Prime: The perfect name for owners who are math or art fanatics. Three is the first odd prime number and the number of primary colors.
Lithium: If the subject of chemistry is your thing, you get this reference. Lithium has the atomic number three.
Triangle: Not only is the name Triangle a play on the three-sided shape, but it's also representative of your pet's strength. Triangles are considered the most durable architectural shape for their sturdy base and could be great name for a 3 legged dog.
Trilogy: Trilogy is a unique name perfect for theatre buffs as the term refers to three dramas, literary works, or compositions in one.
Triptych: Much like a trilogy, triptych refers to three pieces of art set aside one another and meant to be enjoyed or analyzed together.
Tripedal: The scientific name for an animal that stands on three legs. If you want something easy for others to catch, this is it!
Three Legged Dog Names After an Icon or Character
Tom Whittaker: Tom, Whittaker, or Tom Whittaker is appropriate here. The man behind this name was the first amputee to climb Mount Everest.
Frank Lentini: Unlike the other icons mentioned, Frank Lentini was not missing a leg. On the contrary, he had an extra one and found success as a circus performer.
Hiccup: This reference comes from the movie series "How to Train Your Dragon." Hiccup is the main character who eventually acquires a prosthetic leg.
Mad-eye Moody: Calling all Harry Potter fans! Mad-eye Moody is a one-eyed, one-legged wizard from the movies series.
Quasi: Quasimodo, better known as The Hunchback of Notre Dame was born with a disability and isolated because of it. However, he was kind and gentle, making Quasi the perfect name for your sweet pup.
Captain Ahab: Captain Ahab is a fictional character from Moby Dick with one leg and one whalebone prosthetic!
Captain Hook: Often shortened to Captain or Hook, this is a lively name based on the one-handed Peter Pan character.
Lieutenant Dan: A reference most of America will understand, Lieutenant Dan is a fictional amputee from the famous movie "Forrest Gump."
Ram: The perfect pet name for Paul McCartney fans! McCartney released the album "Ram" following his split from the Beatles. The album contains a popular song called "Three Legs," meant to diss the other three Beatles.
Simple Three-Legged Dog Names 
Skip: This one should be self-explanatory—three-legged dogs may look like they're skipping when running.
Skipper: An alternative to Skip.
Skippy: An alternative to Skip or Skipper.
Froggy: Dogs with three legs often have a bounce in their gait.
Hoppy: An alternative to Froggy.
Hopper: An alternative to Hopper.
Bouncer: An alternative to Froggy, Hoppy, or Hopper!
Jumper: This is our last peppy three-legged dog name recommendation, we promise!
Gimpy: If your favorite thing about your dog is their three legs and you want a name that suggests that, Gimpy is an endearing choice.
Stumpy: If your pal has a small stump where their leg should be, Stumpy is a lovable reference.
Wobble: Most three-legged dogs overcome their wobble, but it's still a charming name that will draw out a few "Awwh"'s.
Triple: If you're looking for something simple but sweet, opt for Triple!
Trip: If Triple is too long or obvious for you, shorten it to Trip.
Flash: Even if your three-legged friend doesn't move in a flash, the name is still cute!
Speedy: Whether the name Speedy is ironic or accurate, it's just as lovable as your pet.
Dash: If you're looking for something with the same meaning as speedy but slightly shorter, use Dash!
Triad: Triad refers to a group of three and is a short and sweet name for owners desiring something evident.
Tristan: Human names are increasingly popular for pets. The "tri" in Tristain makes it one of the sweetest amputee dog names for a boy.
Roo: Roos is short for kangaroo. There are no naturally three-legged animals, but kangaroos and their nifty tails come pretty close.
Culture Inspired 3 Legged Dog Names
Trinity: If you're looking for a spiritual name, consider Trinity as the term represents Christianity's three-in-one God doctrine.
Shamrock: In the simplest terms, Shamrocks are three-leaved clovers. Irish legend has it, St. Patrick used the shamrock's three leaflets to teach the Holy Trinity mentioned above.
Lucky: The Chinese culture considers the number three to be lucky because it sounds like the word that means birth.
Gemini: As the third zodiac sign, Gemini is a creative name for your three-legged pet.
Drei: The German word for three.
Troika: A Russian term for a carriage pulled by three horses. The name Troika is rare, and its meaning suggests a tenacious pet.
Saburo: Pronounced sah-boo-roh, the name means third-born son in Japanese.
Trois: Pronounced "Trau," this name is French for three and is often used in the phrase, "menage a trois."
Bizirik: This Basque word means "to survive" and is a promising name for any three-legged animal.
3 Legged Dog Names With a Play on Words
Charm: You've likely heard the phrase, "third times the charm," which is yet another indication of the number three's luck.
Yard: This one may take some explaining, but it's fun and unique—three feet in a yard and three feet on your furry friend, Yard.
Race: If you're one for a play on words, Race is an amusing name—a three-legged Race!
Eileen: Eileen is a fun pun name for your three-legged girl. Can't hear it? Say it until you do. Ilene is an alternative spelling and much more obvious when seen.
Footloose: Clearly, one of your furry friend's feet got loose.
Creative Three-Legged Dog Names 
Flip-flop: This name is extra fun if your pup has a missing front leg as flip-flops are sandals with one strap in the front and two in the back.
Ternion: Ternion is a word hardly used but similar in meaning to a triad. In our opinion, it's a name with singularity and some edge.
Pogo: Pogo Sticks are fun spring toys you can place both feet on and jump up and down. When you climb on top of one, it's almost like you have three legs.
Slingshot: Whether you're naming your three-legged dog after the three-wheeled vehicle or the weapon with three crucial points, the name is keen.
Intersection: Intersections, or four-way stops, give drivers three options.
Neapolitan: Neapolitan is ice cream with three different layers of flavor, usually chocolate, vanilla, and strawberry. It's a little bit different, like your pup! This name is fun for multi-colored three-legged dogs.
Triple Sec: If you enjoy a good drink, you'll respect this name. The orange-flavor liqueur makes one of the best tripod dog names but is especially fitting for ginger-colored dogs.
Conclusion for 3 Legged Dog Names
We hope this list of names for amputee animals has helped! However, we hope you remember that your three-legged dog is just like any other pet—innately happy and in need of love. They've already won the jackpot going home with you, and now all that's left to do is grant them a name symbolic of the awesome life ahead of them.
Other articles you would like: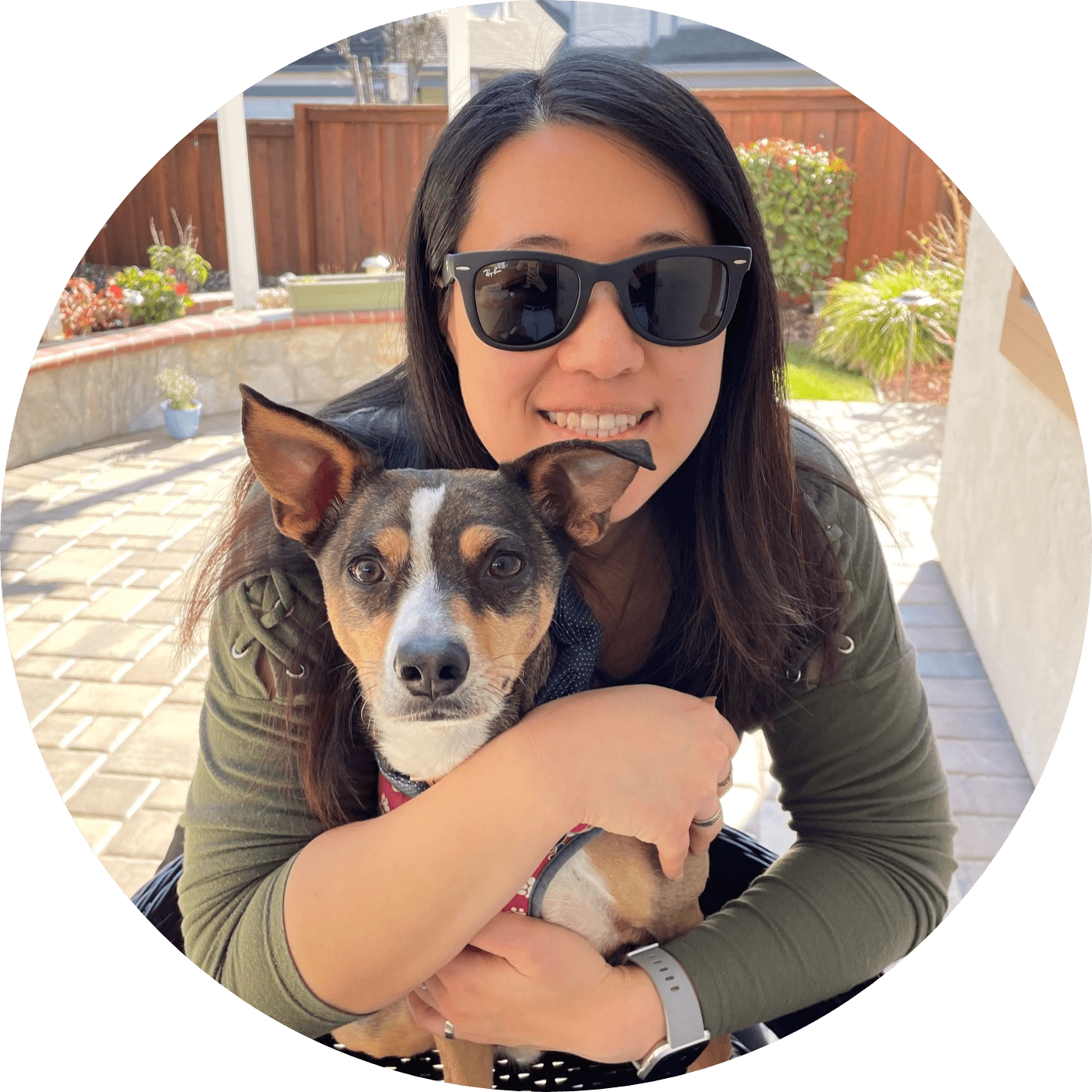 Dr. Sabrina Kong graduated from the Royal Veterinary College in England in 2016 and has been working at a small animal clinic in Northern California since then. She grew up in the Bay Area and got her bachelor's degree from Cal Poly San Luis Obispo. She also became a Certified Canine Rehabilitation Practitioner through a program at the University of Tennessee.
When she isn't in the clinic taking care of her four-legged patients, she enjoys traveling and trying new foods with her friends and her three-legged dog, Apollo. She adopted Apollo from her clinic when he was a puppy with numerous health issues. Dr. Kong truly cares about taking care of animals.