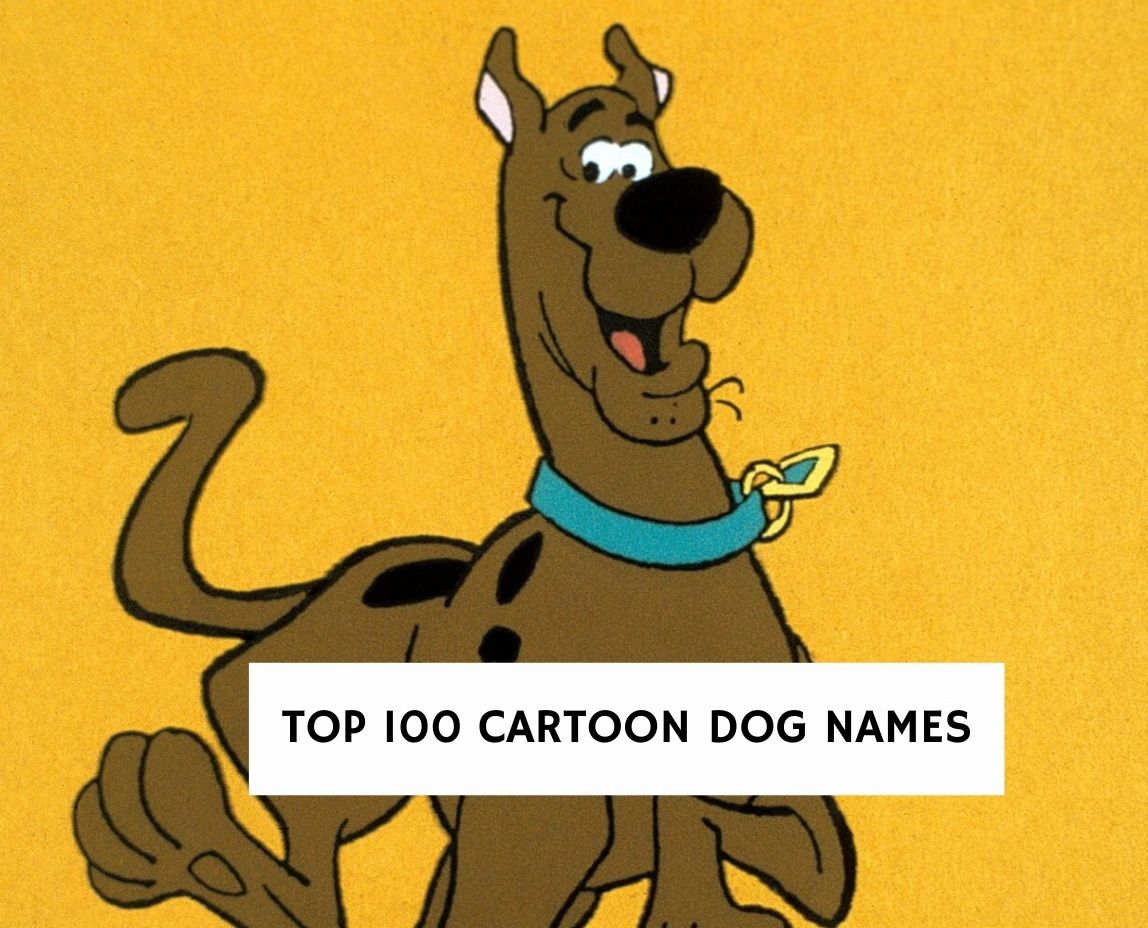 Naming your dog is a big decision. So before you customize that tag collar, you'll want to find something that'll stick. With so many lovable dogs in movies and T.V. shows, cartoons are a great place to find a namesake for your new friend.
Cartoon dog names are notably popular among families with children. After all, kids are always eager to name their pets after something they love. But even if you don't have any children, cartoon names can still be a wonderful option for your dog–after all, cartoons aren't just for kids.
If you'd like to name your dog after a beloved fictional canine, you've come to the right place. We've compiled 100 of the best cartoon dog names out there!
No matter your dog's appearance or personality, there's sure to be some dog cartoon characters on this list that'll make a great namesake for your furry friend.
So get out your notepad and start jotting down ideas, because we have a lot of great famous cartoon dog names coming up. We've also organized them into categories to make narrowing it down a little easier.
Ready to get some cartoon name inspiration? Let's begin!
Check out this related article: 187 Unique Male Dog Names!
Cartoon Names for Girl Dogs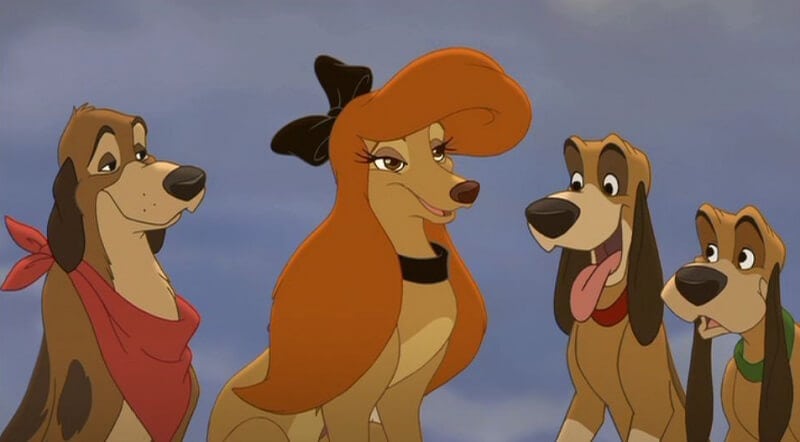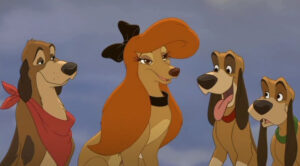 Most cartoon dogs are males, so finding cartoon names for girl dogs can be a little more challenging. To save you the trouble, we've researched and collected some famous cartoon dog names that'll be perfect for your female dog.
From dainty names like "Lady" to more silly names like "Gidget," we have something on here for girl dogs of all personalities!
And if none of these names appeal to you, don't fret–we also have a section for gender-neutral dog names later on,
Best Cartoon Names for Your Female Dog
Lady (Lady and the Tramp)
Lady Bird (King of the Hill)
Angel (Lady and the Tramp 2)
Roxanne (A Goofy Movie)
Lilly (Alpha and Omega)
Olive (Olive the Other Reindeer)
Brandy (Brandy and Mr. Whiskers)
Jenna (Balto)
Skye (Paw Patrol)
Gidget (The Secret Life of Pets)
Isabelle (Animal Crossing)
Cartoon Names for Boy Dogs
Your male dog deserves a fitting name, and fortunately for him, there is no shortage of boy dogs in animated media.
If you have a feisty little Chihuahua, something like "Ren" might be fitting. Or if you have a sophisticated dalmatian, "Pongo" may be the perfect name for him.
No matter your dog's appearance or personality, there's likely to be a cartoon dog name on this list that'll suit him wonderfully!
Best Cartoon Names for Your Male Dog
Pal (Arthur)
Snoopy (Peanuts)
Tom Nook (Animal Crossing)
Marmaduke (Marmaduke Comic Strip)
Seymour (Futurama)
Mr. Peabody (Mr. Peabody and Sherman)
Rowf (Plague Dogs)
Snitter (Plague Dogs)
Dogbert (Dilbert)
Ren (The Ren and Stimpy Show)
Mr. Peanutbutter (Bojack Horseman)
Brian (Family Guy)
Goddard (The Adventures of Jimmy Neutron: Boy Genius)
Scooby-Doo (Scooby-Doo)
Scrappy-Doo (Scooby-Doo)
Pops (The Secret Life of Pets)
Duke (The Secret Life of Pets)
Pork Chop (Doug)
Jake (Adventure Time)
Gromit (Wallace and Gromit)
Clifford (Clifford the Big Red Dog)
Odie (Garfield)
Balto (Balto)
Humphrey (Alpha and Omega)
Gender Neutral Cartoon Dog Names
Are you looking for a name that'll suit a male or female dog? Or did none of the boy or girl names above jump out at you? Luckily for you, we have assembled plenty of unisex cartoon dog names!
These names are also great if you want a name for a dog in advance, but you aren't sure which gender you're getting yet. Or, they're convenient if you've adopted a stray and aren't quite sure of the gender yet.
The characters these names come from may be male or female, but that doesn't mean your dog has to be the same gender for the name to fit.
Best Neutral Cartoon Names for Your Dog
Blue (Blue's Clues)
Magenta (Blue's Clues)
Sprinkles (Blue's Clues)
Zero (Nightmare Before Christmas)
Brain (Inspector Gadget)
Gir (Invader Zim)
Courage (Courage the Cowardly Dog)
Max (How the Grinch Stole Christmas)
Santa's Little Helper (The Simpsons)
Kipper (Kipper the Dog)
Satchel (Get Fuzzy Comic Strip)
Spunky (Rocko's Modern Life)
Snowball (Rick and Morty)
Anime Names for Dogs
Western cartoons aren't the only source of cartoon dog names. There are plenty of iconic dogs throughout animated Japanese media, which can lead to some great dog name ideas for anime fans.
These names can also be great for Japanese dog breeds such as Shiba Inus or Akitas!
Best Anime Dog Names for Your Dog
Makkachin (Yuri on Ice)
Ein (Cowboy Bebop)
Akamaru (Naruto)
Eevee (Pokemon)
Snubbull (Pokemon)
Yamper (Pokemon)
Black Hayate (Fullmetal Alchemist)
Menchi (Excel Saga)
Sadaharu (Gintama)
Heen (Howl's Moving Castle)
Guts (Kill La Kill)
Moro (Princess Mononoke)
Jeff (Kiki's Delivery Service)
Disney Names for Dogs
When you think of cartoons, Disney is often the first thing to come to mind. There are so many famous dogs in Disney media, we just had to make a separate section for them.
Children and adult Disney-enthusiasts alike will surely want to consider the names we've compiled here.
We've collected names for dogs of all personalities, whether your dog is a silly bloodhound like "Goofy" or an elegant poodle like "Georgette."
Best Disney Dog Names for Your Dog
Little Brother (Mulan)
Fifi (Mickey Mouse)
Goofy (Mickey Mouse)
Pluto (Mickey Mouse)
Copper (The Fox and the Hound)
Pongo (101 Dalmatians)
Rolly (101 Dalmatians)
Lucky (101 Dalmatians)
Patch (101 Dalmatians)
Nana (Peter Pan)
Nick (Zootopia)
Trusty (Lady and the Tramp)
Peg (Lady and the Tramp)
Jock (Lady and the Tramp)
Butch (Lady and the Tramp)
Dodger (Oliver and Company)
Georgette (Oliver and Company)
Tito (Oliver and Company)
Toby (The Great Mouse Detective)
Bruno (Cinderella)
Annabelle (All Dogs go to Heaven)
Belladonna (All Dogs go to Heaven)
Charlie B. Barkin (All Dogs go to Heaven)
Bolt (Bolt)
Slinky (Toy Story)
Dug (Up)
Perdita (101 Dalmatians)
Classic Cartoon Names for Dogs
If you want a cartoon name for your dog that'll never go out of style, consider looking at the classics! These cartoon dogs may be old, but they're perfect for dogs of all ages, breeds, and personalities.
They're perfect for older dog owners who aren't quite as familiar with modern animation, but even little kids are likely to get some of these dog name references as well.
Or if you're just looking for something with a bit of a vintage style to it, these old cartoon dogs characters can make some great name inspiration.
Best Old Cartoon Names for Your Dog
Belle (Peanuts)
K-9 (Marvin the Martian)
Huckleberry Hound (The Huckleberry Hound Show)
Spike (Tom and Jerry)
Tyke (Tom and Jerry)
Pudgy (Betty Boop)
Droopy (Droopy, Master Detective)
Krypto (Superman)
Astro (The Jetsons)
Dino (The Flintstones)
Wile E. Coyote (Looney Tunes)
Snuffles (Quick Draw McGraw)
Choosing the Right Cartoon Dog Name
Before you settle on an official name for your dog, there are a few ways to help ensure you make the right choice. Because naming a dog is such a big decision, it's important to put a lot of thought into it!
Consider Their Personality
What kind of personality does your canine friend have? Before you settle on a name, you should make sure you get to know them.
When you choose a name that suits your new dog's personality, it'll be far more likely to stick. Not only that, but you'll have a much easier time remembering it!
Remember, there are names on this list for dogs of every personality type, whether they're silly, serious, or even a little bit shy.
Consider Their Breed
Even if you don't know your dog's personality yet, you probably have a good idea of what their breed is.
If you'd like a name that fits perfectly, consider choosing a cartoon dog name that matches your dog breed–so a beagle named "Snoopy," or a Great Dane named "Scooby-Doo," for instance.
Of course, breeds don't always have to match when choosing dog character names. Sometimes, a name like Snoopy is the best fit for something like a samoyed. It all comes down to your preference!
Consider the People in Your Household
If you're going to choose a cartoon dog name, you may want to choose something from a cartoon that people in your household enjoy. If this is a pet for a child, for instance, it could be best to name them after a dog from one of their favorite cartoons.
You'll also want to consider pronunciation. Some names may be more difficult for little kids to learn; if you go for a long name like "Marmaduke," you kids may end up shortening it to something simpler like "Duke."
Conclusion for Best Cartoon Dog Names
Cartoon dog names are a great choice for cartoon-loving dog owners and children. With so many options to choose from, these names can be a great way to reflect your dog's personality, as well as express your passion for cartoons!
They're also great for people who have trouble remembering dog names–after all, if you can associate your dog with an iconic cartoon character, it'll stick in your head much more easily.
We hope at least one of these famous cartoon dog names will suit your new canine friend!
You will also like:
Garrett loves animals and is a huge advocate for all Doodle dog breeds. He owns his own Goldendoodle named Kona. In addition, he volunteers at the Humane Society of Silicon Valley, where he fosters dogs and helps animals. Garrett enjoys writing about Doodles and believes that dogs can teach humans more about how to live than humans can teach a dog.
Why Trust We Love Doodles?
At We Love Doodles, we're a team of writers, veterinarians, and puppy trainers that love dogs. Our team of qualified experts researches and provides reliable information on a wide range of dog topics. Our reviews are based on customer feedback, hands-on testing, and in-depth analysis. We are fully transparent and honest to our community of dog owners and future owners.