A large number of dog breeds boast silver and grey coloration. If you have adopted one of these beauties, you'll want to choose a special name for it.
We've compiled a list of the top 100 silver dog names, drawing inspiration from silver objects, silver colors in nature, ghosts, weather, celestial bodies, magic, famous greys, senior greys, and foreign languages. We hope one of these names gives you an idea for the latest member of your household.
Other articles you would like: Top 100 Aztec Dog Names
Female Silver Dog Names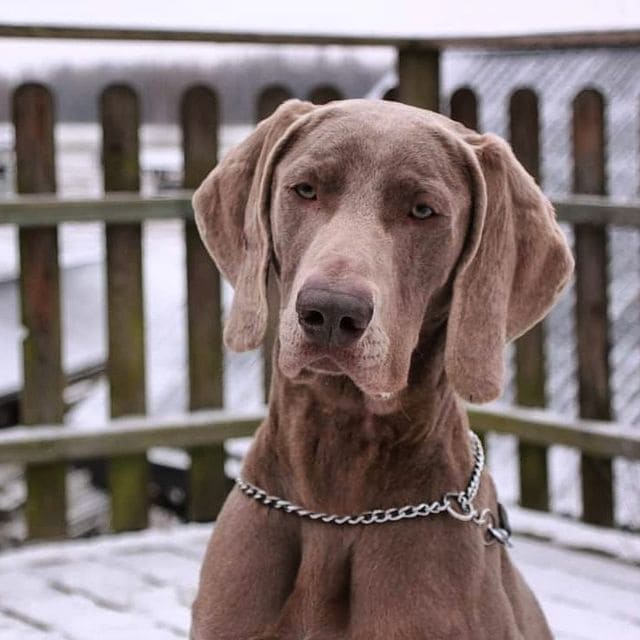 If you're looking for a good name for your sweet grey girl, perhaps some of these silver-inspired names will work:
Belle
Ash
Cinder
Skye
Sage
Male Silver Dog Names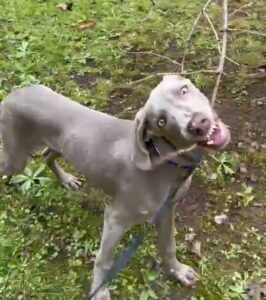 If you're looking for grey puppy names for your little boy, these silver-related male dog names might fit perfectly:
Grey
Bullet
Blade
Tinsel
Flint
Silver Dog Names from Nature
src="https://welovedoodles.com/wp-content/uploads/2021/12/Silver-Dog-Names-from-Nature-300×177.jpg" alt="Silver Dog Names from Nature" width="300″ height="177″ />If you're looking for dog names for silver Labs, Warmareiners, or schnauzers, you may want to consider turning to nature for inspiration.
Silver Dog Names Related to Rocks
A lot of rocks are grey in color, which can lend ideas for your grey dog's name. Consider a rock-related name for your new adoptee:
Rocky
Stone
Slate
Gravel
Pebbles
Silver Dog Names from Metals
Perhaps your grey dog calls to mind the color of metal. Why not let metals inspire you as you think about the name you want to give your four-legged friend? Try these on to see how they fit:
Steel
Pewter
Sterling
Silver
Titanium
Silver Dog Names from Elements
A large number of periodic elements are silver or grey in color. Consider these silver or grey element names when you think about a name for your grey dog:
Carbon: An element used in the form of coal, methane gas, and crude oil
Tungsten: A rare earth metal with the highest melting and boiling point of all elements, used for light bulb filaments and cathode-ray tubes
Thorium: An element that is useful as a nuclear power source and is more abundant than uranium
Uranium: An element useful to paper commercial nuclear reactors
Neptunium: An element that can be used as a nuclear bomb component
Silver Dog Names from Silver Animals
Maybe consider taking inspiration for your grey dog's name from an animal that you call to mind when you see your dog:
Dove
Wolf
Squirrel
Koala
Mouse
Ghostly Names for Silver Dogs
Does your silver dog make you think of the spirit world? If so, choosing a ghostly name might be a fitting choice.
Silver Dog Names from Ghost Types
There are various names for ghosts, so why not give these ghostly names a gander?
Phantom: A ghost that appears to the living
Banshee: A shrieking female spirit usually foretelling a family member's death in Irish folklore
Mogwai: Ghosts or demons from Chinese culture that inflict harm on humans
Wraith: The faint ghostlike image of someone that appears shortly before or after their death
Specter: A ghost or a possibility that is widely feared
Silver Dog Names from Specific Ghosts
There are a few specific ghosts that come to mind which could work magnificently for a specter of a dog:
Casper: The friendly ghost from Harvey comics, tv, and film
Grey Lady: The name of several famous ghosts in England, Malta, New Zealand, the USA, and Northern Ireland
Myrtle: Moaning Myrtle is the bathroom ghost from Harry Potter
Gengar: The final evolution of a Gastly in Pokémon
Boo: The ghost in Super Mario games
Names for Silver Dogs Related to Weather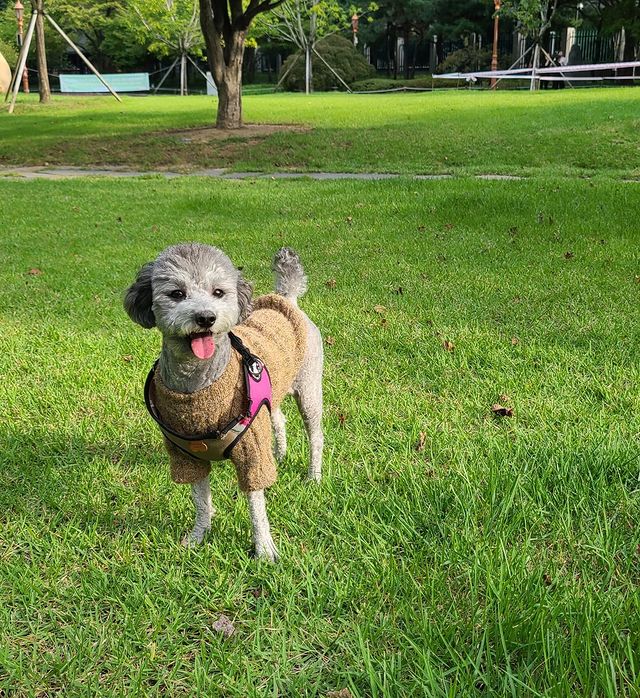 Some silver dog names take their inspiration from grey weather:
Misty
Smog
Rayne
Hazy
Stormy
Celestial Names for Silver Dogs
Does your silvery canine remind you of a starry sky? Then why not choose a celestial name?
Silver Dog Celestial Names
Try one of these celestial dog names if for your grey dog:
Celestine
Cosmos
Mister Starlight (or Miss Starlight)
Stella
Luna
Lunar Deity Names for Silver Dogs
Deity names are all the rage for dogs. You may want to consider choosing a lunar deity name for your dog if you think of the beautiful silver moon when you look at your new silver canine:
Artemis: Greek goddess of the moon, the hunt, wilderness, wild animals, and chastity
Diana: Roman goddess of the moon, countryside, hunters, and crossroads
Máni: The personification of the Moon in Norse mythology
Chandra: Hindu moon god
Lona: Moon goddess from Hawaiian mythology
Magical Names for Silver Dogs
If your silver dog gives off magic vibes, you might consider a magical name for it. Try some of these magic-related names, sorcerer names, and sorceress names to see if one of them might fit your dog.
Magic-Related Names for Silver Dogs
Magic
Abracadabra
Warlock
Wizard
Genie
Sorcerer Names for Silver Dogs
Does your new silver dog remind you of a wizard? Why not honor it with a wizardly name? Here are some famous ones from fiction for our list of the top 100 silver dog names:
Merlin: The wizard from Arthurian myth and legend
Gandalf: A wizard from The Lord of the Rings series
Rand al'Thor: A champion of Light against The Dark One the Wheel of Time series
Albus Dumbledore: A wizard from the Harry Potter series
Voldemort: A dark wizard in the Harry Potter series
Sorceress Names for Silver Dogs
If you would like to name your silver dog after a sorceress, here are some ideas:
Morgana Le Fay: An enchantress in the Arthurian myth and legend
Zatanna: A sorceress from DC Comics
Circe: An enchantress and goddess from Greek mythology who could change humans into wolves, lions, and pigs
Endor: Saul consulted the Witch of Endor in the Hebrew Bible to raise the spirit of the prophet Samuel for battle advice.
Medea: An enchantress from Greek mythology who helped Jason obtain the Golden Fleece from her father, King Aeëtes of Colchis.
Dog Names from Famous Greys
Dorian: Dorian Grey is the main character in Oscar Wilde's The Picture of Dorian Grey
Earl Grey: the name of a bergamot-flavored tea as well as the name of the UK Prime Minister from 1830 to 1834.
Agnes: Agnes Grey was Anne Brontë's debut novel
Jane: Lady Jane Grey claimed the English throne for nine days in 1553 before Mary took the throne
Zane: Zane Grey was a popular writer in the Western genre from 1917 to 1926
Names for Older Silver Dogs
Just like with humans, age is a common reason for dogs to go grey. Dogs become seniors after about age seven. Some breeds are genetically predisposed to graying more or earlier than others. If you've adopted an older dog, check out this category in our list of the top 100 silver dog names:
Age-Related Names for Senior Silver Dogs
Here are some names indicative of age for your older silver dog:
Gramps
Geezer
Fossil
Old-Timer
Winter
Old-Fashioned Female Names for Senior Silver Dogs
Using an old-fashioned name can be fun if you've inherited a senior pooch. Consider some of these old-fashioned female names:
Opal
Etta
Gretta
Eleanor
Clarabelle
Old-Fashioned Male Names for Senior Silver Dogs
If you have a male senior dog that's going grey, one of these old-fashioned names may fit:
Augustus
Clement
Randall
Oakley
Clayton
Silver and Grey Dog Names from Other Languages
Foreign words for silver and grey can be great sources for naming your silver or grey dog.
Words for Silver in Other Languages
Consider these words for silver in other languages as options for silver dog names:
Zilarra: The Basque word for silver
Argent: The French word for silver
Prata: The Galician word for silver
Fidda: The Maltese word for silver
Qalin: The Somali word for silver
Names for Grey in Other Languages
If your dog is more grey than silver, perhaps a name for grey in another language would work better:
Boz: The Azerbaijani word for grey
Ubanon: The Cebuano word for grey
Šedá: The Czech word for grey
Grau: The German word for grey
Kelabu: The Malay word for grey
More Inspiration for Silver and Grey Dog Names
You can also search top dog names and think about other grey objects for ideas. If you like more traditional names, you might look at more generalized lists for the most popular girl dog names or most popular boy dog names. Just beware that lots of popular dog names score high for popular baby names as well.
Inspiration from Grey Things
Haven't found inspiration in our list of the top 100 silver dog names? These categories of grey things might help:
Cities: Think of cities that you connect with the color grey, like London.
Foods: Use grey foods as inspiration, like Oatmeal.
Plants: Think of plants that have a greyish color, like Heather.
Birds: Consider grey bird names, like Shrike.
Fish: Use grey fish names, like Mullet.
Elementals: Use grey elementals, like Smoke.
Appliances: Be silly and name your grey dog after a grey appliance of similar size, like Toaster.
Conclusion for Naming Your Silver or Grey Dog
We hope we got your brain gears turning in regards to possible names for your silver dog. You might need to try a few names before you settle on one, but we're confident you're on the road to finding the perfect name for your grey dog.
You will also like:
Garrett loves animals and is a huge advocate for all Doodle dog breeds. He owns his own Goldendoodle named Kona. In addition, he volunteers at the Humane Society of Silicon Valley, where he fosters dogs and helps animals. Garrett enjoys writing about Doodles and believes that dogs can teach humans more about how to live than humans can teach a dog.
Why Trust We Love Doodles?
At We Love Doodles, we're a team of writers, veterinarians, and puppy trainers that love dogs. Our team of qualified experts researches and provides reliable information on a wide range of dog topics. Our reviews are based on customer feedback, hands-on testing, and in-depth analysis. We are fully transparent and honest to our community of dog owners and future owners.