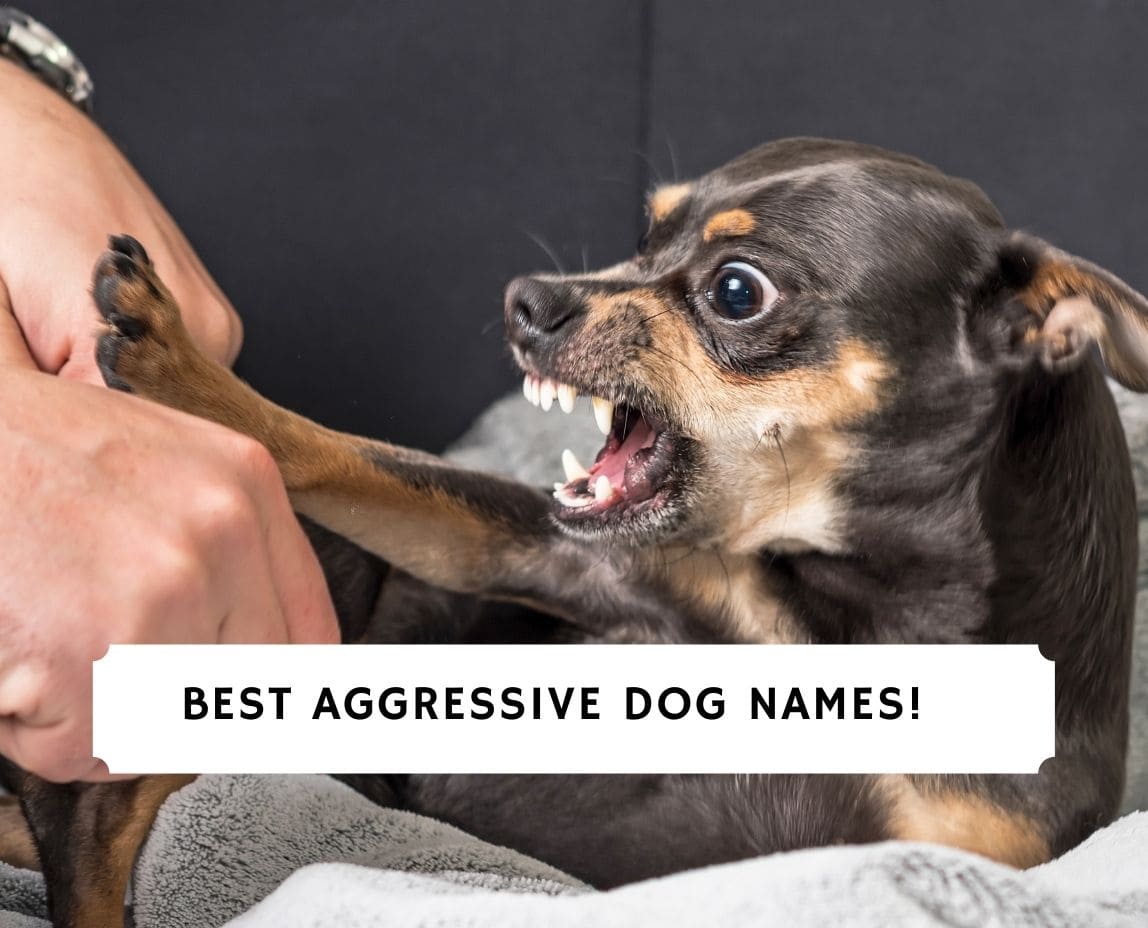 Is your dog a fierce dog that deserves a fierce name? Maybe you rely on your dog to be a guard dog or a watchdog and the protector of your home and family. A dog with such responsibilities deserves an awesome name that coincides with its aggressive nature.
Maybe your dog is really a teddy bear at heart but their breed inspires a powerful name. Or maybe, you just want to give them a powerful name to make them seem tough and mighty when we all know they wouldn't harm a squirrel.
Whatever your reason, aggressive dog names can make your dog sound tough. There are some really great powerful names perfect for any dog out there and we're here to share some inspiration with you!
Before scrolling down this list, you might like: 90 Best Teddy Bear Dog Names!
20 Aggressive Dog Names
1. Brutus
Brutus automatically inspires our thoughts to a tough guard dog. If you've ever known a dog named Brutus, they were probably large and in charge. You can't go wrong here.
2. Remington
Remington is a gun and ammunition brand and is therefore tough by name. Naming your dog Remington will inspire an aggressive and tough name just at the sound.
3. Spike
It might seem cliché, but Spike will always be a tough name. Have a guard dog or an aggressive dog? This might even be a good name for that sweet dog that you want to sound tough. Spike has a nice ring to it.
4. Banshee
Alright, you know this one sounds tough. No one wants to be attacked or followed by a banshee of any kind. This historical meaning of a banshee was a spirit whose wailing warns of death.
5. Crusher
No need to name your dog skull crusher or bone crusher, although you certainly can. The name crusher can allude to an aggressive dog. Maybe they're just a couch crusher, but no one else has to know that!
6. Thor
This is one of our personal favorites. You might be familiar with Thor in the popular Marvel movies and as a member of the Avengers. This could be enough inspiration for the name. Ultimately, Thor is the god of Thunder, which seems fitting for an aggressive dog name.
7. Wolf
Wolves are known for being scary and aggressive so this is the perfect aggressive dog name for you to consider. It can be a great fit for a dog that has any type of look similar to a wolf but it can be used for any breed and still have the same connotation to it.
8. Tank
When you think of a tank, do you instantly think of a big, black dog? Or maybe you think of a military device that is used for aggressive tactics and can take down just about anything in its path. Either way, Tank is the perfect name for a dog.
9. Gunner
If you're a fan of the military inspiration, Gunner could be another great option. This one speaks of toughness without being overly aggressive or intimidating. It gives you a good blend that could be perfect for just about any dog.
10. Hercules
If you really want to inspire that your dog is tough, why not name them after Hercules? This Greek god was known for his strength. He went on a lot of adventures and he was one tough guy. Hercules was the god of strength and heroes.
11. Tiny
Let's add a bit of humor here. Maybe your dog is intimidating enough with just their looks. Some of those guard dog breeds like the Dobermann, Rottweiler, German Shepherd, and more look tough without needing a tough name. Tiny is a fun name that might be a bit deceiving.
12. Sniper
Sniper can certainly have an aggressive tone to it. A sniper watches and strikes when necessary, which might just be what the responsibilities of your dog are. A sniper rarely misses and we suspect your dog will be the same.
13. Major
In the military, Major is a rank that isn't at the bottom. This is a military office rank and you know that if they reach a major, they most likely worked hard to get there. Major is a great name for an aggressive dog name that inspires hard work and even heroism.
14. Sarge or Sergeant
Here is another military inspiration for you. We like the military inspiration because you know it takes tough and hard work to even have the lowest of titles there. A Sergeant has worked hard and is rising in the ranks. This is a great dog name and you can always go with Sarge for short.
15. Fang
When you think of a fang, you think of a tooth or an attack from a terrible animal like a snake. The fang typically incites damage and might even inflict venom or poison. A dog named Fang is bound to be tough and fierce all at one time.
16. Diesel
Diesel is another of those names that is an aggressive dog name without being overly intimidating. It makes you think of something large and in charge, but not necessarily mean or aggressive. It can be a great option here.
17. Diablo
Diablo is Spanish for the devil. If you really want to strike fear in anyone who hears your dog's name, this might just be the name for you. No person wants to go up against a Diablo.
18. Fury
Fury is unique but the name certainly serves the purpose for an aggressive name. You won't hear this name attached to hundreds of other dogs, which is a good sign.
19. Nitro
Nitro makes you think of tough and fast. Name your dog Nitro and this will be a subtle way to have a tough name. It's another name that doesn't immediately intimidate but rather implies subtle intimidation.
20. Bruiser
To end this list of aggressive dog names, we decided to go with a classic. Any dog named Bruiser is bound to fit the bill and whether they are a small dog or large dog, the name sounds tough!
Common Guard Dog Breeds
There are some breeds that are known for their guarding behavior and they are often chosen to be used as guard dogs and protectors for homes. Here are some of those common guard dog breeds.
Rottweiler
Boxer
Akita
German Shepherd
Dobermann
Bullmastiff
Great Dane
Giant Schnauzer
Pitbull
Great Pyrenees
Australian Shepherd
Anatolian Shepherd
Tibetan Mastiff
This is just the beginning. There are a lot of other breeds out there. Some of these breeds and more inspire the following aggressive dog names.
Just know that you can name your Dachshund or Chihuahua with one of these aggressive names as well and no one will be offended!
Conclusion for Aggressive Dog Names
We hope that you enjoyed our list of 20 aggressive dog names! When naming your dog, remember that you'll want to keep it short (preferably less than 3 syllables) because you'll be saying their name all the time. Additionally, you'll want to keep the name different from any humans in your life. You wouldn't want your dog's name to be Hercules when you have a friend named Hercules because then you will get their names confused. Lastly, make sure that you enjoy saying your dog's name.
You will also like:
Garrett loves animals and is a huge advocate for all Doodle dog breeds. He owns his own Goldendoodle named Kona. In addition, he volunteers at the Humane Society of Silicon Valley, where he fosters dogs and helps animals. Garrett enjoys writing about Doodles and believes that dogs can teach humans more about how to live than humans can teach a dog.
Why Trust We Love Doodles?
At We Love Doodles, we're a team of writers, veterinarians, and puppy trainers that love dogs. Our team of qualified experts researches and provides reliable information on a wide range of dog topics. Our reviews are based on customer feedback, hands-on testing, and in-depth analysis. We are fully transparent and honest to our community of dog owners and future owners.