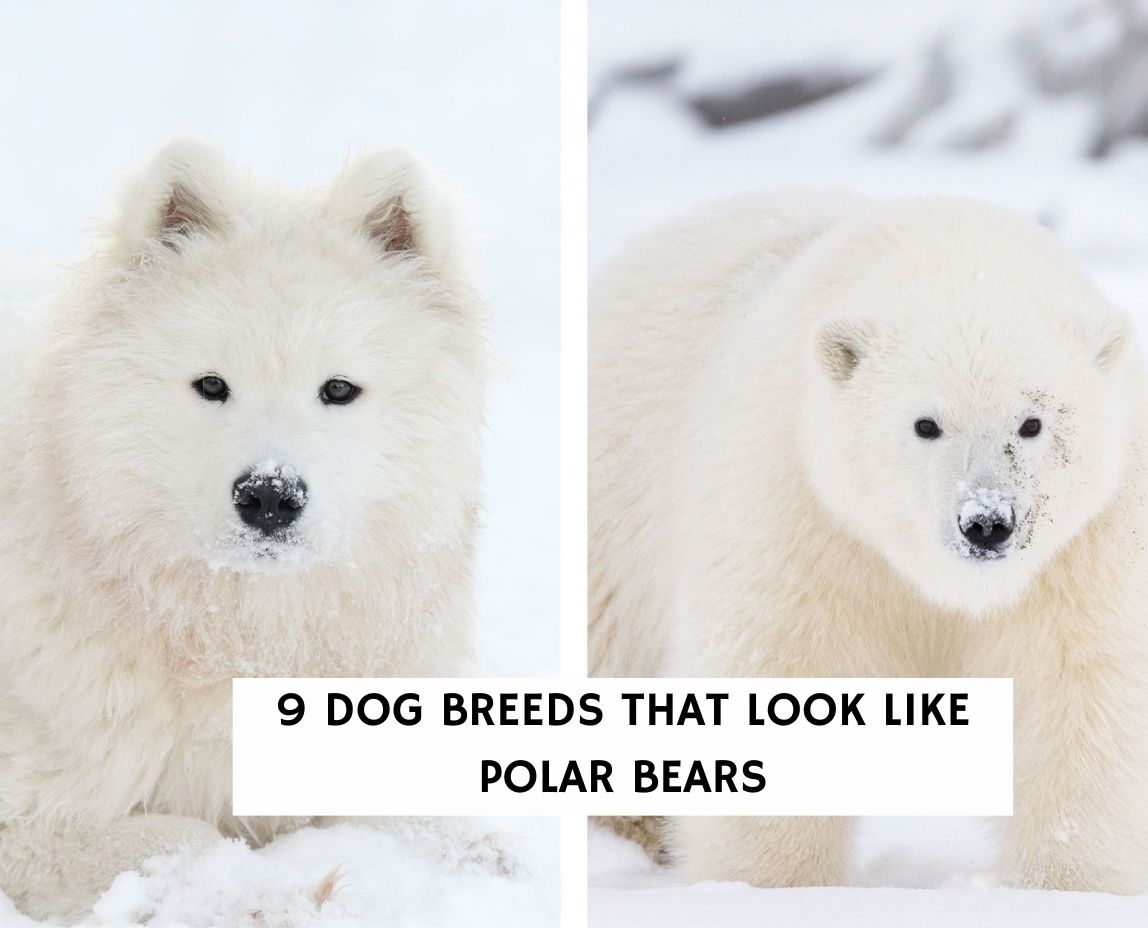 Do you love polar bears and wish you could have one as a pet? Unfortunately, polar bears do not make the best pets because of their large size and general predatory nature. In most places, it is actually illegal to keep a polar bear as a pet. This rule is in place not just to protect you from these mighty animals but also so the world's polar bears can live in an area where their needs are met, specifically the wild.
That being said, if you are a polar bear lover who is looking for a pet, you have some options. Many dog breeds imitate the looks of a polar bear without posing the threat that an actual bear poses. So, if you want a polar bear but are open to a dog instead, check out the list below for your best options. These dogs will satisfy all your fuzzy polar bear needs without the fear of sharing your space with a wild animal.
Before scrolling down, here are some related articles: 10 Dog Breeds That Look Like Fried Chicken!
What Makes a Dog Look Like a Polar Bear?
Before we look at the specific dog breeds that look like polar bears, we should discuss what gives these dogs that polar bear appearance. You will find that many of these breeds have the same physical qualities; that is because these physical qualities are what relate them most to these bears.
First, the dog's color is a significant factor in whether it looks like a polar bear or not. The primary color of these polar bear look-alikes is white. As you will see from the list below, most of these dogs are snow-white in color. However, polar bears can sometimes appear light brown or yellow because of the angle of the light. Therefore, some of these dogs are cream or tan as well.
That being said, with some of these breeds, you can find them in multiple darker colors, but you should be looking for the lighter ones if you want your dog to look the most like a polar bear. Therefore, if you are interested in one of these dogs, you should always check with a breeder to determine that they will have the color you want before being added to the waiting list.
Another feature of polar bears that is also prevalent in these dogs is their dark eyes. Polar bears have black or dark brown eyes that sit in stark contrast to the color of their fur. The dogs on our list also have this quality.
Lastly, the dogs that look most like polar bears are large in size. However, we did include a range of sizes for anyone in the market for a smaller dog but still wants a polar bear appearance in other aspects. But the bigger the dog, the more it will look like a bear.
9 Dog Breeds That Look Like Polar Bears
Now it is time to look at the specific breeds that most resemble polar bears. As you can see at first glance, there are quite a few options. So,  whether you are looking for a big dog or a small dog, we got you covered. Just keep in mind that size does impact the polar bear appearance, so in this case, the bigger, the better.
Great Pyrenees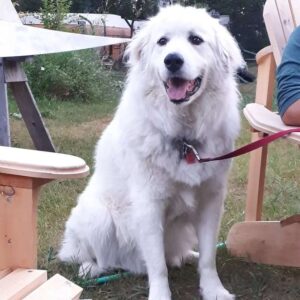 There is no other way to start this list than the ultimate polar bear dog–the Great Pyrenees. These dogs are as close to a polar bear that you will probably ever get. They have a thick double coat that is typically white, light grey, or light tan in color. Male Great Pyrenees typically weigh 100lbs or more. Between the size and color of these dogs, it is pretty easy to mistake them for a polar bear. There have actually been multiple occasions over history where hikers have mistaken these family pets for actual polar bears.
That being said, these dogs do not have the vicious nature of a polar bear. These dogs are notoriously gentle giants as they are known for being affectionate and calm. So, if you want an animal pretty much identical to a polar bear but with a friendly disposition, a Great Pyrenees is a perfect choice.
Samoyed
Imagine a polar bear but with a giant smile on its face. What if I told you that you could have that as a pet? Well, you can! Samoyeds are essentially smiling polar bears. These dogs originated in Russia, where they were used to pull sleds. So, just like polar bears, Samoyeds love the snow. Their fluffy fur is snow white in color, and they have the same dark eyes as polar bears. Additionally, these dogs are medium-sized, so they are perfect for those looking for a slightly smaller option.
The only difference is that Samoyeds are known as smiling dogs! Samoyeds developed this distinct facial expression to prevent drool from forming on their mouths. This is to avoid this drool from freezing while in cold climates. Therefore, your Samoyed's smile is both fashionable and functional. So, if you want your dog to look like a happy little polar bear, a Samoyed is the perfect option!
Pomeranian
If you are looking for the smallest polar bear look-alike possible, then a Pomeranian is the best choice. These little dogs come in multiple colors, but white is the closest you will find to a miniature polar bear. However, white is also the rarest color for these dogs, so it may take a bit of searching to find your perfect polar bear Pomeranian. This search is worth it, though, because these dogs are playful, friendly, and intelligent, not to mention absolutely adorable!
Slovensky Cuvac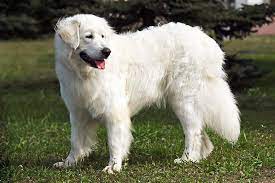 A lesser-known breed, the Slovensky Cuvac is the polar bear dog of your dreams. These dogs weigh in between 68-97lbs and are only bred in white. The large size of these dogs makes them excellent guard dogs. In fact, these dogs were used to fight off bears and other large animals in the mountainous regions where they originated. Do not let their intimidating appearance scare you, though; these dogs are friendly with people of all ages. Therefore, if you want a polar bear but want it to be nice, consider adopting a Slovensky Cuvac instead!
American Eskimo Dog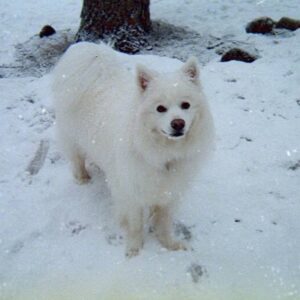 Similar in appearance to the Samoyed, the next breed on our list is the American Eskimo Dog. These dogs can come in two colors; white and white and biscuit. Both of these colors are similar to polar bear coloring. Therefore, regardless of what American Eskimo Dog you adopt, it will look very similar to these bears.
As we mentioned, these dogs look very similar to Samoyeds as well. So you might be wondering why you would choose one over the other. Well. American Eskimo Dogs are more petite than Samoyeds. American Eskimo Dogs are typically 19 inches tall maximum, while the smallest Samoyed is 19 inches tall. Therefore, if you look for a similar appearance but want a smaller dog, the American Eskimo Dog is a great option. These dogs maintain all their polar bear qualities, just in a smaller size!
Chow Chow

Although many people draw parallels between Chow Chows and lions, their similarity to polar bears cannot be denied. Most Chow Chows are fawn or red in color, which adds to the lion stereotype; however, although they are rare, cream Chow Chows exist and look like polar bears. In addition to their color, these dogs have a muscular appearance similar to polar bears. Additionally, these dogs have a thick double coat that allows them to enjoy the cold weather, just like polar bears.
One incredibly unique feature of the Chow Chow that really unites them with polar bears is the color of their tongue. Chow Chows are born with blue/black tongues, while polar bears have tongues with black spots. So, if you want an authentic polar bear look, a cream-colored Chow Chow is an excellent choice for you.
Alaskan Malamute
If you want a dog that loves the snow as much as a polar bear, an Alaskan Malamute is what you are looking for. There are many color options for Alaskan Malamutes, but white is the only solid color these dogs come in. However, white is also the rarest color for an Alaskan Malamute, so keep that in mind when searching for your perfect polar bear dog.
Alaskan Malamutes are highly affectionate, playful, and loyal to their family. So, if you want a polar bear without the risk factor, an Alaskan Malamute can provide the looks without the danger.
Akbash Dog
One of the rarest dog breeds on our list, the Akbash Dog, descends from Turkey, where they are bred to protect sheep and livestock. These dogs require a large living space as they can range in weight from 75-140 lbs! Therefore, if you want a polar bear look-alike but do not have a ton of space, an Akbash Dog may not be the best choice for you. In addition to their bear-like size, these dogs are always white in color, which really adds to the overall polar bear experience.
Alabai Dog
Also known as the Central Asian Shepherd, the Alabai Dog is another excellent example of a breed that closely resembles polar bears. These dogs can be multiple colors, but grey and fawn are the colors available that most closely resemble these bears.
These dogs are known for their independence and fearlessness. Alabai Dogs weigh anywhere from 88-110lbs, making them a worthy opponent for small and large predators alike. They are protectors of their family and their territory, making them fierce guard dogs. However, this protectiveness, along with their large size, makes them unsuitable for first-time dog owners. But, if you have experience and want a dog that looks and acts almost like a polar bear, an Alabai Dog is a great choice.
Conclusion for Dog Breeds That Look Like Polar Bears
As you can see, many dog breeds look like polar bears. So, although you may not have a real polar bear as a pet, these dogs are the next best thing. These dogs may even be better than owning a polar bear, as they are way more friendly and way less dangerous!
You will also like:
Garrett loves animals and is a huge advocate for all Doodle dog breeds. He owns his own Goldendoodle named Kona. In addition, he volunteers at the Humane Society of Silicon Valley, where he fosters dogs and helps animals. Garrett enjoys writing about Doodles and believes that dogs can teach humans more about how to live than humans can teach a dog.
Why Trust We Love Doodles?
At We Love Doodles, we're a team of writers, veterinarians, and puppy trainers that love dogs. Our team of qualified experts researches and provides reliable information on a wide range of dog topics. Our reviews are based on customer feedback, hands-on testing, and in-depth analysis. We are fully transparent and honest to our community of dog owners and future owners.