The goldendoodle is a designer breed, but the pups can still be pricey. Their intelligence and hypoallergenic fur put the dogs in high demand, so it can be tricky to find goldendoodle puppies for sale under $500!
We've put together a few resources you can consult with if you're looking to add a goldendoodle to your household. Breeders, private owners, and shelters all offer puppies for sale at an affordable price point – you just need to know where to look!
When you're ready to adopt a goldendoodle puppy, take your time and check out the options available to you in our guide.
Before you scroll further down this guide, check out these other Goldendoodle-related articles: Goldendoodles Rescues for Adoption and How much does a Goldendoodle Cost?.
1. Happytail Puppies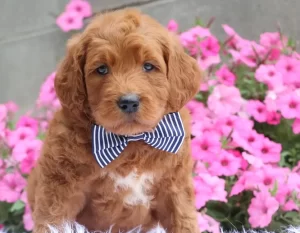 Generally speaking, Happytail Puppies sells goldendoodles for around $900. However, from time to time they do offer goldendoodle puppies for sale under $500. Check the site frequently, as new puppies are added regularly! Note that Happytail Puppies does sell mini goldendoodles but they're generally priced higher than the standard pups.
When you find the puppy you'd like to adopt, you have three options. You can make an offer on the dog, pay for the dog right away, or ask more questions about a particular puppy. Keep in mind that there are "add-ons" such as microchipping and a medical bundle that will be automatically added to your purchase price. However, you can choose to finance the cost through a third-party company called Credova.
Puppies are sold from the state of North Carolina, but you can contact Happytail Puppies about the shipping and delivery of dogs. Custom delivery quotes are available for air and ground transport from your puppy's home in North Carolina.
Happytail Puppies Details:
2. Amigo Acres
Amigo Acres is a family-owned and operated business located in Ohio. They specialize in German shepherds, golden retrievers, mini Aussies, poodles, and, of course, goldendoodles! You can easily find a goldendoodle puppy for sale for under $500 through Amigo Acres.
To adopt your puppy, you'll first click on "goldendoodles" in the main menu bar. Available and upcoming puppies will be pictured, and typically will cost around $350. You'll be required to place a deposit on your dog to reserve him, and the balance will be due on Gotcha Day.
Your puppy will be raised on a farm in the company of other dogs, horses, and children! He'll be well-socialized when it's time to go home with you. Your puppy will also be given a clean bill of health by a vet before being released to a forever family.
Shipping and delivery options may be available. You'll need to speak with Amigo Acres to get a quote for this service. Your puppy's weight will dictate whether it's safe to fly, otherwise, you can pick your puppy up at the Amigo Acres location in Ohio.
Amigo Acres Details:
3. American Gun Dogs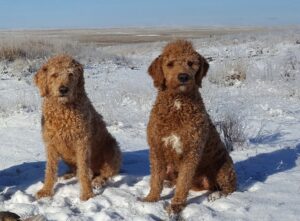 American Gun Dogs is a classifieds site that serves a nationwide customer base. Dog breeders and private owners can list dogs for sale, and puppies are located all over the United States! You can search your own state, or opt to browse all the available dogs by selecting goldendoodle from the drop down menu.
The prices of goldendoodles and mini goldendoodles are set by the owners of the pups, but you can find puppies for sale for under $500. Click the picture of the puppy you'd like to purchase to be shown the seller's preferred contact method. Speak to the seller in person or on the phone to learn more information about your dog's health, history, and pedigree.
American Gun Dogs puppies are screened through Lancaster Puppies, a Pennsylvania-based breeder network. Many puppies are located in the Keystone State, but you can ship your dog to your current location for a fee.
The cost to ship your dog begins at $350 – contact American Gun Dogs if you need assistance making delivery arrangements. Your puppy will need a USDA Health Certificate before he flies, but your breeder's vet can secure this for you.
American Gun Dogs Details:
4. BFF Puppies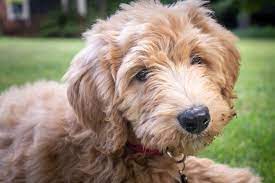 BFF Puppies is another nationwide database of goldendoodles and mini goldendoodle puppies for sale for under $500. Keep in mind that just about anyone can post a puppy for sale on this platform so you'll want to make sure you ask the breeder a lot of questions! Is your puppy socialized?
Will he have a spay or neuter contract? Can you view the parents' pedigree information? Can you call the veterinarian who checked your puppy?
Once you're confident in your breeder, pick the puppy you like! Prices are listed on the puppies' pictures, and you can click through to see a little more information about each. Shipping is available, so don't limit yourself to puppies in your immediate vicinity. BFF Puppies uses a third-party company to ship dogs – ask for a quote.
Most puppies come with a health guarantee, but the terms will vary depending on the state of origin of your pup. Most states have "lemon laws" for dogs, but you'll need to check on the laws that are local to your puppy's breeder.
In almost all cases, your dog will be vaccinated and wormed when you pick him or her up. Check with the breeder to determine whether breeding rights are available if you're interested in raising puppies of your own.
BFF Puppies Details:
5. As Good As Gold
As Good As Gold is a golden retriever rescue that's based in Illinois. This particular rescue only serves the surrounding area, but if you don't live in the Prairie State you can certainly find a shelter that's close to your own home! Conduct a search for "goldendoodle rescue" and then check the search results against a site like CharityWatch to verify that it's legitimate.
As Good As Gold and other shelters operate in a similar manner. Usually, they're non-profit organizations that are volunteer-run. They exist because of their community's support and donations, and they're always in need of help! If you have spare time on your hands, why not consider volunteering with a rescue like this one?
Foster opportunities are available if you're not sure you want to commit to a goldendoodle puppy. You can bring a pup home with you and provide food and housing while the dog is made ready to join a new family. You'll usually be in charge of transport to and from the vet, but charities will typically pay the vet fees.
When you're ready to adopt, fill out the application. Your responses regarding your living situation, your family, your experience with dogs, and your existing pets will help the goldendoodle rescue of your choice match you with the best dog for your family.
As Good As Gold Details:
6. Social Media
Social media platforms like Facebook, Nextdoor, and Instagram may provide a reliable source for goldendoodle puppies for sale under $500. However, you'll need to recognize that most social media sites don't allow users to advertise pets within their marketplaces. You'll need to connect with individuals in order to find your puppy.
To do this, use the search function of the social media platform you choose. Enter "goldendoodle puppies for sale" or a similar search term, then view the results. You'll see sales posts from individuals and from breeders, and there will likely be a few animal rescues that are publicizing available babies, too!
Because absolutely anyone can post on social media, you'll need to be careful. Check reviews if you're considering a breeder, and interview your seller if the dog is listed by an individual. Meet the seller in a public place when it's time to bring your dog home, and bring a friend with you if possible!
You should ask for – and receive – a copy of your puppy's vet records when you pick him up. If your puppy is CKC (Continental Kennel Club) registered, be sure you take a look at pedigree papers and that you receive registration forms.
Social Media Details:
7. Good Dog
You can find goldendoodle puppies for sale under $500 on Good Dog. This website serves a nationwide customer base, and you'll find listings from shelters and rescues, individuals, and reputable breeders. When you search for goldendoodles, be sure to specify which source you'd like to explore.
Your search results will be listed by proximity to your location, and you can view pricing and breeder information by clicking on one of the sellers that appears as a search result. Contact information is available on the breeder's bio page, and details about upcoming and available pups is listed, too.
Good Dog does require that those who post puppies for sale are responsible breeders or legitimate shelters. Breeders are screened carefully before they're permitted to list, so you can rest assured that your puppy is not coming from a puppy mill. Of course, it's always a good idea to interview the seller yourself, too!
Shipping and delivery of dogs may be available through your seller or through a third party. Contact the breeder for more information regarding your options. Alternatively, you can limit your search results to include only those puppies that are within a travel distance you're comfortable with.
Good Dog Details:
Conclusion For "Where Can You Find Goldendoodle Puppies for Sale Under $500"
If you're looking for a sweet, intelligent, and hypoallergenic dog that's great with kids, a goldendoodle may be a good option for your family. The designer breed is a cross between a standard poodle and a golden retriever, and it's increased in popularity since it was introduced in America in 1989.
Some goldendoodle breeders charge a premium for these popular dogs, but you can find goldendoodle and mini goldendoodle puppies for sale for under $500. Begin with the resources on our list, then use your imagination to find more responsible breeders and sellers near you!
If you find this guide, "Where Can You Find Goldendoodle Puppies for Sale Under $500," informative and helpful, you can check out these other dog-related articles from our team:
Before you find a Goldendoodle puppy for sale under $500, you can learn more about this dog breed by watching "Things They Won't Tell You About Goldendoodles" down below: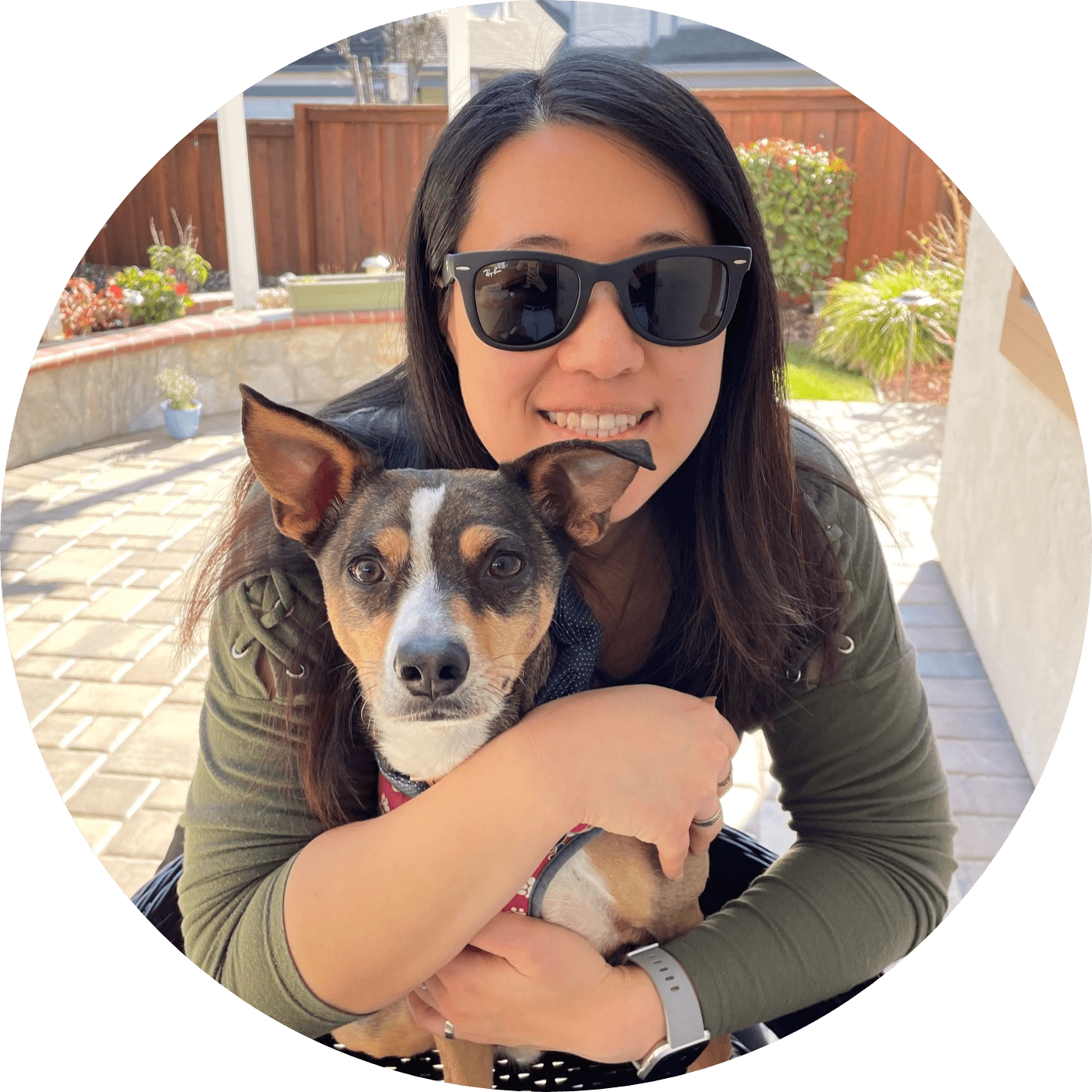 Dr. Sabrina Kong graduated from the Royal Veterinary College in England in 2016 and has been working at a small animal clinic in Northern California since then. She grew up in the Bay Area and got her bachelor's degree from Cal Poly San Luis Obispo. She also became a Certified Canine Rehabilitation Practitioner through a program at the University of Tennessee.
When she isn't in the clinic taking care of her four-legged patients, she enjoys traveling and trying new foods with her friends and her three-legged dog, Apollo. She adopted Apollo from her clinic when he was a puppy with numerous health issues. Dr. Kong truly cares about taking care of animals.