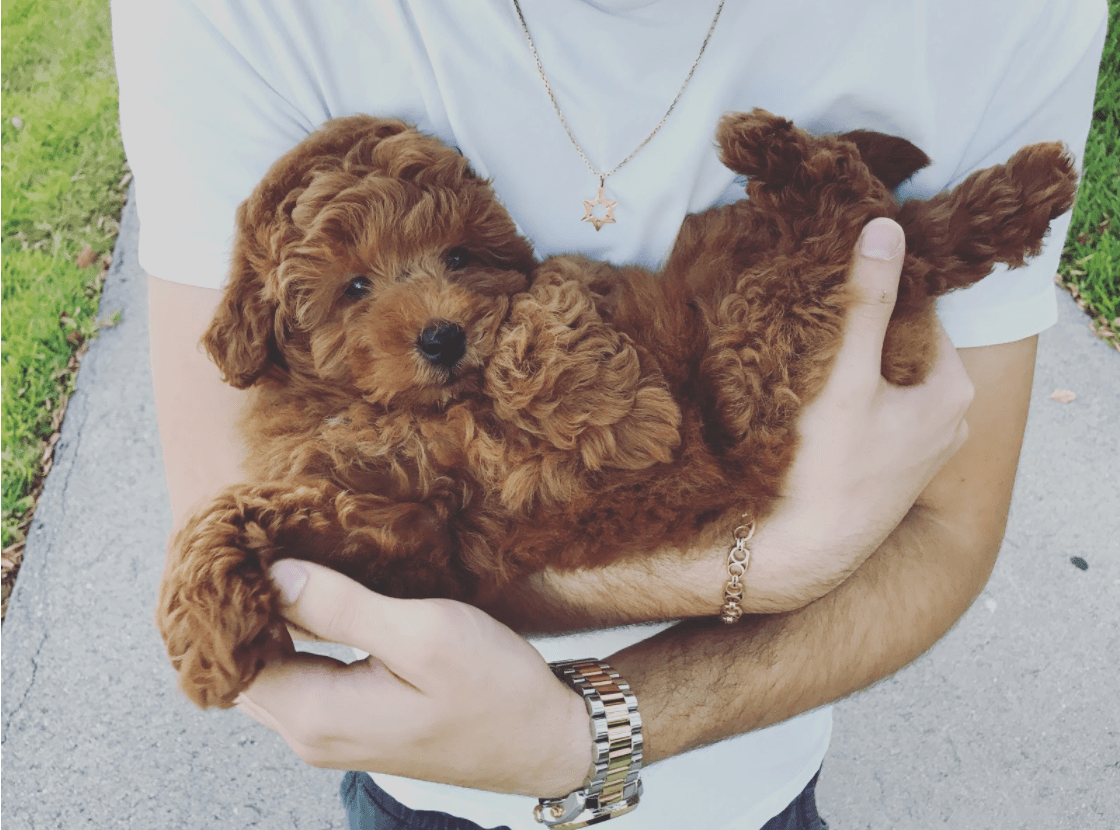 You've just brought home a brand-new doodle puppy and you're completely in love. Your days revolve around playtime in the yard, snuggles on the couch, and evening walks through the neighborhood. 
But don't forget about the serious side of bringing a new doodle puppy into the family. Those initial checkups and puppy vaccines are crucial to your doodle's health.
Spaying or neutering your doodle should also be at the top of your priority list. There's a lot to think about, including what's the best age to spay or neuter a doodle? Why is it important and is the surgery safe?
Most importantly, what can you do to make the experience as comfortable as possible for your new baby? Here's what you need to know about spaying or neutering your doodle so that you can make the best decisions for your new puppy.
Related: Best Onesie for Dogs after Surgery
Spaying or Neutering Your Doodle: The Very Basics
Everyone assumes you already know what spaying and neutering are, but if you've never had a puppy before, you may not know the difference or what's involved. Here's a basic explanation to clear up any confusion:
Neutering

: Neutering is the surgery that's performed to sterilize a male dog. It involves removing the testicles.

Spaying:

Spaying is the surgery that's performed to sterilize a female dog. The procedure is a little more involved than neutering because it requires a small incision into the dog's abdomen to remove the ovaries and uterus.
Both surgeries are considered to be very safe, routine procedures that can be completed in around thirty minutes or less. In most cases, your doodle will be able to go home that same day or first thing the next morning.
The Best Age to Spay or Neuter Your Doodle
According to veterinarians at Bond Vet, who offer dog spay & neuter services in NYC, the best age to spay or neuter your doodle is between four to nine months of age. 
The age when you neuter your male puppy could affect his future behavior and development. It may be best to wait until large breed male dogs have gone through puberty before having the procedure done. This could reduce issues with bone and joint development, as well as gender related behaviors like aggression and marking.
Most experts recommend spaying a female doodle before she has her first heat at around five months. However, every dog is different, so be sure to consult with a vet who knows your dog's health and behavior history before making a final decision.
Why You Should Spay or Neuter Your Doodle
If you bought your doodle puppy from a reputable breeder, you will probably be required to have it spayed or neutered as part of your contract. But that's not the only reason you should spay or neuter your doodle. Spaying or neutering also comes with a host of benefits for your new puppy.
Neutering your doodle will prevent certain types of cancer and reduce the likelihood of prostate issues later in life. It will also reduce the likelihood of territorial and aggressive behaviors, as well as eliminate the stress of constantly searching for a mate.
Spaying your female doodle will reduce her risk of certain cancers and eliminate the possibility of uterine infections. It will also eliminate the stress of going into heat. 
That means your doodle will live a happier and healthier life if it's spayed or neutered. Of course, preventing unwanted litters of puppies is also very important!
How to Make Sure the Experience is as Comfortable as Possible
The staff at your veterinary clinic will do everything they can to keep your doodle puppy comfortable during the procedure. However, there are some things you can do to keep him or her comfortable once he or she is back home.
Most dogs will need about two weeks of recovery time. During this time, they should be kept as quiet and calm as possible. You should set up a comfortable place for them to rest where they can't jump on furniture or climb stairs.
All outdoor excursions should be on a leash so that your pup is under your control at all times. Keep walks short and don't allow your pooch to pull, climb, or run.
Your doodle will be sent home with a cone collar to prevent him from licking or chewing at his wound. It's extremely important that you leave it on at all times. It could only take a few seconds for your doodle to pull out their sutures or introduce bacteria to the wound, leading to unnecessary pain and discomfort… as well as additional medical expenses for you.
You should also monitor the incision site several times a day for any sign of infection, such as redness, swelling, heat, or oozing. Other than that, just leave the incision alone and make sure it stays dry until it's completely healed. Don't apply any topical medications or give any oral medication unless your vet instructs you otherwise.
Other Things to Know About Spaying or Neutering Your Doodle

1. The procedure isn't painful.
Spay and neuter surgeries are performed under anesthesia. Your pup won't experience any anxiety or pain during the procedure. After the surgery, your dog will be given pain medication to keep discomfort to a minimum. If your pup seems to be in extreme discomfort once you get him home, contact the vet for advice. He may recommend ice packs and prescription pain relief, if needed.
2. The procedure won't cause your dog to gain weight.
It's a common misconception that spaying or neutering causes a dog to gain weight. The truth is dogs who are spayed or neutered simply need fewer calories than dogs who aren't. In addition, dogs need fewer calories as they mature. You'll need to take this into account if you want to keep your doodle slim.
Your vet can help you determine how many calories your pup needs each day. And, be sure to provide him or her with an active lifestyle. That's the best way to maintain a healthy weight and keep your dog healthy and happy overall.
3. Mature doodles can still be spayed or neutered.
Although most experts will agree that it's best to neuter a dog while it's still a puppy, don't get too hung up on age. If you've adopted a mature doodle in need, you can still have it spayed or neutered. Your vet will do some blood work before the surgery to ensure that your dog can metabolize the anesthesia safely.
Conclusion for Spaying or Neutering Your Doodle
If you are holding off on spaying or neutering your doodle due to finances, there are lots of lost cost or even free programs out there. Contact your local shelters to see what's available in your area. At the end of the day, having the procedure done while your dog is young will be much cheaper than raising a litter of unwanted puppies later on.
Garrett loves animals and is a huge advocate for all Doodle dog breeds. He owns his own Goldendoodle named Kona. In addition, he volunteers at the Humane Society of Silicon Valley, where he fosters dogs and helps animals. Garrett enjoys writing about Doodles and believes that dogs can teach humans more about how to live than humans can teach a dog.
Why Trust We Love Doodles?
At We Love Doodles, we're a team of writers, veterinarians, and puppy trainers that love dogs. Our team of qualified experts researches and provides reliable information on a wide range of dog topics. Our reviews are based on customer feedback, hands-on testing, and in-depth analysis. We are fully transparent and honest to our community of dog owners and future owners.