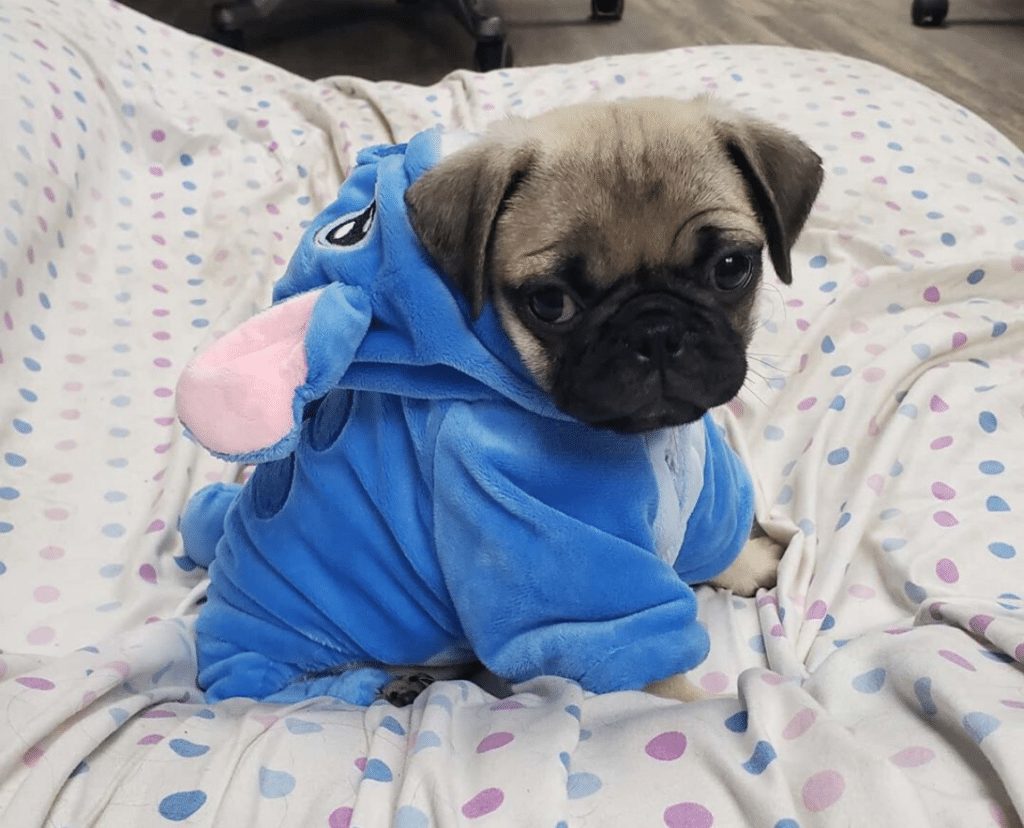 Have you ever seen a onesie for dogs? Well, if you haven't, they look adorable as pajamas or serve a practical purpose post surgery so your dog does not lick themselves or re-open a wound! Just imagine your cute little puppy running around the house in a onesie. Onesie pajamas for dogs are increasingly becoming popular due to the wide range of styles, designs, and fabrics. Whether you want your dog to feel cozy and cute or you need a dog post-surgery onesie you will definitely find one best suited to your dog's needs.
Why should you buy a onsie for your dog?
Fashionable.  The perfect fitting onesie for your dog is more than just a medical device.  It's a fashion statement that is sure to keep your dog comfortable, warm, and cute.
Prevents your dog from wearing a medical cone or medical collar.  No dog wants to wear the "cone of shame" as they aimlessly run into the walls and can't see anything other than what's in front of them.  I've never seen a dog like wearing a medical cone or collar.  Instead, a onesie allows your dog to roam freely around the house while they recover.
Keeps your pet warm.  Onesie's are great post surgery devices because often times your pet needs to be shaved in order to perform surgery.  A dog onesie allows them to stay warm and look cute!
Contain shedding hair.  Wearing a onesie will help you contain a majority of your dogs hair inside the onesie so it doesn't get all over your bed or couch.  It's great to contain the fur of dogs who like to shed.
Prevents your pet from getting germs, odors, or dirt on them.  Since a dog onesie will cover 80% of your dogs body, it keeps them clean and free of pollution, germs, or types of dirt.  This works will if your dog's wound is healing or you're recovering from a sterilized surgery.
Prevent harassment from other dogs.  Lastly, a onesie for dogs will help guard other dogs or animals from smelling your dog.  Ultimately, it will protect your dog while they are undergoing a physiological period of recover.  In addition, a onesie for your dog can be used for urination incontinence.
Reduce Anxiety.  Similar to an anxiety blanket or weighted blanket for humans, wearing a good fitting onesie will help reduce your dogs anxiety.
In a rush? Here are the top picks!
Product
Best Overall
Dog Recovery Suit
Lightest Weight
Foreyy Recovery Suit
Image
This is one of the best onesie for dogs that just went through any type of spay or neutering surgery as it effectively prevents from licking their incision and opening up the stitches.  In addition, they have several different sizes so you can get a puppy onesie for dogs or a large dog onesie.  The perfect fitting dog onesie is going to be effective against licking wounds, various itching skin conditions, rash hot spots, allergy itching, or infections.  This onesie serves several different purposes and is one of the most economical onesies on the market.
This soft onesie for dogs is made from 95% cotton and 5% spandex. It's hand washable, keeps its shape, and is an easy to stretch fabric.  Ultimately, this dog post surgery onesie is effective at letting a wound heal and recovery, while letting your dog roam freely around the house.  It can be worn everyday, all you need to do is correctly measure your dogs length, chest, and weight to find the perfect fitting onesie.
This puppy onesie for dogs is soft and available in grey or pink. It's made of stretchable cotton material that makes it easy to pull over the head of your pet.  This small dog onesie is intended as fashionable PJ's but can easily function as a medical cover for dog's with skin issues.
This dog onesie for small dogs is multi-functional. Its cute pajamas, but also keeps your dog warm at night and prevents them from licking their skin. Wearing this onesie also prevents a shedding dog from getting hair all over the place like your bed or the couch.  This is a high quality and stylish undergarment for your dog.
This cute duck onesie for dogs is made from soft cotton that keeps your dog comfortable and cozy all day long. It's a four-legged design and features an elastic waist.  If you're looking for a cute dog pajama onesie that is comfortable, adorable, and high quality than this the correct duck onesie for you.
It's easy to wash and the durable fabric makes it last a long time. Your dog will feel safe, warm and cozy in this adorable duck onesie. It's available in a wide range of sizes and it's the perfect onesie for large dogs.  Simply measure your dog's back length and chest girth.  They also have several different styles so if you don't like the duck onesie for dogs than you can try a unicorn, llama, or mermaid.  I personally think the duck onesie for your dog is the cutest.
This large dog onesie is an excellent choice for Pitbulls and other large dog breeds. The onesie is specially designed to fit larger dogs and is made with high-quality fabrics that keep your dog comfortable and cozy. This onesie for large dogs is exclusively sold on Amazon and they donate a portion of every product sold. It's great for everyday wear and the perfect onesie for a dog after surgery.  The main differentiator of this large dog onesie is that it has full knee coverage for all types of leg or ACL surgeries.  The onesie is also made of a higher end polyester blend so it does feel a lot softer than a cotton onesie.  This is the best large dog onesie that you can buy.  If you don't like the unicorn style, than you can purchase a rubber duck onesie, watermelon slice design, or standard dog sweater design.
This is the onesie that we originally bought Kona after his neuter surgery and it worked great!  This onesie for dogs is used by veterinarians as an alternative to an E-Collar or cone. This onesie is specially made to reduce stress, increase mobility, reduce the risk of infection, protect the wound, and accelerate healing — all while letting your dog roam freely around your house.  They will also be able to eat food and drink as a normal dog.
It's made from super soft cotton and features a pad on the belly for added comfort. The lightweight fabric is breathable and allows air to constantly circulate to allow the wound to heal.  The best part of this onesie is that it is very adjustable since there are two Velcro straps towards the back of the onesie.  This helps to ensure that the spay or neuter surgery incision is going to be covered by the onesie.
This stylish Adidog tracksuit onesie is available in a variety of colors so you can choose your favorite color. This is the perfect dog onesie for pet owners that exercise with their dog and want their dog to look extra-chic. You can even wear a similar style and match your dog as you jog, run, or walk for exercise.  This is a onesie for small dogs and large dogs since they come in 10 different sizes.
This onesie for dogs is made from ultra-soft fabric that keeps your dog warm and cozy during the winter. The soft Sherpa fleece lining is great for winter but not recommended during hot summer months.  Give your dog some style with this onesie and make them look athletic, but feel cozy.
This festive Christmas onesie for dogs is made from 95% soft breathable cotton and 5% lycra. It features a snowflake and snowman print and is available in two colors.  You can also get a red owl and grey snowflake Christmas onesie for dogs from the same seller.
This onesie is available in a variety of sizes ranging from x-small to x-large so it will fit a variety of dog types. It's machine washable in cold water and air dries quickly.  This onesie provides great value and is very inexpensive for what you get.
This dachshund onesie for dogs is the perfect fit for the body size and length of dachshund dogs. It's handmade from breathable and soft cotton that keeps your dog comfortable and cool.  Also works great as a onesie for small dogs including toy Poodles, Yorkshire terriers, Chihuahuas, Pomeranian, etc.
The unique design features four metal snap fasteners to make it easy to put on and take off your dog. It's also a great onesie for small dogs of other breeds with a similar build such as a Cocker Spaniel.  These are the perfect onesie PJ's for your dog to keep warm and look cute.  This dog onesie also comes in blue color if that is your preference.
This adorable dinosaur onesie for dogs is made with soft lightweight fabric that keeps your dog cool and comfortable. These festive dog pajamas prevent your dog from scratching or licking their skin.  In addition, they come in 17 different styles and colors that will appeal to your senses.  This onesie is also very inexpensive.
This onesie for dogs is specially designed to provide plenty of room for your dog to do potty without soiling the fabric.
This adorable Stitch onesie is made from high-quality velvet that keeps your dog warm and stylish. The durable fabric is thick and best suited to be worn during winter or indoors with access to air conditioning.
It's available in a variety of sizes to ensure you find the perfect fit for your dog. This cute onesie for dogs features a hoodie with the face of the character Stitch.
Conclusion for Best Onsie for Dogs
Onesies for dogs are effective protection garments for dogs recovering from surgery but also a fun way to keep your dog warm, cozy and stylish. Choose the best onesie for your dog and don't forget you can create an entire collection from the best sellers on the list above!
Other articles to read:
Garrett loves animals and is a huge advocate for all Doodle dog breeds. He owns his own Goldendoodle named Kona. In addition, he volunteers at the Humane Society of Silicon Valley, where he fosters dogs and helps animals. Garrett enjoys writing about Doodles and believes that dogs can teach humans more about how to live than humans can teach a dog.
Why Trust We Love Doodles?
At We Love Doodles, we're a team of writers, veterinarians, and puppy trainers that love dogs. Our team of qualified experts researches and provides reliable information on a wide range of dog topics. Our reviews are based on customer feedback, hands-on testing, and in-depth analysis. We are fully transparent and honest to our community of dog owners and future owners.