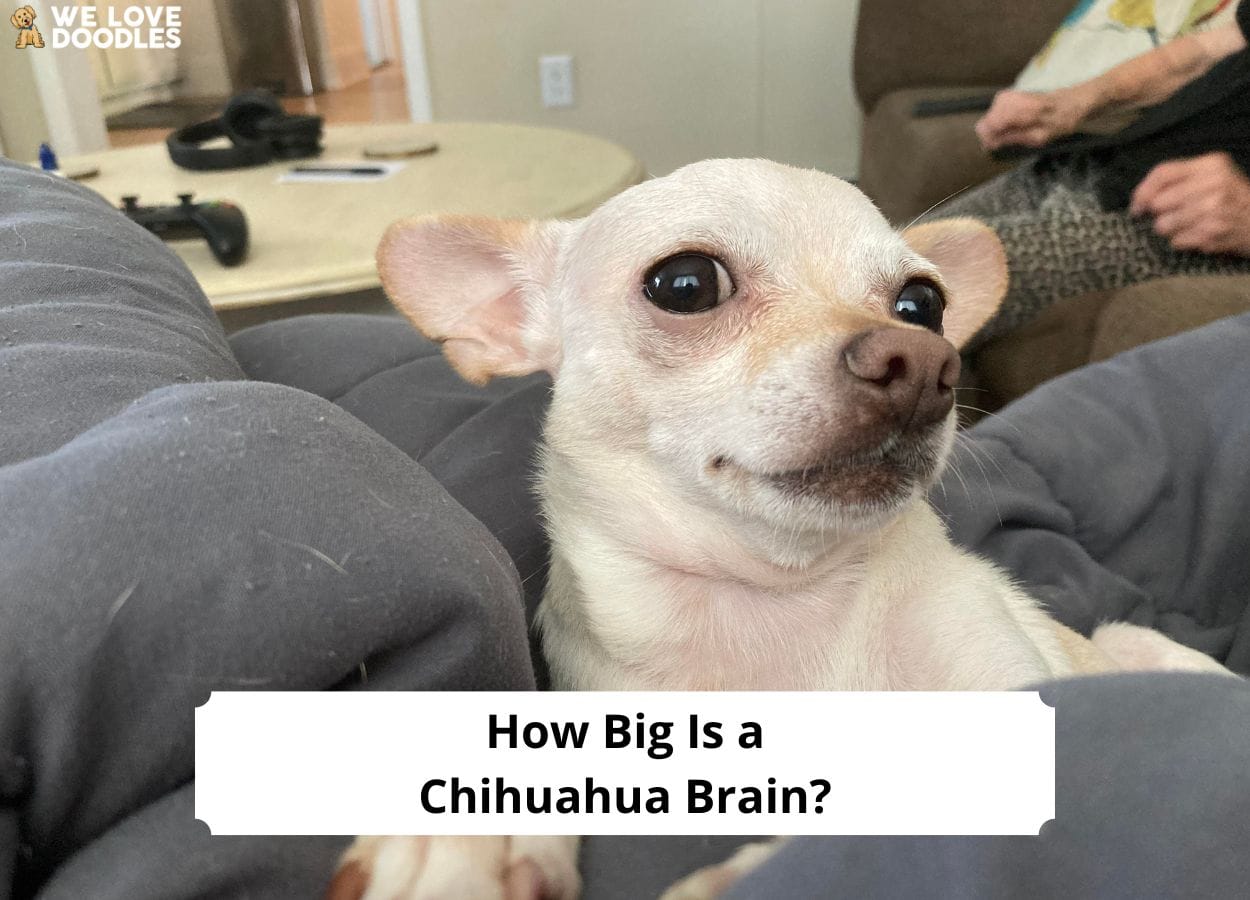 Whether it's their tiny stature or large, soulful eyes looking up at you, Chihuahuas are beloved by many owners. Known for their liveliness and quirky personalities, how smart are Chihuahuas? How big is a Chihuahua brain, and does it have anything to do with how intelligent they are?
The average adult Chihuahua's brain is only about the size of a tangerine, approximating around 2.25 to 2.5 inches in diameter and 55 grams in weight.
That's quite a bit smaller than the average brain size of other breeds. However, this doesn't necessarily indicate how intelligent they are.
To learn more about how intelligent Chihuahuas are and the size of their brains, read on.
Before you read a more in-depth answer to this guide, "How Big Is a Chihuahua Brain," check out: How Long is a Chihuahua Pregnant For? (2023) and Is My Chihuahua Too Skinny? (2023).
How Big Is the Average Chihuahua Brain?
Chihuahuas are one of the most popular small breeds, and many people wonder how big the average brain is. While they are usually seen as cute and cuddly companion animals, they actually have quite complex brains and can be quite smart.
The average Chihuahua brain is the size of a tangerine, making it one of the smallest brains in the canine family. More specifically, the average Chihuahua brain is about 2.25 to 2.5 inches in diameter and weighs around 55 grams.
Despite their tiny size, however, these brains control vision, hearing, smell, taste, and behavior. In addition to these areas that control how a dog perceives its environment, the Chihuahua brain also has areas responsible for learning new tasks and behaviors.
Chihuahua Intelligence Depends on How Well-Trained They Are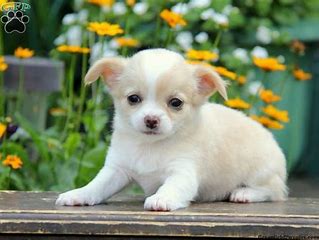 Chihuahuas can learn commands such as sit or stay with relative ease. They can also learn complex tasks, such as how to open doors or retrieve items, with practice and positive reinforcement.
This suggests that Chihuahuas have a certain level of intelligence when it comes to problem-solving and understanding cause-and-effect relationships.
Chihuahuas also possess strong emotional responses, which make them incredibly loyal companions to their owners. They often become very attached to their owners, which can lead them to form strong emotional bonds with people they spend time with regularly.
This level of emotionality suggests that Chihuahuas may have a greater capacity for understanding emotions than other smaller breeds of dogs.
Overall, while the average size of a Chihuahua's brain is relatively small compared to other breeds of dogs, these tiny dogs have impressive levels of intelligence when it comes to problem-solving tasks and forming emotional connections with people.
With enough training and reinforcement from their owners, they can be incredibly smart pets capable of learning complex tasks quickly and efficiently.
Are Chihuahuas Brains Too Big for Their Head?
No matter how small their brains are, Chihuahuas have the advantage of a skull that can adapt and accommodate a larger brain than other similar-sized dog breeds.
This condition, known as molera, is a congenital defect that Chihuahuas may be born with, leaving them with an incompletely fused skull. This allows the brain to grow bigger and fuller, giving them a larger brain than other breeds their size.
In addition to how large their skulls can get, Chihuahuas also have a high ratio of brain to body size. The average ratio of brain to body size is usually measured by how many grams of the brain a dog has per pound of its adult weight. On average, Chihuahuas have a 1:125 ratio. This means that even though their brains are small, they take up a larger proportion of the body than in larger breeds.
However, having a tiny brain doesn't necessarily mean these dogs lack intelligence or smarts. After all, many people overestimate how much 'brainpower' animals need in order to accomplish tasks.
What the Research Shows
Researchers have conducted studies on how smart Chihuahuas are and found that with proper training and positive reinforcement, these miniature pups can learn behaviors just as effectively as bigger dogs!
A recent analysis showed how well two different-sized dogs responded when given basic commands. It was found that while Chihuahuas weren't as obedient as larger breeds, they were still able to understand and respond to commands such as sit, come, stay, and down.
The study also mentioned that it was the owner's behavior and how they interacted with their Chihuahuas that made all the difference. With the right training and care, these pint-sized pooches can be just as obedient and smart as any other dog.
How Smart Is the Average Chihuahua?
When it comes to intelligence, Chihuahuas rank as the 125th smartest dog breed, with an average IQ between 65 to 70. That may not sound like much compared to some other breeds, but considering their small size and limited brain capacity, these tiny dogs have impressive intelligence levels.
Chihuahuas possess a natural instinct for learning quickly and adapting to new environments. They are highly observant and alert dogs that process information faster than other dogs their size.
Chihuahuas also exhibit problem-solving skills and can learn commands quickly if adequately trained and reinforced. This is why they make great companion animals for owners who want an intelligent pet.
Chihuahuas are known for emotional sensitivity and loyalty. This makes them loving companions who will listen to you attentively while showing emotional intelligence far beyond other breeds of dogs.
On the flip side, Chihuahuas can also be quite willful and stubborn as they become more comfortable around their owners. While this may seem like a nuisance at times, it's just a sign of your pup's increased confidence in themselves as they become familiar with your home and behavior patterns.
Training helps further develop a Chihuahua's intelligence by giving them something to focus on while reinforcing positive behaviors over time.
Treats are always good rewards when teaching a Chihuahua basic commands or tricks, but verbal praise is also important in helping them understand what is expected from them in any situation.
With enough training, Chihuahuas can even remember complex commands such as hiding objects or bringing items back from one room to another — making these tiny pups far smarter than meets the eye!
Overall, the average Chihuahua may have a small brain, but its capacity for learning is unparalleled among other breeds of dogs its size.
What Does the Brain of a Chihuahua Look Like?
The brain of a Chihuahua is quite complex, despite its relatively small size. It contains several regions that process sensory information as well as areas responsible for learning new behaviors and tasks. Visually, the Chihuahua brain is round and firm, with a few grooves on its surface.
The cerebrum of the Chihuahua brain is particularly large amongst small breeds of dogs, allowing them to have enhanced sensory processing abilities compared to other dog breeds. It also allows for greater cognitive abilities such as problem-solving, understanding commands, and forming emotional connections with people.
Anatomy of the Brain
Inside the Chihuahua brain lies four main regions: the olfactory bulb, temporal lobe, occipital lobe, and cerebellum.
The olfactory bulb helps process smells, while the temporal lobe interprets auditory information.
The occipital lobe processes visual data from surroundings, and finally, the cerebellum coordinates movement by sending signals from other parts of the brain to muscles in order to carry out movements requested by commands or training.
In addition to these four main areas, there are also several smaller structures within the Chihuahua's brain that play a role in how they learn and behave.
For instance, The limbic system controls emotion and helps form memories, while the hypothalamus governs hormones that drive instinctive behaviors such as feeding or mating.
The thalamus acts as a relay between different parts of the brain, while the amygdala plays an important role in fear responses by triggering fight-or-flight reactions when necessary.
These structures all work together to allow Chihuahuas to understand their environment more thoroughly than other breeds of dogs might be able to do with their smaller brains. Chihuahuas have impressive cognitive abilities due largely in part to their relatively large brain size relative to body size.
These tiny dogs have been observed comprehending complex commands quickly and efficiently from their owners — proving that size isn't necessarily indicative of intelligence or capability.
How Big Is a Small Dog's Brain?
There isn't much of a difference in size between the brains of large and small dog breeds. The average brain mass for a small dog is about 50 grams, while the average for a larger breed, such as a Labrador Retriever, is slightly larger at around 100 grams.
Although this may seem insignificant, it's important to remember that brain size is relative to body size. A small dog's brain is much bigger in relation to its body than a larger breed's — allowing it to be intelligent and capable of understanding complex commands and behaviors.
A small dog's brain is comparable to a tangerine in size and contains the same number of neurons, meaning they can have a large capacity for learning.
Frequently Asked Questions
How big is a small dog's brain?
Small dogs typically have brains between 40 to 50 grams.
What dog breed has the largest brain?
Surprisingly, Chihuahuas have the largest brains relative to their body size.
How big are Chihuahuas?
Modern Chihuahuas typically weigh anywhere from two to six pounds.
Conclusion for "How Big Is a Chihuahua Brain"
So, how big is a Chihuahua brain? In short, it's about the size of a tangerine, weighing in at about 50 grams. While it's small, the brain of a Chihuahua still contains all the necessary components to be an intelligent and capable pet.
With proper training and reinforcement, Chihuahuas can be wonderful furry friends capable of understanding their environment and forming bonds with humans.
If you find this guide, "How Big Is a Chihuahua Brain," helpful, check out:
Learn more by watching "Are Chihuahuas the Smartest Dog Breed???" down below:
Garrett loves animals and is a huge advocate for all Doodle dog breeds. He owns his own Goldendoodle named Kona. In addition, he volunteers at the Humane Society of Silicon Valley, where he fosters dogs and helps animals. Garrett enjoys writing about Doodles and believes that dogs can teach humans more about how to live than humans can teach a dog.
Why Trust We Love Doodles?
At We Love Doodles, we're a team of writers, veterinarians, and puppy trainers that love dogs. Our team of qualified experts researches and provides reliable information on a wide range of dog topics. Our reviews are based on customer feedback, hands-on testing, and in-depth analysis. We are fully transparent and honest to our community of dog owners and future owners.