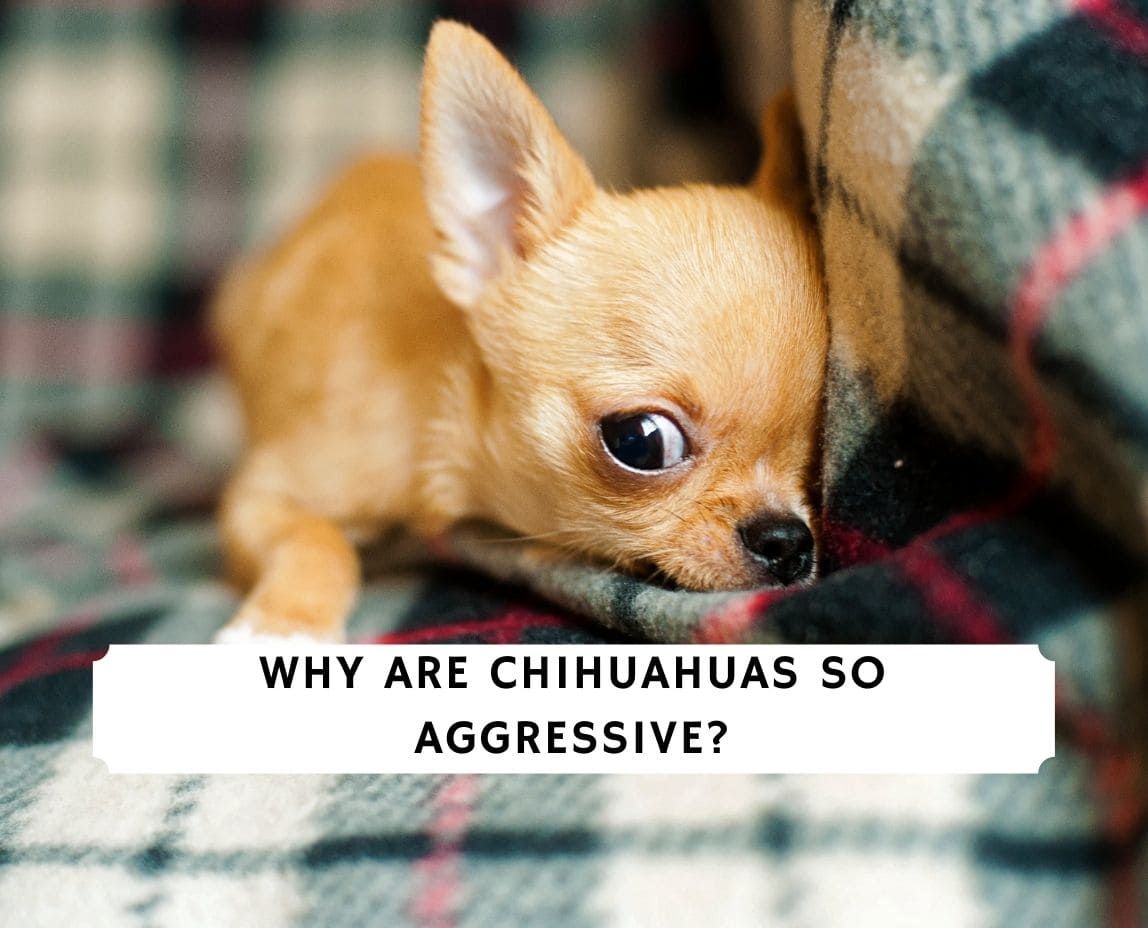 People often wonder why Chihuahuas are so aggressive after seeing the endless bark at them. Chihuahuas may be the most miniature dogs globally, but they have prominent personalities with aggressive tendencies. Perhaps because of their diminutive size, many overlook and underestimate their naturally aggressive behavior, but this would be a mistake. Even if they are cute and pint-sized, they can still cause significant damage to property and people. Children and adults are prone to be bitten by a combative Chihuahua.
If Chihuahuas behave aggressively towards their owners, it's a sign that their pets do not respect their owners as a leader. If their pets exhibit threatening behavior against other people, the dogs are poorly socialized. Both scenarios can cause serious problems down the line. The reasons behind their aggressive behavior are much like other dogs. It can be to show dominance, to protect their territory, or can be due to anxiety. The question now is: are Chihuahuas more aggressive than other breeds?
Before scrolling down this article "Why Are Chihuahuas So Aggressive," you might be interested in these info guides: What Should I Do If I Have a Crying Chihuahua and Best Chihuahua Breeders in California.
Are Chihuahuas Aggressive?
Every dog is different. Your Chihuahua might be more aggressive than other Chihuahuas, or it could be the other way around. It all comes down to their natural personalities. Some Chihuahuas are naturally more aggressive and territorial, whereas others are calm and collected. Each dog's behavior is unique, and what's true for one breed may not be accurate for your dog. It could also be possible that out of the many breeds you've encountered, Chihuahuas seemed most threatening.
According to a survey conducted by Dognition, Chihuahuas were rated to be "most aggressive" in comparison to other breeds, which were rated "seldom aggressive" or "never aggressive," such as spaniels, collies, and pugs. To put these studies into perspective, the Supreme Court of Kansas deemed pit bulls "a public-health hazard." In contrast, the American Temperament Test Society found that pit bulls were not as aggressive and considered them one of the least aggressive dogs. Aggression boils down to the individual personality and genetics of each dog. We shouldn't automatically assume that a dog is aggressive because it's a Chihuahua.
More Chihuahua-Related Article: How Many Puppies Can a Chihuahua Have?
Why Is Your Chihuahua Aggressive?
If you've noticed aggressive behavior from your Chihuahua and want to wean it from such behavior, understanding the reason behind it is key. Why Are Chihuahuas Aggressive? Here are some reasons to consider.
Chihuahua-Related Article: Are Chihuahuas Actually Dogs?
1. Your Dog Is Hurt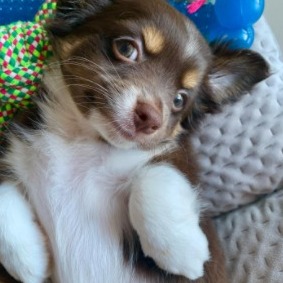 If your Chihuahua suddenly starts acting aggressively, it could be because your pet's been hurt and doesn't want anyone near. If your Chihuahua has somehow gotten hurt and you unknowingly aggravate the pain, it will behave aggressively.
2. Aggression is Easy to Overlook
Because Chihuahuas are the smallest dogs on the planet, they sometimes get away with misbehaving and being aggressive. Negative behavior patterns can be seen as "cute." However, all dogs should be given the same rules, regulations, and training. It's best to tackle aggressive behavior at the onset before it becomes normal behavior for your pet.
3. Trauma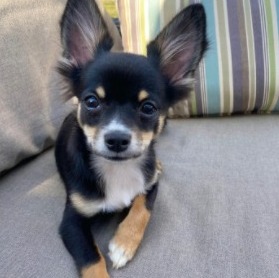 If your Chihuahua is from a shelter, your dog may have gone through severe trauma before being rescued. This can influence your dog's behavior and can prompt it to behave aggressively. Though it is not the dog's fault, it should still be weaned out of a potentially problematic habit.
4. Feeling Threatened
If someone is playing too roughly with your Chihuahua, your pet will behave aggressively. Like all creatures, dogs will protect themselves from perceived threats regardless of whether the threat is real or not.
5. They Are Trying to Protect You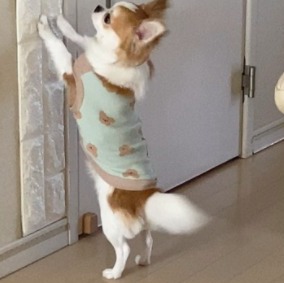 Chihuahuas are known for being protective of their masters and personal objects that are of value to them. If your Chihuahua is behaving aggressively against someone approaching you, it may be because they are trying to protect you. You are valuable to them, and they don't want any harm to come to you. Once you understand where your dog's aggression is coming from, you can implement ways to steer them from this behavior.
The Chihuahua dog breed was mentioned in Best Teacup Dogs That Don't Shed.
How To Curb Your Chihuahua's Aggression
Aggressive behavior can become part of your Chihuahua's habitual behavior if it isn't nipped in the bud and addressed properly. It can cause them to be poorly socialized. Aggressive behavior, whether towards yourself or others, will cause problems in the future. The longer such behavior is tolerated, the harder it will be to wean them from it later in life. Here are some simple ways to retrain your dog from behaving viciously.
1. Intervene in Potentially Threatening Situations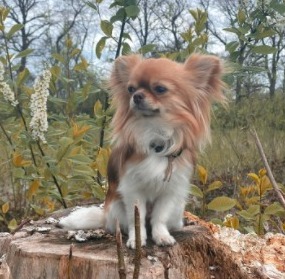 If someone is too rough with your Chihuahua, intervene right away. You are not only protecting your dog from being harmed but also the person who is roughhousing with him or her. If someone continuously misbehaves with a Chihuahua or any dog for that matter, they will eventually respond aggressively as part of their protective instinct.
2. Confiscating Your Chihuahua's Favorite Toy
Chihuahuas protect people and objects they value. This behavior is known as "resource guarding." If they sense that something of theirs is being threatened, they will respond aggressively. You can train your Chihuahua to be less guarded by starting with simple objects. Start by taking a toy your dog likes. Get your Chihuahua to play with the toy for some time, then ask your dog to drop the toy. If your dog obeys, give your Chihuahua a treat and return the toy. However, if your dog behaves aggressively, leave the room and take the toy with you for some time. By doing so, you are teaching your dog that behaving aggressively will lead to being left on their own and having their favorite toy taken away.
3. Rewrite Your Chihuahua's Past
Do you suspect that your dog might be traumatized from the experience? When animals are treated inhumanely, they can be mistrusting and overly aggressive as a way to cope. Shower your Chihuahua with positive experiences to regain their trust and give them a sense of stability and safety. Some dogs are so traumatized that they develop an innate fear of humans. Try to think of positive experiences you can share with your dog without seeming threatening. One thing you can do is leave them treats near their bed or safe space. As you progress, leave the treats farther and farther away from their safe space.
Work your way up, so they eventually trust you enough to eat from your hand. This is a long process. You will not see results overnight. As with people, working through traumatic experiences and replacing them with more positive beliefs is challenging. However, with patience and a lot of TLC, you will get there. Depending on the situation, you may need different ways of re-programming strongly built fears. Regardless of the method you use, always be patient and allow your Chihuahua to come to you at their own pace.
4. Praise your Chihuahua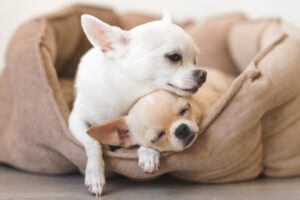 Chihuahuas love being showered with love and attention. If your Chihuahua does something you like, provide them with positive reinforcement. Shower them with praise and treats. If they engage in behavior that you don't like, ignore them for a certain amount of time. Consistency and patience are keys to help your Chihuahua understand which behaviors you encourage and which behaviors are not appreciated.
5. Obedience Training
You can hire a trainer or enroll your Chihuahua in an obedience training class. Get help from formal training methods to get your Chihuahua to be calmer and better behaved. Use the prescribed behavioral exercises to train with your dog every day.
6. Exercise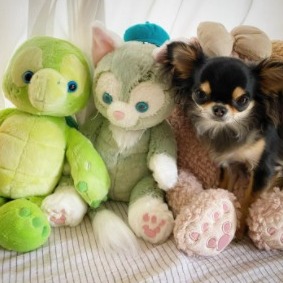 If your dog doesn't receive a healthy amount of mental stimulation and exercise, they will manifest this need with unhealthy habits and behaviors. Due to their small stature, an hour or so of daily routine is sufficient. Go out for walks and short runs to encourage healthy development in your dog.
7. Medical Issues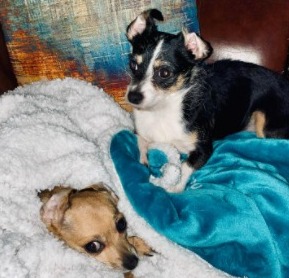 Perhaps your Chihuahua is suffering from a medical-related issue. If you suspect your dog's aggression may be caused by pain or physical discomfort, schedule an appointment with your vet and get your dog looked at.
Chihuahua Breeders: Best Chihuahua Breeders in Florida and Best Chihuahua Breeders in Texas.
How To Stop Chihuahuas From Attacking Strangers Who Come Near You
Chihuahuas are very protective of their masters. Sometimes, they are too protective. An overly protective dog can prompt them to attack people who come too close to you, even if they are family and friends. It can seem cute at first but can become troublesome and put a strain on your relationships with other people. There are a few ways to discourage this behavior.
Model Ideal Behavior Around People For Your Chihuahua
If you tense up or show any negative behavior while around other people, Chihuahuas can take their cue from you and behave aggressively. Influence their behavior by remaining relaxed to show that you enjoy the social interaction. Keep your interaction with your dog as normal as possible when other people around to show that there is no need to feel threatened.
Have a Friend Interact With Your Chihuahua
Another thing you can do to show your Chihuahua that certain people are not threats is to hold your dog in your arms and ask a friend or family member to offer your pet a treat. Suppose your Chihuahua accepts the treat with ease, pet, and praises your Chihuahua as a reward. If your dog reacts aggressively, stop holding them and do not give them attention for some time. Keep doing this until the positive behavior is well-enforced and understood by your dog. Training will take about a month before you see any change. Ensure that each training session is not too long and that each session ends on a positive note.
Conclusion For "Why Are Chihuahuas So Aggressive"
Chihuahuas may be tiny and cute, but that doesn't mean that aggression should be tolerated. Aggressive dogs — no matter the size — create problems for their owners. To answer your question, 'are Chihuahuas aggressive?' Here is the answer – Yes, they can be, but, in the end, well-adjusted dogs are much easier to live with and love.
For more articles with mentions of the Chihuahua dog breed, check out:
To learn more about the Chihuahua, watch "Facts About Chihuahuas You Need To Know" from AnimalWised down below: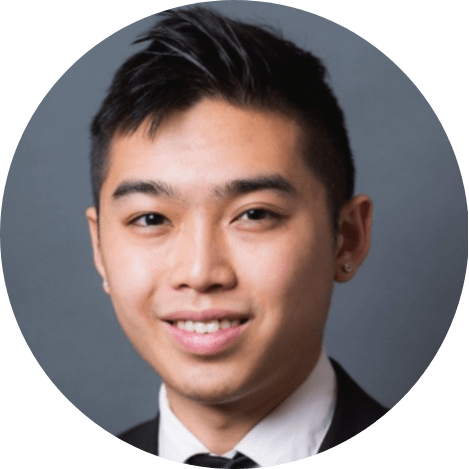 Andy is a full-time animal rescuer and owner of a toy doodle. When he's not saving dogs, Andy is one of our core writers and editors. He has been writing about dogs for over a decade. Andy joined our team because he believes that words are powerful tools that can change a dog's life for the better.
Why Trust We Love Doodles?
At We Love Doodles, we're a team of writers, veterinarians, and puppy trainers that love dogs. Our team of qualified experts researches and provides reliable information on a wide range of dog topics. Our reviews are based on customer feedback, hands-on testing, and in-depth analysis. We are fully transparent and honest to our community of dog owners and future owners.