The Chihuahua Husky mix is adorable. It's almost like a miniature Husky in a way. From a broader perspective, every dog breed has unique characteristics and features that make them who they are. These characteristics are distinct among breeds from their coat length to weight to height to personality and temperament. What happens when you combine two breeds into one dog? You can get a mixed dog that takes the best of both parents.
Hybrid breeds, or breeds that bring together parents of two different breeds of dogs, have become widely popular among current and future dog owners. Often, these mixed dogs have fewer health concerns and have an even more unique set of characteristics than either parent breed. They can also be widely diverse in appearance and size, depending on their genetic makeup and how much of each parent breed they possess. This diversity is another reason why mixed breeds have grown in popularity.
Mixes can incorporate many different types of dogs, although some dogs, such as Poodles, are used more often in crossbreeding. Both breeds in the mix are generally the same size. For the safety of the parents, that may not always be the case. Take the Chihuahua-Husky mix, for example. If you know what each of these breeds looks like, it might be odd to hear the possibility of this mix given their different sizes.
After all, Huskies are much larger than Chihuahuas. However, when done safely, mixing these two breeds results in an adorable and loveable dog perfect for families. Suppose you're considering getting a Chihuahua Husky mix or are just curious about what kind of mixed-breed this is. In that case, there are some helpful things to know about the Chihuahua-Husky mix. To help shed some light on this intriguing and loveable breed, our team at WeLoveDoodles would like to share what this hybrid breed is as you determine whether they're compatible with you or your housemates.
Before scrolling down our Chihuahua Husky mix, we think you might be interested in these other dog breeds: Great Dane Chihuahua Dog Breed Guide and Best Hypoallergenic Dog Mixes.
Chihuahua Husky Mix Dog Breed Info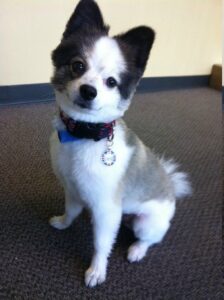 As their name implies, this mixed breed brings together the tiny and feisty Chihuahua with the strong and active Siberian Husky. The mix of these two breeds often brings out the best of each breed, with a strong health history and excellent temperament. Other names this mix has been called include Husky-Chi or Huskyhuahua. At first, you might wonder how this is even possible. Siberian Huskies weigh between 25 and 60 pounds and reach a height between 20 and 24 inches tall when measured at the shoulders.
That size is quite different from the Chihuahua, which weighs only between 3 and 6 pounds and reaches a height between 6 and 10 inches tall. Despite these significant size differences, breeding these two dogs together can result in medium-sized dogs that bring out the best in each breed. As a result of the size difference, however, producing these two dogs must be done very carefully and through in-vitro fertilization rather than natural methods.
With proper care and attention throughout the pregnancy, you can end up with an adorable mixed dog that is as entertaining as cute. As both the Husky and the Chihuahua have relatively high life expectancies, this mixed dog usually lives anywhere from 12 to 16 years old. This estimate is highly dependent on their diet, exercise, and overall health and wellness from being a puppy to moving into adulthood.
For more teacup dogs, check out: Best Teacup Dogs That Don't Shed
Appearance
As with all other crossbreeds, the physical characteristics of the hybrid dog can vary from sibling to sibling. There is a great deal of diversity in hybrid litters, which can add even more excitement and joy when picking out a puppy. Each physical characteristic is highly dependent on their genetic make-up. Some dogs may have more Siberian Husky in them, resulting in a larger dog that is taller and heavier. Other dogs may have more Chihuahua in them, meaning they'll be more on the smaller size and have a more similar coat than a Chihuahua.
However, as this hybrid breed has grown in popularity, specific estimates and predictions of what you can expect a mix between a Husky and a Chihuahua to be. On average, these mixed breeds are medium to small in size, with a weight of just between 7 and 15 pounds. This is heavier than the typical Chihuahua but lighter than the Siberian Husky. Similarly, the mixes reach a height between just 6 and 15 inches tall. Just like their size, their coat type can also vary based on their genes.
Typically, their coats are short or medium length, as Chihuahuas have short coats, and Huskies tend to have a bit longer coat lengths. They can also come in a variety of colors, everything from white to gray to tan or gray. Although their coats may also shed little, they are still not considered to be hypoallergenic. Their coats may require occasional grooming that includes regular brushing and a bath every once in a while.
As these dogs do shed, consistent grooming can help keep their hair and coat healthy and shiny. Owners will also want to examine their ears and nails to confirm they are healthy and no infections or issues are festering. An additional characteristic that makes this mixed breed particularly unique is its eye color. Huskies have bright, vibrant blue eyes that they hold onto from puppyhood to their adult life. Chihuahuas, on the other hand, have deep brown eyes. As a result, this mixed breed could have brown eyes, blue eyes, or a combination of colors.
Dog-Related Questions: How Long Does Dog Grooming Take and Best Dog Grooming Kit.
Temperament
Just as with their appearance, the temperament and personality of a husky can vary immensely as well. Regular Siberian Huskies have a temperament that is very outgoing and friendly. They are known to be hard-working and love to stay active. Additionally, they are brilliant and alert to their surroundings, which can be a huge value in various situations. The Chihuahua, on the other hand, has a slightly different temperament and personality.
These small dogs can have a big personality and enjoy a lot of attention. Similar to the Husky, Chihuahuas are very active and highly alert to their surroundings. They may be small in size, but their lively personality makes them a dog that's fun to have around. With these two temperaments, the mix has the potential to exemplify any of these personality characteristics. Chances are, they will be relatively active and lively, which are characteristics that both breeds share.
They can also be very friendly and outgoing when they choose to be. With their personality make-up, they can be both stubborn and bossy, especially when not adequately trained. Especially when training is not implemented, a Chihuahua-Husky mix can even display aggressive behavior. Dog owners should keep a close eye on them and ensure that they remain happy and friendly.
Dog Behavior Questions: When Do Puppies Start Barking and What Does It Mean When My Dog is Barking In Its Sleep?
Care
When it comes to these mixed breed needs, it's essential to identify their unique needs. While there are some universal things that dogs require in being adequately cared for, there are some considerations to determine how to best care for these dogs.
Dog Product Recommendations To Help Get You Started: Best Luxury Dog Bowls and Best Dog Bed For Separation Anxiety.
Nutrition
For example, the amount of food they need may be different than another Chihuahua-Husky mix. Nevertheless, dogs of any size will need regular meals with wholesome food that's packed with nutrients. As the case with other dogs, be sure to feed them food that's intended for dogs. Foods high in fat or other poor ingredients can compromise a dog's health, especially given their small size. Not letting them in on the table scraps of bacon can help protect their overall health, even though it may cause temporary disappointment for them.
Dog Food Advice & Recommendations: Best Dog Food with Vitamins and Minerals and Tips For Choosing a Good Dog Food.
Exercise
These mixes will also require regular exercise to help them properly channel their energy and need for activity. Regular walks and playtime outside are important. However, depending on their size and physical characteristics, it's also important not to overexert these dogs. They may be willing to push past their limit, but that doesn't mean they should. Especially on hot days, these dogs should be carefully monitored not to suffer from heatstroke or other related issues. Watch their health and ensure they are well cared for throughout their exercise and activity.
Dog Exercise Product Recommendations: Best Dog Playpen For Hardwood Floors and Best Weighted Vest For Dogs.
Training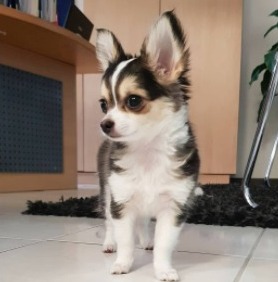 As with all other dogs, the Chihuahua-Husky mix benefits significantly from regular training. Teaching them to be obedient and comfortable in social situations can help improve their overall behavior and ensure they are a great family friend. As these dogs can be pretty stubborn and bossy, obedience training and other steps to improve behavior are vital. Training can help turn bad behavior into a manageable personality that is better for all involved. Training should include things like positive reinforcement for good behavior.
They typically respond well to things like treats and other indications of praise. With their personality, harsh scolding may not be the most effective approach. Additionally, as these dogs tend to have a lot of energy but short attention spans, removing distractions may help them focus better. Another thing to help them focus and improve their behavior is by establishing a routine. By creating a pattern of behavior for them, they can know what to expect and how they should act.
Consistency in training and showing them what is good behavior and what is bad behavior can be effective with the personality and temperament of these Chihuahua-Husky mixes.  Socialization is also a crucial part of training that can make a dog more comfortable around other animals. This socialization often starts at a young age for best results. However, even with proper socialization, these dogs aren't known to be compatible with very young children who don't treat the dog all that well. This is a crucial personality characteristic to keep in mind when determining whether this mixed breed is right for you.
Dog-Related Question: Why Does My Dog Stretch So Much?
Is a Chihuahua-Husky Mix Right For You?
While there is certainly a lot to love about the Chihuahua-Husky mix, there are some considerations to keep in mind as you determine whether this hybrid breed is right for you, your family, and your living environment. Here are a few things to keep in mind as you decide your next steps.
Family Dynamics: While Chihuahua-Husky mixes are known to be friendly, there may be limits to their friendliness. Traditionally, these dogs aren't the best fit for families with small children who don't know how to treat a dog properly. The Chihuahua, in particular, isn't known for being a kid-friendly dog. This personality trait is something essential to keep in mind when assessing the compatibility of this breed.
Aggression: While the Husky is known for being very friendly, the Chihuahua tends to have a more difficult time displaying their friendliness. Depending on how strong an influence the mixed dog has on the Chihuahua, they may also be aggressive and feisty. If you have a family environment, particularly with young children, you may want to keep their aggression in mind as you determine whether a Chihuahua-Husky is right for you.
Uniqueness: As with other mixed breeds, the Chihuahua-Husky mix brings an exciting diversity among litters. They come in a wide variety of coat colors, sizes, and markings that make them truly one of a kind. As this crossbreed is reasonably rare, you can have a dog that is unlike any other dog you have.
Conclusion For "What is a Chihuahua Husky Mix"
There's a lot to love about a Chihuahua. There's also a lot to love about a Siberian Husky. With a mix, you can get the best of both worlds. Get both the energetic and lively dog that's a small to medium size. With their unique appearance and personality, you can enjoy a four-legged friend who is intelligent, alert, and ready for a good time.
For more articles mentioning Chihuahuas and Huskies, check out:
To learn more about mixed breeds, watch this video about the Chihuahua Husky Mix: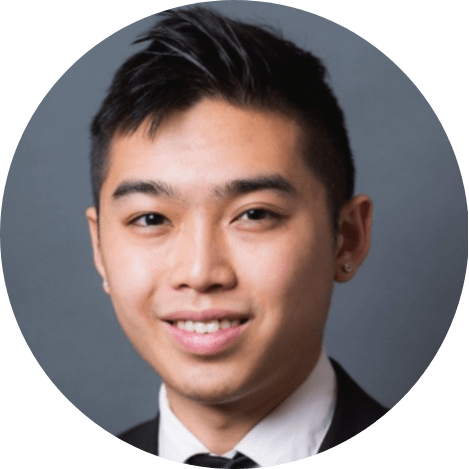 Andy is a full-time animal rescuer and owner of a toy doodle. When he's not saving dogs, Andy is one of our core writers and editors. He has been writing about dogs for over a decade. Andy joined our team because he believes that words are powerful tools that can change a dog's life for the better.
Why Trust We Love Doodles?
At We Love Doodles, we're a team of writers, veterinarians, and puppy trainers that love dogs. Our team of qualified experts researches and provides reliable information on a wide range of dog topics. Our reviews are based on customer feedback, hands-on testing, and in-depth analysis. We are fully transparent and honest to our community of dog owners and future owners.