Known for its peppy energy and big attitude, the Chihuahua has been a pet favorite for years. With its roots in Mexican culture and a lineage going back to ancient kingdoms, there's a lot to love about this four-legged ball of energy and sass. You'll find lots of Chihuahua puppies for sale in California.
On the other hand, you will want to buy a Chihuahua puppy from a reputable and known breeder. If you purchase a cheap Chihuahua with no health or genetic testing, you may end up paying more in medical bills long term. Reputable Chihuahua breeders in California will do health testing, genetic testing, offer a puppy warranty, and provide great customer support. Remember to always do your own due diligence and research before putting down a deposit!
Other articles you might like: Yorkie Breeders in California and English Bulldog Breeders in California.
Top Breeders for Chihuahuas in California
In the California area, you have a wide range of options for breeders to choose from as you find a Chihuahua to welcome to your home. To help you make the right choice, we share some of the top breeders of Chihuahuas in the state of California. You'll find a brief overview of the breeder as well as contact information if you're interested in learning more.
PuppySpot is the most popular online marketplace in the United States that you could check out if you want to get your next puppy from a trusted breeder. You don't have to put yourself through potential risks and scams to get a new Chihuahua puppy to your home in California. To date, PuppySpot has helped over 225,000 families get matched with a puppy.
PuppySpot is the bridge between potential owners and top-class Chihuahua breeders in the USA. They remove the guesswork from the picture. With their Puppy Finders, you can find many Chihuahua puppies from the best breeders. Plus, their Breed Match Quiz helps find out which breed is right for you.
The team at PuppySpot is an efficient and organized one. The Travel Managers do all the calculations and rough work and the Travel Chaperones bring your new puppy safely to their new home. 
Moreover, PuppySpot makes it a point that all dogs that are delivered have been vet-checked by the breeder and de-wormed. You will get a 10-year health guarantee with your puppy, which is rarely offered by anyone else. They can deliver your Chihuahua puppy anywhere in California.
Chihuahua Breeder Details:
2. Natelsong Chihuahuas – Northern California
For owner Michelle, Chihuahuas are a valuable breed that brings excitement and joy. According to the AKC standards, Michelle breeds Chihuahuas to be healthy and live long lives. In addition, you can rest assured that your Chihuahua will conform to the purebred guidelines set forth by the AKC.
As a small business breeder, she raises her Chihuahua puppy litters in her own home so they are well-accustomed to family living and interacting with people and other dogs. Thus, you can be confident that their Chihuahua puppies are going to be well-socialized with less stress and anxiety.
In addition to breeding, Michelle is also passionate about raising champion dogs to win in breed standards and do well in dog shows. She's participated in several shows herself and brings that success into the litters that she breeds.
While litters come only at select times during the years, you can connect with her to discover when the upcoming litter is planned for. She's one of the most reputable Chihuahua breeders in California with lots of experience under her belt. Shes located in Crescent City, California which is very far north close to the border with Oregon.
3. Honey Bee Chihuahuas – Northern California
Whether for official shows or a family pet, the team at Honey Bee Chihuahuas are passionate about their dogs. They breed with an emphasis on meeting breed standards in their body shape and temperament.
After receiving a Chihuahua for a pet as a girl, Lisa, who is the owner was excited about the opportunities to perfect the breed and share the joy of this unique breed. If you're new to the Chihuahua breed, Lisa shares some helpful insights and information to help you choose and take care of your new puppy with confidence. In her resources, she shares some best practices in caring for your Chihuahua puppy as well as health concerns to be on the lookout for.
Families and individuals interested in adding a Chihuahua to their home from Honey Bee can complete a short application. Sharing your interest and reasoning for getting a puppy can help Lisa get a better glimpse of which puppy might be right for you. This Chihuahua breeder is located in Sacramento, California.
Chihuahua Breeder Details:
4. Teresa's AKC Chihuahuas – Southern California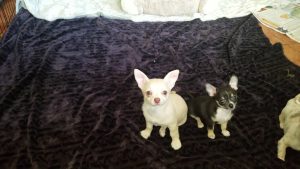 Since 1997, the team at Teresa's AKC Chihuahuas have been breeding and caring for this breed and sharing them with families. As a family operation, their Chihuahua puppies are raised with people and other dogs in Riverside, California. They are one of the oldest Chihuahua breeders in California on our list.
In addition to breeding high-quality Chihuahuas, they've also experienced some exciting claims to fame. They've had their Chihuahua puppies filmed on Animal Planet and in a photo shoot with Vanity Fair. With the beauty of this breed, it's easy to see why they've become so popular in the media and in people's homes.
Puppies from Teresa's AKC Chihuahuas come with their vaccines, shots, and a full health record so you can be confident in the puppy you choose. They also provide helpful insights into transitioning to caring for your Chihuahua puppy.
Chihuahua Breeder Details:
5. Toyville Chihuahuas – Northern California
Since the late 1980s, the team at Toyville Chihuahuas have emphasized show dogs that adhere to the breed standards. They hold themselves to high standards, which has earned them recognitions such as the American Kennel Club's Breeder of Merit. They're also part of the Chihuahua Club of America and the Chihuahua Club of Northern California. If you're looking for a Chihuahua breeder in California with a perfect reputation, this should be your pick!
While their focus is on show dogs, they also have Chihuahua puppies for sale at different times of the year. Each adult dog is tested for health and genetics to ensure you can get a puppy that's right for you. This health assessment also provides insight into key aspects you may want to keep an eye out for as your puppy grows and ages.
Chihuahua Breeder Details:
6. Sweetie Pie Pets – Southern California
With their excessive "cuteness" factor, Chihuahuas are a joy to celebrate. And that's exactly the attitude at Sweetie Pie Pets, who specialize in breeding Apple Head Chihuahua puppies. Apple Head Chihuahuas are a little bit different than your normal Chihuahua puppy. These types of dogs have a rounded head with very big eyes that protrude from their face. In addition, they have a smaller sized snout which emphasizes their larger eyes.
Their website shares a wide selection of photos of current puppies and parents, making you fall in love with these dogs even more. Beyond offering litters and puppies, the team at Sweetie Pie Pets also shares valuable videos and other resources that will provide you the insight and information you'll want as you welcome home your new Chihuahua puppy home.
With her own personal experience, she advocates the need for kids and families to experience the love and responsibilities of having a pet. She strongly believes in the mantra and dogs can teach humans more than a human can teach dogs! She is located very close to Los Angeles, California.
Chihuahua Breeder Details:
7. Chihuahua Dreams – Southern California
With 6 to 8 litters of puppies per year, the team at Chihuahua Dreams have a passion for sharing the joy and love with interested families. With over 10 years of breeding experience, they love to breed Chihuahua puppies that meet AKC purebred standards, have a great temperament, and are healthy as they enter your home.
As you browse their list of available Chihuahua puppies for sale in California, you can also make requests for the look or demeanor of your puppy. They will do what they can to accommodate your ideal size, color, and gender.
The key to their good behavior is the socialization they experience in the home and environment where they're raised. From an early age, this Chihuahua breeder focuses on early neurological stimulation to various noises and human interaction. In addition, as you bring your puppy home, they also offer a wide selection of resources and care tips to make raising your Chihuahua a smooth and joy-filled experience.
Your Chihuahua puppy will come with a full contract and health guarantee so you can be sure of the puppy selection you make. They provide a sample of dog food that the puppy is used to in addition to health records. Their team is also willing and available to answer questions about best practices in raising your furry friend well. This is a Chihuahua breeder located in Southern California near Murrieta.
Chihuahua Breeder Details:
More Information About Chihuahua Puppies in California
With its small size and big attitude, the Chihuahua can be an exciting and playful addition to your family and home. If you're looking for a Chihuahua puppy in California, you've got several options of breeders who can provide you the right information and your next puppy.
The Chihuahua may be small but it is mighty. According to the American Kennel Club, the Chihuahua reaches a height of just 5 to 8 inches and doesn't weigh more than 6 pounds. Small dogs like the Chihuahua live for a long time with a life expectancy of 14-16 years. With it's charming yet eager personality, the AKC ranks Chihuahuas as 33rd in popularity amongst all dogs in the world.
Chihuahuas are often associated with their terrier-like demeanor and big attitude as they tend to try to rule the household by not letting their size determine their status. They demand a lot of attention, making them a perfect lap dog, particularly in city settings around California. With their small size and thin fur, they don't particularly enjoy cold weather without sweaters or other extra coverings. California has the perfect blend of weather that could suit your future Chihuahua puppy.
If you're looking to add a four-legged friend to your life, a Chihuahua may be a great option. Like all dogs, they require regular exercise, a healthy diet, regular grooming, and upkeep.
Find a breeder near you or explore more options for puppies where you are. Once you find the right one, welcome them home with excitement and love and they'll be sure to return the companionship.
Conclusion for Chihuahua Breeders in California
Chihuahuas are one of the most sought after dog breeds in California. However, please keep in mind the responsibilities of owning one of these dogs. You will need to train your dog, groom them, pay for medical bills, and feed them. Getting a dog is a huge responsibility and Chihuahuas are no exception. We hope that you found some reputable Chihuahua breeders in California from our list!
Check out these other articles:
Garrett loves animals and is a huge advocate for all Doodle dog breeds. He owns his own Goldendoodle named Kona. In addition, he volunteers at the Humane Society of Silicon Valley, where he fosters dogs and helps animals. Garrett enjoys writing about Doodles and believes that dogs can teach humans more about how to live than humans can teach a dog.
Why Trust We Love Doodles?
At We Love Doodles, we're a team of writers, veterinarians, and puppy trainers that love dogs. Our team of qualified experts researches and provides reliable information on a wide range of dog topics. Our reviews are based on customer feedback, hands-on testing, and in-depth analysis. We are fully transparent and honest to our community of dog owners and future owners.