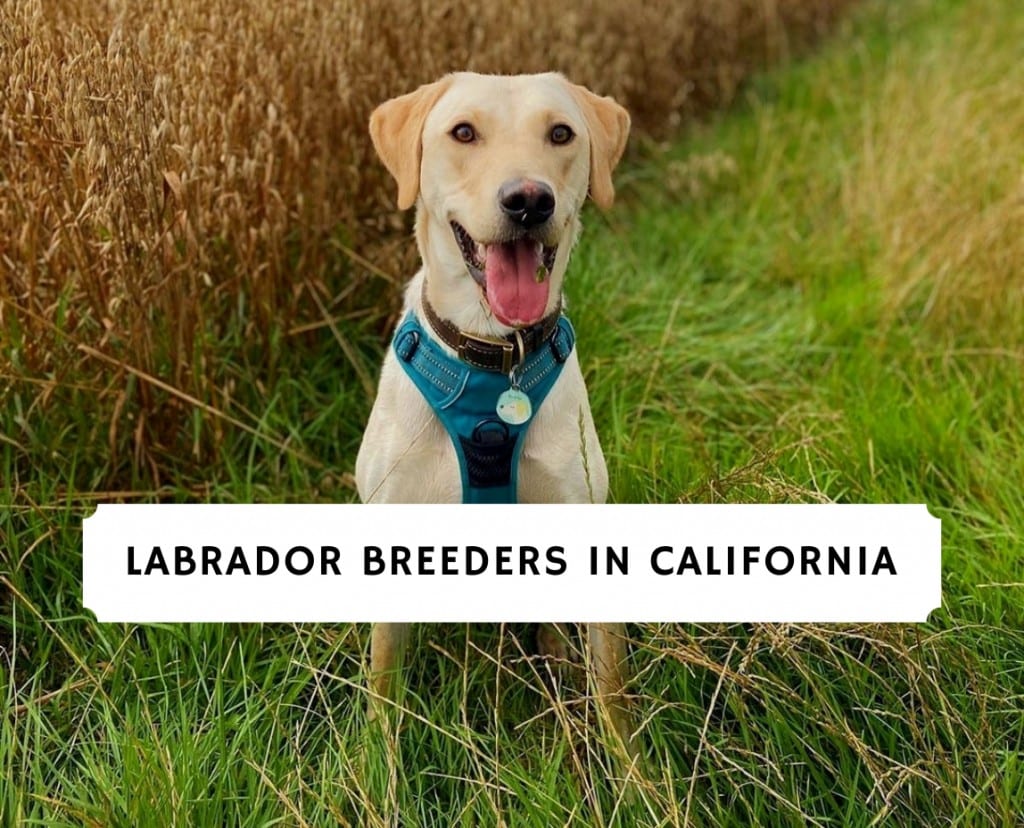 California is a popular state in the U.S because of the beautiful weather all year round. Its residents are also known to love pets, especially dogs like the Labrador. This is why dog breeding is a thriving business in California. However, not all breeders are the same in terms of health checks, caring for their puppies, and certifying their dogs.
If you live in California and would like to get a Labrador Retriever as a family pet, then we've done a lot of independent research to help verify credentials and provide contact information. This is where you'll learn about the best Labrador breeders in California.   
Before we go further, we would like you to understand that these are not the only top breeders in the state as there are many other breeders. Also, the list here is not in any particular order of the best Labrador Retriever breeders. We hope that you find the perfect Labrador puppy for your family.
1. Quail Canyon Labs (Southern California)
These are one of the most famous Labrador breeders in Southern California. Quail Canyon Labs are well-known for breeding top-quality Labradors Retrievers near the Los Angeles, California area. Labrador Retriever dogs from these professional breeders have a stable temperament and are very friendly because they are raised with love and care. Most of their Labrador puppies come in the typical yellow or cream color, but they also have a black Labrador that they breed with.
In addition, if you need a Lab breeder for games and hunting, these puppies come highly recommended because they raise dogs specifically for these purposes in addition to training them to adapt to family life.  In our opinion, this is a reputable Labrador breeder in California.
Labrador Breeder Details
Products/Services:
Specialize in breeding healthy or top-quality Labrador retrievers
They offer professional advice on how to train and nurture your pet dog
Training labs to be stable and friendly
Helping to improve intelligence
Training labs for sports, games, and hunting activities
Carrying out tests, examination, and evaluation of all dogs
Regular vaccination and deworming 
2. Castlecreek Labradors (Southern California)
Another reputable breeder in California is the Castlecreek Labradors. This breeder is a member of the American Kennel Club (AKC) and specializes in stud service. Hence, they work with other professional breeders in California and other parts of the country. However, they also breed a few litters a year and you can find black or tan colored Labrador Retriever puppies throughout their litters. This breeder is located in Northridge, California near Los Angeles.
The Labrador puppies from this breeder are certified for health because they undergo regular health checks and examinations, including congenital cardiac disease, elbow dysplasia, and hip dysplasia. Moreover, the stud from this breeder has won numerous awards, including being a grand champion. Not only will you be getting a healthy Lab, but you'll also be getting one from championship bloodlines.
Labrador Breeder Details
Product/Services:
Provision of stud service
Offering professional advice and assistance regarding Labrador retrievers
Offers a couple of litters per year for Labrador puppies in California
3. Kentfield Kennels (Northern California)
Here is another top-quality Labrador Retriever breeder based in Sebastopol, California. This famous breeder has been in business for over three decades and is one of the oldest Labrador breeders in California. They have a lot of satisfied customers, testimonials, and reviews online. As a matter of fact, dog training schools, service dog organizations, and even individuals who want top-quality Labrador retrievers go to them for puppies.
If you live in or around Sebastopol or in the Northern California area, and you're looking to buy an intelligent and friendly Labrador, then you should consider contacting this breeder. Dogs from them are known to be strong and very healthy and they perform regular health checks and send the puppies home with all up to date medical care. 
Like other top breeders, Kentfield Kennels does not raise their dogs outdoor. They see them as a part of the family and prefer to socialize them indoors. One of their beliefs is that Labrador puppies from a well-loved female dog have higher quality than the puppies from a female dog that lacks love, care, and attention. 
Another good reason for recommending this breeding outfit is their foster dog breeding program. This program allows an interested family to keep one of their dogs as foster under an agreement while puppies from these foster dogs go to NGOs. We really like the fact that they are training dogs and caring for dogs that go to nonprofit organizations.  
Aside from the services above, Kentfield Kennels Labrador puppies are enthusiastic and always happy to learn new tricks. More importantly, it is a requirement to provide health insurance for your puppies under their care. this helps to prove that you are financially able to care for the Labrador even if something happens to go wrong.
Labrador Breeder Details
Website: Kent Field Kennels California
Address: 1458 Cunningham Rd, Sebastopol, CA 95472
Phone: (707) 787-5227
Location: Sebastopol, California. Near the Bay Area in Northern California.
Products/Services:
Training of service dogs
Provision of training tips and information
Training of hunting dogs
Creation of foster opportunities to interested families
Provision of service dogs for veterans on search and rescue missions, children in need, and other people who may require a diabetes detection dog
Carrying out puppy tests to ascertain the intelligence of the puppies
Helping with health insurance  
Rendering assistance on AKC membership
4. Hatz-Off-Labradors (Southern California)
This Labrador breeding business started over two decades ago. Labrador Retriever puppies raised by this breeder are friendly, well socialized, and come with beautiful coats. They learn fast and can adapt well to new families due to the proper socialization they receive at such a young age. Also, they're hand-raised and treated as members of the family. This implies that they are raised with love, care, and attention. 
Again, this Labrador breeder in California offers stud services, and they have strong, healthy, and top-quality dogs. You need to sign a puppy agreement before this service can be enjoyed if you want to use their stud service.
Dogs from Hatz-Off-Labradors are strong and come from a healthy lineage. In addition, their dogs registered with AKC. Their Labradors are great sporting companions and you can virtually get any color you want. They undergo regular health checks and take NuVet vitamins daily to ensure that they are healthy. This is one of the best Labrador breeders in Southern California and you can find their information below.. 
Labrador Breeder Details
Website: Hatz Off Labradors in California
Email: hatzofflabradors@hotmail.com
Phone: (​951) 505-1188​​
Address: 1860 Tonto Bar Lane, Norco, CA
Location: East of Los Angeles, California. North of San Diego, California. 
Products/Services:
Provision of stud service
Dog training
Sales of puppies
Provision of expert and professional advice
Hand-raising dogs
5. Diamond P Labradors (Northern California)
Diamond P Labradors is another popular Labrador breeder in California. This breeder trains search and rescue dogs, therapy dogs, and family dogs. All the Labrador puppies under this breeder's care are certified healthy as they undergo regular health checks with veterinarians. 
Again, Labrador Retrievers from Diamond P Labradors are trained to be highly intelligent, making them good dogs for hunting, sports, and even search and rescue missions. They are equally stable and can adjust to any family or lifestyle as they come properly socialized from a young age. More importantly, all the Labrador puppies from this breeder are OFA and CERF rated. 
Whatever you need a Labrador Retriever dog for whether it is a family companion, bomb detection, drug detection, or diabetes detection choosing this breeder will provide you with a happy and healthy Lab puppy. You will find many positive reviews and testimonials from satisfied customers and clients when you visit their website. They are a Labrador breeder located in Northern California east of San Francisco.
Labrador Breeder Details
Products/Services:
Training detective dogs
Training dogs for hunting and other sports
Regular vaccination and deworming of puppies
Provision of stud services
Provision of semen for artificial insemination
6. Good Dog (Online)
As the name of this breeding outfit implies, the dogs bred here are good. By good, we mean obedient, friendly, smart, intelligent, and healthy. The Good Dog is a famous breeder in California and the United States as a whole because of the services they render and the career opportunities they offer. We will say that if you prefer to buy a dog online, you must do a significant amount of due diligence to ensure that you aren't supporting a puppy mill or backyard breeder. We highly encourage you to purchase a Labrador puppy in-person, but we realize this isn't always the best case for some people. 
That being said, as a big dog company, they have a philosophy to connect good people with happy and healthy dogs. Apart from Labrador puppies in California, you can get any breed that you have an interest in. All dogs from these breeders undergo periodic health checks, but we suggest that you always talk to the individual breeders.
The three key areas that this company takes seriously are dogs' health, welfare, and behavior. Good Dog trains Labradors to be friendly and social. So, whatever kind of dog you want in a Labrador, you will surely find a puppy at Good Dog. 
Labrador Breeder Details
Products/Services:
Breeding of all types of dogs
Providing professional and medical advice
Provision of dog training
Working with other professional breeders
Creation of a learning center for dog owners and intending dog owners
Conclusion for Labrador Breeders in California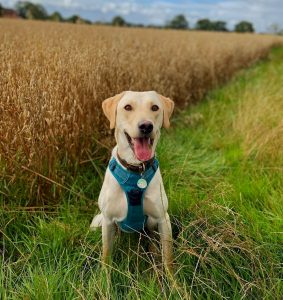 Based on everything that we explained in this post, we believe that we have introduced you to some of the best Labrador breeders in California. So, finding one close to you should no longer be a problem as we separated the breeders from Southern California and Northern California. We also choose one online breeder if it's difficult for you to buy a Labrador puppy in-person.
Furthermore, we encourage you to contact any of these breeders if you're interested in acquiring a Labrador retriever dog as a family pet or for a specific purpose. We listed some specialty breeders who use their Labrador puppies as therapy dogs, search and rescue dogs, or hunting dogs.
Other articles you might like:
Garrett loves animals and is a huge advocate for all Doodle dog breeds. He owns his own Goldendoodle named Kona. In addition, he volunteers at the Humane Society of Silicon Valley, where he fosters dogs and helps animals. Garrett enjoys writing about Doodles and believes that dogs can teach humans more about how to live than humans can teach a dog.
Why Trust We Love Doodles?
At We Love Doodles, we're a team of writers, veterinarians, and puppy trainers that love dogs. Our team of qualified experts researches and provides reliable information on a wide range of dog topics. Our reviews are based on customer feedback, hands-on testing, and in-depth analysis. We are fully transparent and honest to our community of dog owners and future owners.