According to the American Kennel Club (AKC), Poodles are the fifth most popular breed in America. Roughly 38 years ago the Poodle dog breed held the title of the most popular dog for 22 years in a row. The Poodle's popularity is attributed to three major factors: its good-natured personality, nonshedding coat, and hypoallergenic tendencies.  Poodles make brilliant family pets and service dogs, and they come in all sizes and colors to fit any individual or family.
There are several Poodle puppies for sale in California, but that doesn't mean that all breeders are created equal. There are several breeders operating as puppy mills and backyard breeders that are selling unhealthy dogs. If you're ready to bring this curly companion home, here are seven reputable Poodle breeders in California.
Other articles you might like: Bernedoodle Breeders in California and Maltipoo Breeders in California.
Premier Pups is where the top mini Poodle breeders in the United States can be contacted by dog lovers looking for the next puppy to adopt.
Operated by a team who are crazy about dogs, Premier Pups focuses on outstanding customer service and the happiness of their puppies.
Their approach is to look at each adoption as if it were their own, so you can expect personalized service from this marketplace.
The customer's joy when they meet their miniature Poodle for the first time drives the team to raise the bar in their services. Thanks to this commitment, they consistently meet and exceed the customer's expectations.
Premier Pups only partners with Poodle breeders holding a USDA license.  In addition to choosing ethical breeders, the business also hand-holds the new owners so that they make both themselves and their new puppy comfortable in their home. We highly recommend that you check them out!
Poodle Puppy Information
Size: Miniature Poodle puppies
Poodle Breeder Information
PuppySpot is an excellent choice to begin your journey in search of a Poodle puppy in California. If you want a certain Poodle breed, size, or coat color, you'll find it on PuppySpot's website. They vet all their dog breeders for your peace of mind. 
Finding a reputable Poodle breeder on your own can be overwhelming! Phone calls, emails, interviews, and home visits take a lot of time. Add to that that Poodle breeders in California sometimes have waitlists of six months or longer, and the process is frustrating! 
Enter PuppySpot. They've vetted the breeders on your behalf, and they have a zero-tolerance policy for puppy mills. You can connect with top breeders around the country, and if your pup isn't local you can simply add shipping to your order. 
Every Poodle breeder on PuppySpot is required to go through a screening process before ever listing a puppy. PuppySpot is authorized by the American Kennel Club (AKC), which means that you're in good hands. We highly advise you to navigate around PuppySpot, get a feel for the platform, and hopefully find a compatible Poodle breed for your lifestyle.
Poodle Puppy Information
Size: Miniature and StandardPoodle puppies
Poodle Breeder Information
3. Black Maple Standard Poodles (Southern California)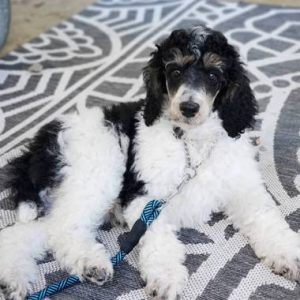 Black Maple Standard Poodles is a family-operated breeder in Southern California near Temecula. They have been breeding and raising Poodles since 2012. Their hands-on approach ensures their Poodle puppies in California are healthy, well-socialized, and have a consistent temperament.
Their dams and sires are health-tested and cleared to guarantee you the healthiest Poodle puppies that are free of genetic diseases. Test results for each dog are viewable on the Black Maple website; we like that they are open and honest about their health testing.
Black Maple Poodle puppies come in a variety of coat colors from phantoms, tri coloring and merle coloring. The price of a Poodle ranges between $1500 to $3000 for both small and standard Poodles. The prices are set according to the registration, sex, color, pattern, and conformation of the dogs.
The puppies are AKC-registered and come with a 12-months health guarantee against genetic illnesses. To hold a spot on their puppy waiting list, you will need to fill in a Poodle puppy application, which is available on the website. After approval, they will require you to pay a deposit of $250.
This is one of the most reputable Poodle breeders in California, so you'll want to get on their waitlist as soon as you're able! If you'd like to visit their location, you can schedule a visitation with the breeder.
Poodle Puppy Information
Size: Miniature and standard Poodle puppies
Poodle Breeder Information
4. Eleni's Moonstruck Poodles (San Diego)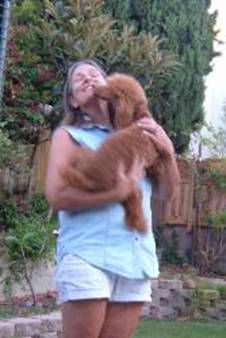 Eleni's Moonstruck Poodles has been a miniature and standard Poodle breeder for over ten years and is located in San Diego, California. This breeder's primary goal is to give you a puppy of sound health, conformation, and temperament that will fit in with your family. At Eleni Moonstruck Poodles, this starts with healthy Poodle parents. The breeder is transparent about the health results of their parent breeds and everything is accessible on their website.
The Poodle puppies are raised in their own home and come in six main coat colors: cream, silver, red, blue, apricot, and black. When their Poodle puppies are ready to go home, they will have their initial shots done, dewormed, and have their tails docked. They will also be AKC registered and come with a one-year health guarantee.
To buy a Poodle, you will need to fill in a short contact form on their website. The breeder will reach out and begin the process from there. If you are concerned about pricing, we recommend you speak to the breeder about their current puppy prices.
This Poodle breeder in California doesn't ship puppies. Therefore, be prepared to come and pick your new Poodle puppy in southern California.
Poodle Puppy Information
Size: Miniature and Standard Poodle puppies
Poodle Breeder Information
5. Redhead Heaven Poodles (Southern California)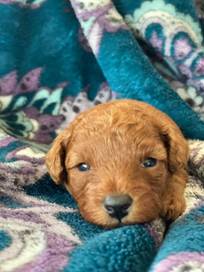 At Redhead Heaven Poodles, red miniature and toy Poodles are bred year-round. For the past 35 years, the Poodle breeder's principal goal has been to produce the healthiest Poodles that will grow into a healthy and well-tempered adult dog. Redhead Heaven traces their lines 20 years back and ensures they meet AKC standards.
The Poodle puppies are born in Fallbrook, California, and raised in the breeder's home to ensure 24/7 care and monitoring. They start the puppies on a strict worming and vaccine schedule and each puppy is examined by qualified vets.
Each Poodle puppy that they sell has a 12-month health guarantee covering eyes, heart, and elbows. This Poodle breeder in California limits the number of breedings per year and has small litters to ensure the health of the Poodle parents. For this reason, it might take a while to get a Poodle from them as they have a waitlist.
To secure a puppy from this breeder, you will need to complete a detailed puppy application on the website. The application will take you an average of 12 minutes to fill out, but it's worth it. The deposit varies depending upon the Poodle you want, and it will be based on the total cost of your dog.
Poodle Puppy Information
Size: Miniature and ToyPoodle puppies
Poodle Breeder Information
6. Rankin Poodles (Northern California)
Rankin Poodles is a small home-based breeder in northern California near Sacramento. They started their breeding journey in 2006 with the Miniature Aussies because of their athleticism, intelligence, and trainability. Later on, they stopped breeding Australian Shepherds due to their constant shedding and started breeding beautiful, non-shedding Poodles.
Their miniature and medium Poodles come in four coat colors: phantom, apricot, red, and black. This Poodle breeder in northern California aims to produce high-quality miniature Poodles that will bring you joy and be lifelong companions. For this reason, the breeder limits the puppy litters to one or two per year to ensurethat AKC standards are met every step of the way.
All their adult dogs are cleared for any health conditions to ensure your puppy comes from the best lineage. Rankin Poodles tests for genetic diseases along with patellas and hips through the OFA. You can see the health results on the breeder's website.
To buy one of their Poodle puppies in California, you will need to fill in a questionnaire that will take an average of 8 to 10 minutes. After this, the breeder will schedule a phone call with you. If all goes well on the call, you will be added to the waiting list. The breeder doesn't require deposits.
When your Poodle puppy is ready to go home, the breeder will encourage you to pick the puppy from her location in Sacramento, California. She doesn't ship puppies as cargo under any circumstance.
Each Poodle puppy will come with a two-year health guarantee and AKC registration. A puppy's cost averages $2,000 and comes with lifetime support and an open door policy should anything occur. Even though the breeder doesn't have an email listed, they do have an active contact form on their website, which they respond to within 24 hours. 
Poodle Puppy Information
Size: Miniature and Medium Poodle puppies
Poodle Breeder Information
7. Hidden Meadows California
At Hidden Meadows, pure-bred and beautiful Poodles are the standard. In addition, many of their pops and mamas are former champions who are AKC registered and cleared of all genetic illnesses.
The Poodle puppies are born and raised in the breeder's home in Southern California. They are extremely loved, socialized, and cared for as soon as they enter this world. This Poodle breeder in California socializes the pups and keeps them current on all necessary shots to give them a brilliant and healthy start to life. All health records are availed to the buyer and comes with a 2-year warranty against hip dysplasia and a 1-year warranty against genetic diseases.
Their Poodle puppies in California come with a variety of coat colors from solid coloring, tri coloring, and merle coloring. The puppies are priced according to coat color and start at $1,800.
To begin the process, you will need to contact the breeder and check if they have any upcoming litters. They update their website regularly, but this might give you a head start. To hold any Poodle puppy, they will require you to put down $500 as a non-refundable deposit. The deposit is applied against the total price of the dog.
Even though this breeder is in southern California, they offer shipping options all over California and the United States. If you're not local to California, the breeder offers a puppy nanny option for an extra $525 to deliver the puppy.
Poodle Puppy Information
Size: Small Medium Poodle puppies
Poodle Breeder Information
Conclusion for Poodle Breeders in California
Poodles puppies in California are extremely popular. There are tons of reputable Poodle breeders in California, and our list just scratches the surface. On the other hand, there are also several backyard breeders and puppy mills selling cheap puppies that may not be healthy.
We recommend you conduct proper research before purchasing any Poodle from any breeder to ensure you understand their breeding process, how their pups are treated, and any health issues the parents may have. In general, you'll want to make sure that the breeder does genetic testing on their dogs and offers a health warranty.
If you're looking for a smaller-sized dog, miniature or toy Poodles will be the best fit. If you prefer larger dogs, a Standard Poodle is the right fit. Overall, the Poodle is an incredible dog that makes an outstanding companion. Plus, they have a hypoallergenic and nonshedding coat!
Other articles to read:
Garrett loves animals and is a huge advocate for all Doodle dog breeds. He owns his own Goldendoodle named Kona. In addition, he volunteers at the Humane Society of Silicon Valley, where he fosters dogs and helps animals. Garrett enjoys writing about Doodles and believes that dogs can teach humans more about how to live than humans can teach a dog.
Why Trust We Love Doodles?
At We Love Doodles, we're a team of writers, veterinarians, and puppy trainers that love dogs. Our team of qualified experts researches and provides reliable information on a wide range of dog topics. Our reviews are based on customer feedback, hands-on testing, and in-depth analysis. We are fully transparent and honest to our community of dog owners and future owners.