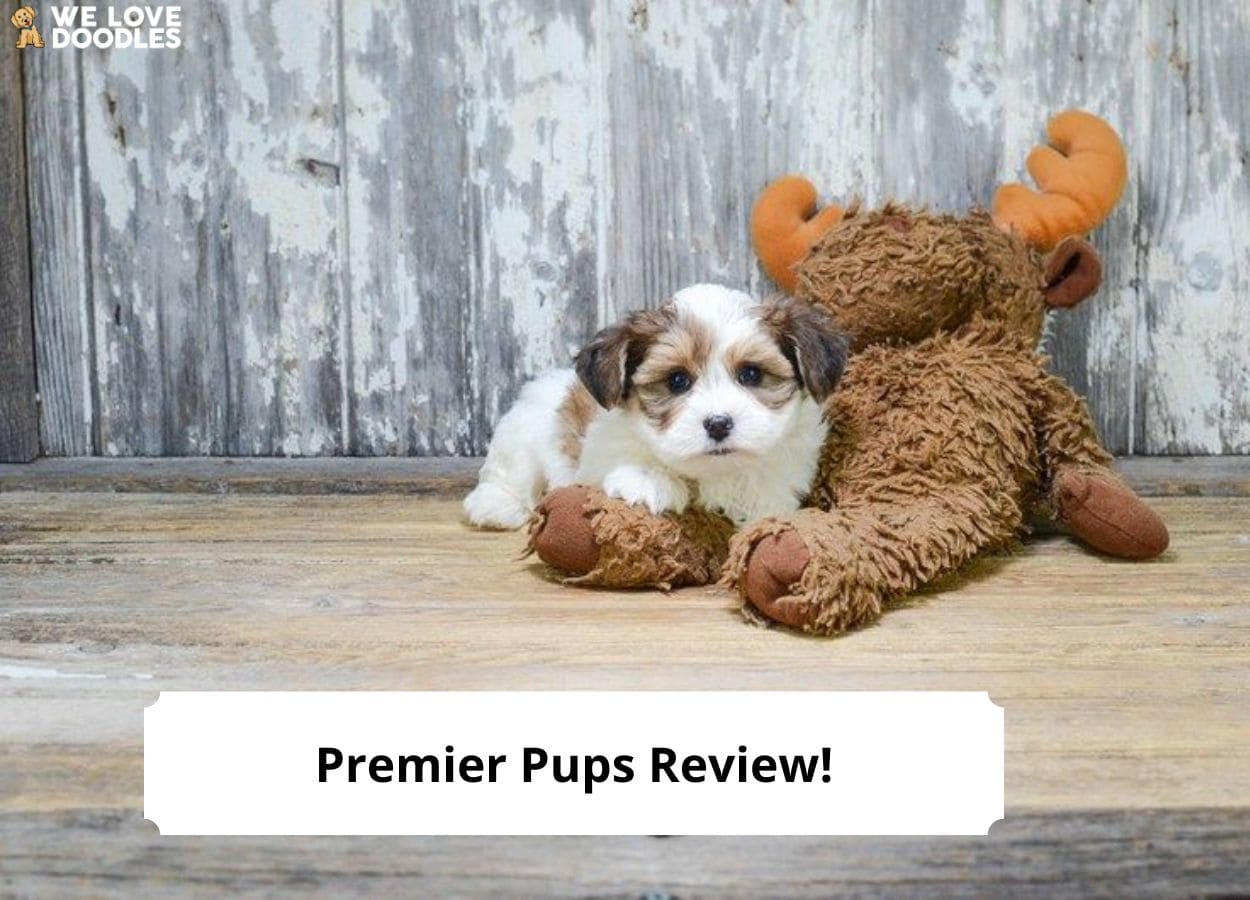 Is your heart set on a premier pup? When shopping for a furry family member, you want to work with a reputable pet adoption agency.
If you are in the Johnstown, Ohio area, check out Premier Pups (this dog breeder can also deliver). They are not a pet store, and you won't find any cages here! Plus, they promise a 10 Year health guarantee from selecting the right breeder to helping you transition your new puppy. They strive to deliver a premier adoption process worthy of a "PAWS"!
They gave our readers a special discount of $250 off a new puppy with code WLD250. Click here to use the promotion code.
Before scrolling down to our Premier Pups review, check out these other helpful articles: Is Premier Pups a Puppy Mill? and Lewis Manor Labradoodles Review.
How Much Do Pups Cost At Premier Pups?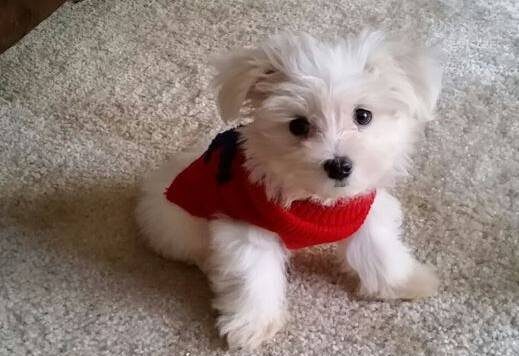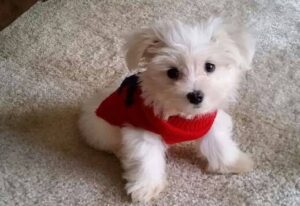 Adoption costs range from $1200 to $5000 + depending on the type of dog, and require an additional $50 vet inspection fee to cover vet checks, shots, shot records, and a Health Inspection Certificate.
Many factors determine the pricing of their puppies, such as Male or Female, breeder price, size and look of the puppy, etc. The price may be higher for Females since they are more desirable.
Adoption Process
To start the process, browse the listing of available puppies to adopt to find the one you like. We love the profiles for each pup, which often include the health and parent info, photos, and a video upon request, so you can get to know each dog. All the puppies you see listed on the website are available now to adopt.
Choose to either adopt/reserve or make an offer. However, if you make an offer, it may not accept it because many factors go into the process.
Once purchased, Premier Pups will contact you for the next step and arrange the pickup or delivery details. If delivery is by airplane, you can expect the premier V.I.P. treatment, so your puppy arrives in style. Speaking of V.I.P, all puppies have the most updated vaccinations, valuable medication, supplies, and care instructions, plus the option to purchase a microchip.
You can also schedule a private appointment at the Premier Pets home and see up to two puppies.
Premier Experience From Birth To Customer Delivery
At Premier Pups, their 24-hour on-site staff is always working to help nurture their pups and guide you through each step of the adoption process from birth to customer delivery.
Hands-On Approach
They strive to produce well-loved, healthy, socialized pups with good temperaments through their hands-on approach. That means, touching, nurturing, and interacting directly with the puppies to guarantee a loving atmosphere is the main goal.
Health Tracking
All dogs are health tested and bred to make the best pet possible. Before each pup makes the first trip to your home, an on-site nose-to-tail inspection is performed by a registered vet with puppy care specialists. Plus, they offer a 10-year health guarantee when you insure your puppy for a minimum of 6 months from the date of your purchase.
Easy Pup Pick-Up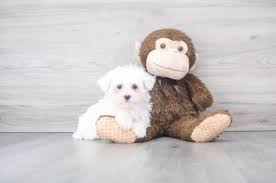 You have the option to pick up your puppy from their central Ohio facility or arrange a pickup from the airport to transition your pup home.
What Kind of Puppies Can I Adopt?
Need some ideas on what puppy to adopt? From Maltese to Cavapoo, there are several breeds to select. To help you, we've compiled a list of the top eight standout puppy breeds for sale at Premier Pups.
With a teddy-esque appearance, the Cavapoo, also known as a Cavoodle, is a mix of a Cavalier King Charles Spaniel and a Toy Miniature Poodle. A sweet round face, endearing large eyes, button nose, and long floppy ears makes the cavapoo quite the cutie! In addition, they have a loving personality and are loyal to their owners.
Who is a cavapoo puppy suitable for? It is best for families, seniors, new pet owners, and those who suffer from dog-related allergies, whether in a city or a suburb.
Premier Pups offer Hypoallergenic Cavapoos, Toy, and Mini Cavapoo pups for adoption. Cavapoos are small in frame and can reach up to 14 inches and 20 pounds. This designer pup is easy to groom and maintain. Prices range from $1800 – $3000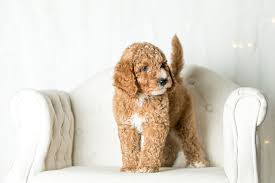 Known for being happy, friendly, and intelligent, this puppy is easy to train and referred to as a "designer breed" They are an adorable combination of a Golden Retriever and Poodle, so it's no wonder people are obsessed!
At Premier Pups, you can adopt the best variety of F1, F1b Mini Goldendoodle & F1b Toy Goldendoodle puppies. These spunky pups inherit all the best qualities from their parents for the perfect companion pet. The F1B breeds are generally 20-35 pounds, while the F1 range from 25-45 pounds. The average lifespan is between 12 and 16 years.
When customers receive a new puppy, you can feel assured Premier Pups goes to great lengths to socialize and prepare your pups for their best life. With so much teddy bear cuteness, it's easy to see why they are  America's favorite doodle dog.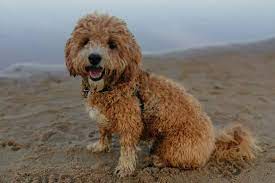 If you love the small doodle breed, you will want a fluffy Poochon! This designer pup is a mix of a Poodle with a Bichon Frise. From the Toy  Poodle side, they bring intelligence and an allergen-friendly coat, while the Bichon Frise side brings out playfulness and affection. Because of the mix, their colors can include apricot, white, black, tan, and blue.
The average height is between 9 to 15 inches, and the average weight is between 6 and 17 pounds. The average lifespan is between 12 and 15 years. Prices range from $1500-$2500USD.
You won't have trouble finding a Poochon breed at Premier Pups since they ​​have many to choose from and work to match Poochon puppies with their forever homes.
If you are on the market for a friendly, enthusiastic dog, look into the Pomskies breed. A Pomsky is a designer dog made from a female Husky and a male Pomeranian. The average weight is between 20 to 30 pounds, while the average height is 10 to 15 inches. The Pomsky is adorable beyond measure and loves the attention of its family members.
When it comes to grooming, be prepared to brush daily. Unlike similar breeds, Pomskies shed a lot and are not hypoallergenic. During the summer, they shed even more. In the winter, shedding decreases, and you don't need to get them professionally groomed often.
When you start your Pomsky adoption search, you will find this is a highly desirable breed making the selection for adoption very limited.
5. Shorkie Breeds
The shorkie is a crossbreed between a Yorkshire Terrier and Shih Tzu. It combines the Yorkie's small size with the Shih Tzu's sturdier build. The small size makes them excellent for apartment living and small spaces. The shorkies sold at Premier Pups are small enough to fit in a bowl, cup, or purse with room to spare.
When it comes to personality, These Loyal and loving pups are friendly, bright, spunky, and adore their humans. Just do not leave them alone. Although friendly, they are quick to bark at a human, another animal, or random noise.
When you order a Shorkie from Premier Pups, you're getting a designer mixed breed in good health that is easy to train. Customers say these pups have the sweetest demeanor and are a joyous addition to their home. Prices range from $1750.00 to $1915.00.
6. Cavachon
Who doesn't love a cute Cavachon? This new hybrid breed is a Bichon Frise and Cavalier King Charles Spaniel.
Did you know the Cavachon is currently the 10th most popular designer puppy in the United States? We can see why! These furry bundles are lively, playful pups without aggression and a loving and affectionate temperament. They are great for families and wonderful companions for young children.
If you are looking for a low-maintenance pup, you can enjoy the fact that these dogs have a low-shedding coat. Thus, they only require minimal cleanup and are great for people who suffer from pet allergies.
Your standard Cavachon from Premier Pups is generally 10 to 14 pounds at a grown weight and measures from 10 to 13 inches. The average life span is between 13 to 15 years. Prices range from $1600.00 to $2500.00.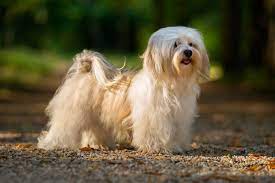 Are you thinking of adopting a Havanese puppy? This dog breed has been making owners happy for centuries. They're known for their small stature, with an average weight of 7 to 13 pounds and height between 9 to 12 inches. It has a silky Hypoallergenic low-shedding fur coat, dark almond eyes, and a fluffy curled tail.
Its charming personality is impossible to resist! From the beginning, they bring a happy, upbeat presence to owners. Once you have one, you will enjoy being happy companions. After all, it's in their DNA because all they want is to be with you. Havanese dogs are easy to train and highly skilled. The average lifespan is between 14 to 16 years.
Customers are often impressed with the top-tier health status of the pups and the attention to detail from care to delivery. In addition, Premier Pups keeps you updated via text messages and answers all questions before the process is complete.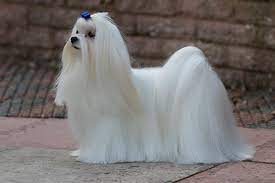 Everyone thinks their dog is the cutest, but when it comes to the Maltese, it is puppy love at first sight!
They are perfectly plush animals dipped in a fully white coat with some tan or lemon markings around the ears. Premier Pups partners with the most reputable Maltese breeders to bring you the best Toy and Teacup Maltese puppies, with nationwide delivery. Unlike other Poodle mixes, there is only one size for this breed.
These dogs are known for intelligence, playfulness, and cuteness overload.
Worry about shedding? This breed sheds very little and is hypoallergenic for those who suffer from dog allergies. ​​Want a long-haired puppy ponytail? The Maltese can pull it off. However, it needs a daily brushing schedule. Plus, a weekly bath will keep your Maltese coat clean and soft.
The average weight for a full-grown Maltese dog is about between 4 to 7 pounds, while the typical height is between 9 and 10 inches. The typical lifespan is 12 to 15 years.
Furtastic Reviews
Overall, Premier Pups customers have a five-star experience. They find the staff caring and attentive. Communication before, during, and after the sale was a consistent smooth process. They answer any questions customers may have to ease any potential worries.
Conclusion For "Premier Pups Review"
Finding the perfect premiere pup takes time and effort. Yet, doing your research is essential if you want to make sure you choose the best breed for your household. With this list of the best premier pups, you are one step closer to finding a new furry friend.
If you find this guide, "Premier Pups Review," helpful, you can check out these other similar articles from our team at We Love Doodles:
Before you bring home a companion from Premier Pups, you can learn more about the breeder by watching the "NEW PUPPY REVIEW- PREMIER PUPS" down below:
Garrett loves animals and is a huge advocate for all Doodle dog breeds. He owns his own Goldendoodle named Kona. In addition, he volunteers at the Humane Society of Silicon Valley, where he fosters dogs and helps animals. Garrett enjoys writing about Doodles and believes that dogs can teach humans more about how to live than humans can teach a dog.
Why Trust We Love Doodles?
At We Love Doodles, we're a team of writers, veterinarians, and puppy trainers that love dogs. Our team of qualified experts researches and provides reliable information on a wide range of dog topics. Our reviews are based on customer feedback, hands-on testing, and in-depth analysis. We are fully transparent and honest to our community of dog owners and future owners.