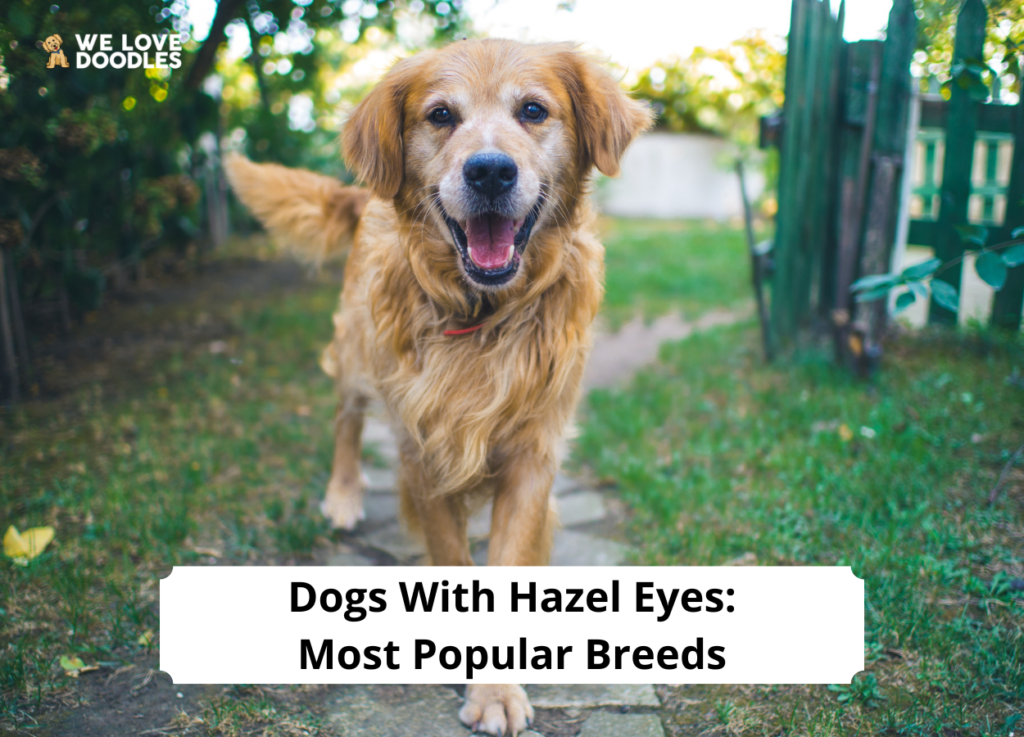 Dogs with hazel eyes are beautiful, and many dog breeds naturally have hazel eyes as part of their breed traits. There are actually a large range of breeds that have hazel eyes and aren't just from one dog breed group.
The hazel color is typically a variation of amber, and are rarely green. Dogs with hazel eyes are sometimes seen as more expressive because their eyes are so bright.
We took a look at which dog breeds have hazel eyes. Whether you're just curious or choosing your next companion, check out our list below.
Before scrolling down this list of dog breeds with hazel eyes, check out these guides: Black Dog Breeds with Brown Eyebrows and White Dog Breeds With Blue Eyes.
1. Australian Shepherd
Australian Shepherds, also known as Aussies, were developed in the United States during the 1900s. They have a range of eye colors, including green, amber, hazel, blue, or brown eyes. The Aussie is a hardworking and intelligent herding dog associated with cowboy culture.
It is actually the United States that developed Australian Shepherds during the early 1900s. The Aussie herding dog is known for working hard and intelligence. While they are great dogs, they require a lot of training and exercise and can be too much for first-time dog owners.
2. Siberian Husky
In eastern Siberia, the Siberian Husky is similar to a wolf. A high predator drive and a love of digging characterize this breed. As well as weighing 25-55 pounds, the Siberian Husky is tall between 20-23.5 inches.
There are a couple of different colors of eyes on this Siberian Husky, which makes them attractive dogs. Eye color can vary from hazel to brown to blue in some huskies. Light blue eyes are another color found in huskies, though they are not entirely dominant.
3. Basenji
Africa is the origin of the Basenji breed. They are regarded as 'barkless' dogs because of their quiet nature. Instead, they make a yodel-like sound. They are popular because of their cuteness, compact size, and alertness.
Basenjis have a high set, curled tail, and their ears stand up. They are known for being very agile and have wrinkled heads with dark brown or hazel eyes.
Due to their hunting origins and classification as Hounds, Basenji puppies are most suitable for people who can keep up with their high energy levels. It is important to train them consistently and to stimulate their minds in order for them to make good family pets.
4. Pit Bulls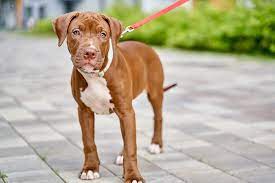 American Pit Bull Terriers make good indoor dogs. They don't shed much fur, so grooming them is easy. Cold and hot weather do not seem to be favorites of these dogs. It could be unsettling for them to live outdoors, particularly in harsh environmental conditions.
The United States and the United Kingdom are the two regions from which Pit Bulls originate. Crossbreeds of Terriers and Bulldogs are called Bulldog Terriers. As a result, Pit Bulls have the agility and playfulness of Terriers and the strength of Bulldogs. Females weigh between 14 and 27 kg, whereas males weigh between 16-30 kg.
Pit Bull puppies usually have blue eyes at birth. Some breeds, such as Pit Bulls, may change their eyes color over time, while most puppies retain pure blue eyes for life. When a Pit Bull matures, its eye color can change to hazel or completely brown.
5. Beagle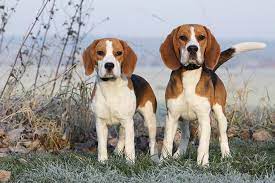 Beagles usually have brown or hazel eyes. Breeds like these were bred for hunting in packs. They are friendly, easygoing dogs, and make great family dogs because they enjoy being around people.
Ten to fifteen years is the average lifespan of these dogs. A beagle is a thick-headed dog with long, low ears and a wide head. Many people are attracted to their big, expressive eyes. The best family for a beagle is one that is active, patient, and willing to reinforce positive behavior.
6. Alaskan Malamute
An Alaskan Malamute has hazel eyes, making it another unique breed. This dog's ancestors arrived in America from Siberia in the early 20th century. The big statue, wolf-like markings on the face, and long, curved tail make this breed easy to confuse with wolves.
Additionally, they have a reputation for playing wolves in movies. Male Alaskan Malamutes weigh 85 pounds, while females weigh 75 pounds. They usually have brown eyes by default.
They lack the gene that produces blue eyes, so they cannot have them. Blue Alaskan Malamute eyes are still possible, but they are rare. Blue eyes might have been inherited from a completely different breed during its ancestry.
However, when a blue-eyed Malamute grows older, its eye color tends to change. Blue can turn into hazel, yellow, and amber as an adult's eye color changes.
7. Bloodhound
In medieval France, Bloodhounds were bred as scent Hounds to hunt larger animals like deer and boars. Police commonly use them as search and rescue dogs because they're talented at tracking people by scent.
Bloodhounds usually have hazel to dark amber eyes they are warm, somber, and overall expressive.
Bloodhounds are larger than other Hounds as far as appearance is concerned. They have thin, sagging skin around their faces and necks. It has been reported that these dogs tend to be somewhat shy and affectionate as a group. Their owners must provide a lot of exercise and consistency in training for them to be a good companion.
8. French Bulldog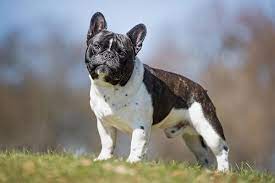 French Bulldogs are another breed that are born with blue eyes and change as they get older. As they grow to maturity, you can see their eyes changing to light brown, green, or golden.
There is something endearing about the French bulldog. It is easygoing, playful, energetic, and patient. France and England are the origins of the French bulldog. However, French Bulldogs have recently become popular in the United Kingdom and in the United States of America.
Their coats come in a variety of colors, from chocolate brindle, tan, fawn, cream, lilac, and sable, they are available in a variety of colors. A chocolate brindle French bulldog, however, is a very rare breed. They stand out from the crowd due to their stunning chocolate brindle eye colors.
9. Cairn Terrier
It's worth taking a closer look at the Cairn Terrier if you want a small breed with hazel eyes. The Isle of Skye in Scotland is the home of the Isle of Skye Terrier breed, which is one of the oldest breeds of Terrier. There are many advantages to owning a Cairn Terrier, but it may chase other pets.
There is a 13 to 15-year life expectancy for these dogs. It's important to give them a place to dig since they are happy dogs with short legs. In addition to their weather-resistant coat, Cairn Terriers have a downy undercoat beneath their wiry outer coat. There is nothing more adventurous than these small, sturdy Terriers.
10. Chesapeake Bay Retriever
Developed in the Chesapeake Bay of Maryland, this dog breed hunts and retrieves ducks. They were ideal for the job because of their strength, stamina, and waterproof coat. Currently, these Retrievers are used for both hunting and sporting purposes.
Chessies are also good companions for families with active children. While it is difficult for inexperienced dog owners, it remains one of the most popular dog breeds.
There is something captivating about these solid-colored dogs because of their beautifully contrasting eyes. Their coats range from brown, deadgrass (yellow hues), or siege. There are three colors typically associated with Chesapeake Bay Retrievers: yellowish amber, hazel green, and apricot.
11. Coonhound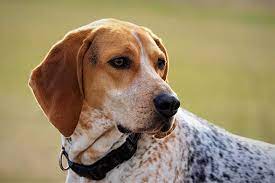 A Redbone Coonhound has a dark brown or hazel eye, while a black and tan Coonhound has a medium brown eye. They are large, deep-chested Hounds and it's estimated that they live between 11 and 12 years.
The English Foxhounds, originally imported to America in the 1800s, were designed to hunt raccoons in America. With their gentle pleading eyes and sociable temperament, Coonhounds easily became a favorite dog to many.
This is a breed with a high prey drive that isn't recommended for novice owners due to its high energy level and determination. The energy of a Coonhound needs an outlet to keep them mentally and physically active, such as hiking or dog sports.
12. Greyhounds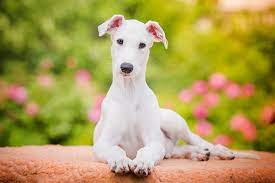 As a result of their extreme sprinting pace, this breed is considered by many to be the 'Bugatti of the canine world'. Approximately 72 kilometers per hour is the top speed for Greyhounds.
Thus, they were used to hunt fast prey, such as deer and hares. As far as racing and other dog sports are concerned, Greyhounds have always been successful. The fast pace of these dogs is in stark contrast to their gentleness and sweet temperament.
Poets and artists have always been fascinated by the graceful personality of this breed. Their athletic bodies have attracted people as well as their beautiful coats and eyes. Greyhounds typically have brown eyes, but there is a possibility of dilution of color in Greyhound eyes, making them hazel.
13. English Springer Spaniel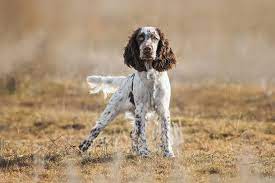 An English Springer Spaniel is classified by the American Kennel Club as a sporting dog. Dogs of this breed are muscular and active, making them a popular choice for gun dogs.
In addition to their long ears, they are known for their kind expressions. English Springer Spaniels with brown and white coats usually have dark hazel eyes. When this breed has a black and white coat, they usually have dark brown eyes.
These dogs do best if they spend a lot of time with their owners since they were bred to work closely with them. The English Springer Spaniel is a highly trainable breed due to its strong desire to please. Providing their energy needs are met, they make an ideal family dog as long as they are able to interact with other animals and children.
14. Havanese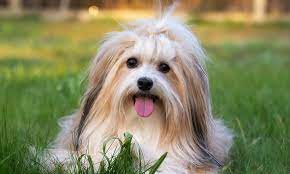 The Havanese breed is the only breed of dog native to Cuba, having been developed in the 1800s. Their cheerful nature and distinctive features have made Havanese very popular in the United States.
In addition to having a lovely silky coat, this cute little dog has expressive eyes that can captivate anyone's attention. They usually have dark brown eyes, but Havanese dogs with a chocolate coat color are more likely to have hazel eyes.
Companions are extremely important to this breed of dog. Consequently, some people categorize them as lapdogs (but that's not accurate). For their size, Havanese are surprisingly energetic, despite being considered Velcro dogs. Dog sports are one of the many careers they are suitable for, so they do quite well in them.
15. Labrador Retriever
Next on our list of dogs with hazel eyes is the most popular breed of dog in America: the Labrador Retriever. Kindness and intelligence make them adored, and they're great with children. Because Labs were originally water dogs in Newfoundland, they enjoy swimming and playing sports, which makes them the perfect companion for adventurous families.
Dogs of this breed are bred to be hardworking companions who live approximately 10-12 years. A large breed with a weather-resistant coat available in black, yellow, or chocolate, they are an athletic breed with a medium length, weather-resistant coat. Their tail is thicker at the base, and is often described as resembling an otter's tail.
Chocolate Labradors are the most likely color to have hazel eyes, however Black Labradors and Yellow Labradors sometimes have the hazel variation.
16. Poodles
Poodles typically have medium dark to dark brown eyes, but occasionally have hazel eyes. Hazel eyes are within the breed standards, but to meet breed standards, the dog must not have any black in their eye color. Chocolate colored Poodles are the most likely coat color to have hazel eyes.
The Poodle breed is known for its intelligence. In addition to being an excellent family companion, Poodles are also versatile enough to participate in dog sports. Their owners will do almost anything in order to please them, and they are incredibly easy to train.
Inactive families are not recommended to own this breed due to its exercise needs. In order to remain under control, these dogs need to be physically and mentally stimulated regularly. A lack of exercise will lead to unwanted behavior if you do not provide it.
17. Saluki
The Saluki dog breed has been around for thousands of years. It is classified as a Hound and lives between 10 and 17 years. Since ancient times, they have been used by kings as hunting hounds. While they are known for their gentle and dignified demeanor, Salukis can also be very independent and do not mind living alone.
Salukis typically have brown-to-hazel eyes, and may have any variation with coat color. Their intelligence and gentle nature is said to be evident in their eyes.
As far as appearances go, the Saluki's head is quite unique due to their tall, thin frames and low-set ears that resemble a head of hair with long, flowing hair from the front. There is a possibility that females are shorter than males of this breed. Males may be as tall as 28 inches.
FAQs
Can dogs have hazel eyes?
Dogs can have hazel eyes, as it's a common variant from brown. However, hazel eyes are unlikely to be green in color for dogs. If they are, then the green will typically change to hazel as the dog reaches maturity.
Are dogs with hazel eyes rare?
Hazel is a common eye color for dogs, as it is a natural variant of the most common color, which is brown. Dogs are more likely to have hazel eyes that lean toward the amber coloring instead of green. Green eyes are the least common eye color for dogs, but they're not unheard of, especially in puppies.
Will my puppy's eyes stay hazel?
While hazel is a common eye color for dogs, it's also common for a puppy's eyes to change color as they age. Some breeds, such as the Pit Bull and Alaskan Malamute, are more likely to change eye color as they age. Most puppies' eyes will change by about 16 weeks if they're going to change.
Conclusion for: Dogs With Hazel Eyes
Hazel eyes are a common trait in dogs. Dogs naturally have brown eyes, and amber hazel is a natural variant. Green-hazel is less common in dogs, but is not unheard of.
Dogs with hazel eyes can come in many breeds and breed categories, however, some breed coat colors are more likely to have hazel eyes than others. Sometimes puppies even have hazel or green eyes at birth that change in adolescence. It's less common, but a few breeds even change eye color after maturity.
For more guides similar to this list of dog breeds with hazel eyes, you can check out:
You can learn more about dog eyes by watching "THIS Is What Eye Color Tells You About Your Dog!" down below:
Garrett loves animals and is a huge advocate for all Doodle dog breeds. He owns his own Goldendoodle named Kona. In addition, he volunteers at the Humane Society of Silicon Valley, where he fosters dogs and helps animals. Garrett enjoys writing about Doodles and believes that dogs can teach humans more about how to live than humans can teach a dog.
Why Trust We Love Doodles?
At We Love Doodles, we're a team of writers, veterinarians, and puppy trainers that love dogs. Our team of qualified experts researches and provides reliable information on a wide range of dog topics. Our reviews are based on customer feedback, hands-on testing, and in-depth analysis. We are fully transparent and honest to our community of dog owners and future owners.