If you are searching for the best French Bulldog breeders in the United States, then this guide will help save you time and trouble on your journey. French Bulldogs are known for being easygoing, playful, and affectionate dogs. In addition, many city-dwellers have found that French Bulldogs are a great addition to their family because they are kind and adaptable. That being said, these dogs are happy to live anywhere as long as their family is around. 
Before scrolling down this list of the best French Bulldog breeders in the United States, check out these similar breeds: Best English Bulldog Breeders in the United States and Best Bullmastiff Breeders in the United States.
French Bulldog Puppies For Sale in the United States
If a French Bulldog sounds like the right choice for you, you will need to find a reputable breeder. Luckily, there are great French Bulldog breeders all across the United States. Below you will find a list of some of the best breeders in the country. All these breeders are happy to help you with any questions you may have about the French Bulldog breed, so contact them today to learn more.
French Bulldog Product Recommendations: Best Wet Dog Food For Small Breeds and Best Baby Stroller with a Dog Compartment.
PuppySpot is the top French Bulldog breeder on our list because they are a network of ethical dog breeders. By having a network of breeders, you will get your French Bulldog much faster instead of waiting 6+ months at an individual breeder. Additionally, PuppySpot has the best health warranty that we have ever seen (10 years), which means that they believe your dog will be healthy for a long time. They are endorsed by the American Kennel Club and follow USDA guidelines for selecting breeders. Only 10% of the French Bulldog breeders that apply to list a puppy on their platform are accepted.
Another reason to choose PuppySpot is that they can deliver their puppies anywhere around the United States via their own USDA-certified private airline. This means that they will safely deliver your puppy directly to you, and you won't have to look for an individual breeder that is close to your house. They have all different types of French Bulldog puppies for sale, and you can choose between colors, gender, and size. We highly recommend that you check them out before scrolling down the list.
PuppySpot French Bulldog Details
Premier Pups is a family of owners and staff who are dog lovers with a mission – put puppies from responsible breeders to their loving forever homes. They have screened plenty of French Bulldog breeders and have handpicked a few who emphasize health and well-being of the dogs.
Your French Bulldog puppy arrives with a 10-year health guarantee when you get one from Premier Pups. The on-site 24-hour staff is ready to assist you from the thought of actually getting a puppy. They go out of their way to ensure you and your puppy are transitioning well into the new environment.
Their secret of quality French Bulldog puppies lies with the breeders they choose. They despise the breeders who only want to earn money or don't share the love for dogs. That's why they don't do business with breeders with substandard practices and who are not USDA-licensed. They also can fly your French Bulldog anywhere in the United States.
PuppySpot French Bulldog Details
3. Royal Empire French Bulldogs
Next on the list of the best French Bulldog breeders in the United States is "Royal Empire French Bulldogs." Located in Southern California, Royal Empire French Bulldogs has been breeding dogs for over 20 years. This breeder specializes in producing brachycephalic dogs, so they know the specific health needs these dogs to have. For example, brachycephalic dogs have shorter snouts, so they can sometimes have breathing problems.
As mentioned above, French Bulldogs are brachycephalic. At Royal Empire follows a selective breeding program allowing for the best health for offspring. Being a nurse, this facility owner knows a great deal about maintaining the puppies' health. In addition, the parent dogs are carefully selected from dogs all over the world with champion bloodlines.
The breeders ensure the parent dogs are paired to complement each other and create puppies who can breathe well and live healthy lives. Royal Empire French Bulldogs provides all customers with happy and healthy dogs who make a great addition to any family. These dogs are born and raised in the family home, where they are given lots of love and attention from the very beginning of their lives. So when you receive a dog from Royal Empire, you are receiving a well-socialized new friend.
Every puppy at Royal Empire begins potty training from the time they begin to walk. So when you bring your new puppy home, it will be well on its way to being fully potty trained. Puppies are given their vaccinations and dewormings before adoption, along with a thorough veterinary examination. You will receive a two-year health guarantee with your puppy to ensure your puppy is free of genetic illnesses. If a healthy and happy puppy from Royal Empire French Bulldogs sounds like an excellent choice to you, contact them today.
Royal Empire French Bulldogs Details 
4. Tato's Frenchies
Tato's Frenchies, located in West Palm Beach, Florida, has one mission: to provide their customers with the healthiest, prettiest, and most exclusive French Bulldogs pedigrees. They travel across the world to find the healthiest French Bulldogs to welcome into their breeding program, ensuring their puppies are the best around. At Tato's Frenchies, 24-hour support is available to all customers. If you ever have any questions about your dog, you can contact them at any time.
They want all customers to be happy and comfortable caring for their new dog, so any questions are welcome. If you cannot pick up your dog in person, Tato's Frenchies will ship your dog to you. Tato's Frenchies works with a flight nanny to ensure your dog's safe travels. The flight nanny flies with your new puppy to your specified airport so you can receive your puppy regardless of where you are within the United States.
Flight nannies keep the puppies with them on the airplane, so you do not have to worry about your dog's safety during the flight. Therefore, the first step to adopting a Tato's Frenchie is to contact them directly. At this time, you will specify your preferences, like the gender and color of your desired puppy. Once you have made this decision, they will guide you to available and potential new litters.
After choosing your puppy, you will receive a buyer's contract, health guarantee, and vaccination information. Once the paperwork is complete, you will be asked for a small deposit to hold your puppy for you. So, if you are ready for a beautiful and healthy French Bulldog puppy, contact Tato's Frenchies today to get started on welcoming home your new addition.
Tato's Frenchies Details 
5. Alliss French Bulldogs
The next kennel on our list of the best French Bulldog breeders in the United States is "Alliss French Bulldogs." Located in Illinois, Alliss French Bulldogs is a small home-based breeder specializing in breeding high-quality French Bulldog puppies. All puppies are born and raised in the family home to ensure they are well-loved and well-cared for before going to their forever homes. All parent dogs and puppies are American Kennel Club certified. In addition, you will receive a written health guarantee with your new puppy stating that your puppy is free of genetic defects. 
Because of the selective breeding and healthy parent dogs chosen, you will receive a delighful, healthy puppy to add to your family. Each puppy is up-to-date on vaccinations, dewormings, and veterinarian examinations before leaving to join its forever home. Additionally, at Alliss French Bulldogs, puppies are microchipped, so if your puppy ever gets lost, you will be reunited with it quickly. If a lovely puppy from Alliss French Bulldogs sounds like the right fit for you, fill out a puppy application on their website.
Alliss French Bulldogs Details 
6. Melzano Frenchies
Melzano Frenchies are quality breeders of French Bulldogs. They cater to people who want the very best family companions. Melzano Frenchies breeds for quality, not quantity, and strive to produce happy, healthy, well-socialized puppies. Their puppies are raised in a home environment and are socialized with people and other pets including cats and birds (parrots). All Melzano French Bulldogs puppies are more than pets; they are their family.
You can expect a world-class companion because Melzano Frenchies understands how to properly raise and care for French Bulldogs. They understand the importance of early socialization for puppies and provide full after-sales support to all Frenchie buyers. Unlike other french bulldog breeders, Melzano Frenchies also performs personality testing on their puppies. The personality testing provides key insights to the new puppy owner about their puppy's personality. Additionally, Melzano Frenchies usually has quality AKC-registered puppies available year-round in a wide variety of colors. All French Bulldog puppies for sale are vaccinated, come with a written health guarantee, are dewormed, include a copy of Melzano's french bulldog e-book, and come with a free 30-day vet insurance policy from Trupanion.
Remember, the best breeders think of their dogs as part of their family. It is important to not only find the right puppy, but also purchase from a trusted breeder that truly understands how to properly care, raise, and socialize companion french bulldog puppies. Melzano Frenchies is in San Diego, California, and can provide puppies nationwide with their flight nanny service.
Melzano French Bulldog Details
How To Choose a French Bulldog Breeder
As you can see, there are many French Bulldog breeders across the United States. Don't let these many options overwhelm you. There are some easy things to consider that will help narrow down your choices. First, you should decide what color of French Bulldog you want before choosing a breeder. French Bulldogs come in many different colors and patterns, so you have many options. Some breeders specialize in specific colors based on dams and sires they have. 
Additionally, it would help if you considered whether you are willing to travel long distances to pick up your new puppy. Some breeders are ready to ship puppies to their new families, while others require you to pick up your puppy in person. If you know you do not have reliable transportation, you should choose a breeder willing to ship; this is essential in securing your new puppy. If you do not show up at the designated time to pick up your puppy, some breeders will charge you for boarding. Other breeders may even offer your puppy to the next person on the waiting list.
Another thing to consider when choosing a breeder is the amount of time you are willing to wait for your new puppy. Often, breeders have long waiting lists, so determining a timeline for when you want your puppy to come home can help you determine which breeder to choose. You may realize you would like to adopt a French Bulldog from a pet store or animal shelter instead; this will reduce your waiting time because of the long waiting lists.
Dog Advice: Tips For Choosing a Good Dog Food.
Frequently Asked Questions
Who breeds the best French Bulldogs?
The French Bulldog is an active and intelligent dog breed. The AKC adds that the French Bulldog is well-behaved, adaptable, and makes for a comfortable companion dog. If you're searching for the best French Bulldog breeder, look no further than the following:
Melzano Frenchies
Royal Empire French Bulldogs 
Tato's Frenchies
Aliss French Bulldogs
Royal Empire French Bulldogs is the #1 French Bulldog breeder in the US. They have been breeding French Bulldogs for over 20 years and offer up to $15000 in financing via their partner Terrace financing. 
Royal Empire French Bulldogs is located in southern California and produce top-of-the-line AKC-registered French Bulldogs ranging from $4000 to $10,000, with an estimated wait time of 3- months. Pups will usually go to their new homes at around eight weeks.
What country has the best French Bulldogs?
The USA has the most French Bulldogs together with the UK and Australia. Because of these countries' experience with the breed, it can also be assumed that we have the best! 
The alert and active French Bulldog is not a boisterous dog breed and is usually mild-mannered and well-behaved. This breed is good with children, strangers, and other pets. 
The French Bulldog was recognized as a breed by the AKC in 1898. This "bat-eared" dog doesn't bark much and ranks high in popularity worldwide today.
What is the most famous French Bulldog?
Mannie, the French Bulldog, is the most popular Frenchie on Instagram, with over a million followers. In 2016 Mannie the Frenchie was in Key Biscayne, Florida, at the Miami Open. Here's the takeaway on Mannie the French Bulldog. 
Birthday, February 7, 2011
Internet celebrity
Amber Chavez and Jon Huang are the pet parents of Mannie
Hails from: Chicago, Illinois
More than 20,000 followers in Twitter
Canine model for Martha Stewart PetSmart brand
The CW's World Dog Award for Most Pawpular and Influential dog in 2016.
What is the highest price for a French Bulldog?
Some Frenchies can cost $100,000. The most expensive Frenchie is called Micro Machine. Some French Bulldogs command more because of their coat colors due to the rare genes responsible for the coat colors. You can also find Fluffy Frenchies that can cost as much as $30,000. 
French Bulldogs are now the second most popular breed in the US after the Labrador Retriever. With this breed, hypervigilance is key to preventing dog theft. If you parent a Frenchie, the most important thing to do is to never let them out of your sight.
How much are AKC French Bulldogs worth?
AKC registered Bulldogs can range from a few thousand dollars to over $100,000 depending on lineage, breeder, age, gender, and location. The average cost of Frenchie puppies in the US is $3,500. 
Some colors like the merle and Isabella are more expensive than others, and the Fluffy French averages at $12,000 plus. Here are some estimated prices for French Bulldog prices in the US:
Florida: $3,000 plus
Virginia: $2,400 plus
New York $2,600 plus
Texas: $2,500 plus
Conclusions For The "Best French Bulldog Breeders in the United States"
French Bulldogs are gorgeous, loving, and adaptable little dogs. If you are ready to welcome one into your life, check out any of the breeders above. These breeders are experts on French Bulldogs, so they will answer any questions you may have about adding one of these lovable puppies to your family.
For more articles with mentions of the French Bulldog, you can check out:
To learn more about raising a French Bulldog, watch "How To Take Care of a Frenchie" from Laura Price down below: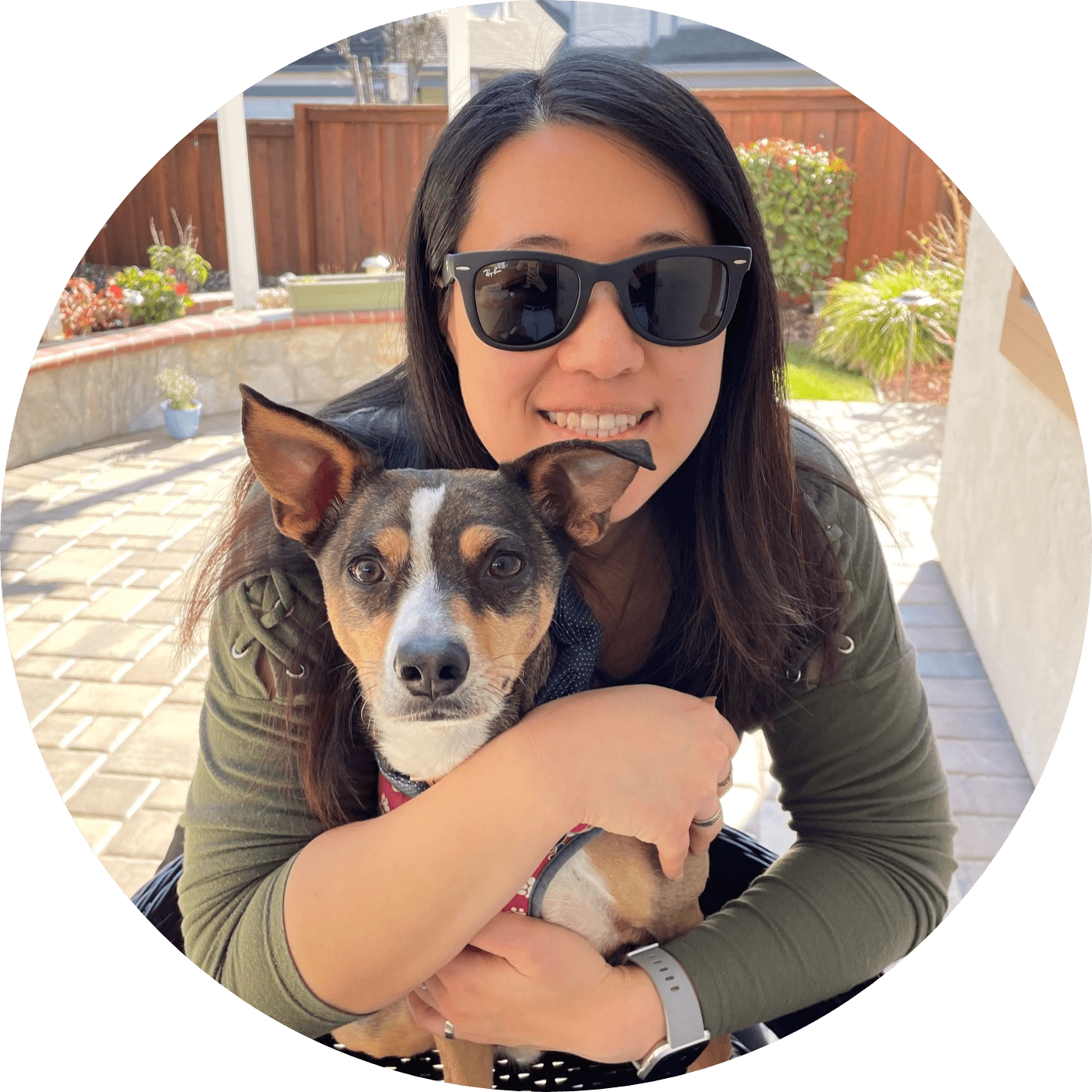 Dr. Sabrina Kong graduated from the Royal Veterinary College in England in 2016 and has been working at a small animal clinic in Northern California since then. She grew up in the Bay Area and got her bachelor's degree from Cal Poly San Luis Obispo. She also became a Certified Canine Rehabilitation Practitioner through a program at the University of Tennessee.
When she isn't in the clinic taking care of her four-legged patients, she enjoys traveling and trying new foods with her friends and her three-legged dog, Apollo. She adopted Apollo from her clinic when he was a puppy with numerous health issues. Dr. Kong truly cares about taking care of animals.