An inflatable dog bed is perfect for outdoor backpacking adventures, traveling, or for dogs with joint issues where they can't be touching the floor.  Inflatable dog beds are useful because they keep your dog off the ground away from the cold and gives them a comfortable place to sleep at night.  As most backpackers know, most of your body's heat loss is going to come from the temperature of the ground — the same is true for dogs.  Having a backpacking dog bed or traveling dog bed ultimately needs to be lightweight and be small to pack.  If you're just looking for an everyday inflatable dog bed, we also have some options for you where you won't care about weight or a roll-up dog bed.  We've reviewed several traveling dog beds and came up with our Best Inflatable Dog Bed Reviews.
In a rush? Here our are top picks!
Product
Best Overall
Lightspeed Outdoors
Budget Pick
Klymit Moon Bed
Image
Best Overall
Image
Lightest Weight
Image
Budget Pick
Image
YEP HHO Elevated Folding Pet Bed is one of the best portable dog beds on the market.  This inflatable dog bed includes a 1.5-inch foam mattress that self inflates when you open the nozzle.  After this dog bed inflates, then you simply blow air into it to top it off.  In addition, this is a great dog camping bed because it is puncture resistant and includes a water-resistant bottom.  The fleece top of this travel dog bed will also keep your dog comfortable.
One of the nice features about this dog bed is that it features nylon buckle straps which allows it to be a roll-up dog bed.  This is perfect for traveling, camping, or backpacking.  However, if you're backpacking, this dog bed is approximately 3.6 lbs so it is slightly on the heavy side if you're into ultralight backpacking.  Lastly, this inflatable dog bed comes with a 1-year warranty so if your dog rips the mattress then you can get a new one.
The K9 Sleeper is hands down the best inflatable dog bed for backpacking.  Not only is this dog bed ultralight at less than a pound, but it compacts down to fit in the side pocket of a backpack.  If space and weight are a concern then this dog backpacking bed has got you covered.  In addition, the best aspect of this backpacking dog bed is the design.  Essentially this bed creates expansion zones on the mat which allows your dog's limbs to never touch the ground when fully inflated.  It does this because the dog bed distributes the weight of your dog evenly throughout these expansion zones.
Lastly, this dog backpacking bed comes from a reputable company that is from the USA and offers a 60-day warranty on their product.  The inflatable dog bed comes in two different sizes which should fit most sized dogs.
The Klymit inflatable dog bed for backpacking is honestly one of the best in the market.  It is lightweight at ~1 pound and is highly insulated which will keep your dog warm.  Basically, this dog bed consists of the inflatable Klymit Moon Dog Bed with a polyester fabric cover on top.  The extra polyester fabric adds an additional layer to keep your dog off the ground and warm at night.  Additionally, the polyester fabric ensures that your dog isn't going to puncture the inflatable dog backpacking bed and makes it easy to wash.  Since you can't throw the Klymit Moon Dog Bed into the washing machine, you can wash the polyester cover.
This backpacking dog bed comes in two different sizes that will fit most small to bigger sized medium dogs comfortably.  Your dog's sleep will drastically improve on this backpacking dog bed.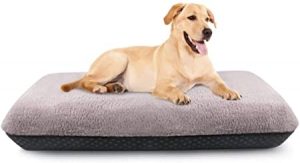 Idepet created their inflatable dog bed specifically for dogs with joint pain where their bones shouldn't be touching the ground when they lay down.  They created a PVC inflatable liner on the inside of this dog bed which is going to be extremely strong and keep your dog off the ground.  In addition, this dog bed has a long plush cover that is extremely comfortable and can be machine washed.  I personally like the design of this inflatable dog bed, but it's not exactly suitable for backpacking since it weighs 3.5 pounds and isn't the smallest packaged dog bed.
The Selkirk is a great inflatable dog bed if you're looking to go camping, backpacking, or simply travel.  The dog bed is approximately 2 pounds, but it rolls up into an extremely compact stuff sack.  The travel dog bed is approximately 23 inches by 37 inches so it should easily fit most medium to large dogs.  In addition, this dog bed inflates up to 1.5 inches which should give your dog enough leverage off the ground.  It also comes with a sherpa faux wool blanket that will keep your dog warm during the night.
Basically this roll-up dog bed comes with a separate blow-up mattress and blanket.  Once you inflate the dog bed, you put the dog bed inside the designated cover spot.  This dog bed is extremely well priced and one of the cheapest inflatable dog beds on the market.
The Kurgo Portable Roll-up Dog Bed for Dogs is not inflatable, but this is one of the best travel and camping for large dog beds and provides a ton of loft.  One of the biggest issues that you see with inflatable dog beds is that they can't exactly accommodate extra large dogs.  The Kurgo roll-up dog bed can provide enough room for extra large dogs and it includes 3 inches of loft.  Since large dogs are typically warmer, they may not need the extra heat from an inflatable dog bed so this is a great option to consider.  With a lifetime warranty, you can't go wrong with this roll-up dog bed.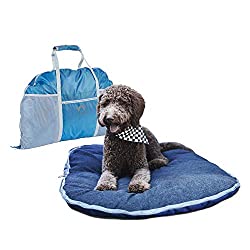 The Lightspeed Outdoors Fold and Go Travel Dog bed is not inflatable, but this is the best foldable dog bed on the market that is perfect for travel, beach adventures, or lounging at the park.  This foldable dog bed unfolds to form an ultra-plush area for your dog to relax.  In addition, while you're carrying this foldable dog bed you also have 4 large mesh pockets and 1 zippered pocket to store all of your dog's toys, gear, or other items.  This is the perfect travel bed dog that mixes comfort and portability.  The only downside is that it isn't an inflatable dog bed, but it does provide 4 inches of loft.
Inflatable dog bed, backpacking dog bed, or travelling dog bed?
When searching for a portable dog bed for your pooch to rest on, you need to do some researching. There are numerous kinds of inflatable dog beds that trade-off warmth, comfort, packability, and weight. You'll want to purchase the best portable dog bed that accommodates your way of life and as well as your dog.
First, you need to think about the warmth of the dog bed.  A dog bed that inflates higher off the ground will be warmer.  In addition, if you're going high altitude activities, you'll want to consider a dog bed cover or blanket which adds an additional layer of warmth.  If your dog isn't adapted to colder environments, they may struggle in colder conditions especially if they are a shorter haired dog.
Second, you need to pick a portable dog bed that will be comfortable for your dog and ensure that they get a good nights sleep. This means that you'll have to pick a dog bed that is the right size for your dog and has the right material.  There are many new foldable dog beds or roll-up dog beds that are extremely comfortable, but those are types of dog beds that also weigh a lot more.  Personally, I don't think you can go wrong purchasing an inflatable dog bed with a cover as this is the most versatile dog bed that is lightweight, packable, and comfortable.
Third, you should consider a travel dog bed that is packable and can fit in small spaces.  If you're backpacking or are a frequent traveller, space is extremely limited.  Keep in mind how much space you have and what you can fit in a backpack because it isn't a lot of space.  Inflatable dog beds will generally pack down small, but other dog beds like a foldable dog bed or roll-up dog bed will take up more space.
Lastly, depending on the type of activity you're doing, you'll want to be mindful of how much the dog bed weighs.  If you're backpacking, you'll likely be carrying your dog's bed so make sure that you will be able to carry it for long distances.  The good thing about inflatable dog beds is that they are generally extremely lightweight compared to other dog beds.
Other things to consider are how easy the dog bed is to clean and how durable the dog bed is.  These are important factors to consider, but likely won't affect your purchasing decision.

What type of outdoor activity?
When picking an inflatable dog bed, the key factor generally comes down to what activity are you trying to do.  Depending on the activity, you'll want to consider all of these aspects:
Outdoor Car Camping: When car camping, you're not constrained by size and weight so you can easily pick a thicker and bigger bed that is going to be more comfortable for your dog. Frequently these are more affordable and come in a variety of different beds.  You may not even need an inflatable dog bed if you're just going to be car camping. A foldable dog bed or even a roll-up dog bed might be as just as god an option.
Backpacking: Inflatable dog beds are going to be the defacto standard for backpacking since they are ultra-lightweight and packable.  If you're going to be high up in the mountains or in a colder environment, you'll have to consider an inflatable dog bed with sheets. Dog bedsheet covers are great though because they not only add another layer of heat, but they protect your dog bed from deflating, they are machine washable, and they keep dirt off the inflatable mattress.
Ultra Lightweight Backpacking: To those people who care about every ounce of weight that they will likely have to carry should consider an inflatable dog bed.  There are several of these inflatable dog beds that are intended for lightweight backpacking and weigh less than a pound.  These are going to be the lightest on the market that will give you dog some sense of comfort in terms of thickness, protection off the ground, and cushioning. 
Exploring or Travelling: If you're just someone who likes to travel or take your dog to new places to explore, you likely only care about portability.  Your goto picks should be a foldable dog bed or a roll-up dog bed. You'll want to find something that is durable though since weight won't matter too much.
Winter Outdoor Activities: A protected and inflatable dog mattress is highly recommended cold air temperatures and overnight backpacking. With snow, your dog is going to require more protection since this likely isn't their normal environment. Make sure your inflatable dog bed is high off the ground and includes a cover or blanket.  This is going to be important in order to keep your dog warm. 
Conclusion for Best Inflatable Dog Bed and Best Travel Dog Bed
Inflatable dog beds are perfect because they are mostly lightweight, packable, and are comfortable for your dog.  Whether you're a frequent traveller, backpacker, or your dog has joint issues, an inflatable dog bed is going to be useful for you.  Before you purchase a travelling dog bed, make sure that you know the type of activity you're interested in and what is important for you.  Is weight, packability, comfort, or warmth the most important?  These factors will influence which dog bed you purchase.
Other Articles to Read:
Garrett loves animals and is a huge advocate for all Doodle dog breeds. He owns his own Goldendoodle named Kona. In addition, he volunteers at the Humane Society of Silicon Valley, where he fosters dogs and helps animals. Garrett enjoys writing about Doodles and believes that dogs can teach humans more about how to live than humans can teach a dog.
Why Trust We Love Doodles?
At We Love Doodles, we're a team of writers, veterinarians, and puppy trainers that love dogs. Our team of qualified experts researches and provides reliable information on a wide range of dog topics. Our reviews are based on customer feedback, hands-on testing, and in-depth analysis. We are fully transparent and honest to our community of dog owners and future owners.