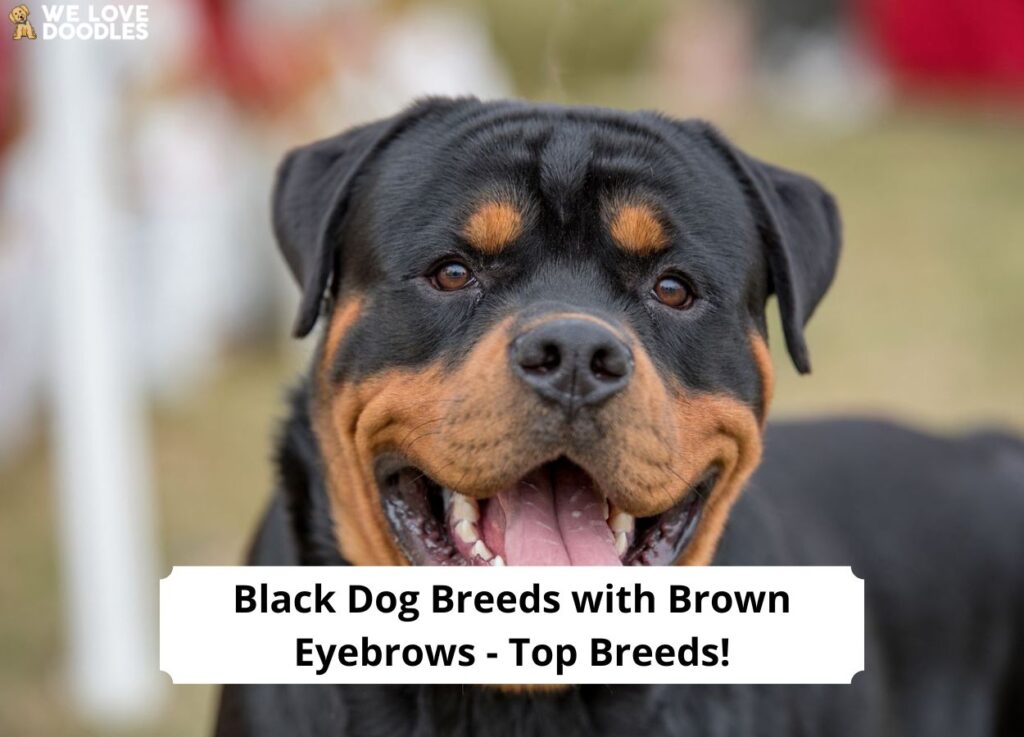 Every dog lover knows that eyebrows give pups a pop of personality. Those little puppy dog eyes are even more pleading when they're nestled below expressive eyebrows. If you're looking for black dog breeds with brown eyebrows, we have the list for you!
The dogs we've chosen for our guide to black dogs with brown eyebrows range in size and personality. As always, be sure to research, and ensure you're adopting or purchasing from a reputable breeder or shelter. Visit the facility for the best chance of bringing home a pup that's a fit for your family.
Before you scroll down this list of the black dog breeds with brown eyebrows, check out: Most Popular Small Black And Brown Dog Breeds – With Pictures! (2023) and Dogs With Red Hair – Top 8 Breeds! (2023).
1. Rottweiler
The Rottweiler is a German dog known for being large, muscular, and even intimidating. In fact, some Rottweilers have successful careers in law enforcement, and have a history of service in the military. Despite their commanding presence, however, the Rottweiler loves humans. Your dog will be little more than a loyal teddy bear, though he may be reserved around strangers.
Rottweilers are famous for being black dogs with brown eyebrows. They may also have brown markings on the chest area, around their mouths, and on their feet. The American Kennel Club recognizes these brown colorations as desirable and expected in show and breeding dogs.
If you're considering adopting a Rottie, it's best if you have previous experience with dogs. These pups are loyal and they make fantastic companions, but you'll need to train them properly. Socialize your Rottie from an early age and use firm commands when teaching your dog his manners.
2. English Toy Terrier
As its name would imply, the English Toy Terrier is a tiny dog, growing to weigh only around eight pounds. These are black dogs with brown eyebrows, and a wonderful option for active families. Despite their small stature, these dogs are very active. Plan to allow your pet to work out her zoomies with about half an hour of outdoor exercise each day.
Grooming your English Toy Terrier is simple. The dogs are low-maintenance and only shed minimally. You can usually keep your dog's coat looking sleek and beautiful using just a slicker brush to remove dead hair and tangles.
Bathe your dog every other month or so, and use a groomer-approved formula that has conditioning qualities. Occasionally, a trip to the groomer is in order to trim your dog's nails and clean her ears.
English Toy Terriers are alert and affectionate and will get along with most family members. Be mindful of how your small children handle your dog. Your kids aren't as gentle as they think they are, and your dog isn't as big as she thinks she is! Innocent play can result in injury if your little ones are left unattended.
3. Chihuahua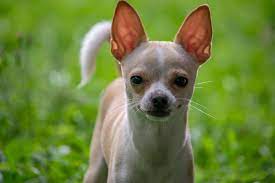 The Chihuahua is next on our list of black dog breeds with brown eyebrows, but these dogs can come in many different colors: white, black, chocolate, brown, and others. It will be easy to find a black pup with sweet little brown eyebrows.
Chihuahuas are known for their tendency to bark. If you consider this undesirable behavior, or if you think your neighbors won't love a barking dog next door, teach your Chihuahua manners from a very early age. The little dogs can be quiet and subdued or can be feisty and energetic. Some personality traits are related to training while others will just depend upon their nature.
Chihuahuas shed all year, but regular grooming is helpful in keeping the stray hairs at bay. Your pup will shed a bit more heavily in the spring and the fall, but the curry brush will help eliminate the need to bring your dog to the groomer for a blowout. As with any furry friend, you'll need to bring your Chihuahua in for an ear cleaning and a nail trimming every now and then, too.
4. Beagle
Not all Beagles are black dogs with brown eyebrows, but it's relatively easy to find this coloration in the breed. The pups can be a variety of colors, and some are multicolored. Generally speaking, your dog will have a dark color covering the majority of his body, though he's likely to have patches of other colors on his chest, feet, and face.
The Beagle is a sturdy little dog, stocky for his size. Your dog will enjoy your company and will be just as happy curled up at your feet as he will be out in the woods "hunting" for leaves and sticks. If you'd like to stay on your pup's good side, though, skip the swim. Most Beagles don't love swimming or water in general.
If you live in an apartment community a Beagle may be a good option for your family. Keep in mind, though, that the little dogs will howl — and loudly. Most dogs of this breed are quite vocal and will let you know when they're happy or when they're greatly displeased.
Beagles are not known for their intelligence. In fact, many Beagle owners lovingly refer to the long-eared pups as "dumbo." The little dogs are willful and stubborn, easily distracted, and notoriously hard to train. They're sweet little pups, though, which more than makes up for their toddler-like personalities.
5. German Shepherd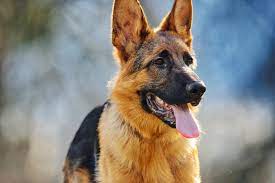 Next on our list of black dog breeds with brown eyebrows is the German Shepherd. Typically, these dogs have long black fur with brown or tan markings, but red, sable, gray, and even white German Shepherds are available too. They are well-known for their work in law enforcement; they're brilliant and agile dogs that train easily and remain loyal to their pack leader.
You will absolutely want to schedule a blowout for your German Shepherd at least twice each year. The dogs will shed heavily, particularly in the spring and the fall. As a result, you'll find that your home is carpeted in black dog hair year-round if you don't stay on top of the removal of dead hair. Brushing your dog daily will also help to mitigate the shedding.
German Shepherds are a restricted breed in some communities. You'll need to check with your Homeowner's Association, your apartment community, or your city to ensure that the breed is permitted in your area. When well-trained, a German Shepherd is not aggressive. However, your dog is likely to dislike other dogs if he has not been properly socialized from an early age.
6. Doberman Pinscher
The Doberman Pinscher is another dog that's sometimes on the restricted breeds list, but they're very appropriate for some individuals. If you're active, patient, firm with training, and have experience with large dog breeds, the Doberman could be just the companion for you.
Dobermans are black dogs with brown eyebrows, and there are very few exceptions. Maintaining a sleek, shiny coat is easy and usually only requires that you use a rubber brush or slicker brush. Bathe your dog every other month or so, and bring your pup to the groomer for a nail trim and spa day.
As you may have imagined, the Doberman is a protective and loyal dog. You can count on your pup to keep a watchful eye on your family. The breed can be aggressive toward strangers, however, so you'll need to keep a watchful eye on him, too.
Keep small children away from your Doberman; the dogs can be unpredictable if not professionally trained. Obedience training is a wonderful option for Doberman owners, so look into this at an early age to ensure the best results.
Exercise is absolutely critical to your dog's behavior. If not walked, run, or played with on a regular basis your dog can become irritable with strangers and with you. Speak with your vet about how much exercise is right for your Doberman.
7. Miniature Pinscher
The Miniature Pinscher, or Min Pin, is not related to the Doberman Pinscher, but you'll be tickled to learn how similar the dogs are in appearance. Min Pins, like their larger counterparts, are black dogs with brown eyebrows. They're stocky little pups and strong for their size, but will only weigh around ten pounds as an adult. These little dogs are playful and clever and are a good fit for most family dynamics.
Your dog will be spirited and intelligent, making her easy to train. But these personality traits come at a price. It's easy for your pup to get the zoomies; taking her out for frequent walks will help keep her energy in check when it's time to settle down. She'll need, at a minimum, 30 minutes of playtime each day. Speak with your vet about the appropriate mix of diet and exercise for your dog.
Brush your Miniature Pinscher at least weekly. Your dog won't be a heavy shedder, but you can keep her looking sharp and pretty by running a slicker brush or a pin brush through her hair. Plan to bathe your dog approximately every six weeks to keep her looking fresh and smelling clean.
Frequently Asked Questions
What are dog eyebrow whiskers called?
The whiskers above a dog's eyebrows are known as supraciliary or supraorbital.
What breed of dog has eyebrows and a mustache?
Miniature Schnauzers are known for their eyebrows, beard, and mustache.
Do dogs recognize themselves in the mirror?
Dogs cannot recognize themselves in a mirror the same way that a human would.
Conclusion for "Black Dog Breeds with Brown Eyebrows – Top Breeds"
We haven't met a dog we didn't think was adorable, but there's something about black dogs with brown eyebrows that make us swoon! If you feel the same way, you'll want to explore the breeds listed in our guide. Whether you're interested in a fierce protector or a sweet lap dog, there's a pup on the list that's perfect for you.
As always, be sure you check out your breeder or shelter before you bring your dog home. Ensure that your puppy or adult dog has been kept in sanitary, safe, and loving conditions before you decide to make her a permanent member of your family.
Check out these other lists of dog breeds:
Learn more about black dog breeds by watching "These Are 10 Blackest Dog Breeds Ever" down below:
Garrett loves animals and is a huge advocate for all Doodle dog breeds. He owns his own Goldendoodle named Kona. In addition, he volunteers at the Humane Society of Silicon Valley, where he fosters dogs and helps animals. Garrett enjoys writing about Doodles and believes that dogs can teach humans more about how to live than humans can teach a dog.
Why Trust We Love Doodles?
At We Love Doodles, we're a team of writers, veterinarians, and puppy trainers that love dogs. Our team of qualified experts researches and provides reliable information on a wide range of dog topics. Our reviews are based on customer feedback, hands-on testing, and in-depth analysis. We are fully transparent and honest to our community of dog owners and future owners.