Pomeranians are some of the cutest and smart small dog breeds around. Even though they look like a natural floatation device, you might still question whether Pomeranians can swim or not. They're so small that it's understandable to have some concerns around water. 
In this article, we'll be answering the question, "Can Pomeranians swim?" and more. If you own a Pomeranian and worry about teaching them how to swim, we've got you covered. Keep reading to find out whether you can throw your little fluff ball into the pool on a hot summer day. 
Before scrolling down, here is a related article: Are Pomeranians Good With Kids?
Can Pomeranians Naturally Swim?
Like most dogs, Pomeranians have an instinctive ability to doggie paddle when they hit the water. Some breeds, like the Portuguese Waterdog, excel at swimming because of their long legs and preferential breeding. 
Pomeranians, however, aren't nearly as large. While they can swim short distances, like across the pool, they struggle in big or rough waters. Also, their technique isn't as fluid as some other breeds, so they may need some help to figure out the best swimming method. 
However, Pomeranians have a thick coat of fluffy fur. Combined with their small size, this helps keep them afloat more than other dogs may be able to. Although it mats once it touches the water, it still helps keep them buoyant for longer. So yes, Pomeranians can swim.
Can You Teach Pomeranians to Swim?
Training is an essential part of any good dog's life, and teaching them to swim is a crucial skill that they should master early on. Just like other dogs, you can train Pomeranians to swim and react in certain situations in the water. 
If you hold your Pomeranian over a bathtub, they might do that funny thing where they kick their legs before they enter the water. The same concept applies to a pool or any other body of water. 
Simply introduce your Pomeranian to the shallow end of a pool. For the first time, you may want to use a doggie life vest to ensure their safety. Hold them as they get comfortable, and you should see them get better at swimming pretty fast. 
Should I Teach My Pomeranian How to Swim?
If you own a pool or are regularly near a body of water, you should definitely teach your Pomeranian how to swim. The chances that they slip into the pool and drown are much higher if they don't have any experience swimming. 
While your Pomeranian might doggie paddle naturally, they may not know the best way to move around. Even though their coat is helping them float, it might actually hinder their ability to swim efficiently. Providing your Pomeranian with swimming experiences is the only way to make sure they know what to do in the water. 
Even if you don't own a pool, it could be useful to teach your Pomeranian to swim anyway. Who knows, you might go on a vacation to a tropical paradise and want to bring them along. Think about the pics of them paddling around!
Is Swimming Good for Pomeranians?
Swimming is a hugely beneficial activity for Pomeranians and most other dogs, for that matter. Exercise of any kind is important, and swimming activates more muscles and burns more calories than running or the average play session. 
Teaching your dog how to swim is also important for keeping them safe, so yes, swimming is good for Pomeranians. Who knows when your dog will jump into water next. Better for them to be prepared by knowing how to swim than not. 
However, regular swimming might not be the best thing for your Pomeranian's beautiful coat, especially in pool water. Chlorine can damage the follicles that make up your dog's fur, drying them out and causing them to break off. 
If you can't keep your dog out of the pool, you might want to consider a natural fur supplement and make sure they eat a healthy diet. Also, wash their coat thoroughly every time your dog finishes swimming. Doing these things can help ensure your Pomeranian's coat remains as fresh as ever. 
Do Pomeranians Like to Swim? 
Despite their natural swimming ability, you can't put all Pomeranians in a box. Just like people, every Pomeranian is unique. Some Pomeranians like to swim, while others don't. 
If your Pom Pom had a traumatic experience with water, especially as a puppy, they might never like swimming no matter how hard you try to convince them otherwise. However, it never hurts to try, so give it a go even if you think your dog doesn't like swimming. 
How Do I Convince My Pomeranian to Stop Hating Water?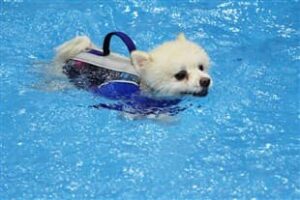 Many Pomeranian owners think their little poof hates the water solely because they don't like baths. However, the two circumstances are very different. Some dogs love the water but just hate being bathed. That doesn't mean they don't like to swim. 
Try teaching your Pomeranian to swim in a pool, even if they don't like baths. You might be surprised to find out that they actually like swimming!
If you've already tried, but your Pompom still doesn't like pools, try acclimating them to being around the pool before having them swim. Your dog may just be afraid, and if you show them there's nothing to be afraid of, they should start to calm down. 
Feed them treats and lavish them with affection right next to the water. Do the same thing again but slowly move closer and closer to the water until you feed them while in the pool. They should start to like swimming more after that!
Conclusion for Can Pomeranians Swim?
Now that you know that your Pomeranian can swim, it's time to test it out. Introduce them to the shallow end of the pool and hold them gently as they figure out how their legs should move. Keep them under constant supervision to make sure no accidents happen. 
Once your Pomeranian knows how to swim, you can take them almost anywhere there's water! However, the ocean and deep water can be dangerous, so be sure to stay close at all times. Also, remember that they aren't actually a floatation device, despite what they look like!
You will also like:
Garrett loves animals and is a huge advocate for all Doodle dog breeds. He owns his own Goldendoodle named Kona. In addition, he volunteers at the Humane Society of Silicon Valley, where he fosters dogs and helps animals. Garrett enjoys writing about Doodles and believes that dogs can teach humans more about how to live than humans can teach a dog.
Why Trust We Love Doodles?
At We Love Doodles, we're a team of writers, veterinarians, and puppy trainers that love dogs. Our team of qualified experts researches and provides reliable information on a wide range of dog topics. Our reviews are based on customer feedback, hands-on testing, and in-depth analysis. We are fully transparent and honest to our community of dog owners and future owners.