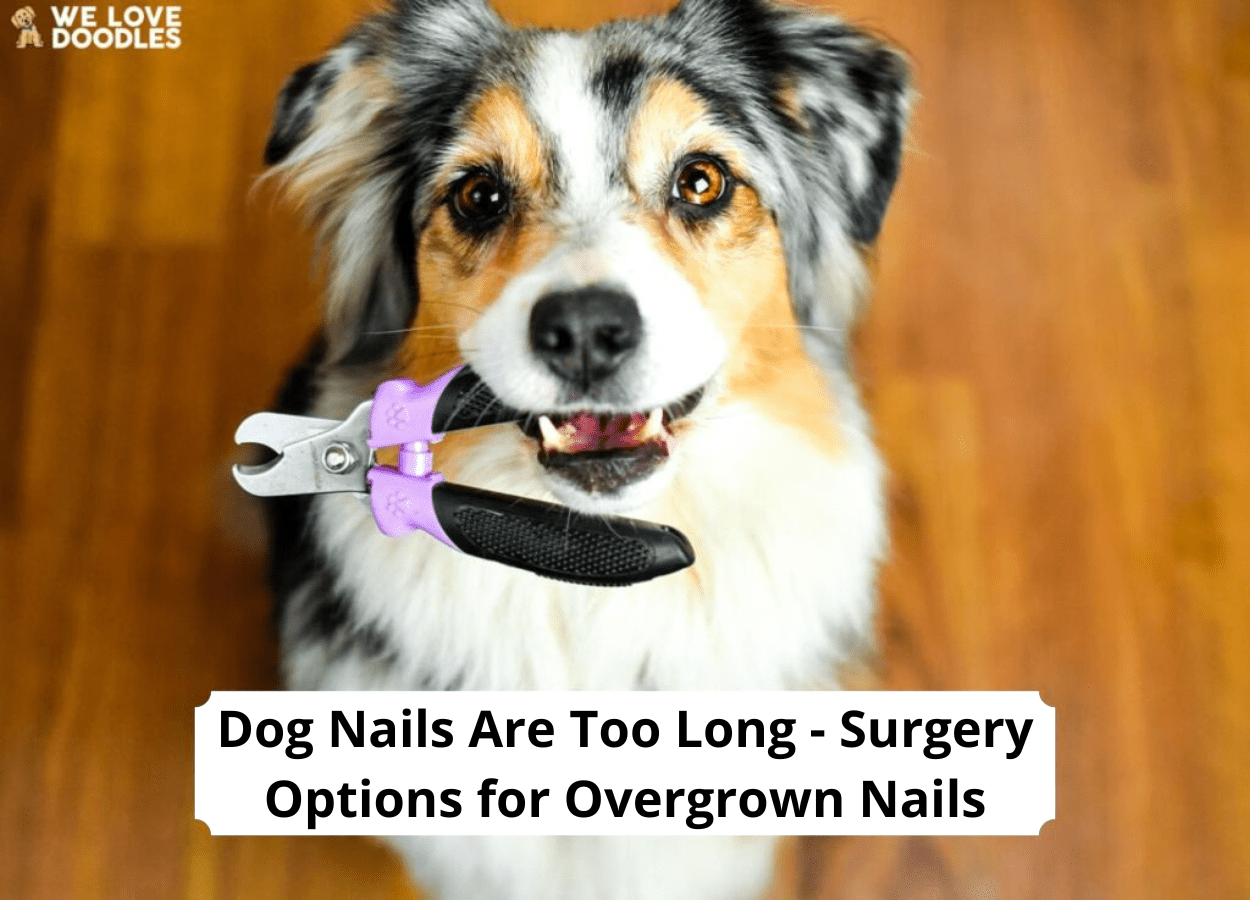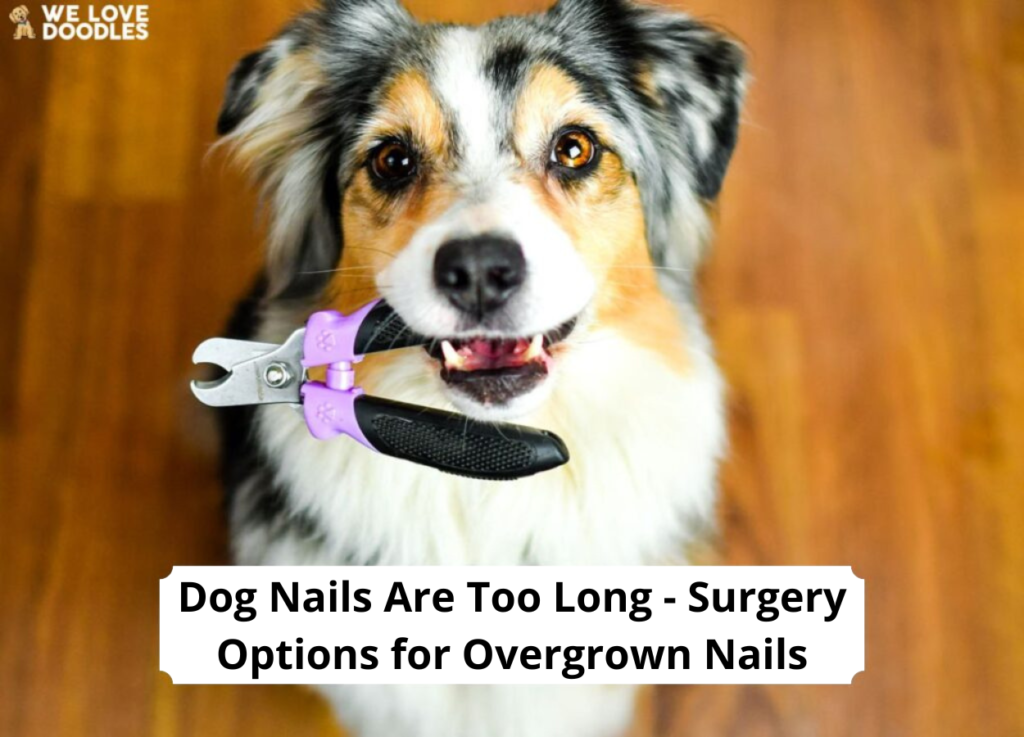 When a dog's nails are too long, it can be harmful to them. The dog may injure themselves while walking or playing. Or, if it tries to get onto your lap, your dog may also injure you.
Dog nail maintenance entails more than just aesthetics. You should routinely trim your pet's nails because it can prevent problems like broken nails, splayed feet, and, in rare instances, severe harm to the dog.
If your dog's nails are very long and he does not allow you to cut them, surgery may be the only solution you have. Based on your vet's recommendation, you can either choose complete nail removal surgery or partial nail removal surgery. A laser nail trim that uses laser technology to burn the nail without any bleeding may be an option if your dog's nails are too long and there aren't other underlying medical concerns.
Before we dive more deeply into surgical options for overgrown dog nails, let us first understand the anatomy of a dog's nail.
Before scrolling down this guide "Dog Nails Too Long – What Surgery Options Are There," check out these similar questions: Tips for Grooming Your Doodle at Home and Best Paw Cream For Dogs.
Anatomy of a Dog's Nails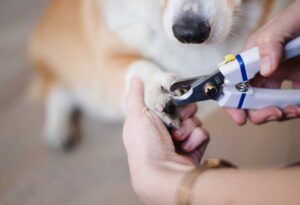 You should not be cutting your dog's nail from the middle. Because of the discomfort, the dog might not allow you to touch its nails again. Therefore, knowing the anatomy of your dog's nails before you cut them is important.
Your canine friend's nails are made up of two basic components. First comes the quick. It is a system of blood vessels and nerves. It delivers blood to the nail and passes right through the nail's root.
The second component is the hard outer shell of the nail. Given that the dog does not feel discomfort on the outside, this is the only area you should trim throughout the grooming session.
The quick is a live component of the dog's body. It will start bleeding from the nails if you trim through it. The trick is to figure out where the quick is before trimming.
For instance, most dogs have white nails with a pale pink quick. Therefore, when cutting, you must stick with the white area. The dog's nails may occasionally be all-black, though. If this is the case, trimming along the outside margins will be helpful. Step back if you notice your pet flinching because you could be going too near to the quick.
What Issues Do Overgrown Nails Present?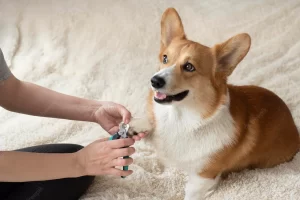 If you don't maintain a regular nail-grooming regimen or the dog won't let you, it might result in uncomfortable problems. Below, we've discussed some of the issues that overgrown nails can cause.
Ingrown Toenails
Unlike human nails, dog nails do not emerge straight. They are visibly curved and taper toward the end.
Without care, the nails will grow too long and may begin to curl back. In extreme circumstances, the nails may completely bend back and begin to pierce the footpad.
You can understand how uncomfortable this situation might be for the dog. The simplest actions, like walking, may turn challenging for the dog.
Injury When Dogs Nails Are Too Long
When a dog's nails are too long, it increases the risk of injury. For instance, the sharp edge of the nail may become lodged in the carpet, the upholstery of the furniture, or old blankets. While having fun outside, the nails can easily become tangled and break.
Senior dogs' nails are more likely to grow brittle and break easily. Since a broken nail can bleed and cause pain, your dog will begin to lick the region excessively or stop applying pressure to the foot to ease the pain, even if there is no bleeding.
When Does Surgery Become the Only Option?
If your dog exhibits any of the following signs, its nails may be too long and perhaps damaged.
Creaking sounds when walking on hard flooring
Changes in walking style
Excessive nail licking
Swelling
Hanging Nails
Surgery should always be the final resort. An example of this may be if your dog is in excruciating agony and still won't allow you near its paws.
The veterinarian will prescribe local anesthetic since the process is uncomfortable. Not every dog reacts favorably to anesthesia. Despite being rare, local anesthesia's negative effects might nonetheless happen. The negative impacts of local anesthesia are:
Lethargy
Hazy vision
Twitching
Respiratory problems
Surgery is also necessary for circumstances where there is a broken or infected nail. However, surgery should be the last resort if the dog's nails are in good condition and the length is the sole issue.
Speak to your veterinarian or experienced groomers. Usually, they can easily trim the nails by confining your dog with assistance from employees.
Nail Surgery Options
Laser Nail Trim
While your pet is sedated (typically for another treatment, like a spay/neuter or a dental), laser nail surgery is a fantastic way to trim overgrown toenails. It allows the vet to clip the nail back further than was previously feasible by allowing them to "burn" back the quick of the nail without any bleeding.
Laser nail surgery claims to have no or less discomfort than other surgery options for a dog with long nails. The recovery process may still be painful for your dog, so painkillers are recommended post-surgery.
Nail Removal Surgery
If your dog has overgrown, difficult-to-cut nails that are not broken, he will get partial dog nail removal surgery; however, if your dog has lengthy, disorderly nails, the physician will advise full dog nail removal surgery.
The veterinarian will carefully examine the condition of the dog's nails to see whether they can treat the condition without surgery. If there is no other option, the veterinarian will choose between partial or complete surgery. Let's briefly go through each of these.
Partial Nail Removal
Partial nail removal for dogs' nails that are too long entails merely removing a portion of the nail from the nail bed. If your dog merely has an overgrown nail and a slight or nonexistent infection, this is the best route.
Following the procedure, the nails will be covered and the vet will recommend a post-surgery care routine to prevent any complications. The vet will prescribe painkillers because their paws will be uncomfortable for a while.
Complete Nail Removal
Complete nail removal involves removing the entire nail from the nail bed. This is only done when the dog's life is in danger and probably won't be the best option if the dog's nails are simply too long.
Following the procedure, you will receive instructions to prevent any adverse health issues. Additionally, painkillers are administered because surgery, whether partial or comprehensive, can be uncomfortable after a while.
How Does a Dog Recover from Nail Removal Surgery?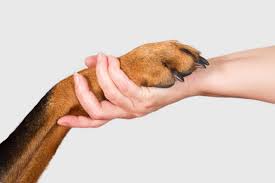 The veterinarian will bandage the wound after partially or completely removing the nail. This is essential for keeping infections at bay. You also don't want the animal to lick the surgery wound. Additionally, the veterinarian may prescribe antibiotics and painkillers.
A new nail will most likely develop in the nail bed even if the old one is entirely removed. However, this takes many weeks. After the procedure, the pain should go away in one to two days.
You must keep an eye on your dog's paws and nail growth as a pet owner. It would be wise to schedule a follow-up consultation with the veterinarian if you see abnormal nail growth, blood, or pus discharge.
After nail removal, dogs generally recover well. Make sure you continue to visit the veterinary clinic as necessary if the wound must be cleaned and dressed. Make sure your hands are clean and you have the right disinfectant supplies on hand if you are treating the wound at home.
What Tools Are Required for Nail Trimming?
Surgery is a somewhat safe solution to the overgrown nail problem. But it's not a good idea to have surgery performed each time your dog needs its nails trimmed.
Practice regular nail maintenance as part of your dog's grooming because nail surgery is painful and costly. Starting with the basics, let's look at the tools you'll need for nail clipping.
To start, you'll need a pair of scissors or a nail clipper to trim the dog's nails. You can select the appropriate size of cutters based on the size of your dog. For instance, scissors will work just well for a puppy, however tiny, medium, and large dogs only need nail clippers.
The rough edges of a freshly trimmed nail can be smoothed off with a filer or a nail grinder. Although it might take time, some people also use grinders to cut their dog's nails. A nail grinder is a great choice if you are worried about getting too close to the quick.
Finally, you'll need styptic powder. The powder can be used to stop any bleeding if you do somehow manage to clip the quick of the nail. If the styptic powder is not available, you can use flour or cornstarch instead.
How Can You Safely Trim a Dog's Nails?
To trim your dog's nails effectively, it is recommended to get additional help from a family member or friend. While you go about clipping, they can confine the animal or keep it relaxed. Small and medium-sized dogs may even benefit from a grooming hammock.
Hold the dog's paws securely yet carefully. Locate the exact position of the quick. It is your responsibility to stay away from the quick and only cut the nail that grows after it.
Begin trimming only the top 1 to 2 mm of the nails. Follow the 45° angle across the lines of the nail's natural growth to account for their slanted nails. Maintaining the angle makes it easier to cut the nails faster while avoiding the quick.
This also makes sure that the nails' jagged edges won't catch on your clothing or bedding.
If your dog has been declawed, the nails that grow just above the paw need to be cut as it grows. That nail is frequently disregarded since it does not touch the ground. However, even declawed nails might grow too long and begin to curve backward.
How Can You Get a Dog Comfortable with Nail Trimming?
Dogs are extremely sensitive when it comes to their paws, so it is advisable to normalize touching their paws regularly. While doing so, make sure you register it as a fun activity by being excited about it. The practice of rewarding the puppy with treats whenever it allows you to touch its paws can also prove helpful in the long run. It will teach the puppy that touching its paws is a good thing.
Allow the puppy to get familiarized with the tools that are being used for trimming its nails. Then rub the tools with their nails. Trim its nails using the tool, and don't forget to reward the puppy if it remains calm during the trimming process. The goal of this exercise is to enable the dog to become acquainted with the tools used for trimming its nails and form positive correlations with these tools.
Next, trim a small portion of the nail and praise the dog for being calm about it. Keep repeating the process bit by bit for some days and go through all the nails. This method may appear to be tedious in the beginning, but trimming its nails will be easier once the puppy gets used to the process,
The same method applies to older dogs. Training an adult dog to be calm while trimming its nails will take much more time if the dog is already scared of the process of nail trimming. Re-establishing a positive association with nail trimming will demand a great deal of patience from your end.
Talk to your vet about calm treats and other natural remedies if you're still having trouble. If you're ultimately unable to trim your dog's nails that's okay. Book regular appointments with a professional groomer to keep your dog comfortable.
FAQs
How do you fix a dog's nail that is too long?
If you are concerned about the length of your dog's nails, talk to your veterinarian. They will be able to advise you on whether a regular trim is what is needed or if your dog needs surgery to shorten their nails. Nail removal surgery or laser nail surgery are the two most common options. Both types of surgery involve trimming the nail down, typically while the dog is under at least partial anesthesia.
What happens if a dog's nails are too long?
A dog's nails that are too long will cause health issues for them. Nail issues include curling nails, broken nails, bleeding quick, and splayed feet. Overgrown nails are also more likely to get caught on things, which can be frustrating for dogs.
Do dogs feel pain when cutting nails?
Trimming a dog's nails should only be painful if you cut the quick. Choosing the correct-sized nail trimmers will protect their nails. Try using a grinder if you are concerned about dog nail trimmers.
Conclusion For "Dog Nails Too Long – What Surgery Options Are There"
Walking may become painful when a dog's nails grow too long. The nail can get caught during daily activities, curl, and even break off, which is uncomfortable for your dog. Overgrown dog nails may sometimes necessitate surgery. The good thing is that safe surgical options exist so that your dog can go back to playing around without pain or discomfort.
Once your dog recovers, teach them that trimming their nails is not scary, and develop a healthy nail-trimming schedule.
For more dog questions and answers from our team at We Love Doodles, you can check out:
You can learn more about dog nail trimming by watching "Dog Nail Clipping Doesn't Have To Be STRESSFUL…" from KING 5 down below: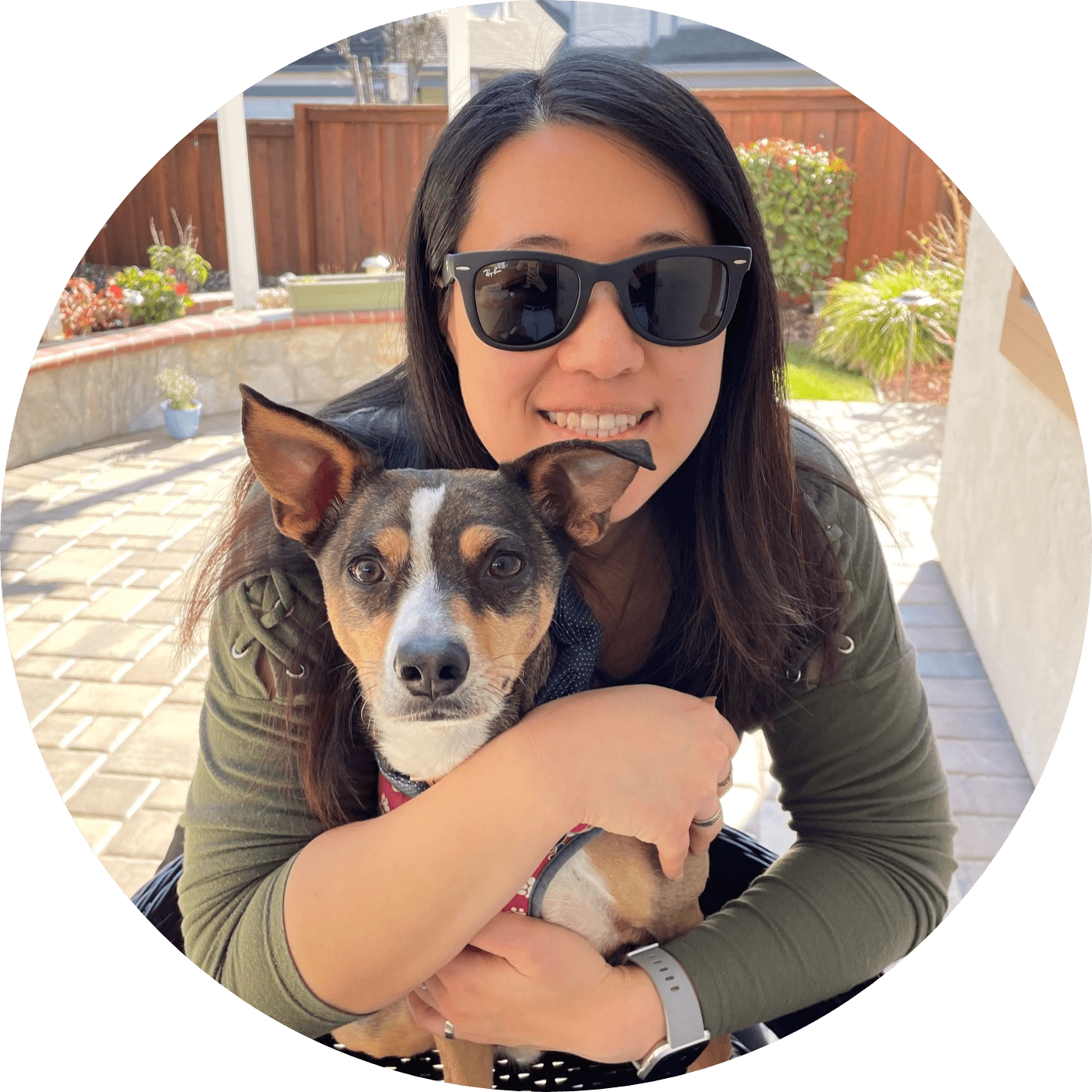 Dr. Sabrina Kong graduated from the Royal Veterinary College in England in 2016 and has been working at a small animal clinic in Northern California since then. She grew up in the Bay Area and got her bachelor's degree from Cal Poly San Luis Obispo. She also became a Certified Canine Rehabilitation Practitioner through a program at the University of Tennessee.
When she isn't in the clinic taking care of her four-legged patients, she enjoys traveling and trying new foods with her friends and her three-legged dog, Apollo. She adopted Apollo from her clinic when he was a puppy with numerous health issues. Dr. Kong truly cares about taking care of animals.