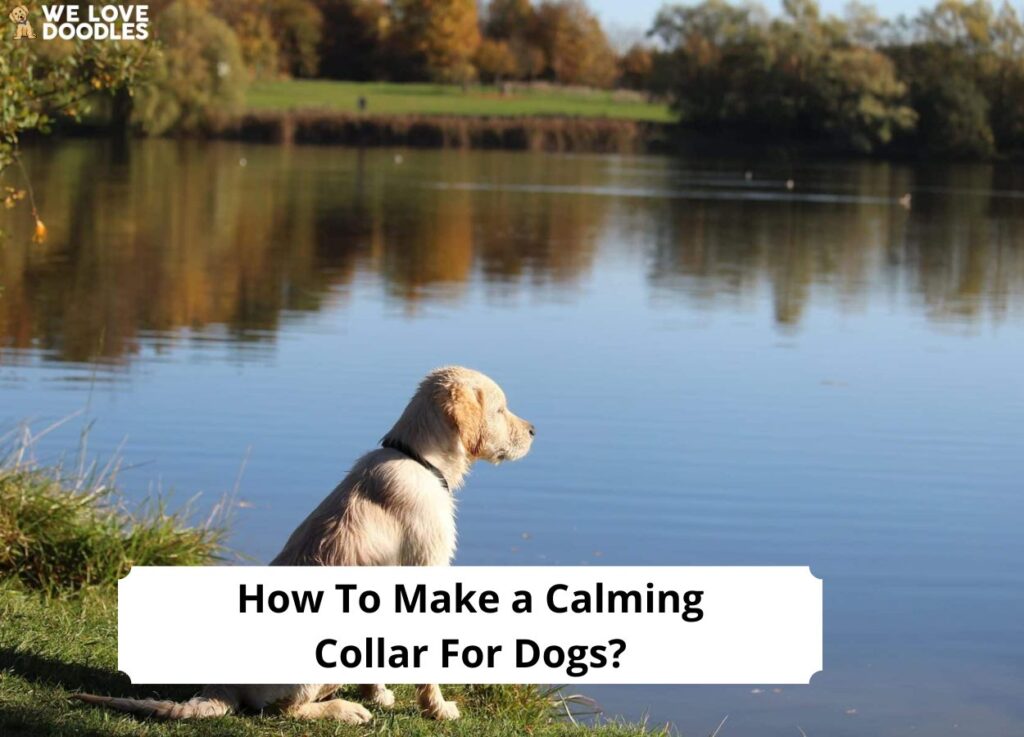 If your dog suffers from anxiety, you can do a few things to help make them more comfortable. One such thing is to make them a calming collar. This type of collar has material that helps to calm and soothe your dog.
This post will tell you how to make a calming collar for your dogs and other aspects to consider in the process. Keep reading for more information!
Before you scroll down this guide, "How To Make a Calming Collar For Dogs," you can check out these other dog guides: Best Dog Toys For Separation Anxiety and Best Dog Bed For Separation Anxiety.
What Is a Calming Collar?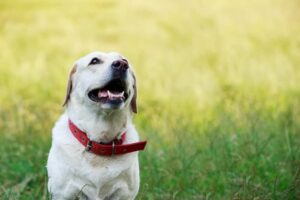 A calming collar is a pet collar designed to help your animal companion feel calm and relaxed. These collars usually contain a pheromone that helps to reduce stress and anxiety. Some common ingredients include chamomile, lavender, and valerian root.
Calming collars can be helpful for animals who are nervous or anxious in new situations, such as going to the vet or taking a car ride. They can also benefit animals suffering from separation anxiety or dealing with a traumatic event, such as losing a beloved human companion.
If you think your animal companion could benefit from a calming collar, talk to your veterinarian about which product would suit them.
Pheromone Calming Collars for Dogs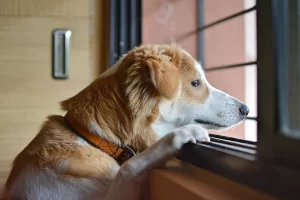 Pheromone Calming Collars for Dogs releases a calming pheromone that helps to reduce your dog's anxiety. The pheromone is similar to the one that mother dogs release to their puppies, and it has a calming effect on most dogs.
For example, if your dog is anxious during car rides, thunderstorms, or when left alone, a Pheromone Calming Collar can help reduce their stress. The collars are easy to use and last for up to 30 days.
Put the collar on your dog before the stressful event and remove it when they are no longer anxious. Pheromone Calming Collars are safe for all dogs and are an effective way to reduce stress and anxiety.
Herbal Calming Collars for Dogs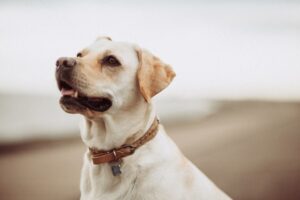 Dogs are just like humans because they experience anxiety and stress. CBD oil effectively reduces anxiety and promotes relaxation in humans; the same is true for dogs. Herbal calming collars for dogs are infused with CBD oil, providing a natural way to help your dog feel calm and relaxed.
The collars are easy to use. Put it on your dog like a regular collar and let the CBD work its magic.
In addition to reducing anxiety, CBD has also been shown to provide other health benefits for dogs, such as reducing inflammation, alleviating pain, and boosting the immune system.
So if you're looking for a natural way to help your dog relax and feel his best, herbal calming collars are a great option.
Materials You'll Need To Make A Dog Calming Collar
The collar is easily made with just a few materials. You'll need a bottle of pure, natural lavender oil, an excellent medium-wide nylon collar with a plastic clasp, and a piece of cotton fabric cut to the collar width.
Sewing the fabric onto the collar is simple by using a sewing machine. Just be sure to use slender pins so they don't puncture the material.
How To Make a Calming Collar for Dogs: Step by Step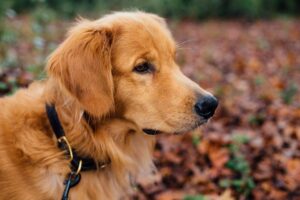 A dog's senses are much more powerful than our own, so it's essential to be mindful of how strong a scent you're using on their collars. It's best to start with a light hand and increase the amount of perfume if needed.
Lavender is a popular choice for a calming scent as it's been shown to have relaxing properties, but any light and pleasant-smelling fragrance will do.
To make your calming collar:
Choose a comfortable collar for your dog and cut a piece of cotton cloth to size.
Pin the fabric in place, then sew around the edge of the collar.
Once the cloth is securely attached, apply your chosen perfume in drips along the material until it's mostly soaked.
Start with a small amount and increase as needed.
The final step is essential: letting your dog wear their new collar around so it can get used to the scent!
How To Measure Your Dog for a Calming Collar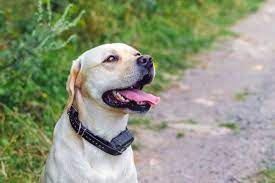 When choosing a collar for your dog, age is one of the most important factors to consider. Puppies grow quickly, and their necks continue to change shape until they are fully grown dogs. As a result, it is best to choose a puppy collar with a maximum adjustable size range.
This will allow the collar to fit snugly without being too tight and prevent any obtrusive additional material from hanging off the end of the collar. For adult dogs, the best option is usually a smaller collar that fits snugly around their neck.
This will allow them to move around freely without any discomfort or restriction. By taking your dog's age into account, you can be sure to choose the perfect collar for their needs.
Measuring a Calming Collar
As any pet owner knows, finding the right size collar for your dog can be tricky. If the collar is too tight, it may cause discomfort or even impair your dog's breathing. On the other hand, if the collar is too loose, it may slip off or fail to provide the desired level of support.
As a result, taking the time to measure your dog's neck before selecting a collar is essential. The most accurate way to do this is to use a measuring tape. Wrap the tape around your dog's neck just below the head, then slightly relax it to allow for smooth and unrestricted mobility.
Once you have the desired measurement, take note of the result and purchase the collar with the expected value within the desired range. With a little effort, you can ensure that your dog has a comfortable and well-fitting collar.
Tips for Using a Calming Collar During Anxiety Attacks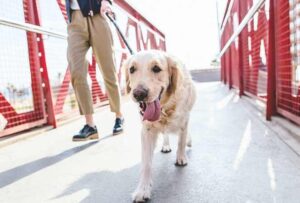 Any pet owner knows that seeing their beloved dog in the throes of an anxiety attack can be heartbreaking. But fortunately, there are things you can do to help your furry friend feel calmer and more relaxed.
One of the most effective tools is a calming collar. These collars work by releasing a gentle, steady stream of calming pheromones that help to ease your dog's anxiety. Here are a few tips for using a calming collar:
Put the collar on your dog before they start showing signs of anxiety. This will give the pheromones time to work and prevent the attack from getting too severe.
Make sure the collar is snug but not too tight. You don't want it to be uncomfortable for your dog, as this could increase their anxiety.
If possible, keep your dog in a quiet, safe place during the attack. This will help them to feel more secure and less likely to be further agitated by their surroundings.
You can help your dog through even the most severe anxiety attack with patience and care. And with a calming collar, you can give them the support they need to feel more relaxed and comfortable.
Calming Collar for Dogs Buyer's Guide
When it comes to finding the perfect calming collar for your dog, there are a few things to keep in mind:
Consider the size and temperament of your dog. For example, a small dog will need a different size and type of collar than a large dog, and a calm dog will need a different collar than an energetic dog.
Think about what style of collar you want. There are many styles of calming collars on the market, from simple leather collars to more elaborate designs.
Consider your budget. Calming collars can range in price from a few dollars to several hundred dollars, so it's essential to find one that fits your needs and budget.
Where To Buy Calming Collars
Once you've considered these factors, you'll be ready to start shopping for the perfect calming collar for your dog. Here are a few places to start your search:
Local Pet Stores
This is a great place to start because you can try on different collars and get an idea of what size and style will work best for your dog. You can also ask the staff for recommendations based on your dog's size and temperament.
Online Retailers
Many online retailers sell calming collars, so you'll have a wide selection to choose from. You can often find good deals on collars by shopping around online.
Specialty Stores
If you're looking for a specific type or style of calming collars, such as one that uses aromatherapy or is made from organic materials, you may want to shop at a specialty store.
These stores typically have more knowledge about the different types of collars and can help you find the perfect one for your dog.
Conclusion For "How To Make a Calming Collar for Dogs"
If your dog seems to be anxious or stressed, you may want to try making a calming collar. The ingredients are simple, and the process is easy, so there's no reason not to try it! Do you have any other tips for how to make a calming collar for dogs? Leave a comment below!
If you find this guide, "How To Make a Calming Collar for Dogs," helpful, check out these other related guides from our team:
You can learn more about calming your dog by watching "How To Calm Your Dog Down in Minutes!" down below:
Garrett loves animals and is a huge advocate for all Doodle dog breeds. He owns his own Goldendoodle named Kona. In addition, he volunteers at the Humane Society of Silicon Valley, where he fosters dogs and helps animals. Garrett enjoys writing about Doodles and believes that dogs can teach humans more about how to live than humans can teach a dog.
Why Trust We Love Doodles?
At We Love Doodles, we're a team of writers, veterinarians, and puppy trainers that love dogs. Our team of qualified experts researches and provides reliable information on a wide range of dog topics. Our reviews are based on customer feedback, hands-on testing, and in-depth analysis. We are fully transparent and honest to our community of dog owners and future owners.