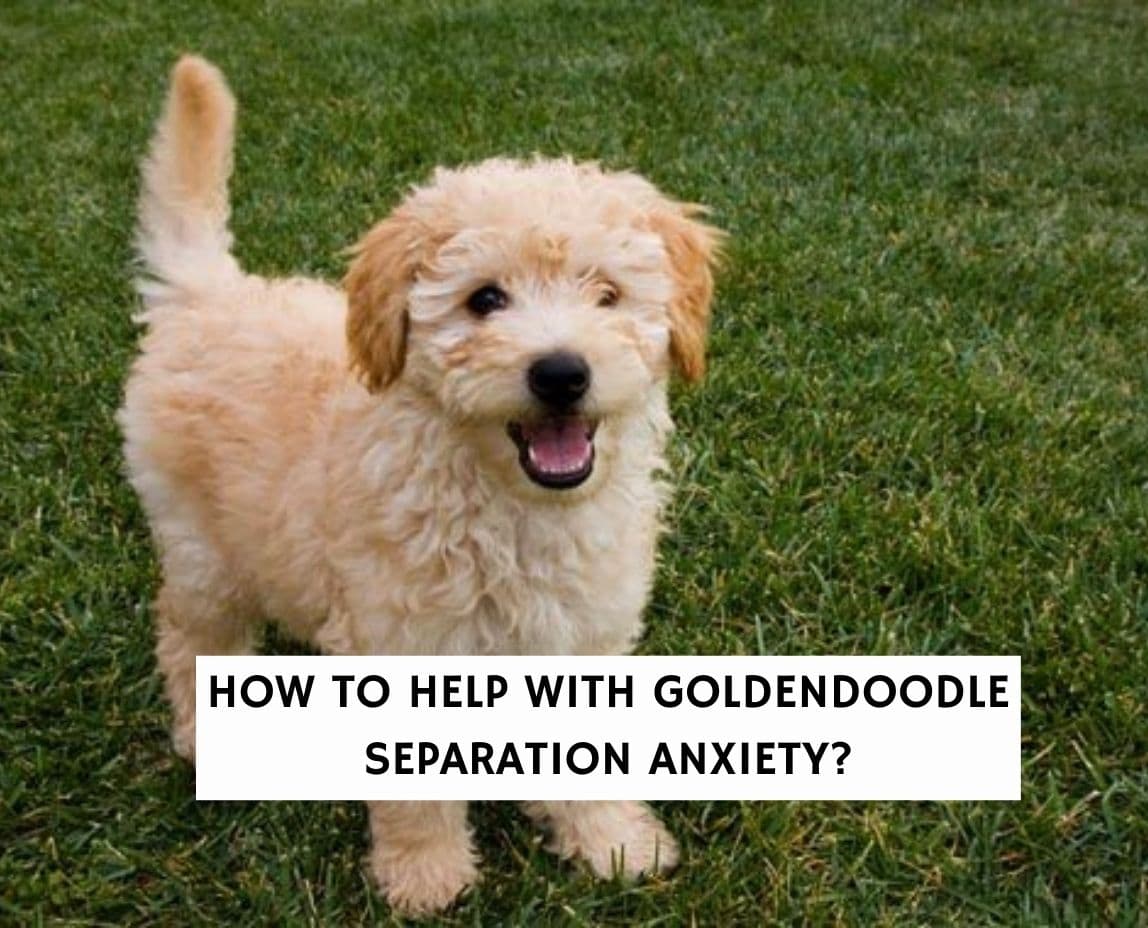 This guide will provide you with everything you need to know about Goldendoodle separation anxiety. You've probably heard the saying that dogs are considered like best friends for their owners and other family members.
They're there for you on the tough days and celebrate with you on the good days. In addition, the fun-loving and active personality of many dogs makes them easy to get along with and even more entertaining to have around the house.
While some dogs may be much more obvious about their allegiance than others, they need you with them to help them live long, happy and healthy lives. Yet you know it is not feasible to actually spend every waking moment with your dog.
There are times when you need to go to work or run an errand or go on vacation and not take them along. Whether your dog likes it or not, there are times, some more than others, where you'll need to leave them alone at home, without your company.
For some dogs, this separation between you and them does not phase them all that much. They can be considered independent and do fine when spending time alone with themselves.
They can entertain themselves and don't feel as strong emotional sadness when you are not around. However, some dogs can face severe separation anxiety and other forms of discomfort when they do not have a friend around to spend time with them.
Highly social breeds, such as the Goldendoodle, may tend to develop these sorts of separation emotions due to their love of people and activity.
If you have a Goldendoodle or are considering adding one to your family, it's important to understand their emotions and mindset when you and your family need to leave the house.
Especially with a very social and affection-seeking breed like the Goldendoodle, their approach to being alone by themselves may differ greatly from other breeds.
To help you best meet the needs of your high-maintenance furry friend, here we share some helpful things to know about separation anxiety in dogs. We'll explore what it is and what you can do to help alleviate some of the negative effects and behavioral challenges that come with separation anxiety.
Before scrolling down this guide "Goldendoodle Separation Anxiety – Tips and Advice," check out these similar topics: Best Dog Bed For Separation Anxiety and Best Dog Toys For Separation Anxiety.
What is Separation Anxiety For Goldendoodles?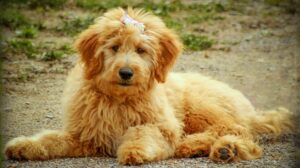 Separation anxiety is a mental and emotional health struggle in which they are distressed, down, and overall not themselves. It is often triggered by their owner and family leaving them either at home or in a kennel location.
Typically, these dogs are very attached to their owners. Even if the people do not leave the house, the dog may still want to follow them around wherever they go to not miss out on anything or be alone for an extended period of time.
Some dog breeds may be more prone to separation anxiety than others. This is often a result of how much attention and affection a particular dog needs to feel loved and cared for.
For example, if they are highly social and need a lot of attention and affection from others, they may be more at risk for developing separation anxiety.
Other dogs who do not need as much attention and affection to feel loved may not be as hurt when they are left alone for a certain amount of time. A key component of separation anxiety is developing habits of destructive behaviors that can cause damage to both your home and your relationship with your dog.
As a way of experiencing stress and anxiety, a dog may choose to scratch or dig at doors excessively. They can scratch so much, in fact, that they can leave paw marks on the bottoms of closed doors.
In addition to doors, they can also claw at windows to try to escape to see their family and those they love. Other signs that a dog like a Goldendoodle is experiencing separation anxiety is excessive barking or howling. In addition, they may pace across the floor frequently.
Things that can be harmful to them include excessive licking or chewing on things that they should not be chewing. These destructive habits for all involved can be clear signs that a dog is suffering from separation anxiety.
Related: Why is Your Goldendoodle Barking and How to Stop It.
Why Do Goldendoodles Get Separation Anxiety?
As referenced earlier, Goldendoodles are at a higher risk for developing emotional conditions like separation anxiety. As this breed is very friendly and social, they crave attention and affection from others.
In their history, they were bred to be around people and families. These dogs often want to be with you all the time, even if you are still at home and move to a different room. They enjoy being in your presence and delight in knowing where you are at all times.
Even if you find it annoying at times, this need for consistent and loving interaction can make them much more prone to developing destructive behaviors and emotional sadness through separation anxiety.
Goldendoodle Questions: Are Goldendoodles Hyper and Are Goldendoodles Good with Cats?
How Do I Help My Goldendoodle with Separation Anxiety?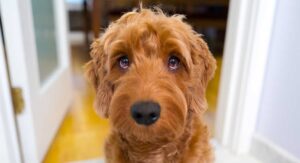 Unfortunately, separation anxiety can be a common occurrence among dogs as they struggle with their need to feel affection and attention while also pleasing their owners.
While it is a condition that begins with their emotional and mental health, it can easily continue to affect their physical health. Thankfully, there are some easy and effective ways that owners can help to alleviate the separation anxiety of dogs like a Goldendoodle.
Much of this approach requires time, care, and intentionality to affirm their confidence and security while also helping them to grasp independence for themselves when you are not around.
1. Tire Them Out
Goldendoodles require quite a bit of exercise throughout the day as they tend to have lively personalities. From walks outside to fetch in the backyard, these dogs of different sizes can all enjoy some time running around and engaging in an activity they love.
In addition to keeping them healthy, exercise can also make a Goldendoodle tired out. This tiring out can be very beneficial if you plan to leave them at home for some time.
With their bodies tired, they may want just to sleep while you're out or away. This can help prevent destructive behaviors that they may be tempted to engage in.
2. Provide Activities
Sometimes, a main contributing factor to separation anxiety is out of a sense of boredom. When they are not given activities or opportunities to get active and engage in exercises, they may become bored quickly.
That boredom can end up getting to them and feeding their separation anxiety. With activities that they can do when you're out that keep them active, you can help to reduce or eliminate their separation anxiety.
Choose activities that can stimulate both their mental and physical well-being. For example, please give them a toy that acts as a puzzle that they need to figure out to get the toy inside. Keep them active with a ball or other toy they can throw and nudge around.
Related: Goldendoodle Energy Level Information.
3. Create Routine
Dogs can thrive on routine. In a routine, they know when they can expect a meal to come. They know when you'll walk through the door after work.
Providing a routine can help them know what to expect and feel confident that you will come back to show them affection and attention at some time or another. As you establish this routine, try not to make your entrances and exits a grand show that your dog will pick up on.
When you treat leaving the house or coming home as a natural occurrence that happens regularly, your dog may be able to develop that consistency and predictability that you leaving throughout the day is okay and that you will come back at some point.
Related: Best Dog Food For Goldendoodles.
4. Behavioral Training
Training your dog to be comfortable in the moments you need to leave can also help provide a solution to their separation anxiety. Engage in training like leaving for a short time, perhaps five minutes, and then returning.
If they didn't bark or scratch or engage in any other types of destructive behavior, reward them through positive reinforcement. The next time, stay away for a bit of a longer time, such as ten minutes.
Continue this training until they are not engaging in those destructive behaviors. As a puppy, this type of training is even more important. Part of early socialization can also involve practices that help them develop somewhat of a sense of independence in which they are comfortable both around other dogs and people and by themselves.
Dogs can develop separation anxiety very early on in their lives, leading to further physical and mental destructive habits. By engaging in training and helping early for your Goldendoodle, you can empower them to thrive whether you are around them or not.
Related: How to Train a Goldendoodle and Are Goldendoodles Easy-To-Train?
5. Explore Medication
Sometimes, the separation anxiety Goldendoodle experiences may be too much for some activity or behavioral training. In these high-risk and more serious situations of separation anxiety, medication can also be a helpful and safe way to help your dog deal with their separation anxiety.
This more involved treatment option can be precious for dogs who may engage in severe destructive behaviors, whether in their home or themselves.
By connecting with your veterinarian, you may be able to discover medication options that are specifically designed for dogs to overcome their separation anxiety. Be sure to consult your veterinarian before trying any medication for your dog.
Catching these more serious cases of separation anxiety early on can help you chart a successful path in identifying their needs and moving forward in helping them return to their healthy selves. So identify their tendencies early and search for ways to help care and support them.
Conclusion For "Goldendoodle Separation Anxiety – Tips and Advice"
For some Goldendoodles, their desire to be around people and receive affection may make time alone difficult for them. Goldendoodles especially can be at risk for developing separation anxiety when you are not around them with their bubbly and outgoing personality.
When you're home, be sure to give them the time, attention, and affection that they need from you. Show them love, give them a lot of snuggles, and know that you appreciate them.
Please help them by giving them activities to stay occupied with and chew toys to enjoy when you're away. Choosing to care for a Goldendoodle experiencing separation anxiety requires time, patience, and a lot of love.
Yet as there are so many wonderful things to love about Goldendoodles, a willingness to care may come fairly easy. With the right approach and demonstration of care for them and their well-being, you can strengthen your relationship with your dog and equip them to be their happy, healthy, and joyful selves.
If this guide "Goldendoodle Separation Anxiety – Tips and Advice" helped you, you might also find these articles helpful:
You can learn more about a dog's anxiety and how to stop it by watching "How to Fix Separation Anxiety With Your Dog" down below: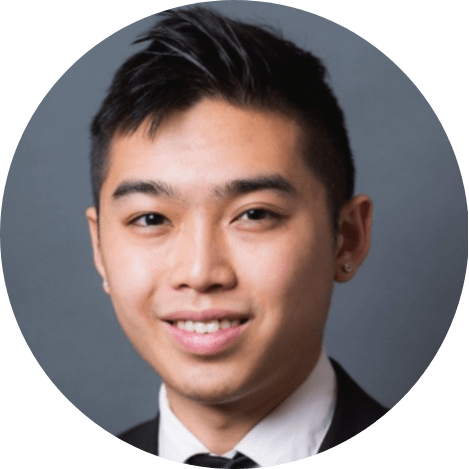 Andy is a full-time animal rescuer and owner of a toy doodle. When he's not saving dogs, Andy is one of our core writers and editors. He has been writing about dogs for over a decade. Andy joined our team because he believes that words are powerful tools that can change a dog's life for the better.
Why Trust We Love Doodles?
At We Love Doodles, we're a team of writers, veterinarians, and puppy trainers that love dogs. Our team of qualified experts researches and provides reliable information on a wide range of dog topics. Our reviews are based on customer feedback, hands-on testing, and in-depth analysis. We are fully transparent and honest to our community of dog owners and future owners.