Are you wondering how to get sticky seeds off dog fur? Sticky seeds such as burrs and grass seeds getting stuck in your dog's fur is a common complaint by owners, especially owners of long-haired breeds and breeds with long floppy ears, such as Cocker Spaniels and Springer Spaniels. They make the post-walk clean-up much more annoying than it needs to be, and they can be pretty hazardous, too. So, let's look at the best ways to remove them.
Before you scroll down this guide, "How to Get Stick Seeds Off Dog Fur," you can check out these other dog-related guides from our team at We Love Doodles: How to Put Ear Drops in an Aggressive Dog and How to Clean a Dog Bed.
Is It Necessary to Remove Sticky Seeds on Your Dog's Fur?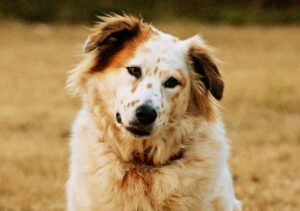 Yes, you must remove sticky seeds from your dog's fur. While it may seem tempting to leave them and let them come off on their own, it doesn't always happen that way. There are sharp and sticky seeds like grass that can penetrate the skin, causing sores, abscesses, and infection, which can be very painful and even require surgery.
They can also get stuck inside the eyes, ears, nose, mouth, and throat, causing sight loss, hearing loss, airway blockages, and more. Seeds that manage to penetrate the skin can also go deeper, piercing the internal organs and spreading bacteria, which can be very painful and lead to infection, permanent organ damage, and even death. It may sound extreme, but it's better to be safe than sorry and remove those seeds from your dog's fur.
How Do You Get Sticky Seeds Off Of Your Dog's Fur?
Here are our top tips for removing sticky seeds from dog fur.
1. Check Everywhere For The Sticky Seeds on Your Dog's Fur
If your dog has seeds stuck in its fur, look everywhere for more, including its eyes, ears, and nose. Be thorough in the furriest parts of their coats, such as under their arms and in-between their toes – and don't forget to check their underside.
2. Start Removing the Sticky Seeds on Your Dog's Fur with Your Hands
The first step to removing seeds from your dog's coat is to pick off the looser ones with your hands. Get your dog to sit down or stand still, and pick off all the ones you can see on the surface of their coat.
Then, use your hands to comb through their fur to see if there are any in the deeper layers of their coat. Using your hands to gently remove seeds from the more delicate areas such as the eyes and ears would be best.
3. Use a Dog Brush to Remove the Sticky Seeds on Your Dog's Fur
If any sticky seeds are stuck in the deeper layers of their fur, use your dog's brush to remove them, preferably a fine-toothed comb if you have one. Brush in the direction of growth and hold the fur at the base to avoid pulling.
4. Add Some Olive Oil or Coconut Oil If The Seed is Seriously Stuck on the Fur
Rub some olive oil or coconut oil around the seed for the seriously stuck seeds to loosen up. Then, massage it into the fur around the seed with your hand, and it should begin to move around, allowing you to pick it out with your hand.
You only need to use a pea-sized amount for each seed, and you can use any dog-safe oil, such as fish oil, cod liver oil, flaxseed oil, or sunflower oil. However, olive and coconut oil are best, as they're very nourishing and not too smelly.
5. Double-Check Your Dog's Fur For Any Leftover Stick Seeds
When you think you've finished, double-check that there are no more seeds in the fur, face, or skin – and be sure to reward them with a treat afterward for their patience.
Related: How to Force Feed a Dog and Best Flea Brushes For Dogs.
How to Remove Sticky Seeds on a Dog's Fur Properly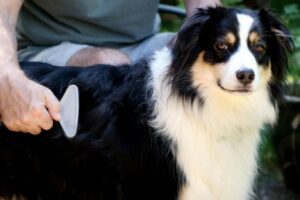 If a seed caught in your dog's fur has made its way down to the skin's surface, you should use a pair of tweezers to remove them by gently grasping it between the tweezers and pulling it out.
If the seed is stuck inside the skin or if half of it breaks off when you try to pull it out, don't force it, as it will hurt your dog, and you could do more damage. Instead, please make an appointment with your vet as soon as possible and allow them to remove it properly.
Dog Brush Recommendations: Best Brushes For Wavy Dog Hair and Best Brushes For Double-Coated Dogs.
When Do You See a Vet About Your Dog's Sticky Seed Problem?
As mentioned above, you should take your dog to see a vet if a seed has become stuck in their skin, but you should also go if one gets stuck in their ears, eyes, nose, mouth, or throat. Symptoms of a seed being stuck in the ears include head-shaking, head-tilting, and ear scratching, while a seed that is stuck in the eye can cause watering, redness, swelling, and discharge, as well as pawing at the eye.
Signs that a seed has become lodged in your dog's nose include sneezing, difficulty breathing, and nasal discharge, while seeds stuck in the mouth or throat can cause coughing, retching, swollen tonsils, and difficulty eating and drinking. Redness, swelling, and excessive licking or scratching at a particular area like the stomach, paws, or genitals suggest a seed is burrowed underneath the skin.
A seed stuck in the paws can also cause limping, and a seed stuck in the genitals can cause painful or bloody urine. An internal injury or infection from seed is rare but very possible. Symptoms will differ depending on the location, but they will generally include pain, discomfort, stomach upsets, a lack of appetite, and extreme lethargy or irritability.
Dog Brush Recommendations: Best Dematting Brushes For Dogs and Best Dog Brushes For Short Hair Shedding.
Can You Prevent Seeds From Sticking to Your Dog's Fur?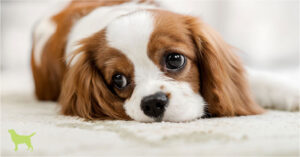 The only way to prevent seeds from sticking to your dog's fur is to not take them for walks in places with long grass, especially in the warmer months, and keep your lawn trimmed and tidy. You can also minimize the chances by trimming your dog's coat and doing post-walk checks after going to places where sticky seeds are likely to be, especially if your dog has long hair or big floppy ears.
Dog Brush Recommendations: Best Dog Brushes For an Undercoat and Best Wet Brushes For Dogs.
Conclusion For "How to Get Sticky Seeds Off Dog Fur"
While it may be a pain, removing seeds from your dog's fur is best to ensure they don't cause more problems. Follow our top tips for the best results and if you're concerned, contact your vet.
If you find this guide, "How to Get Sticky Seeds Off Of Dog's Fur," helpful and informative, you can check out these other guides from our team at We Love Doodles:
You can learn more about removing sticky seeds from your dog's fur by watching "How to Remove Sticky Spiky Grass Seeds on Your Dog's Hair" down below: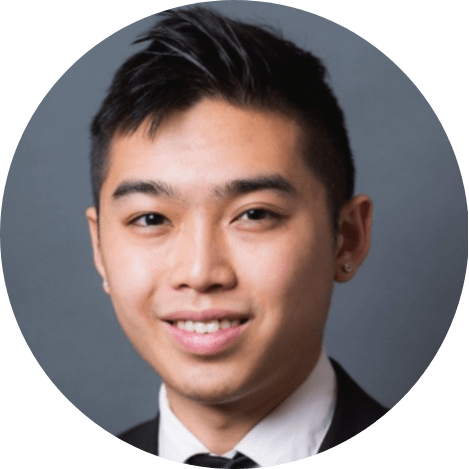 Andy is a full-time animal rescuer and owner of a toy doodle. When he's not saving dogs, Andy is one of our core writers and editors. He has been writing about dogs for over a decade. Andy joined our team because he believes that words are powerful tools that can change a dog's life for the better.
Why Trust We Love Doodles?
At We Love Doodles, we're a team of writers, veterinarians, and puppy trainers that love dogs. Our team of qualified experts researches and provides reliable information on a wide range of dog topics. Our reviews are based on customer feedback, hands-on testing, and in-depth analysis. We are fully transparent and honest to our community of dog owners and future owners.