You're probably wondering: "Why does my dog stand on my chest, and what does this mean?" Well – here's what you need to know. Whether you have a dog of your own or you encounter one every once in a while, dogs can have a unique way of showing their affection. Their body language can clue you in on some important things they are thinking and feeling since they can't use their words to communicate. To communicate with you, they may lick your feet or face. They may pull on their leash that you use to take them out on a walk.
They may snuggle up with you under a blanket. No matter the breed or age, your dog may engage in some entertaining behaviors to let you in on what they are thinking and feeling.  Among these many behaviors is when they choose to stand on your chest when you're lying down. Perhaps you've experienced this yourself. You're lying down either on the floor, the couch, or on your bed, and all of a sudden, your dog approaches you. They put one paw on you and then another. Maybe they stop at just two feet or go all four on you. If they're small enough, it may not bother you so much. If your dog is more giant, you're sure to feel the weight of them on you.
It can either be a fun activity or an instance of pain in your stomach or back. If your dog has developed a habit of standing up on your chest, you may wonder what this behavior is all about. You may be curious about why your dog chooses to treat you like this and what they think as they stand up to you. To help you understand this dog behavior, here we share some common reasons why your dog may stand up on your chest. We'll also explore some helpful steps that you can take to remove this behavior from their habits to improve your relationship overall.
Before scrolling down this article "Why Does My Dog Stand on My Chest," you might be interested in similar questions we answered: Why Does My Dog Lick My Eyes and Why Does My Dog Jump on Me?
Reasons Why Your Dog Stands on Your Chest
When you're lying down somewhere, you may be prone to having a dog stand up on you. Why does your dog choose to jump on you and treat you this way? Our team at WeLoveDoodles will share just a few reasons why your dog stands on your chest.
Related Dog Question: Why Does My Dog Sleep on Me?
1. Affection
Perhaps one of the most common reasons for your dog standing or sitting on you is out of a sense of showing their affection for you. It is a way of them telling you, "I love you." As your dog stands or sits on you, they can feel your breath as you inhale and exhale. This helps to elevate the closeness that your dog feels with you. There's an element of comfort and companionship that exists when your dog sits on you, amplifying the bond you two share. Especially if you've been out of the house for a while and you return home, your dog may be more up for standing on you as a way to show that they missed you.
Your companion standing on you can be mutually beneficial in providing both of you comfort and warmth. As your dog is a great companion, having that close connection can help support your relationship. Just like how a dog burrows up in blankets and pillows, or even your arm, to find comfort, they may also choose to stand on your chest as a way of finding that comfort. If your dog is small enough and sitting or standing on you does not bother you, it may be a positive behavior and habit that your dog is demonstrating. They can even sense when you are upset or not feeling well and respond by standing on you to provide you comfort as needed.
Related Dog Question: Why Does My Dog Lay On Top of Me?
2. Attention
Extending beyond just affection, they may also be looking for some attention. By standing on you, they put themselves front and center of your perspective. In this, they know you have no choice but to pet them as they stand up to you. They may also be communicating that they need to be fed or need to have other essential needs met. Similar to the reason for affection, this reason for standing on your chest may not be stemming out of negative behavior.
Instead, they may have found this to be an effective way to get you to pay attention to them and to satisfy a need that they need to be fulfilled. They may also be asking you to play with them and show them attention, especially if you have been out of the house for a long time. As your dog often misses you when you are not around, they may resort to using this method of standing on you to get your attention and get the tender loving care they need.
Related Dog Article: Reasons Why My Dog Has To Sleep Touching Me.
3. Protection
Your dog may also choose to stand on you out of an act of protection. Especially for breeds prone to acting like guard dogs, they may have an innate need to protect you by standing on you. In this action, the overall feeling of the gesture is not of care and compassion but alertness and attentiveness. They may be hyper-aware of their surroundings and want to ensure that you are well taken care of. This responsibility lies in their pack mentality of protecting their other pack members through this close connection. Especially if they see themselves as the primary caretaker and leader of your family, which can be a dangerous route to go, they may sit on you out of a desire to let you know that you are being taken care of by them.
Related Dog Question: Why Does My Dog Follow Me and Not My Partner?
4. Dominance
Closely associated with the feeling of protection, a dog may also choose to stand on you out of a need to demonstrate their sense of dominance. This is when this habit can get a little bit difficult. In this, they may be communicating to you that they are the ones in charge and know what is going on. Aligning with their pack-related habits, they may also be attempting to rub their scent on you as a way of marking you as theirs. By standing on you, they exert their Alpha dog mentality and deem themselves the pack leader.
In elevating his position above yours, they say through their body language that they are in charge, and you are not. This reason for your dog standing on your chest can be difficult to navigate and is not something to support. In addition to standing on your chest, they may also display other signs of dominance, such as demanding when to go for a walk or engaging in different types of stubborn behaviors. They may not want to listen to you for a specific reason or ignore your direction.
Related Dog Question: Why is My Dog So Clingy?
What To Do If Your Dog Stands On Your Chest
As you determine how you should respond when your dog stands on your chest, it is essential first to understand why they choose to react in that manner. You can either encourage the behavior or divert the behavior, depending on the underlying reason for standing on you. If they are standing on your as a sign of affection and compassion, this behavior may be something that you want to encourage.
Letting them sit on you can support a positive relationship between you two and support their emotional health, especially if you spend several hours of the day away from home and away from them. You can teach your dog to stand on you by pulling its legs up on you. It can also be an effective way for your dog to tell you something that they need. Since they can't use words to communicate what they need, they may resort to using their body language and standing on you as a way to tell you what they need. Please pay attention to these signs and address their needs when you notice them.
However, suppose your dog is standing on you out of an act of dominance and desire for control. In that case, you may need to consider engaging in some behavioral training to correct that behavior. Their assumptions of power and a need to protect you do not support your overall relationship with them. Instead, they need to learn that you are the one that will take care of them in stressful or uncertain times. They should look to you for protection and direction rather than trying to set it out on their own.
Helpful Dog Questions: Why Is My Dog Eating Grass All of a Sudden and Why Does My Dog Drool in the Car?
Conclusion For "Why Does My Dog Stand on My Chest"
Dogs communicate their feelings and emotions in various ways, including through their body language, such as standing up on your chest or sitting on you. While this can be an act of exerting dominance, it can also be a response of love and companionship that they are seeking with you. Use their overall body language to determine whether or not the behavior should be supported or corrected. In identifying negative behavior patterns and finding alternative ways to support their emotional health, you can work together to establish a happy, healthy life for all.
For more helpful dog guides, you can check out:
To learn more about your dog's behavior, watch "11 Proven Ways Dogs Say "I Love You" from BRIGHT SIDE down below: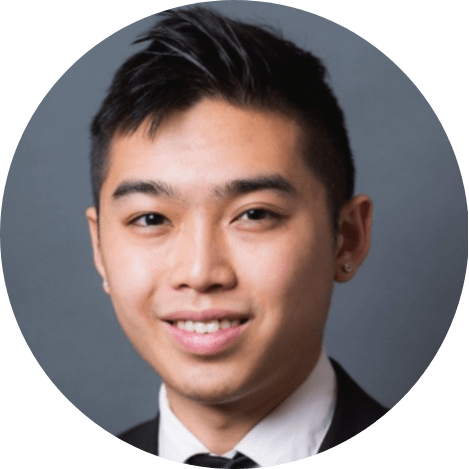 Andy is a full-time animal rescuer and owner of a toy doodle. When he's not saving dogs, Andy is one of our core writers and editors. He has been writing about dogs for over a decade. Andy joined our team because he believes that words are powerful tools that can change a dog's life for the better.
Why Trust We Love Doodles?
At We Love Doodles, we're a team of writers, veterinarians, and puppy trainers that love dogs. Our team of qualified experts researches and provides reliable information on a wide range of dog topics. Our reviews are based on customer feedback, hands-on testing, and in-depth analysis. We are fully transparent and honest to our community of dog owners and future owners.