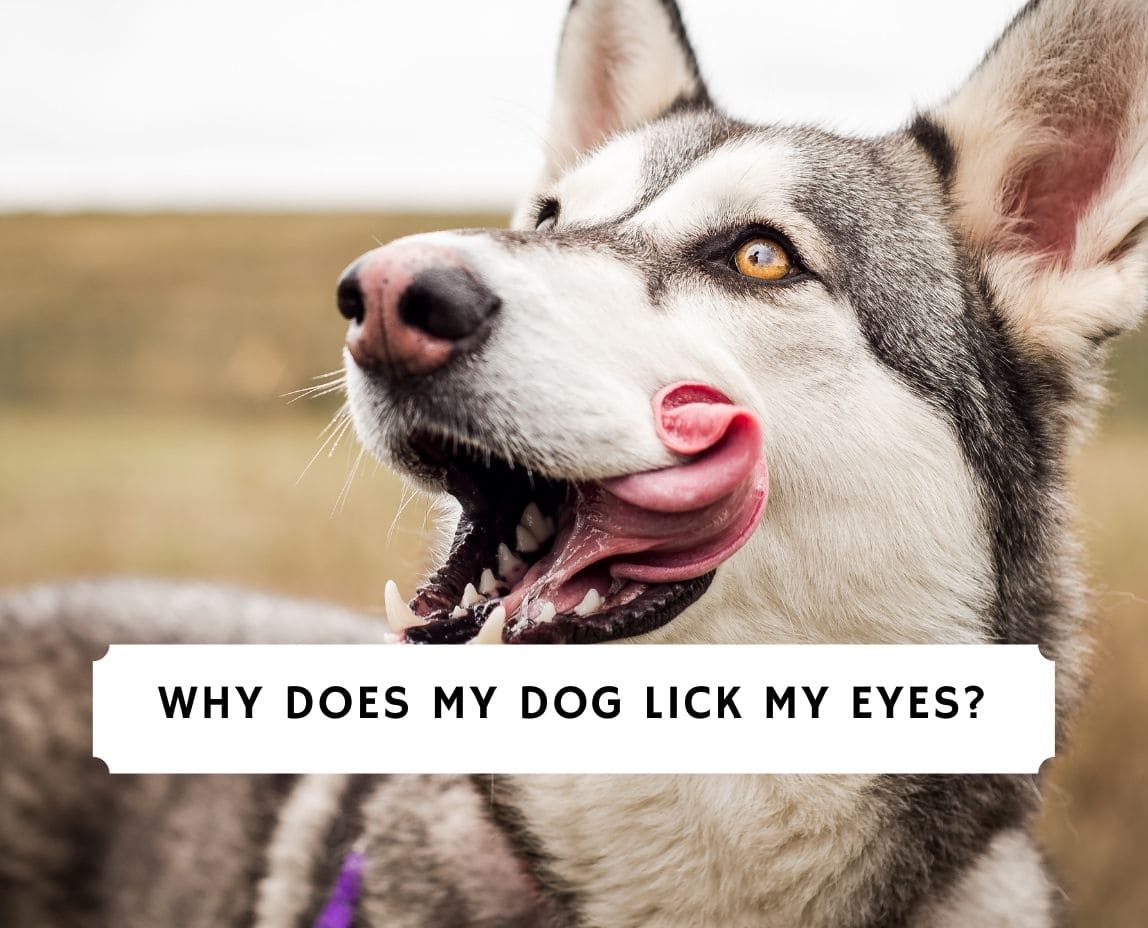 "Why does my dog lick my eyes" is a question many owners are curious about because it's such odd behavior. Dogs often come with some strange behaviors such as licking things not knowing what it is. They can be found doing things like kicking up grass after they poop or even eating grass. They bury bones and other objects out in the yard for only them to find and forget. They even may sniff other dog's rear ends or collect random sticks. While there certainly are biological and emotional reasons for such behaviors, they still can come off as very strange. You may even need to take a quick search online to confirm that their behavior is normal and something to be expected for dogs.
One such odd behavior that does have a reasonably logical explanation is when your dog licks your eyes or at least tries to. While this habit may sound very strange and abnormal at first, dogs do have a purpose for their licking. If you have a smaller dog, they may be more prone to licking you. Whether you've experienced your dog licking your eyes yourself or want to know what to expect when you get a dog, eye-slobbering may be something to expect. To help solve this mystery, here we share some potential reasons why your dog wants to lick your eyes, as well as the next steps you can take to help control their behavior and habits.
Before scrolling down this article, we have other answers about dogs you might be interested in: Why Does My Dog Lick My Arm and Why Does My Dog Lay On Top of Me?
Why Does My Dog Lick My Eyes?
Like sniffing poop (you can give them particular food for less poop) or twitching in their sleep, this habit can be widespread among dogs and is often not a reason to be very concerned. Most often, your dog has a reason for its behavior, as odd as it might be. They range from external factors to more internal thoughts that are exhibited through behavior. Most habits are harmless but can be easily deviated through proper training. Here are some potential examples of why your dog may want to lick your eyes.
Desire to Groom
When puppies are first born, and as they grow, they are often groomed by their mother. The way dogs groom each other is through licking their fur and faces as an act of cleaning. While they grow up, they don't groom each other often; they still may carry that behavior and feel onto their owners. To them, that licking grooming practice is comforting, calming, and is familiar. Of course, they would want to share that same feeling with you as well. Their desire to groom you can be seen as a sign of love and respect in keeping you clean and well cared for. Although it may sound odd to us, their licking of you can indicate their desire to ensure you are taken care of. In addition to their owners, dogs may also lick other dog's eyes as an act of love and desire to groom them. Mutual grooming can be an odd but comforting habit for dogs.
Recommendations: Best Dog Grooming Shears and Best Dog Grooming Kit.
Seeking Attention
Another reason why dogs may lick your eyes is in their search for affection. If they feel like they are not getting enough attention or love from you, they may show their need through licking. If you haven't spent enough quality time with them or don't pet them as often as they would like, they will find their way to let you know of their deficient need. They may also lick out of excitement and joy for the attention they receive. The moment you walk through the door at the end of the day may be their favorite part of the day, and they'll share their joy by licking your face, including your eyes.
Salty Tears
If you're upset and crying about something, your dog may just be looking for a taste of your tears. Human tears contain high levels of salt, which may be tasty and appealing to your dog. Whether they're from laughing or crying, your salty tears may just be licked up by your dog. Beyond licking up your tears, your dog may also be wanting to show care and affection if you appear down and sad. They'll resort to their ways to cheer you up when life seems to get you down. And despite their attempt to wipe away your tears, you may still want a tissue to wipe off the added slobber to your face.
Recommendations: Best Dog Food For Tear Stains.
Anxiety
Like humans, when dogs are stressed, anxious, or bored, they may result in some compulsive behaviors. For some, this means licking. Dogs can experience anxiety for various reasons, whether from being left home alone for too long, a storm outside, or familial disruptions that cause instability.
Recommendations: Best Dog Bed For Separation Anxiety and Best Dog Toys For Separation Anxiety.
Gathering Information
Dogs will often lick and sniff things to learn more about something. They may be curious about what "scent" you have and use their tongue to figure it out. This reason stems from their inquisitive nature in tracking and using their powerful senses to inform others.
Medical Concerns
While most reasons for your dog licking your eyes are natural and harmless (for them, at least), some reasons may be a cause for concern. Licking of the eyes or any other kind of obsessive licking may be related to conditions like allergies, compulsive licking, or other irritations. These medical concerns may be internal or external.
Is a Dog Licking Your Eyes Dangerous?
If your dog has gotten into the habit of licking your eyes, you'll probably want to know whether or not it can be potentially harmful to your skin and eye health. As saliva from dogs contains antimicrobial features, getting saliva on you often won't cause many problems. However, it may help you feel cleaner if you wash your eyes and face water afterward. This could be especially important if your dog is sick or not feeling well. Keep in mind that some diseases can be passed from dogs to humans.
How To Prevent Your Dog From Licking Your Eyes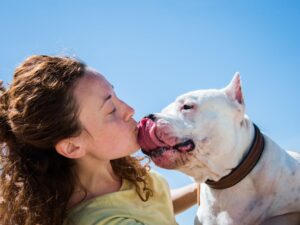 If you've become bothered by your dog's constant need to lick things like the floor, including your eyes, there are some helpful steps you can take to limit or stop their behavior. However, to do so effectively, you should know what the underlying reason for their licking is. Tracking the time when they tend to lick your eyes or what activity they are doing that spurs on the licking can help you identify a potential cause. Identifying any other odd behaviors and habits that occur alongside the licking may also help give you an idea of the reasoning behind it.
For example, if it's out of affection, perhaps you can direct toward other ways to show their love for you, such as snuggling up or leaning up next to you. If it's because they feel they need to groom you, you can stop the behavior through training. If it's out of boredom, give them another form of entertainment that they may enjoy. If they're looking for attention, be sure to be more intentional about petting them and playing outside with them.
Training and teaching them that licking your – or your family or friends' – eyes is not good behavior may come with time. Please do your best not to encourage such behavior and instead direct their energy to more pleasurable and cleaner approaches. Using positive reinforcement when your dog chooses not to lick is also very effective in redirecting their behavior. Stopping excessive licking before it gets out of control can also help your dog better behave. However, if it's due to an underlying medical condition or high anxiety, you may need to seek additional resources. Be sure to notice and understand any other side effects or symptoms that may point to a more significant problem.
Conclusion For "Why Does My Dog Lick My Eyes"
While a dog licking your eyes may not always be the most enjoyable experience for you, most often, it's a way that they communicate with you, whether they need something or wants to show you some love. When your companion licks you, it's most likely a way for it to communicate and display its affection.
For more dog-related questions and answers, check out:
To learn more about a dog's licking behavior, watch "Why Do Dogs Lick People" from BARK down below: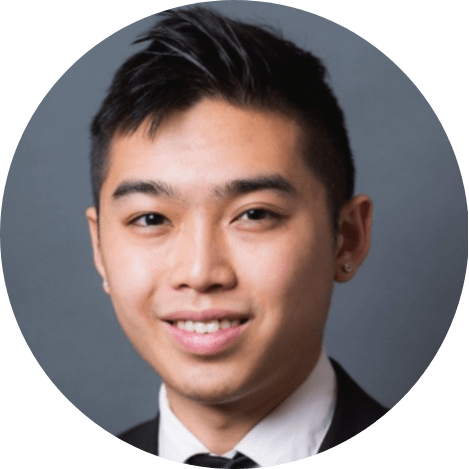 Andy is a full-time animal rescuer and owner of a toy doodle. When he's not saving dogs, Andy is one of our core writers and editors. He has been writing about dogs for over a decade. Andy joined our team because he believes that words are powerful tools that can change a dog's life for the better.
Why Trust We Love Doodles?
At We Love Doodles, we're a team of writers, veterinarians, and puppy trainers that love dogs. Our team of qualified experts researches and provides reliable information on a wide range of dog topics. Our reviews are based on customer feedback, hands-on testing, and in-depth analysis. We are fully transparent and honest to our community of dog owners and future owners.