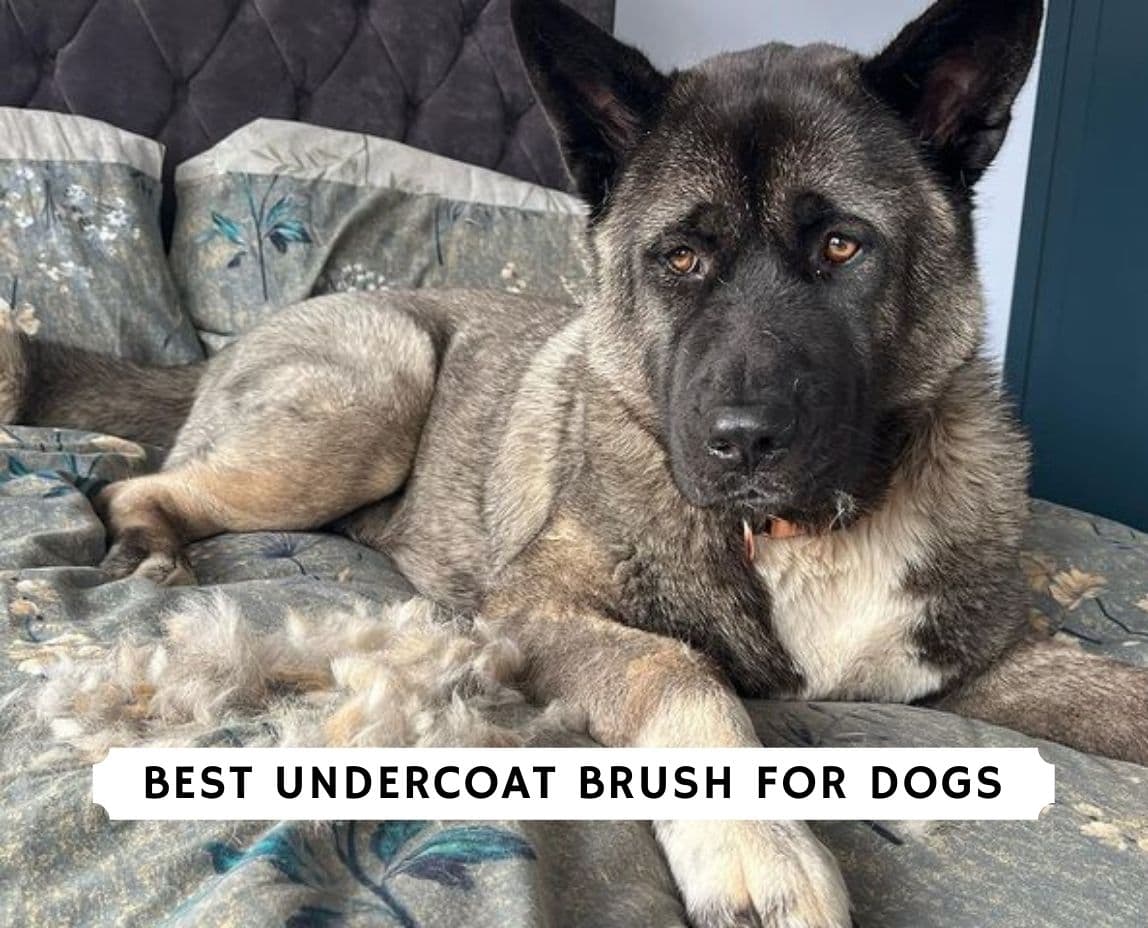 Dog breeds like the Husky, Pomeranian, and German Shepherd all have undercoats that must be brushed frequently. A good undercoat brush will save you time and effort to keep your dog's coat healthy and free of tangles. This buying guide will look at the best undercoat brushes for dogs.
When the seasons change, so does your dog's coat. Dogs shed their heavier winter coats in the spring and summer in preparation for the warmer weather. This is when you'll need to start brushing them more often to help remove the loose hair. The best undercoat brush for dogs will depend on the type of coat your dog has. In this review for the best undercoat brush for dogs, we'll give you our top picks. But first, you'll need to identify your dog's type of coat!
Long Hair Double Coated
Breeds like the German Shepherd will need a brush to reach down to the undercoat and remove the shedding hair. The FURminator deShedding Tool is one of our top picks for this type of coat. It has stainless steel teeth penetrating deep into the coat and removing loose hair without damaging the skin. Without the right brush, you're bound to find hair all over your house, clothes, and furniture.
Short-Hair Double Coated
Dogs with a double coat have two layers, a "guard hair" layer and a "downy" undercoat. Breeds in this category include the Chow, Samoyed, and the American Eskimo Dog. The outer layer of hair is there to protect the dog from the elements, and the undercoat is what keeps them warm. 
The outer layer also sheds, but not as much as the undercoat, acts as a cooling layer and allows air to circulate near the skin. For dogs with shorter hair, like the Akita, Shiba Inu, and the Alaskan Husky, we recommend the Hertzko Self Cleaning Slicker Brush. 
This brush has firm bristles that can reach down to the undercoat and remove shedding hair without damaging the skin. The best part about this brush is that it has a self-cleaning mechanism that will remove the hair from the brush after each use.
The Best Undercoat Brush
You'll need a brush to reach down to the undercoat and remove the shedding hair without damaging the skin. Undercoat brushes are essential for keeping your dog's coat healthy and free of tangles. The best brush for your dog will depend on the coat type. 
If you find a mat in your dog's coat, you should spray it with a natural, plant-based detangler (below) or a spray leave-in conditioner for pets. You should then try to comb it out starting from the outer edges and working in small sections. If the mat doesn't break up this way, you may need a mat cutter to break it up into smaller pieces. 
After that, use a steel comb to thoroughly comb out the area and then use a fine slicker brush to go over that area. This avoids cutting out the mat and having a gap in your dog's fur that scissors can cause.
What is a slicker brush?
Slickers are used during shedding periods and have tines set at two different lengths. The slicker grooming brush features tines made of thin wire, which may be sharp if misused. These tines are mounted on a soft backing that is also flexible. Slicker brushes can be found in two styles, usually square or rectangular. 
As with all brushes, before using them on your furbaby, tun them along your arm to test pressure levels to avoid hurting your pup. The slicker is excellent for removing dead hair and allows for an excellent finished appearance. Nonetheless, you'll also need a gentler brush like the pin brush for everyday grooming. Soft bristle brushes do best with short-haired dogs with smooth coats.
Brushing with a slicker brush needs to be done gently and with extra care, or you will scratch your dog's skin. Use short, gentle strokes with slickers and avoid using them on your dog's head, face, ears, and ears and all sensitive areas. You should slowly use the slicker by going in the same direction as the fur grows to remove loose hair. The pressure should be super light. 
In a rush? Here are the top picks!
Product
Best Overall
We Love Doodles Slicker Brush
Best For Shedding
Dog Undercoat Rake
Best For Short Hair
FURminator Deshedding Tool
Image
The We Love Doodles slicker brush is the best undercoat brush for your Doodle, Poodle, Aussie Doodle, and Golden Doodle. The takeaway from this brush is that it's designed for breeds with long hair and does a magnificent job with excess dog hair shedding. 
Each pin is bent and angled (at approximately 45 degrees) to lessen the chances of accidental scratching. The handle is a non-slip ergonomic handle and is 7 inches long, allowing for comfortable grooming. The We Love Doodle slicker brush works well on all dog breeds with medium to long hair. It penetrates through dense and long coats, gently removing more dog hair than traditional slicker brushes.
Features
Blue wood color
Eco-friendly and cruelty-free
Each pin is bent and angled (at approximately 45 degrees) 
Crafted with recycled wood and non-toxic premium paint. 
Non-slip ergonomic handle
Best NEW slicker brush for all Doodle breeds
The best undercoat rake is the one by We Love Doodles. It features 34 stainless teeth that will catch all shedding hair and remove any tangles in your dog's coat. It has a double-sided design, which makes grooming an undercoat easy and fast.
It is also designed not to pull your dog's hair or scratch your dog's coat. The rounded pins won't irritate a dog's skin and it will glide through the undercoat with small blades. If you or your dog don't like the rake, it comes with a money-back guarantee so you can simply return it.
Features
100% satisfaction guarantee or your money back
Great for shedding undercoat hair
Remove tangles and mats as well
Budget-friendly
The best brush for a double coat is the Furminator Undercoat de-shedding tool. This brush has stainless steel teeth that can reach down to the undercoat and remove loose hair without damaging the skin. This style is for hair that's longer than 2″.
The best part about this brush is that it has a self-cleaning mechanism that will remove the hair from the brush after each use. The Furminator features over 22,800 positive reviews and is available in three sizes and numerous styles for all dog breeds with short and long hair. This brush decreases shedding by up to 90% and is ideal for use during the shedding season.
Features
Ergonomic handle for comfortable handling
Lightweight at 6.2 ounces
For coats longer than 2 inches.
FURejector button releases hair with ease
Deshedding tool for large (51-90 lbs.) dogs with long hair
Decreases shedding by up to 90%
Three sizes: small, medium, and large
Different styles for long and short hair
Over 22,800 positive reviews
For dogs with shorter hair, like the Akita, Shiba Inu, and the Alaskan Husky, we recommend the Hertzko Self Cleaning Slicker Brush. The plastic tip bristles are gentle on your dog's skin but firm enough to remove tangles and mats.
This brush has firm bristles that can reach down to the undercoat and remove shedding hair without damaging the skin. The best part about this brush is that it has a self-cleaning mechanism that will remove the hair from the brush after each use. The retractable bristle system allows the bristles to be stored when unused to avoid damage during travel or storage.
This product has over 71,700 positive reviews and is one of today's most popular pet grooming undercoat products. This is also another lightweight product weighing 3.02 oz., making grooming easy.
Features
Numerous sizes
Soft ergonomic grip handle for ease of use
Plastic tip bristles for gentle and safe grooming
Recommended for all coat types
Bristles are fine bent wires designed to penetrate deep into the coat 
Over 2 million brushes sold
The best all-purpose dog brush is the Burt's Bees for Dogs Double Sided Pin & Hemp Bristle Dog Brush. This brush has two sides, one with pins and one with bristles, that can be used for different coats and stages of shedding. The pins are great for removing loose hair, and the bristles help distribute the natural oils in the coat. 
The bamboo handle is comfortable to hold, and the brush is available in two sizes for all dog breeds. Burt's Bees uses bamboo and recycled materials for a memorable grooming experience. 
The takeaway from this dog grooming brush is that it's gentle enough to use daily. The rounded hemp pins help remove tangles, knots, dirt, and dander, while soft bristles gently remove shedding hair and create shine. 
This brush weighs in at 8.01 ounces and adds tons of luster to your pet's coat using natural, eco-friendly materials. Keep in mind that the pin brush side should only be used to remove tangles, while the hemp bristle side can be used daily to remove shedding hair and add sheen to coats.
Features
Bamboo & recycled materials
Natural and eco-friendly
Gentle and healthy
Hexagonal shape
Multi-purpose brush
We're always looking at safe, natural, and gentle grooming alternatives if you're like us. Burt's Bees has a long-standing commitment to animal care, and this double-sided pin and hemp bristle dog brush is no exception.
Made with responsibly sourced pins and hemp bristles, this dog brush is designed to help reduce shedding and remove mats, knots, and tangles from your pet's coat. The ergonomic design is easy to use and helps to minimize wrist fatigue during use. Gently remove loose hair and debris while invigorating your pet's skin and coat with this natural dog brush.
Features
Multi-purpose brush
Double-sided grooming brush
Eco-friendly and gentle
Dual sided
Bamboo and recycled materials
An all-natural pet grooming product
Suitable how to use grooming instructions 
This two-in-one vegan dog brush is perfect for short-haired dogs and cats. The boar's hair bristles help remove shedding and create a soft coat shine, while the rubber massage bristles provide a soothing massage during bathing. 
This is an excellent alternative to a metal bristle brush. The soft rubber tips on the shampoo silicone brush side quickly scrub away dirt, dead skin, and loose fur, while the soft boar bristles brush easily knocks off loose hair and removes dust and dirt. This is also a natural bamboo brush with an easy-grip bamboo handle that features a glossy surface. The brush is environmentally friendly and biodegradable.
Features
Eco-friendly and biodegradable
Easy grip bamboo handle
Boar bristles
Multi-functional and dual-sided
Use on wet or dry hair.
Lightweight at 5.93 ounces
Best Detangling Spray To Use With Brush
As a pet parent, you want nothing but the best for your furry friend. That's why you'll love John Paul Pet Lavender Mint Detangling Spray! This unique formula is specifically designed to nourish and moisturize dry, unruly fur. 
It's also great for detangling knots and tangles. Plus, the lavender mint scent is refreshing and relaxing. Your pet will love being pampered with this luxurious spray! We like this detangling spray for grooming because it's pH-balanced for pets and contains the same all-natural botanicals as our PAUL MITCHELL brand for humans.
Features
Lavender mint scent
It contains thirteen conditioning agents, including oatmeal, chamomile, and sweet almond oil
Panthenol effectively coats and penetrates strands 
All-natural botanical extracts
Soothes the senses and imparts a gentle lavender scent 
pH balanced for pets
Tested on humans first
Cruelty-free and eco-friendly
No parabens
Best All-Natural Grooming Wipes
These hypoallergenic, plant-based, and compostable dog wipes are made with USDA-certified 99 percent bio based ingredients, gentle on your pup's sensitive skin. They're also deodorizing to keep your furry friend smelling fresh and clean. Plus, at 8×8 inches, they're large enough to cover your dog's entire body.
Use these wipes to clean your pup's paws after a walk, wipe away muddy paw prints from your floors, or keep them handy for a quick clean-up before cuddling. They're also great for cleaning up after walks, playtime at the park, or when your dog gets dirty. We like these because they're gentle enough for everyday use and strong enough to tackle tougher messes.
If you're looking for an eco-friendly and hypoallergenic option for cleaning your dog, these Earth Rated wipes are great. And at just $9.49 for a pack of 80, they're a great value.
Feature
All-natural plant-based
Hypoallergenic pet body wipes
USDA-Certified 99% bio-based.
Two size options: 100 or 400 count
Cruelty-free (not tested on animals)
Alcohol-free
Hot Spots
Dogs with double coats often suffer from acute moist dermatitis, so when grooming, always inspect your dog's skin and coat to avoid brushing over wound-like areas that will be super sensitive. Hot spots can be triggered by lack of grooming, fleas, allergies, infections, and irritants. They also tend to appear right before heavy shedding sessions. This is because dead hair and moisture get caught up against the skin. 
Grooming frequently can deter hot spots from developing. As usual, reach out to your vet for treatment if your dog is prone to hot posts. Not only are these excruciating, but they will need to be treated for a few weeks with a topical ointment and possibly antibiotics or corticosteroids to prevent infection.
Groom Like A Pro: How to use the FURminator deShedding Tool
Whichever brush you choose, make sure to brush your dog regularly to remove shedding hair and keep their coat healthy. If you're tired of vacuuming up dog hair, consider investing in an undercoat brush.
Conclusion For Best Undercoat Brush For Dogs
Keeping your dog well-groomed helps mitigate some household issues that can come with pet ownership, like shedding and odors. Furthermore, it's a great way to bond with your animal companion. 
Regular grooming also helps you check for any health issues, like skin infections or parasites. The quality of the brushes you purchase makes a huge difference in the comfort of grooming and coat maintenance. Mats will develop if you don't regularly brush out your dog's coat. 
If you have time, brush your furbaby every day to distribute coat oils, prevent matting, and maintain optimal coat health. If you can't brush that often opt for a few times a week to avoid tangles in long-coated dog breeds.
Consult your veterinarian or a professional groomer if you're unsure how often to groom your dog. They can help you create a grooming schedule tailored to your pet's individual needs. A well-groomed dog is a healthy dog. So take the time to brush your dog's fur, trim their nails, and give them a bath when needed.

Claudia Bensimoun is a writer who specializes in dog content and veterinary topics! Aside from writing for We Love Doodles, Claudia also writes for other major dog blogs like Fido Friendly, Animal Wellness Magazine, and the United States Dog Agility Association (USDAA). She has a ghostwritten over 50 different dog e-books. Her passions include animal welfare, veterinary research, and wildlife conservation.
Why Trust We Love Doodles?
At We Love Doodles, we're a team of writers, veterinarians, and puppy trainers that love dogs. Our team of qualified experts researches and provides reliable information on a wide range of dog topics. Our reviews are based on customer feedback, hands-on testing, and in-depth analysis. We are fully transparent and honest to our community of dog owners and future owners.