If you're trying to figure out how to deworm a puppy naturally, then this guide has everything you need to know. Have you recently adopted a puppy? Has your beloved pet given birth to a litter? Puppies are especially vulnerable to parasites, which can affect their health. If you're looking for tips to deworm a puppy naturally — without using harmful medication — then you've come to the right place. Before you start looking at solutions, you need to understand what you're dealing with.
Before you scroll down, here's a common question many people have after deworming: How Long Will My Puppy Poop Worms After Deworming?
How Do Worms Infect Your Puppy?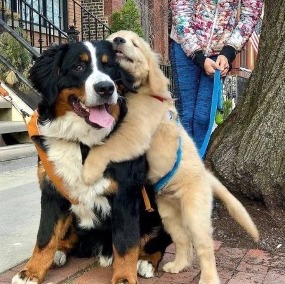 If you're reading this – chances are, your puppy already has worms and other parasites in his intestines. These tiny yet deadly intruders are present in the soil, feces, dirty water, insects, and raw meat. Your puppy could easily catch them by playing in unhygienic surroundings or by coming into close contact with infected dogs. Newborn puppies may even get worms from their mother before they are born or while nursing.
Dog Health-Related Article: What To Expect After Neutering Your Dog?
Common Intestinal Parasites and Worms in Puppies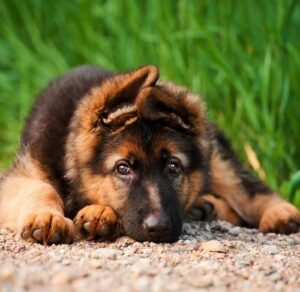 Here are some of the most common parasites in dogs, along with the diseases they cause.
Hookworms: These are the same invisible worms that infect humans. Your pet can get hookworms through contaminated food or water as well as skin contact with an infected dog. These parasites feed on blood, which results in anemia, lethargy, sudden weight loss, and lack of appetite in puppies. Black stools or feces with streaks of blood are also telltale symptoms.
Heartworms: As the name suggests, these worms are found in your dog's heart as well as the lungs. They are the most dangerous worms on this list because they can cause severe damage or death if not treated in time. Mosquito bites are the entry points for these parasites. Watch out for symptoms like loss of weight, poor appetite, fatigue, or persistent coughing.
Tapeworms: Tapeworm larvae are found in meat, fleas, and stools. If you want to verify a tapeworm infection, examine your puppy's stool and anus. These worms may appear like tiny pale grains or segments. Another sign is that your puppy is wolfing down his food without gaining much weight. You probably won't notice other symptoms, but these parasites will consume nutrients necessary for growth.
Whipworms: Whipworms can survive in most environments for years, so they are difficult to avoid. Soil contact is pretty regular for puppies, so they quickly catch these parasites. Once they get inside the body, whipworms move to the intestines, where they continue to feed on your puppy's blood. They cause diarrhea, inflamed bowels, mucus in stools, and weight loss.
Roundworms: You can easily spot these spaghetti-like worms in your puppy's vomit or stools due to their size. They live in the intestine, where food is abundant. Symptoms include a distended belly, weight loss, vomiting, weakness, diarrhea, and malnourishment. They are usually transmitted from a mother to her litter.
Giardia: These microscopic yet harmful organisms live in your puppy's stomach. They enter the body when your pet eats food or drinks water contaminated by infected stools. If your puppy has coccidia, he may pass it to other dogs in the household. Common symptoms include weight loss, gas, fatty stools, and vomiting.
Coccidia: These single-celled parasites are similar to giardia, as they are also passed on through water or food tainted by feces. The key difference is that a coccidia infection causes watery and stinky diarrhea, which may also take on a greenish or bloody tint. Older dogs may not show any symptoms.
Symptoms of Intestinal Parasites in Puppies
Worms in puppies are especially dangerous because their bodies and immune systems are not yet fully developed. As most worms will feed off the nutrients in a puppy's blood, your pet will eventually become weak and more susceptible to other diseases. Having intestinal parasites will also stunt a puppy's growth.
If you see these symptoms in your puppy, visit the vet as soon as you can.
Diarrhea
Bloating
Dehydration
Coughing
Weakness
Scooting
Indigestion
Vomiting
Changes in the coat or fur
Changes in appetite
Black or tar-like stools
Only a vet can confirm infection by looking for parasites or their eggs in your puppy's stools. Make sure you bring a fresh sample so that your vet can identify the specific worm or parasite. Aside from addressing these symptoms, your vet will also instruct you on how to deworm your puppy.
Why Should You Deworm your Puppy Naturally?
There are many medications available for deworming puppies, but these can wreak havoc on your puppy's hormonal balance and further weaken their immune system. Pharmaceuticals can also cause an imbalance in gut bacteria. Side effects include diarrhea, vomiting, and weakness. Many dog owners prefer to deworm their pets naturally. Not only are natural remedies less harmful, but they are also more accessible and affordable. Fruits, vegetables, and such organic products cause fewer side effects.
Dog Health-Related Article: Spaying or Neutering Your Doodle – What You Need To Know
Natural Ways to Deworm Your Puppy
Always consult a vet before giving your puppy any natural or pharmaceutical deworming remedy. You need to know the specific worm or parasite that is making your dog ill. Otherwise, these remedies may not work as promised. The dosage would also differ according to the weight and breed of your pet.
Apple Cider Vinegar: It kills worms while also improving your puppy's digestion and coat quality. Make sure you use this specific kind of vinegar, as it is known to increase alkaline levels in the stomach. Parasites and worms do not thrive in an alkaline environment. Add 1/4 teaspoon to your puppy's water daily.
Pumpkin Seeds: Pumpkin seeds help in removing worms from the stomach due to their cucurbitacin compounds. These amino acids paralyze and attack intestinal parasites. Never give your puppy sweetened or salted seeds. Instead, grind them into powder or use unflavored whole grains. Offer ¼ teaspoon per 10 pounds of a dog's weight twice a day.
Fermented Foods: Fermented foods work like apple cider vinegar in removing the parasite by strengthening gut flora. Use non-dairy ingredients as your puppy may be intolerant to lactose. Kefir, kimchi, kombucha, and beet kvass are some fermented foods you could try. You could make a DIY vegetable mix and ferment it at home as well.
Black Cumin Seeds: These are among the safest ingredients to treat your puppy's worms. Not only that, but they are also effective against several types of parasites. Add ½ to 1 teaspoon of whole seeds to dog food once a day. Use half that amount if you are giving black seed oil.
Vegetables: Fiber-rich vegetables are good for removing worms and keeping the digestive tract clean. Try to give your puppy shredded pieces so that they can digest them better. Carrots, bananas, apples, papaya, coconut, beetroot, and cucumber can help keep your pet free from worms. You can also give your puppy vegetables in juice form.
Fruits: Fruits rich in vitamin C have a high number of antioxidants, which help eliminate worms by boosting the number of good gut bacteria. They also keep your puppy well-nourished.
Parsley Tea: This herb has anti-parasitic properties. Add ¼ cup of fresh leaves to one cup of boiling water, then brew for 5 minutes. Give your puppy this tea for up to 10 days.
Bone Broth: This clear, savory liquid is as suitable for puppies as it is for humans. It has anti-inflammatory and deworming properties. Bone broth is a rich source of nutrients, so you can give it to a pet recovering from an illness.
Turmeric: Turmeric is a superfood with antioxidant, anti-parasitic, and anti-inflammatory qualities. It removes infection-causing parasites, repairs the digestive lining, and soothes internally. Add ½ teaspoon of turmeric paste to wet dog food for up to 14 days.
Coconut: Coconut oil works against internal parasites like giardia. This versatile ingredient boosts the good bacteria in the puppy's stomach and strengthens gut health. You can also sprinkle dried coconut in dog food.
Wormwood: You can use this herbal remedy to deworm your puppy. Wormwood comes in powder or tincture form. However, you need to consult a vet first before giving it to your puppy.
Cloves: This spice kills both adult parasites and their eggs, making it a highly effective remedy. Crush ½ to 1 clove and sprinkle it on your puppy's food. Never give cloves to a pregnant dog.
Garlic: Normally, you should avoid giving garlic to dogs as it is highly toxic to them in large doses. But in small and controlled amounts, this kitchen staple can quickly deworm your pet. Give half a clove of chopped fresh garlic to a puppy weighing 10 to 15 pounds.
Dog Health-Related Article: Can Cats Get Parvo From Dogs?
How To Prevent a Puppy from Getting Worms?
You can't isolate your puppy in a bubble, so what can you do? These proven measures go a long way in keeping your pet safe and healthy.
Access to healthy food and water
Bathing your puppy regularly.
Ensuring the pets that interact with your puppy are clean
Keeping their play and sleeping areas sanitary
Disposing of stools immediately
Cleaning their toys and gear regularly
Frequent checkups
Dog Health-Related Article: Can Dogs Get Parvo Twice?
Conclusion For "How To Deworm a Puppy Naturally"
It pays to be observant when you are a pet owner. If caught early enough, worms and other parasites can be treated effectively with natural remedies. Regardless of the situation, if you notice your puppy doesn't seem right, please visit a veterinarian immediately. Our team at WeLoveDoodles wishes you and your puppy companion the best.
For more health-related content, read:
To learn more about this topic, watch "How To Deworm a Puppy Yourself At Home" from Top Dog Tips down below: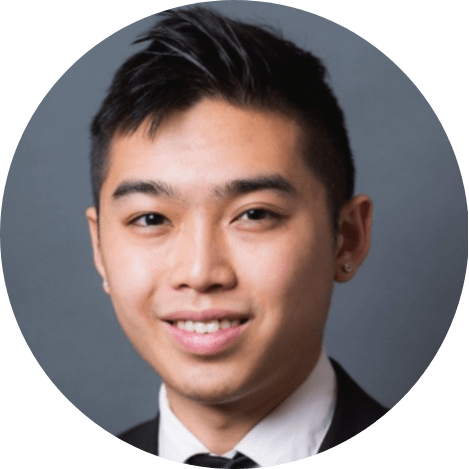 Andy is a full-time animal rescuer and owner of a toy doodle. When he's not saving dogs, Andy is one of our core writers and editors. He has been writing about dogs for over a decade. Andy joined our team because he believes that words are powerful tools that can change a dog's life for the better.
Why Trust We Love Doodles?
At We Love Doodles, we're a team of writers, veterinarians, and puppy trainers that love dogs. Our team of qualified experts researches and provides reliable information on a wide range of dog topics. Our reviews are based on customer feedback, hands-on testing, and in-depth analysis. We are fully transparent and honest to our community of dog owners and future owners.