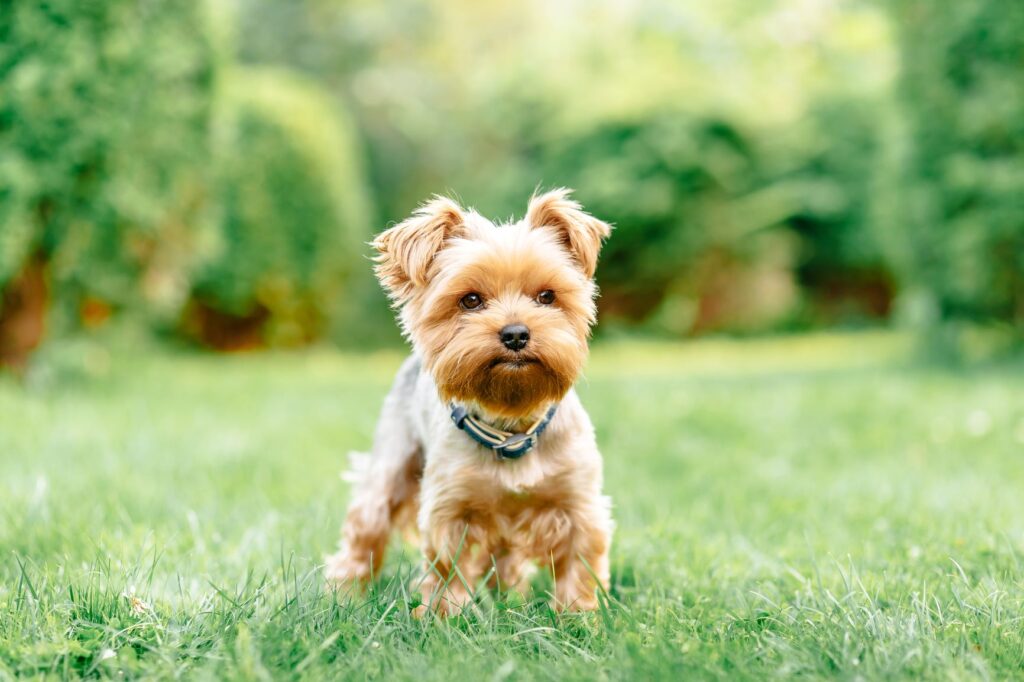 Some dogs simply love being mischievous and testing the limits of their owners. The most common negative behaviors that small dogs do are chewing, digging, and barking.
Many dogs can be trained not to do these behaviors with constant reinforcement from their owners. However, this is not a simple task, and many owners train their small dogs half-heartedly or give up when they don't see immediate results.
However, an untrained small dog can lead to worsening behaviors. Additionally, the older your dog gets, the harder it will be to train these behaviors out of them.
Thus, it's best to start them young when they're still small puppies. Young dogs are more impressionable and will be able to learn through negative reinforcement quicker and easier than older dogs. Thus, a training collar can help.
Today we've taken the time to find the five best training collars for small dogs and puppies. Use one of these collars to help reinforce that some behaviors are unacceptable, such as barking and chewing.
In a rush? Here are the top picks!
Product
Best Overall
Pet Resolve Dog Training Collar with Remote
Budget Pick
Enrivik Small Size Dog Training Collar with Remote
GoodBoy Mini No Shock Remote Collar for Dogs
Image
Our favorite training collar for small dogs on the market is by Pet Resolve because it has three different methods of training. You can choose between loud beeps, vibrations, and shocks to deter your dog away from their bad behavior. Three modes allow you to discover which is the most effective for your dog.
The shock modes, both momentary and constant, have 10 intensity levels to work up, giving you plenty of time to train your dog's bad behavior away slowly. The back collar is waterproof and durable, which is also ideal for smaller dogs who will often drag their collars along the floor or in the rain.
This remote training collar for small dogs allows you to train up to three dogs at once, thanks to the multiple channels. The collar and remote works up to 1312 feet away from you, which is ideal for both the indoors and outdoors.
This collar is adjustable and will fit dogs weighing around 15 pounds, making it ideal for dogs of all sizes. You can cut off the excess collar material once you've measured it on your small dog so that there is not much leftover collar being dragged around.
Additionally, you can remove the shock mode if you'd prefer a more humane training collar, which will prevent you from accidentally shocking your dog. The best feature about this training collar is that it can automatically detect when your dog is barking and provide immediate feedback. Thus, you don't always have to be around for this bark collar to work.
The Mini Educator training collar is generally considered to be one of the best shock collars on the market. It has 100 levels of stimulation that can "lock and set" in place. Additionally, the receiver is one of the smallest on our list at only 2.4 ounces. Thus, you can use it on any small dog that weighs over 5 pounds and it won't be bulky around their neck.
The receiver is also waterproof, made in the USA, and contains three different modes that can easily be switched via the transmitter. If you have a small dog breed and you're looking for a training collar that isn't bulky, you should check out the Mini Educator.
Next up is a collar specifically designed for smaller dogs from 5 to 15 pounds in weight. The adjustable training collar fits dogs with neck sizes as small as 8 inches and reaches all the way up to 26 inches. This is ideal for dogs as small as Chihuahuas and Jack Russell's.
This training collar uses either vibrations, static shock, or sounds to train bad behaviors out of your dog. You can use these to find the best method of training your dog without having to spend more money on multiple different collars. Typically, more sensitive dogs will react to the beeps or vibrations. In extreme cases, you'll need to use the static shock to train your dog.
The thin strap is incredibly comfortable for your small dog's neck, even when they're running and playing. The range is an impressive at 1000 feet, which means that you can use this e-collar during walks when your dog is far away from you. If you're looking for a small dog training collar with a remote, this should definitely be one of your top options.
Moving onto a collar that really doesn't have a shock feature is the GoodBoy Mini. This is a small dog vibration training collar that also has beeping modes to train out negative behaviors.
Some people want a collar that does not have a shock feature to prevent accidental shocks. This is a great option that works effectively and is cheaper in price.
This vibration collar is incredibly small, both in circumference and thickness. The collar can fit dogs as small as 5 to 15 pounds. Additionally, the training collar is incredibly thin to avoid it rubbing or making your dog feel uncomfortable.
There are nine intensity levels for the vibration feature and one for lights. The range is 1000 feet which is ideal for training even when you're far away from your dog. The battery lasts for up to 16 hours on a single charge, so you won't have to worry about charging it every night. If you're looking for a vibration training collar for your small dog, you should consider this option.
The eXuby shock collar is named the smallest dog shock collar in the world. It is ideal for puppies and small dog breeds that need quick and effective training.
The electrode part of the shock collar is smaller than the market average to keep your dog happy and comfortable while they're wearing their collar. It won't overly stimulate or hurt your small dog when used appropriately. For any shock collar, you want to start on the lowest setting and gradually work your way higher until your dog reacts to the shock.
You can easily choose between shock, vibration, and sound training modes, depending on how your dog responds to the stimuli. There are nine levels of intensity for you to utilize during the training process which should remove the behavior once and for all.
The remote has a sleek look with easy-to-use buttons for quick training purposes. There's no use having a remote that requires multiple button presses to use the training mode on your dog. 
The eXuby collar gives a quick response to ensure that your dog knows the behavior that is bad. If you have a micro, teacup, or miniature dog breed that needs immediate training, this is a great shock collar.
Finally, the DOG CARE collar has three training modes, including shock, vibration, and sounds. This bark collar can help you train your dog to stop biting, chewing, digging, and barking. No matter the negative behavior, DOG CARE can help you with training.
The security keypad lock allows you to lock the collar so that your dog does not have to experience accidental shocks from the collar. We love this feature as it helps keep your small dog safe from being harmed when they're not doing anything wrong.
Adjust the training modes from 1 to 10 levels to aid you in the training process. This will prevent your dog from getting used to the training collar and not being phased by the shocks or vibrations.
This is another adjustable collar for small to large dogs, and you can trim the excess fabric off for your small dog. The only downside to this small dog training collar is that it doesn't have an LCD display on the remote.
How to Choose a Training Collar for Small Dogs
Now you know the best that the market has to offer, but how do you know which is the best small collar for your dog? 
Below we'll be looking at the most important factors to consider when purchasing a small dog training collar.
Types of Training Collars
When you think of training collars, you might automatically think of shock collars. However, these are not the only types of training collars that you can purchase.
Some people believe that shock collars are unethical and steer clear of them. This is one of the reasons why they're being pulled off of the shelves. However, static shocks are still a reasonable method of training bad behaviors from your dog. It also will not hurt your dog when used appropriately.
Other types of training collars include vibration collars, which deliver a vibration to your dog's neck rather than a shock. These are considered more humane than static shocks and less dangerous.
A light collar is another option that shines a light to distract your dog whenever they misbehave. Additionally, some training collars come with an ultrasonic beep option that shocks your dog's ears rather than their skin. This is also used to distract your dog from bad behavior. This training method is known as redirection.
The final option is a collar that sprays water or citronella onto your dog in a quick burst. This will surprise them enough to hopefully stop the behavior at that time. Every time they bark or do something they are not supposed to do, they will be sprayed.
The only issue with spray collars is that plenty of small dogs love water, and therefore the spray is not negative enough to allow for any lasting effects.
For this reason, we haven't included any spray collars on our list above, but we did create a list of the best Citronella bark collars. It's worth noting in case your dog doesn't like being sprayed and you think it will be an effective training method. 
Remote Control vs. Always On
There are now two options for training collars that you can opt for: one that is always working or one that you can control through a remote.
Training collars that are always on are handy for when your dog likes to misbehave at home because you can rest assured that the collar is still working while you're away. For instance, if your small dog barks, then it will get stimulated in the form of a shock, vibration, or beep.
On the other hand, remote control collars are best for when you're planning on conducting specific training sessions with your puppy. Remote control collars are also more reliable, and your dog won't be subject to accidental reinforcement.
For example, if your collar sent a vibration to your dog whenever it recognized a bark, but it picked up on a loud noise and vibrated on your dog's neck, then your dog would be punished incorrectly.
This can make it harder to train your dog because they're unsure why they're being punished. Remote-controlled training collars eliminated this issue as you can turn the controller off.
Training Levels
A good training collar will have varying levels of the stimulus that you can tune. For example, the beeps should get louder or quieter depending on the setting used. When you're just starting with a training collar, you should start on the lowest level.
As your small dog gets used to the current setting, you can increase it slightly to make the effects more severe. This always keeps your dog on its toes and prevents the collar from becoming redundant.
For example, if the collar has 100 training levels of vibration, you can start them on level one. Your dog should get used to this vibration within one or two days so that you can increase to the second level after that.
The 100 levels should last 100 to 200 days, or 3.5 to 7 months before the collar becomes redundant. This should be enough time to train the bad behavior out of your smaller dog successfully.
Maximum Range
A training collar with a remote will have a maximum range in which the remote can pick up the collar in. The longer the range, the further your dog can be away from you while still being trained.
If you're only going to be training your dog in the comfort of your own home, a shorter range will be fine. However, if you want to train your dog out on walks when they're further away from you, you can find training collars with a maximum range of up to 1000+ feet.
Durability
The durability of your training collar is also an important factor to consider. The collar should be waterproof and strong enough to withstand plenty of bashes along the way of your dog's journey.
You don't want to have to restrain your dog while they're wearing their training collar to prevent it from breaking. This is unfair to your dog and might prevent them from learning that the negative behavior is bad.
The collar must be durable enough to withstand your dog's energy levels. It might also be worth considering that puppies tend to have more energy to exert, which can put the training collar at a higher risk of breaking.
Moreover, small dogs are closer to the ground, and therefore the collar is more at risk of being dragged along the floor or through the water. Durability is essential when choosing a bark collar for small dogs.
Comfort
Your dog's comfort is still important when it comes to training collars. The collar shouldn't be too tight or so rigid that it digs into your dog's neck.
You should always be able to fit two fingers underneath the collar to prevent it from being too tight on your dog's neck.
Additionally, you should also be able to tell whether a collar is comfortable or not for dogs. The material should be rugged but soft as well. Nylon and fabric are good choices for collars, while rubber and plastic should be avoided.
Conclusion for Best Training Collar for Small Dogs
Small dogs tend to bark a lot for various reasons. One of the fastest and most effective ways to train them to stop barking is to buy a training collar. We hope that you found the best training collar for your small dog!
Other articles you would like:
Frequently Asked Questions
Which is the best type of training collar?
There is no set answer to this question as it all depends on how your dog reacts to certain stimuli. For example, one dog might react well to vibrations and stop the behavior immediately, while another dog won't be phased by the vibrations.
As we mentioned before, most dogs will love spray collars due to their love of water, and therefore it won't be as effective. However, a select few dogs will hate the water and learn to stop the behavior quickly.
A good way to get around this is to opt for a training collar with different modes. These will allow you to test each mode on your dog to see which works the best for them. An added bonus is that you won't have to purchase a separate training collar for each mode.
Why are shock collars unpopular?
There is no way to determine how much damage a shock collar is doing to your dog and whether they're safe or not. A lot of dog owners believe that it is inhumane to use a shock collar on them to cause pain.
Moreover, the Humane Society has insinuated that shock collars could cause emotional pain on your dog. They might see it as you inflicting pain onto them, leading to a break of their trust in you and altering the relationship between dog and owner.
Still not convinced? Check out this video to train your small dog!
Garrett loves animals and is a huge advocate for all Doodle dog breeds. He owns his own Goldendoodle named Kona. In addition, he volunteers at the Humane Society of Silicon Valley, where he fosters dogs and helps animals. Garrett enjoys writing about Doodles and believes that dogs can teach humans more about how to live than humans can teach a dog.
Why Trust We Love Doodles?
At We Love Doodles, we're a team of writers, veterinarians, and puppy trainers that love dogs. Our team of qualified experts researches and provides reliable information on a wide range of dog topics. Our reviews are based on customer feedback, hands-on testing, and in-depth analysis. We are fully transparent and honest to our community of dog owners and future owners.