Did you know it's possible to stop your dog from bleeding with household ingredients like flour?
As a dog owner, you know they can be a force of nature! Irrespective of how well-behaved and well-trained a dog is, accidents happen. While strains and sprains are the most common injuries, scrapes and cuts that cause bleeding can also occur every now and then.
If your dog is bleeding, you must not panic. There are a few quick and easy techniques you can use to control the bleeding until you get professional veterinary help. Flour is one of the most effective and veterinary-approved ways to stop bleeding from minor wounds and superficial cuts, especially those on the ear.
Yes, the same flour we use to make bread and pancakes is effective, but the question is — how do you apply it? Let's read on to find out.
Before reading this guide, "How to Use Flour to Stop a Dog Bleeding," check out: Dog Nail Bleeds After Walking – What Should I Do? (2023) and Dog Eye Bleeding – What Should I Do? (2023).
What Are the Common Causes of Bleeding in Dogs?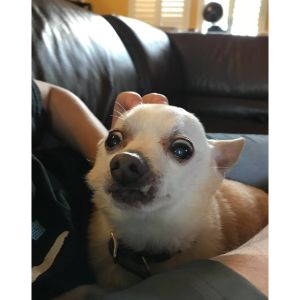 1. Trauma and Wounds
Wounds or traumas are among the most frequent causes of bleeding in dogs. Dogs are inherently curious and restless, making them vulnerable to harm when they go on adventures. External injuries, including scrapes, lacerations, cuts, and puncture wounds, can cause bleeding.
It's essential to check your dog's body, paying close attention to the ears, legs, and paws. Parents of dogs that enjoy the outdoors must be extra vigilant as adventurous dogs are more at risk of injuries.
2. Small Cuts and Bruises
Did you clip your dog's nails too short? Did they catch their toenail on the carpet? Were they running enthusiastically behind a ball and got caught up in brambles? Everyday incidents like these can cause small cuts and lacerations that can cause bleeding in dogs.
3. Dental Problems
Dogs' dental issues are frequently blamed for oral bleeding. Oral discomfort and gum bleeding can be brought on by tooth decay, gum disease, abscesses, or even a fractured tooth. Dogs may display signs like foul breath, trouble eating, mouth-pawing, or drooling.
Such problems can be avoided with regular dental care, which includes brushing your dog's teeth and making appointments for expert cleanings.
4. Blood Disorders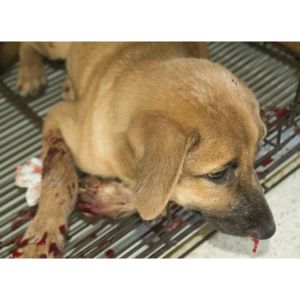 Some blood conditions can cause bleeding in canines. The inherited condition Von Willebrand disease reduces the blood's capacity to clot. Excessive bleeding, both inside and outside, might result from this condition.
Unexpected bleeding can also be caused by other blood conditions, including hemophilia or thrombocytopenia (low platelet count). Contact your veterinarian for an accurate diagnosis and suitable treatment options if you observe your dog bleeding excessively or for an extended period of time.
5. Infections
Dogs may bleed internally or externally as a result of infections. For instance, when a dog has an ear infection, excessive head movement or clawing may cause bleeding. Infections brought on by parasites like fleas or ticks can itch and make you scratch a lot, making your dog bleed.
However, owners can use flour to stop a dog's bleeding ear by following a series of steps and making sure the process is as hygienic as possible.
6. Hormonal Abnormalities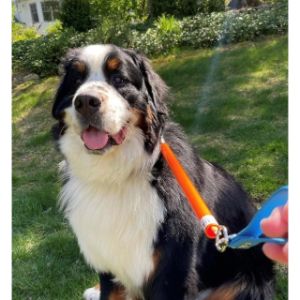 Hormonal abnormalities may be a factor in clotting problems in dogs that lead to bleeding. Pyometra, a disease of the uterus that primarily affects unaltered female dogs, is one prevalent ailment. Pyometra can result in vaginal discharge, which may be bloody.
Bleeding can also be a secondary symptom of other hormonal disorders, including Cushing's disease and several kinds of cancer.
7. Tumors or cancer
Lastly, bleeding in dogs might be a sign of tumors or cancer. Hemangiosarcoma and mast cell tumors are examples of malignant tumors that can bleed inside or externally. Stool or vomit that has blood in it can be caused by gastrointestinal tumors.
Therefore, it's critical to contact your veterinarian right once for a complete examination and the proper diagnostic tests if you notice unidentified bleeding along with other alarming symptoms, including lethargy, weight loss, or changes in appetite.
Which Dog Body Parts Are More Prone to Bleeding in Dogs?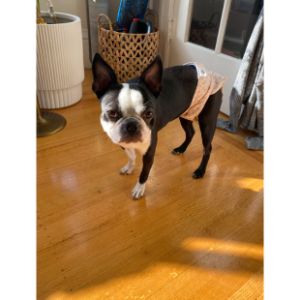 Are some body parts more likely to bleed than others? Understanding your dog's anatomy can help you identify the underlying cause and seek appropriate care.
Let's go over body parts that are vulnerable to bleeding in dogs:
1. Paws
A dog's paws are most likely to suffer wounds and lacerations, making them susceptible to bleeding. Thorns, sharp objects on the ground, stones, and any other sharp object can cause a small injury resulting in bleeding.
2. Tails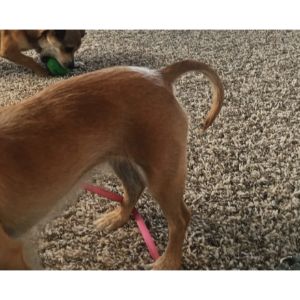 Yes, as funny as it sounds, dogs often sustain injuries on their tails. Tails can get caught between doors, someone can step on them by accident, or they can get cuts while playing outdoors.
3. Ears
Ear infections are quite common in dogs, and they can cause irritation and itching, which leads to persistent scratching. When a dog scratches their ear repeatedly, the fragile blood arteries in the ears may become damaged, resulting in bleeding.
4. Nails Beds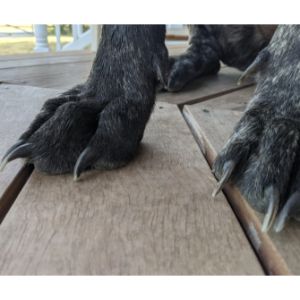 Dogs get their nails trimmed every few weeks, which is arguably the number one cause of minor bleeding. Pet owners may accidentally cut the nails too short, nip the flesh next to the nail, or nip an artery, which can lead to bleeding.
5. Nose
Nose bleeds are quite common in dogs and can be brought on by trauma, infections, or nasal tumors. However, the most likely cause of nosebleeds is minor trauma like a fall or when your dog accidentally gets something stuck in its nose.
Unfortunately, you cannot use flour to stop a nosebleed. The best course of action is to take your dog to the vet right away.
6. Eyes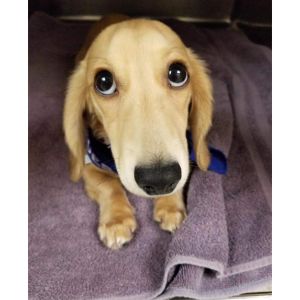 Believe it or not, bleeding from the eyes is more common than you think. Bleeding can result from injuries caused by trauma. In addition, some eye diseases, such as glaucoma or uveitis, can induce internal bleeding within the eye, which results in observable blood stains.
Wash your dog's eyes with cold water, but if the blood keeps gushing, take your dog to the vet immediately.
7. Anal Region
Inflammation or impaction of the anal glands can produce both pain and bleeding. Anal tears can result from diarrhea or the passage of firm feces and cause bleeding.
Bloody stools can also be a symptom of digestive problems like inflammatory bowel disease or parasites. It is best to seek professional medical advice from your trusted vet.
How to Use Flour to Stop a Dog Bleeding
1. Assess the Nature and Severity of the Bleed
Before considering the use of flour, it's crucial to assess the nature and severity of the bleeding.
These are the questions you should ask:
Is it an external superficial cut? If yes, you can use the flour technique. If the wound is too deep or accompanied by a broken bone, you cannot use the flour and must take your dog to the vet.
Is it a manageable bleed? Does it stop when you apply gentle pressure? If yes, the flour technique can come in handy. However, if the blood is gushing from the wound, you must seek immediate veterinary care.
Before you get started, it's important to note that the flour technique should only be used in minor cases of superficial bleeding.
2. Gather the Necessary Supplies
To use flour effectively to stop dog bleeding, gather the necessary supplies:
Clean cloth or gauze pads
Mild antiseptic solution, such as hydrogen peroxide or saline solution
Clean water
Clean, food-grade flour (all-purpose flour or cornstarch)
3. Cleanse the Wound
Before applying flour, it is crucial to cleanse the wound gently. Start by rinsing the wound with clean water to remove any debris. You can use a clean cloth or gauze pad to help remove any dirt or foreign particles. Avoid using harsh chemicals or strong antiseptics, as they may cause additional irritation.
4. Apply Pressure to Control Bleeding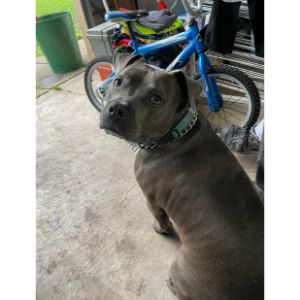 Apply gentle pressure directly to the wound using a clean cloth or gauze pad to help control the bleeding. Maintain the pressure for a few minutes to allow the blood to start clotting naturally. If the bleeding does not slow down or stop after several minutes, contact your veterinarian immediately.
5. Apply Flour to the Wound
Once the bleeding has subsided, it's time to apply flour to the wound.
Take a small amount of clean, food-grade flour and sprinkle it directly onto the wound. Press the flour to the wound gently for 10 to 15 seconds to cover the wounds and absorb the blood.
You must hold your dog so it does not move or squirm at this time. The bleeding should stop after this procedure as flour promotes clotting by absorbing moisture from the wound.
If the bleeding continues, you can repeat this process.
6. Monitor the Wound
After applying flour, monitor the wound closely for any signs of continued bleeding or infection. If the bleeding resumes or shows no signs of improvement, or if the wound appears red, swollen, or oozing pus, contact your veterinarian immediately.
Preventative Measures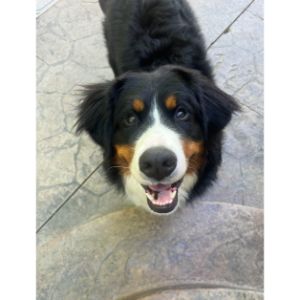 To minimize the risk of bleeding in dogs, take the following preventative measures:
Regularly inspect your dog's body for any cuts, wounds, or signs of injury.
Keep your dog's living area clean and free from hazards that could cause injury.
Ensure your dog receives routine veterinary care, including vaccinations and check-ups.
Trim your dog's nails regularly to prevent accidental scratches or injuries.
Use caution when introducing your dog to new environments or other animals to minimize the risk of fights or accidents.
Frequently Asked Questions
Can you use flour to stop bleeding on a dog's ear?
Yes, you can. Take a pinch of flour and apply it directly to the wound on your dog's ear. Press and hold it gently for 10 to 15 seconds. You may repeat the process until the bleeding completely stops.
How do you seal a dog's ear wound?
One way to seal a dog's wound is to clean it thoroughly with a mild antiseptic solution and apply a veterinary-approved wound sealant or bandage. Flour is a natural sealant; if you sprinkle flour or cornstarch on your dog's ear wound, it will absorb the blood and act as a natural sealant.
How long do dog ear wounds take to heal?
Ear wounds usually take about one or two weeks to heal. Depending on the severity of the wound, it may take longer.
What causes open sores on a dog's ears?
A dog may have sores on the ear due to damage brought on by ear infection-related scratching or shaking, sarcoptic mange (sometimes known as "fox mange"), mite infestation, or other skin issues, like allergies.
Can I put peroxide on my dog's cut ear?
No, it is not advisable to use peroxide on your dog's cut ear because it can cause irritation.
Conclusion for "How to Use Flour to Stop a Dog Bleeding"
That concludes our blog on how to help your dog and use flour to stop superficial bleeding.
All in all, flour can be a powerful tool for temporarily stopping minor bleeding in dogs. However, it's crucial to remember that this method is not a substitute or alternative for veterinary care.
Always assess the nature and severity of the bleeding before determining the suitability of a natural home remedy over professional medical attention.
By understanding the limitations and proper application of flour in minor cases, you can confidently provide immediate first aid to your furry friend, ensuring their well-being until they receive proper veterinary care.
If you find this guide, "How to Use Flour to Stop a Dog Bleeding" helpful, check out:
Learn more by watching "My Blood Loss Event: 5 Ways To Stop Bleeding At Home" down below:
Garrett loves animals and is a huge advocate for all Doodle dog breeds. He owns his own Goldendoodle named Kona. In addition, he volunteers at the Humane Society of Silicon Valley, where he fosters dogs and helps animals. Garrett enjoys writing about Doodles and believes that dogs can teach humans more about how to live than humans can teach a dog.
Why Trust We Love Doodles?
At We Love Doodles, we're a team of writers, veterinarians, and puppy trainers that love dogs. Our team of qualified experts researches and provides reliable information on a wide range of dog topics. Our reviews are based on customer feedback, hands-on testing, and in-depth analysis. We are fully transparent and honest to our community of dog owners and future owners.