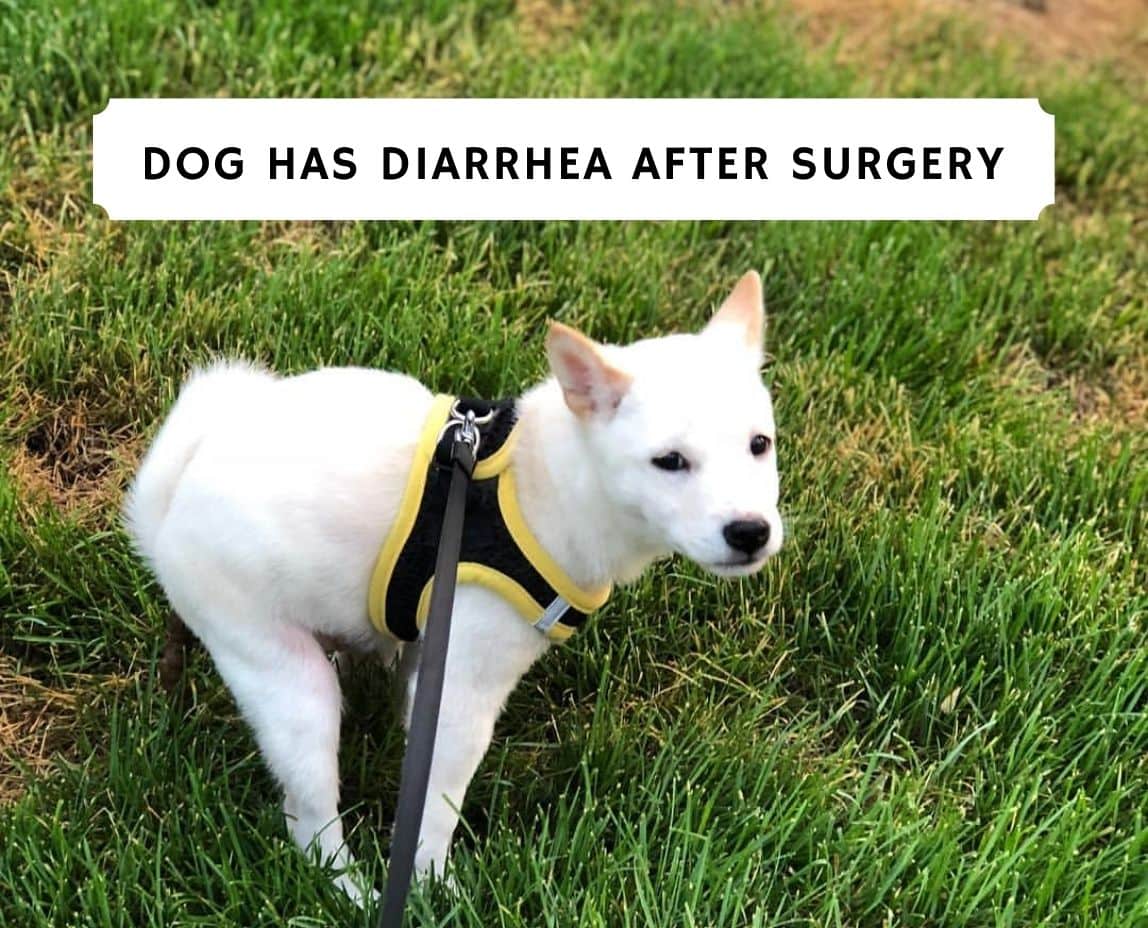 You just picked up your dog from the veterinarian after their surgery. You're thrilled to have your puppy back at home, but now your dog is having diarrhea!
Is diarrhea a normal post-operative side effect or something more serious? Dr. Amanda Takiguchi, DVM, will help you diagnose why your dog has diarrhea and what you should do post-surgery for your dog.
DISCLAIMER: There is no substitute for veterinary care. If you are concerned about your dog's health, please seek immediate evaluation by a veterinarian.
If your dog's diarrhea is due to stress from recent surgery, the diarrhea is usually mild, short, and self-limiting. Stress-induced diarrhea may benefit from symptomatic treatment such as a bland, low-fat, easily digestible diet. However, there are many other causes of diarrhea that may be more sinister and warrant further evaluation by a veterinarian.
Keep reading to learn more about the types of diarrhea, common causes of diarrhea in dogs, and symptomatic treatment for cases of mild, self-limiting diarrhea.
What Is Diarrhea?
Diarrhea is characterized by abnormal defecation including altered frequency, fluidity, and volume of bowel movements.
When assessing stool quality, it is helpful to refer to a fecal scoring chart, which provides a more objective way of evaluating the severity of diarrhea.
Types of Diarrhea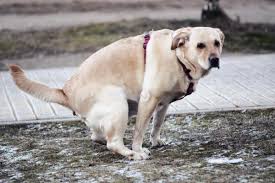 Is your dog's diarrhea acute, meaning it started suddenly? Or is this a longer-standing, or chronic, issue?
After determining whether the diarrhea is acute or chronic in nature, we must identify what part of the intestines is associated with diarrhea. Differentiating between small and large intestinal diarrhea will help your veterinarian determine the underlying cause of your dog's diarrhea. This is because the potential underlying causes for acute vs. chronic and small vs. large intestinal diarrhea are different.
Diarrhea is classified as small or large intestinal diarrhea based on characteristics like frequency and volume of bowel movements, presence of blood, and more. Below is a table showing the common characteristics associated with small and large intestinal diarrhea.
| | | |
| --- | --- | --- |
| | Small Intestinal Diarrhea | Large Intestinal Diarrhea |
| Frequency | Normal to increased | Increased |
| Urgency | Absent | Present |
| Volume | Large, bulky, watery | Small amounts |
| Mucus | No | Present |
| Blood | Digested blood (dark, black, tarry) | Frank blood (bright red) |
| Straining | No | Yes |
| Weight Loss | May be present (if chronic diarrhea) | Rare |
| Flatulence | Possible | Uncommon |
| Appetite | Decreased to absent | Often normal |
Diarrhea Due to the Stress of Surgery
Diarrhea that is solely associated with stress from recent surgery is usually classified as acute, large intestinal diarrhea. This type of diarrhea is also referred to as stress colitis, reflecting the inflammation of the colon that occurs.
Surgery is potentially both an emotional and physiological source of stress for your dog. For example, being hospitalized away from home might cause separation anxiety, while anesthesia and the surgical procedure itself temporarily alter your dog's normal physiologic state.
Stress colitis is often mild and self-limiting, meaning that it usually improves with symptomatic therapy alone. Symptomatic treatment addresses the symptoms but is not treating a specific underlying cause for diarrhea.
Symptomatic Treatment of Stress Colitis
Symptomatic treatment is often appropriate in mild cases of self-limiting diarrhea. However, if your dog's diarrhea is severe, they have additional symptoms, or you have other concerns about your dog's health, please seek veterinary care as soon as possible.
Diet Modification in a Dog With Diarrhea
In dogs with diarrhea, it was traditionally recommended to fast for 12 to 24 hours (no food but free access to water is allowed). This is now somewhat controversial as some recent scientific literature reports that feeding and consistent nutritional support is an important part of recovery. Also note that fasting (even for only 12 to 24 hours) may not be safe nor appropriate in certain cases, as with small or young dogs since they require more frequent nutritional intake to avoid developing low blood sugar.
If your dog has diarrhea, I recommend feeding exclusively a bland, low-fat, easily digestible diet for at least three to five days. This means no treats or human table food. This type of diet is gentler on the gastrointestinal tract and will be better tolerated as your dog recovers. There are several appropriate diet options, including both prescription and home-cooked diets. A commonly recommended home-cooked option is plain, unseasoned, boiled chicken with cooked white rice. To entice your dog to eat, you may also add a very small amount of low sodium chicken broth.
Diet modification in a dog with diarrhea is best if divided into smaller, more frequent feedings. When transitioning your dog back to their normal diet (e.g. dry dog kibble), it is paramount that this is done gradually because an abrupt diet change often induces or exacerbates gastrointestinal signs, including diarrhea, vomiting, and decreased appetite. I recommend slowly adjusting the proportion of your dog's normal diet and the bland diet over the course of three to five days.
Probiotics and Prebiotics
In addition to modifying your dog's diet, probiotics and prebiotics are safe options for symptomatic treatment of diarrhea. Healthy dogs and humans alike naturally have bacteria in our gastrointestinal tract, also known as the microflora. The microflora plays an important role in proper digestion and gastrointestinal health. Probiotics contain live bacteria and aim to readjust the microflora, while prebiotics nourish the intestinal bacteria. Not all probiotics are created equal and may vary in efficacy based on how many strains and colonies of bacteria the probiotic provides. I recommend consulting your veterinarian to discuss the best options for probiotics and prebiotics for your dog.
Anti-Nausea and Anti-Vomiting Medications in Dogs With Diarrhea
If your dog has diarrhea and your veterinarian suspects that they are also nauseated, they may prescribe anti-nausea or anti-vomiting medications. These, however, must be used with caution, especially if your dog is vomiting or has undergone recent abdominal surgery.
Anti-vomiting medications might mask early signs of more serious problems such as septic peritonitis, which is inflammation due to bacterial contamination of the abdomen. Septic peritonitis is a risk following gastrointestinal surgery if the surgical site opens up and leaks into the abdomen. This causes widespread infection and is potentially life-threatening, especially if intervention is delayed.
Ant-vomiting medications may also mask signs of gastrointestinal obstruction, as with foreign body ingestion. If your dog is vomiting and a foreign body is not ruled out via x-rays, anti-vomiting medication must be prescribed judiciously.
When To Be Concerned About Your Dog's Diarrhea
Diarrhea, even in cases of stress colitis due to recent surgery, does not resolve overnight. As a general rule of thumb, the goal is gradual improvement in stool consistency within two to three days without the development of additional symptoms.
If your dog's diarrhea is severe (i.e. very frequent, contains blood) or is accompanied by other clinical signs such as vomiting, lethargy, decreased appetite, or abdominal pain, your dog needs to be evaluated by a veterinarian as soon as possible. Although some dogs certainly have mild diarrhea due to stress colitis following surgery, there are many other causes of diarrhea that are more serious.
Severe or worsening diarrhea is best managed by a veterinarian as soon as possible. If left untreated, severe cases of diarrhea may progress to dehydration, electrolyte abnormalities, and decreased nutrient absorption.
Post-operative Medications and Possible Side Effects
Following surgery, your dog may be sent home with pain medication and antibiotics. A common side effect of some antibiotics is gastrointestinal upset, including diarrhea. Refer to the directions from your veterinarian to determine whether the prescribed antibiotic needs to be administered with food.
A common class of pain medications, NSAIDs (non-steroidal anti-inflammatory drugs), while very effective in reducing pain and inflammation, also carry the risk of gastrointestinal side effects. NSAIDs, especially if given at an excessive dose, may cause gastrointestinal ulceration. Therefore, if you observe any bright red blood or signs of digested blood (dark, black, tarry) in your dog's stool, stop giving the medication and contact your veterinarian for further instruction. NSAIDs need to be administered with food to decrease the chance of gastrointestinal issues; if your dog is not eating, do not give the NSAID and notify your veterinarian.
Also note, NSAIDs cannot be administered simultaneously with steroids (e.g. prednisone) or other NSAIDs as this significantly increases the risk of adverse side effects such as gastrointestinal ulceration. It is important to keep your veterinarian up-to-date with any other medications or supplements your dog is taking to avoid unwanted drug interactions.
Other Common Causes of Diarrhea in Dogs
While stress colitis following a surgical procedure is a possible cause of diarrhea, there are many other causes of diarrhea in dogs.
Several causes are diet-related, including a recent diet change (especially if transitioned abruptly), dietary indiscretion (your dog ate something they are not supposed to, such as fatty human table food scraps), and food intolerance.
Infectious causes of diarrhea include intestinal parasites, which are more prevalent in young puppies, especially if not properly dewormed by a veterinarian. Year-round heartworm prevention is recommended for all dogs. However, many heartworm preventatives also have the added benefit of controlling certain intestinal parasites, such as hookworms and roundworms.
Infectious diarrhea is also caused by bacteria, with common culprits including Salmonella and E. coli. Salmonella and E. coli are associated with food-borne illness, which is a risk when feeding raw food diets, including rawhides. These food-borne pathogens are also able to infect humans, emphasizing the potential risks of feeding a raw food diet to your dog.
Some causes of diarrhea are severe and potentially life-threatening. These include canine parvovirus, a virus that attacks the intestinal cells. This virus is mainly seen in young puppies and unvaccinated dogs, highlighting the importance of vaccination.
Another serious cause of diarrhea is gastrointestinal obstruction. Obstruction might occur due to foreign body ingestion (e.g. toy, bone) or GDV (gastric dilatation-volvulus), where the stomach twists on itself. These are medical emergencies and require immediate veterinary intervention.
There are countless other causes of diarrhea in dogs, including chronic issues like inflammatory disease (e.g. inflammatory bowel disease), cancer, and metabolic disease. So if your dog is experiencing diarrhea, I recommend notifying your veterinarian to determine whether further evaluation and treatment are necessary.
Other articles you would like:
You can also check out this video for how to care for your dog post-surgery: