Has your dog been recently diagnosed with diabetes, leaving you unsure what to feed it? Maybe you have a dog with diabetes and want to switch it to a human food diet? This may lead you to wonder, "What human food can I feed my diabetic dog?". Diet plays a crucial role in maintaining your dog's blood sugar levels, preventing further medical complications that are often associated with diabetes. Luckily, there are plenty of different human food options for dogs with diabetes. Below you will find everything you need to know about feeding your diabetic dog human food.
Before scrolling down this list, check out these recommendations: The 6 Best Non-Prescription Diabetic Dog Foods! 
What Is Dog Diabetes?
Diabetes Mellitus, commonly known as simply diabetes, is a condition found among many dogs. Diabetes is a metabolic disorder in which your dog's body cannot correctly process carbohydrates, resulting in abnormalities in blood sugar levels. This processing problem is caused by the improper production of insulin by your dog's pancreas. Dog diabetes is similar to Type 1 diabetes in humans.
Insulin is responsible for converting the food that your dog eats into glucose. Once there is glucose in the bloodstream, it enters the cells resulting in energy. However, with diabetes, your dog may not produce enough insulin to convert food into glucose, or there may be improper processing of the produced glucose. This often results in cells being unable to transfer the glucose into the cells, so there becomes a buildup of glucose in the bloodstream. This buildup is referred to as hyperglycemia.
Diabetes is often due to genetics in dogs. However, obesity can also play a role in your dog developing diabetes. It is essential to be mindful of symptoms such as lethargy, increased urination, extreme thirst, and sudden weight loss. If your dog displays these symptoms, you should take it to the vet, who will be able to diagnose the disease and create a diabetes-safe nutrition plan.
Important Considerations for Feeding a Diabetic Dog
If your dog is diagnosed with diabetes, you have a couple options for food: dog food and human food. First, you can get your dog diabetes-specific dog food. This is a product that has become popular among many of the leading dog food producers in the industry. These formulas are made with diabetic dogs in mind. Therefore, when fed in the proper amounts, your dog should be able to process this food efficiently without complications.
On the other hand, if you do not want to rely on specific dog food, you may feed your dog human food instead. However, there are specific human foods that you will want to include in your dog's new diet and some that you will definitely want to avoid. Below we will discuss the nutrients and other vital factors that contribute to a well-rounded diabetic dog diet. These are important to remember, especially when choosing human food for your diabetic dog.
Fiber
When choosing food for your dog, you should ensure it is high in dietary fiber. Fiber is one of the most critical factors of a diabetic dog's diet because it slows the release of glucose in your dog's body. This helps prevent blood sugar from spiking.
Fiber also helps your dog feel full, preventing overeating which can lead to problems in diabetic dogs. So, if your dog is diabetic, make sure you are giving it foods with lots of fiber. Fiber can be found in many different vegetables and some whole grains.
Carbohydrates
Carbohydrates play a crucial role in your diabetic dog's diet. Carbs are the primary source of fluctuations in your dog's blood sugar levels. Therefore, the carbohydrates your dog eats are responsible for the blood sugar spikes experienced. This is because carbs are processed faster than proteins and fats.
When choosing carbs for your dog, you should aim for foods that have a low glycemic index. The glycemic index helps determine the rapidity at which the blood sugar level spikes when eating certain foods. If a food has a low glycemic index, it raises blood sugar slower than a food with a high glycemic index. Therefore, low glycemic index foods help manage your diabetic dog's blood sugar levels more efficiently.
Protein
Protein is another nutrient that is crucial for a healthy diabetic dog diet. Your dog's food should be high in protein but low in fat. Protein slows digestion which helps with reducing blood sugar spikes.  Lean meats such as chicken and turkey are a great way to incorporate proper protein into your dog's diet while also maintaining a healthy weight.
Water
Diabetes can increase the amount of water that your dog drinks. Excess blood sugar that has not been absorbed by the cells is filtered through the kidneys. Therefore, diabetic dogs urinate more, which means they need more water to stay hydrated. Additionally, diabetic dogs need more water because their diets are so high in fiber. High fiber without water can cause constipation and even blockages in your dog's intestines.
Making sure your dog always has access to freshwater is vital. You can also increase your dog's water consumption by giving it foods with high water content, such as broccoli, lettuce, and cucumbers.
Calories
Maintaining a healthy weight is crucial for diabetic dogs. The more overweight your dog becomes, the less able it is to regulate insulin production. Therefore, you must ensure your dog is getting the proper amount of calories and not overeating. Your dog's daily caloric intake depends on its age, size, and activity level. So, your dog's vet can determine the proper amount of calories your dog should be eating in a day.
On the other hand, dogs often become underweight when they are first diagnosed with diabetes. This is because muscles and fat cells are not receiving nutrients. Therefore your dog is using body mass to conduct everyday activities. In these cases, external insulin shots can help your dog gain the weight back. Additionally, you may want to add calories to your dog's diet through healthy protein sources.
Human Foods For Diabetic Dogs
Now that you know the critical factors to consider when choosing food, it is time to look at the best human food options for your diabetic dog. Your dog should eat a combination of the foods below for the most well-rounded diet. Including vegetables, grains, and protein in your dog's meals will ensure they are getting all the essential nutrients needed to maintain their blood sugar levels as best as possible.
Vegetables
Vegetables are high in fiber which is essential for diabetic dogs. Most vegetables are also low on the glycemic index, making them suitable for maintaining blood sugar levels in your diabetic dog. Below is a list of dog-safe vegetables that can be added to a diabetic dog's diet.
Winter squash (butternut squash, pumpkin, acorn squash)
Carrots
Parsely
Alpha Sprouts
Broccoli
Cauliflower
Green Beans
Leafy Greens (kale, lettuce, collard greens)
Beets
Grains
When feeding your diabetic dog, you want to avoid simple carbohydrates and focus more on complex carbohydrates. Complex carbohydrates take longer to process, reducing the spike in blood sugar levels. The grains listed below are complex carbs that are also low on the glycemic index. Therefore these grains are more suitable for diabetic dogs than highly processed foods which are often high in sugar.
Whole Grains
Brown rice
Wild rice
Quinoa
Amaranth
Buckwheat
Proteins
The foods you feed your diabetic dog should be low-fat but high-protein. With that in mind, below, you will find the healthiest protein sources for diabetic dogs. Additionally, choosing proteins with omega-3 fatty acids, like salmon, can help reduce diabetes-related illnesses such as heart disease.
The preparation of proteins is just as necessary as selection. You should never fry your dog's food, and you should avoid adding seasonings such as salt or garlic. Salt can increase your dog's sodium levels resulting in dehydration. Garlic is toxic to dogs and can cause damage to the red blood cells.
How Often Should I Feed My Diabetic Dog?
When you are feeding your diabetic dog is just as important as what you are feeding your diabetic dog. Timing is everything when it comes to maintaining blood sugar levels. You should feed your dog once every 12 hours. This feeding should coincide with the distribution of insulin injections. Keeping a strict feeding schedule ensures your dog is receiving its insulin at the proper time.
Exercise in Diabetic Dogs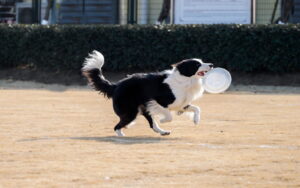 Lastly, a healthy diet should always be paired with daily exercise. Obesity can increase the risk of diabetes-related health problems such as heart disease. However, with the combination of a healthy diet and ample exercise, your dog is less likely to put on extra pounds. Therefore, your dog's exercise routine is just as crucial as its diet for diabetes maintenance.
Conclusion for What Human Food Can I Feed My Diabetic Dog?
As you can see, many factors contribute to the diet of a diabetic dog. You want your dog to eat foods with high fiber and protein but low fat and low glycemic index carbs. There are many human foods that you can feed your dog that help to regulate blood glucose levels. In conjunction with exercise and insulin injections, these foods can help your dog maintain a healthy weight and live a normal and happy life.
You will also like:
Garrett loves animals and is a huge advocate for all Doodle dog breeds. He owns his own Goldendoodle named Kona. In addition, he volunteers at the Humane Society of Silicon Valley, where he fosters dogs and helps animals. Garrett enjoys writing about Doodles and believes that dogs can teach humans more about how to live than humans can teach a dog.
Why Trust We Love Doodles?
At We Love Doodles, we're a team of writers, veterinarians, and puppy trainers that love dogs. Our team of qualified experts researches and provides reliable information on a wide range of dog topics. Our reviews are based on customer feedback, hands-on testing, and in-depth analysis. We are fully transparent and honest to our community of dog owners and future owners.