Oh no! It's a dog parent's worst nightmare. If your dog suddenly hates his crate, you're probably asking yourself why. Some dogs will whine, refuse to go anywhere near their crate, or avoid the room with the crate.
Here are the most common reasons why dogs start hating their crate and what you can do about it.
Other articles you would like: Best Heavy Duty Dog Crates and Dog Crate Alternatives.
Separation Anxiety
If you leave your dog alone often, he could be experiencing separation anxiety.
On the other hand, some breeds experience separation anxiety when you're only apart for a short while, or even if you go into another room!
If this is the case, your dog will associate being in the crate with being away from you. Separation anxiety can range from mild to severe. If your dog exhibits signs of distress, it may be better to put him in a small room with a baby gate.
Boredom
Your dog may be bored in his crate. He may be upset if he doesn't have a chew stick or some other sort of enrichment toy to keep him occupied.
Even with toys, some dogs just get bored. To combat boredom:
Make sure your dog gets at least 30 minutes of exercise each day.
Provide him with enrichment activities around the house.
Play games with him.
Give him food puzzles.
If practical, enroll him in a rewards-based training class that will help him develop his mental acuity.
He Feels Trapped and Helpless
Some dogs feel trapped in their crates, which can be especially true for dogs who spent a lot of time in a cage while they were young puppies.
Other dogs feel helpless in their crates. For example, if your dog hears the mail carrier outside but can't run to the window and bark, he may feel helpless to protect his home from intruders.If you think your dog feels this way, reassure him that everything is okay. Make sure he has a soft blanket and other comfort items in his crate.
The Location of the Crate
If the crate is near something bothering your dog, for example, the dishwasher, he will be upset. Or perhaps the location is too hot or too cold.
If your crate-trained dog now hates his crate, perhaps you moved it. He may have been happy with the old location.
Consider the crate's location from your dog's perspective. Is it in a crowded or noisy space? Is there too much commotion in the area? Consider moving the crate to a quieter part of your home, perhaps in a corner.
Over-crating
Perhaps your pup is spending too much time in the crate. Are you crating him only when you leave or at bedtime, or are you crating him at random times during the day?
Your pup won't be happy if he has to spend too much of his day in his crate.
Don't crate your pup more than is necessary. If he spends too much time in his crate, he might suddenly start to hate it.
Check out for more: Why Does My Dog Suddenly Scream? and Why Do Dogs Lick Each Other's Ears?
You Used the Crate for Punishment
If your pup was acting up and you put him in the crate as a punishment, he may become resentful of the crate. He will begin to associate it with negative experiences.
Don't use the crate as punishment or time out. You want your pup to think of his crate as a place where he can escape stressors.
Reward your pup for good behavior and try to divert him away from activities that land him in trouble.
They Had An Accident in the Crate
Dogs usually will not go potty where they sleep. If your dog has an accident in the crate, he will be afraid that it will happen again.
In addition, the smells left behind may upset your dog and remind him of the accident.
If your pup has an accident in his crate, reassure him that everything is okay. Clean the crate thoroughly with an odor neutralizer after an accident. Wash any bedding and blankets and replace any toys.
They're Afraid
If your dog suddenly hates his crate, perhaps something scared him while he was in it. Or maybe something is broken in the crate, and it hurts him.
Check the location of his crate. Did something scary, like a loud noise, happen while he was in his crate?
Check all the parts to make sure everything is in good working order and that there are no sharp pieces that might have hurt your pup.
If you have a blanket over the crate, try removing it to see if that makes your pup feel better. If you don't have a blanket, try one. Some dogs like blankets while others don't.
Pain
Is your dog comfortable in the crate? Is it big enough? If your dog is cramped in the crate, he might be in pain.
Ensure that the crate is big enough and that your dog has a soft bed or blankets. Talk to your vet to rule out any medical conditions.
Make sure your dog isn't left in the crate for too long. It can hurt for your pup to have to stay in one or two positions for a long time.
Can't Hold His Bladder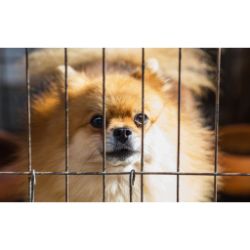 After puppyhood, young dogs can generally hold their bladder overnight. But as a dog gets older, it becomes more difficult.
Dogs don't want to go potty where they sleep, so if your dog is trying too hard to hold his bladder, he's going to be uncomfortable and upset in his crate.
Many dogs no longer need to be crated after they're 18 to 24 months old. Once your dog is older, let him sleep on your bed or next to your bed on the floor. If he can't hold his bladder through the night, you'll have to get up with him once during the night to let him go out.
Conditioning
If your dog has refused to go in the crate and you react by giving him positive attention, he will remember.
For example, if you try to baby him and coax him to go in, he might like the attention.
Be kind but firm when it's time for your dog to go in his crate. A simple command should do it. If he refuses to go in, put a treat in the crate so he will enter. Then calmly close the door.
How To Crate Train a Dog Who Hates the Crate
Make the crate a safe place for your dog. Make sure it's in a quiet and cozy location in your home that's not too hot and not too cold.
Your dog should consider the crate a positive place to go for quiet and rest time. He should like his crate.
Leave the door open on the crate. Put treats inside of it. Let your dog come and go from the crate as he pleases.
Unfortunately, some dogs hate their crates. The good news is there are other ways to potty train your dog. These include:
Use paper and pads
Establish a regular schedule for going outdoors for potty breaks
Reward your pup with positive affirmations and treats for going potty outside
Control your pup's diet
Be sure your pup is getting enough exercise
Be consistent and patient
You don't have to confine your dog to a crate if you've tried everything and it's just not working. If there is a small space or room in your house that you can block off with a gate, this will help you potty train your pup and keep him safe while you are away from home.
Some people choose to tether their puppy to their hip all day to supervise the puppy so he can't run off and have an accident in the house. This technique is also known as the umbilical cord method or leash training.
What If Your Dog Hates the Crate at Night?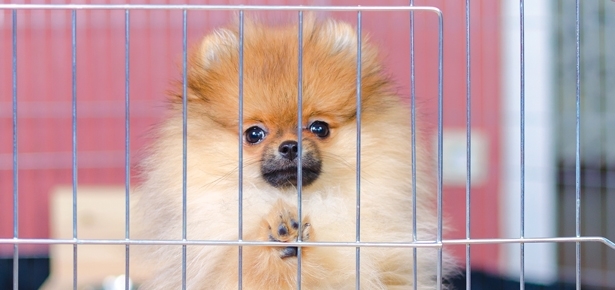 If your dog hates the crate at night, try putting the crate in your bedroom or the hallway next to it. Your dog may feel better knowing he is close to you at night.
If this works, eventually you can move the crate to another room in the house.
If you're dealing with a puppy and he's whining at night, it can be tough to determine whether he just wants out or he has to go potty.
Go to the crate and say the word you usually associate with going out. If your puppy wags his tail or shows signs of excitement, it could be a cue that he has to go. If he's just whining to get out, try to ignore him.
You may have to begin the crate training process over again if you have rewarded whining in the past by letting your dog out of his crate.
Conclusion for Why Does My Dog Suddenly Hate His Crate?
The crate is supposed to be a pleasant den for your dog. If he hates his crate, try to figure out why. A few simple adjustments may solve the problem.
If you've tried everything and nothing works, you may have a dog for whom a crate simply won't work. On the bright side, many dog owners find themselves doing away with the crate when their dog is older anyway.
If you really want to make the crate work and you've tried everything you can think of, talk to your vet. They will likely refer you to an animal behavioral specialist who can help.
You will also like:
Garrett loves animals and is a huge advocate for all Doodle dog breeds. He owns his own Goldendoodle named Kona. In addition, he volunteers at the Humane Society of Silicon Valley, where he fosters dogs and helps animals. Garrett enjoys writing about Doodles and believes that dogs can teach humans more about how to live than humans can teach a dog.
Why Trust We Love Doodles?
At We Love Doodles, we're a team of writers, veterinarians, and puppy trainers that love dogs. Our team of qualified experts researches and provides reliable information on a wide range of dog topics. Our reviews are based on customer feedback, hands-on testing, and in-depth analysis. We are fully transparent and honest to our community of dog owners and future owners.