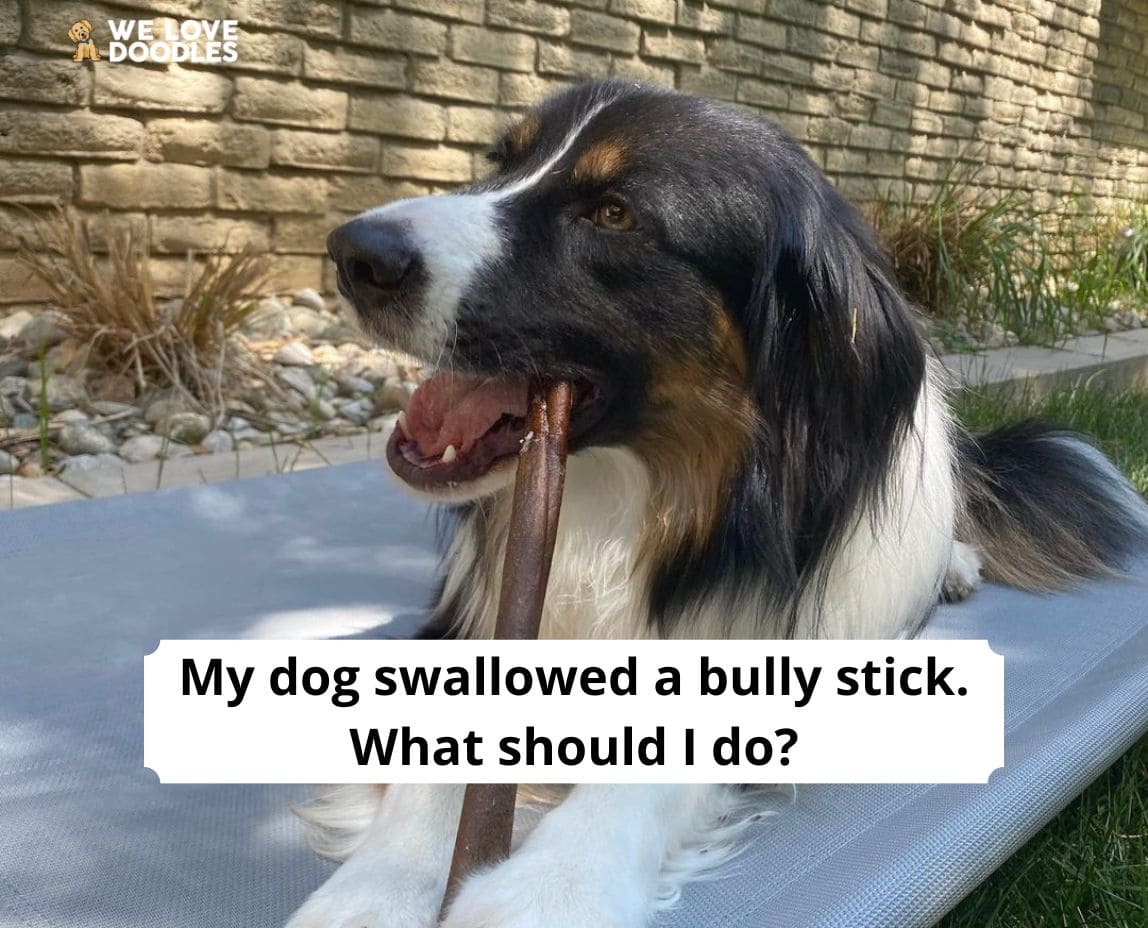 Bully sticks are chewy treats for dogs that have recently become popular, especially for owners of heavy chewers, but what happens if your dog swallows one?
In general, swallowing a small piece of a bully stick is not bad for your dog. When your dog swallows a bully stick, the biggest concerns are choking and gastrointestinal blockages. If you're concerned that your dog may be chocking or have internal blockage after swallowing a bully stick, we highly recommend you consult your veterinarian.
Other articles you would like: Best Pet Insurance For Large Dogs and Beefhide vs. Rawhide
Is it bad for dogs to swallow bully sticks?
No, it is not necessarily bad for dogs to swallow bully sticks. They are solely made from beef and they are highly digestible. However, if your dog swallows a large chunk of bully stick or even the entire thing, it can be dangerous.
What can happen if my dog swallows a bully stick?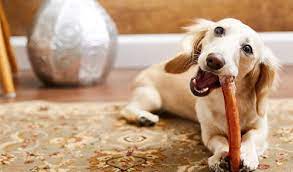 If your dog swallows a particularly large chunk of their bully stick, they will most probably be okay. However, there is risk of choking or getting an internal blockage, both of which are emergencies and require immediate action – so let's take a closer look.
Choking
Signs of choking in dogs include:
Struggling to breathe
Gagging
Looking panicked
Pawing at the mouth
Drooling
If your dog starts to choke, open their mouth and remove the stick if you can see it. If you cannot see it, you'll need to perform the Heimlich maneuver to dislodge and remove the bully stick.
To perform the Heimlich maneuver on a smaller dog, gently pick them up, put them on your lap, and lay them onto their back. Using the palm of your hand, apply pressure beneath the ribcage and push upwards and inwards firmly five times in a row. Then, roll them onto their side and open their mouth to see if the stick is visible. Repeat as necessary.
To perform the Heimlich on a medium or large-sized dog, try to get them to stand or sit up and put your arms around them from behind. Clasp your hands together to make a fist underneath their ribcage and push upwards and inwards five times in a row. Then, check the mouth to clear it and repeat if necessary.
If they are laying down and can't get up, you should put one of your hands on their back and use the other one to push upwards and inwards on their stomach.
Internal blockages
Signs of internal blockages in dogs include:
Vomiting
Diarrhea or an inability to poop
Lethargy
Rapid breathing
Loss of appetite
Excessive thirst and dehydration
Lip licking
Bloating
Pacing
Inability to get comfortable
Hunching over and whining in pain
An internal blockage almost always requires surgical removal by a vet. Some of these signs can simply be symptoms of an upset stomach, which your dog can just as easily suffer from as a result of eating too much bully stick, particularly if they have a sensitive system. However, if your dog displays any of these symptoms after swallowing their bully stick, it's important that you call your vet as soon as possible. They will be able to diagnose and treat your dog accordingly after an examination and possibly a scan.
Are bully sticks bad for dogs?
Bully sticks are not inherently bad for dogs – they're single ingredient treats made from beef and they are high in protein and essential amino acids and low in fat and sodium. They're also a good source of iron, zinc, and selenium, as well as vitamins B12, B3, and B6. Chewing on bully sticks can help to maintain good oral health, too, scraping off plaque and reducing tartar build-up which leads to dental diseases, as well as improving bad breath and making teeth look whiter.
Bully sticks are all-natural, filler free, tasty, easy to digest, and they're great for stress-busting and mental stimulation, so they're ideal treats for heavy chewers, dogs with sensitive tummies (in moderation), and dogs that suffer from boredom or anxiety easily. They also tend to be pretty affordable and long-lasting, making them good for owners, too.
However, they are quite high in calories, which may not be good for some dogs, and they're also quite tough, so we would not recommend them for teething puppies, elderly dogs, or dogs with weak or missing teeth. In some cases, bully sticks can also carry harmful bacteria and chemicals if they are not processed correctly, so it's important to only buy them from brands that you trust.
As with all dog treats, there is also a risk of choking and cutting their mouths or swallowing sharp edges, as well as swallowing large chunks which can get disrupt their digestive system. However, bully sticks don't splinter anywhere near as much as some other natural chews, so the overall risk of sharp edges is lower.
How to keep dogs safe with bully sticks
To keep your dog safe with bully sticks, buy one that is appropriately sized for them. We recommend supervising your dog with any chew sticks and familiarizing yourself with the signs of a problem and the Heimlich maneuver, just in case. We also recommend buying your dog bully sticks made from 100 percent beef without any chemicals and buying FDA-approved products from trusted brands, and products that list their cooking methods on the label or listing online.
Depending on the size of your dog, you shouldn't give them a bully stick more than once or twice a week. Even though they are all-natural and have some nutritional benefits, they are still pretty high in calories and should be given as the occasional treat rather than an every day treat. For younger pups, we recommend only giving them bully sticks for 5-10 minutes at a time.
Alternatives to bully sticks
If you would rather not give your dog bully sticks, other popular animal-based alternatives include antler chews and Himalayan dog chews. There are also dental chew treats, chew toys, or, if you're on a budget, you could just give your dog a frozen carrot or a cube of frozen plain yogurt.
Conclusion For My Dog Swallowed A Bully Stick
If your dog swallows a bully stick, they will most probably be fine, but you should watch for signs of a problem, and if you're concerned, contact your vet as soon as possible.
Curious to learn more about bully sticks? Check out the video below:
Other articles you would like: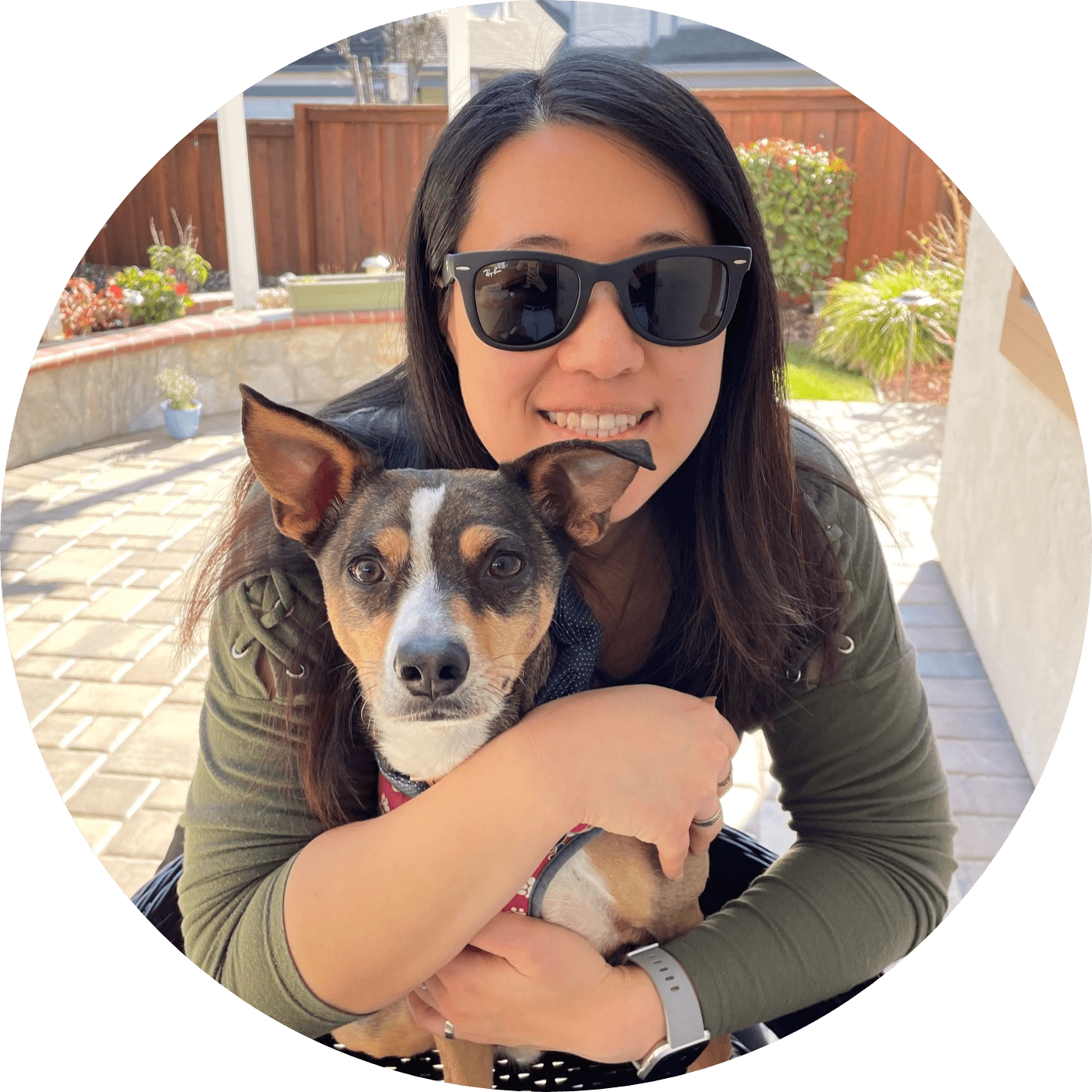 Dr. Sabrina Kong graduated from the Royal Veterinary College in England in 2016 and has been working at a small animal clinic in Northern California since then. She grew up in the Bay Area and got her bachelor's degree from Cal Poly San Luis Obispo. She also became a Certified Canine Rehabilitation Practitioner through a program at the University of Tennessee.
When she isn't in the clinic taking care of her four-legged patients, she enjoys traveling and trying new foods with her friends and her three-legged dog, Apollo. She adopted Apollo from her clinic when he was a puppy with numerous health issues. Dr. Kong truly cares about taking care of animals.