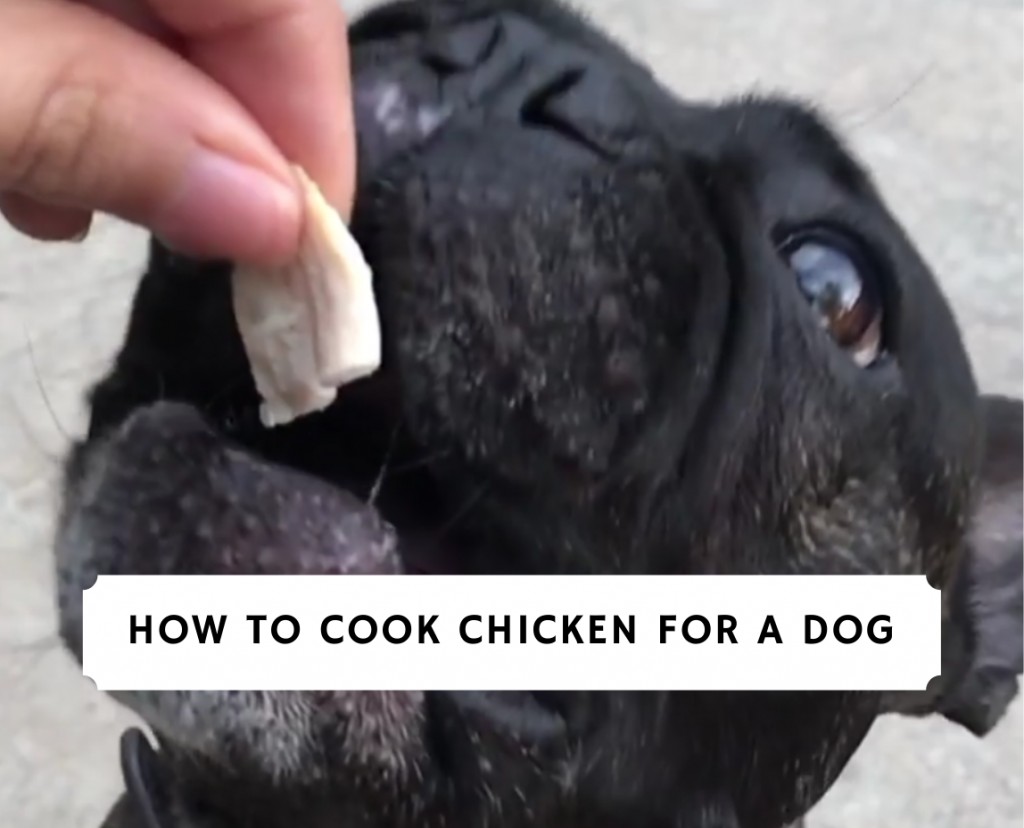 Many of us rely on tasty dog kibble or wet dog food for our dogs, but some monitor protein and want to make sure our dogs are truly getting the best nutrition possible. Our dogs need high amounts of protein and sometimes it is up to us to make sure they are getting what they need. We can't always rely on the promises of a dog food bag.
Then, there are times that our dogs don't feel well or potentially have abnormal reactions to food and such. How can you make sure they are getting the sustenance they need? One solution is to feed your dog plain chicken that you cook and prepare for them. Many dog owners cook chicken for a dog as part of the bland diet.
So, how do you cook chicken for a dog? The most common preparation method is to boil the chicken but there are a couple of options you might also consider. In this guide, we will walk you through how to cook chicken for a dog and let you know just what to expect in your process.
Different Ways to Cook Chicken for Dogs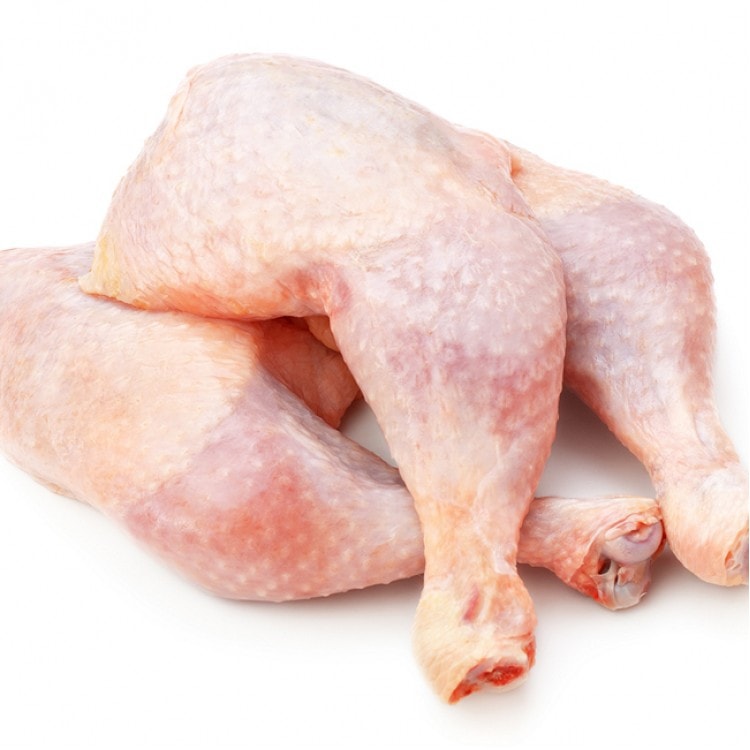 There is more than one way to cook chicken for dogs. You don't add any extra seasoning or flavor to the meat as this may upset your dog's stomach. You simply need to cook the chicken for a dog and most dogs will love it!
The most common ways to cook chicken for dogs are as follows.
Boiling Chicken (most common)
Baking Chicken
Grilling Chicken
We will walk you through each of these options in this guide.
How to Boil Chicken for Dogs
A lot of people combine boiled chicken with boiled rice as part of a bland dog food diet. Chicken and rice are regularly recommended by veterinarians if your dog is sick, particularly for a dog who isn't eating well and needs some sustenance.
Boiling chicken for a dog is one of the most common ways to cook chicken. It's a simple process and while we find this process to result in bland food, dogs love it. They don't need a special cooking process or even seasonings. The meat is sufficient for them.
Boiled chicken retains important nutrients and minerals that dogs need. This is particularly chicken has a lot of protein. Follow these steps to boil chicken for your dog:
One serving of chicken breasts for your dog typically amounts to about 3 boneless skinless chicken breasts. Be sure you don't have bones or skin on your chicken as neither of these is good for your dog.
Place the chicken breasts in a pot. Start by spreading them out so they aren't touching. Add water to the pot to cover the chicken. Be sure you leave at least 2 inches at the top of the pot to avoid the water boiling over. Do not season the chicken.
Bring the chicken to a rolling boil in the pot. If your chicken was thawed out, you can boil the chicken for 13 minutes to be fully-cooked. Make sure that you do not give your dog raw or undercooked chicken meat. You may want to test the internal temperature of the chicken before declaring it done!
Remove the chicken breasts from the pot and remove the pot from heat. Save your water or broth if you plan to also make rice so you can make the rice with the chicken flavor. Alternatively, you can let your dog drink the chicken broth once it cools down to stay hydrated.
Let the chicken cool for 10-15 minutes so that it will be easier to handle. Then, shred the chicken into small shreds or pieces. You want your dog to be able to easily chew and swallow without any issues. The size you need may depend on the size of your dog.
Make rice with the broth if you would like to or feed your dog the chicken broth to keep hydrated.
Once everything is reasonably cool and ready to serve, it's ready to share with your dog!
How to Bake Chicken for Dogs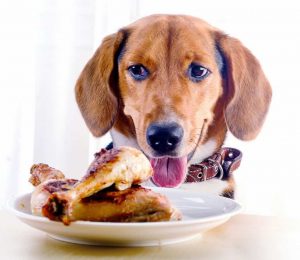 Another good way to cook chicken is to bake it. This is the 2nd best recommendation to cook chicken for a dog. This is a quick and simple way to make chicken without worrying about a boiling pot and the flavor will be good without being dry most of the time as well.
Again, you shouldn't need to season the chicken meat. Dogs don't think that the plain chicken meat is bland like we sometimes do.
Here are some steps to make baked chicken for dogs.
Preheat your oven to 400 degrees Fahrenheit.
Use 3 boneless, skinless chicken breasts (or another suitable type of chicken). We recommend using a non-stick cooking spray or some foil underneath the chicken to keep it from sticking to the pan during the process. A silicone cooking mat might also work.
Add the chicken breasts to the pan once you have prepared it.
When your oven reaches the appropriate temperature, place the pan of chicken in the oven and bake it for 20-30 minutes. The time may vary depending on the size of your chicken as well as your oven's functionality.
Keep an eye on the chicken and remove it if it looks done. Again, don't feed your dog undercooked or raw chicken. You may need to test the internal temperature and make sure that it reaches a minimum of 160 degrees Fahrenheit before it stops cooking.
When the chicken is done, remove it from the oven and let it cool for about 15 minutes.
Once the chicken has cooled appropriately, shred it up or cut it into small bite-sized pieces. Remember that a dog's bite-size is much smaller than what our bite-sized might be.
You can also make rice and serve with rice if you would like.
This is another simple process that won't take a lot of preparation or effort. Your dog will love it!
Grilled Chicken Breast for Dogs
The other way that you can prepare chicken meat for your dog is to grill it. This is another great option. The thing to remember here is that your dog should not have chicken bones as these can be choking hazards for dogs.
Just as with the other types of chicken we've discussed, you can easily mix grilled chicken with other healthy grains to make a complete meal for your dog. Some people mix it with veggies instead of grains. It really is up to you.
You can grill the chicken. It tends to make it a bit drier but this is a plausible option for you. Remember that there is really no need to season the chicken, although a new trend has been to make BBQ chicken for dogs. If you decide to go this route, we recommend that you be careful in doing so. Dogs really enjoy BBQ. We think it's the added flavor from the grill that really attracts them.
The real question here is whether or not it's ok to give your dog sauce with their BBQ food. Most people who feed their dog's BBQ are just feeding them fresh-cooked meat from the grill, however, it happens to be prepared. They are not adding additional sauces that could potentially bother your dog's stomach.
Types of Chicken You Can Give a Dog
We've discussed different ways to prepare chicken for your dog but what parts of the chicken is it ok to feed them? Do you want to know a secret? Give them any part of the chicken you want.
However, do NOT give your dog any chicken bones! You can feed your dog chicken and cook it however you like, but it is very important that you don't give your dog the chicken bones. Chicken bones are known for splintering and they can be a choking hazard for your dog. No matter how you cook your chicken, the most important things to remember are as follows:
Do not feed your dog chicken bones
Don't add extra seasonings to their chicken
Let it cool before serving to your dog
Shred or cut nice and small so your dog can chew and digest the chicken easily
Things to Watch for Before Feeding your Dog Chicken
One thing we want to point out is that some dogs are allergic to chicken. Chicken is a pretty common ingredient even in dog foods but as with any other type of food, your dog may suffer from an allergy.
In fact, chicken is in the list of top 10 items that dogs can be allergic to. The other things dogs are commonly allergic to include lamb, soy, pork, rabbit, fish, beef, wheat, dairy, and egg. This sure seems to narrow down what they can eat!
The good news is not all dogs have an allergy but it is just something to be aware of in case you notice an adverse reaction with your dog when you feed them chicken or any of these other items.
Conclusion How to Cook Chicken for a Dog
Feeding your dog chicken is great if you want to give them a treat or simply prefer to prepare their meals on your own. It's also a feasible solution for helping a dog that needs to gain weight. In addition, chicken and rice is a very common bland diet for dogs that aren't well and need something simple to eat. We hoped that learned how to cook chicken for a dog!
Other articles you might like:
Garrett loves animals and is a huge advocate for all Doodle dog breeds. He owns his own Goldendoodle named Kona. In addition, he volunteers at the Humane Society of Silicon Valley, where he fosters dogs and helps animals. Garrett enjoys writing about Doodles and believes that dogs can teach humans more about how to live than humans can teach a dog.
Why Trust We Love Doodles?
At We Love Doodles, we're a team of writers, veterinarians, and puppy trainers that love dogs. Our team of qualified experts researches and provides reliable information on a wide range of dog topics. Our reviews are based on customer feedback, hands-on testing, and in-depth analysis. We are fully transparent and honest to our community of dog owners and future owners.