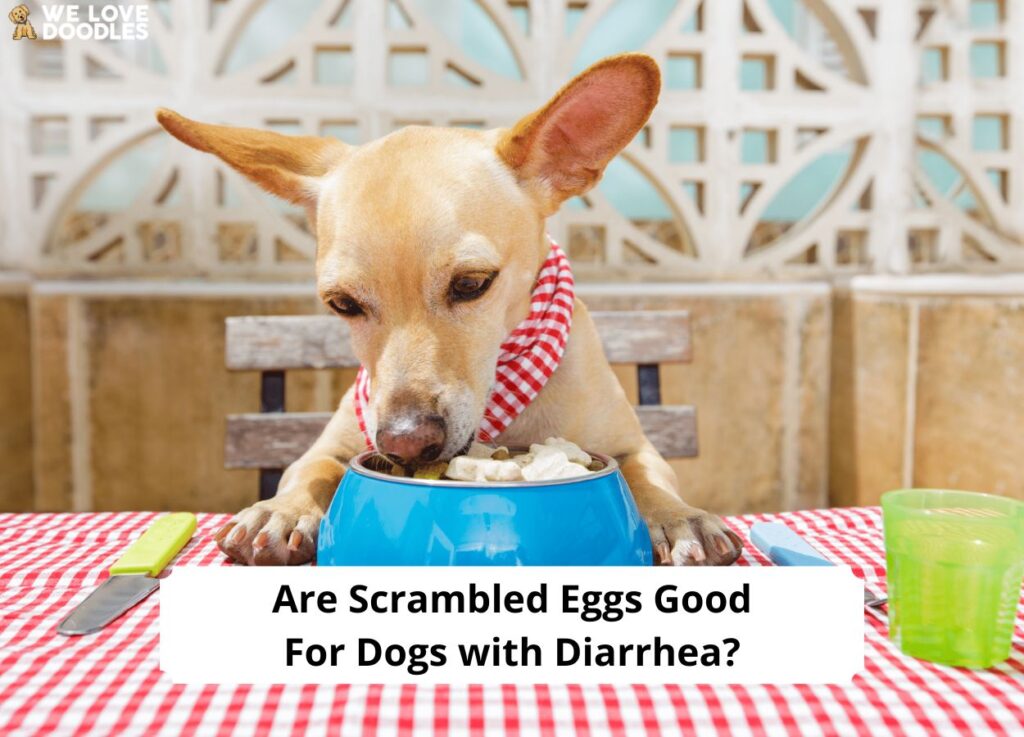 We've all been there. You're having a lovely day, maybe you gave your pup a treat, and suddenly there's diarrhea everywhere. Dog diarrhea is no joke, and if your dog is suffering from it, you might be trying to exhaust all your natural home remedies to alleviate their discomfort (and yours). So, are scrambled eggs good for dogs with diarrhea?
One of the most effective natural home remedies for dog diarrhea, assuming it's not a severe medical issue, is tweaking the diet and adding solid food. We've heard of adding chicken and rice, but you might be wondering what other foods you can feed your dog to alleviate diarrhea. For example, eggs.
Scrambled eggs are a great choice when it comes to feeding your dog whole foods to alleviate diarrhea. They're an incredible source of protein and fiber, which can help bulk up stool. They're also an excellent source of nutrients.
While that's just the simple answer, there's a lot to understand about what causes dog diarrhea, how to treat it, and how eggs play a role. Here's everything you need to know about scrambled eggs when it comes to treating dog diarrhea.
Before scrolling down this guide, "Are Scrambled Eggs Good for Dogs with Diarrhea," check out: How Many Eggs Can a Dog Eat in a Day? (2023) and Can Dogs Eat Deviled Eggs? (Are They Safe for Dogs?) (2023).
Signs and Symptoms of Diarrhea in Dogs
Although the signs and symptoms of diarrhea in dogs are pretty straightforward, there are additional symptoms. In most cases, the symptoms that occur alongside a dog's diarrhea can indicate severe illness.
Here are signs and symptoms that your dog might be having diarrhea:
Lack of appetite
Nausea or vomiting
Retching or gagging
Gas
Lethargy
Weakness
Dehydration
Weight loss, if diarrhea is severe
Fever or hypothermia
Liquid or soft diarrhea
Large amounts of stool
If your dog has diarrhea that persists for more than 24 hours, it's time to schedule a visit with your veterinarian. In some cases, diarrhea can be symptomatic of illness or gastrointestinal disorders.
Causes of Diarrhea in Dogs
A variety of factors can cause diarrhea and, in some cases, can be indicative of a serious illness like cancer, parvovirus, or distemper. However, diarrhea in most cases is often mild. It can be triggered by stealing human food or too many dog treats.
Here are some common causes of diarrhea in dogs:
Stress or anxiety
Transitioning to a new type of food
Eating spoiled or rotten food
Eating too many human foods
Ingestion of toys, fabric, or bones
Ingestion of poisonous or toxic substances
Certain medications, such as antibiotics or stool softeners
Viral infections, such as distemper or parvovirus
Bacterial infections
Parasites
Pancreatitis
Colitis
Liver or kidney disease
Certain cancers
Gastrointestinal disorders
If you're in the process of switching your dog to a new type of food or the dog has been exposed to recent stressors (like the death of a loved one or moving), then sprucing up their food with something high in fiber and protein, like eggs, can bulk up their stool. Your dog may just need a little help to get their digestive system back on track.
However, if you suspect the diarrhea is related to an illness or disorder, then visiting the vet sooner than later can help prevent unnecessary gastrointestinal upset. Depending on the cause of diarrhea, your veterinarian may prescribe metronidazole, a prescription antibiotic to treat any underlying infections or inflammatory conditions that cause diarrhea.
If your dog is exhibiting signs of parvovirus, distemper, or cancer, take them to your nearest 24-hour animal hospital right away. Time is of the essence in the case of a life-threatening illness. If they're diagnosed with distemper or parvovirus, keep them separated from other dogs.
Reasons to Give Your Dog Scrambled Eggs When They Have Diarrhea
Now that we've established the signs, symptoms, and causes of diarrhea, let's delve into why scrambled eggs are one of the best foods to give your dog when they have diarrhea.
Eggs are a nutritional powerhouse. Loaded with fiber, protein, and omega-3s, eggs can help aid digestion and the absorption of food. They supercharge your dog's body with much-needed nutrients that they may lose when having excessive bouts of diarrhea.
Additionally, eggs can help bulk up the stool. The protein and fiber in eggs help absorb excess fluid and prevent dehydration. They're also easily digestible, cheap, and easy to make.
How to Properly Prepare the Eggs
When feeding your dog scrambled eggs, it's important not to feed them the type of scrambled eggs that you would eat yourself. Preparing the eggs properly is key to soothing your dog's upset stomach.
Begin by stirring the eggs in a bowl to scramble them fully. Then, grease your pan with a very minimal amount of butter — just enough to coat the pan. Any more than that, and you'll be adding unnecessary calories and extra fat, which can actually exacerbate diarrhea.
Cook the eggs on medium heat, stirring regularly to ensure they're fully cooked. Dogs can also get salmonella, so it's essential to make sure any raw proteins are cooked thoroughly before consumption.
Once cooked, allow a few minutes to cool. Scrambled eggs are best served alongside a starchy fiber, like rice, potatoes, or oatmeal. Make sure nothing is seasoned with salt, pepper, or sugar. Allow the foods to be fully cooked in their natural state for consumption.
When to Take Your Dog to the Vet
As mentioned, it's best to take your dog to the vet if their diarrhea persists past 24 hours, as this can be symptomatic of a serious illness or infection. If your dog's diarrhea is accompanied by other serious symptoms, like vomiting or bloody stool, it's best to take them in sooner than later.
Generally, if diarrhea is symptomatic of something serious, diarrhea won't be the only symptom present. It's best to monitor your dog closely while they have diarrhea to keep track of any alarming symptoms.
Other Foods to Feed Your Dog When They Have Diarrhea
While scrambled eggs are a wonderful choice when your dog has diarrhea, there are other foods you can feed your dog if they're suffering from the runs. Or, you can even add scrambled eggs to these foods for a wonderful, well-balanced meal.
Chicken
Low-fat meats are incredibly gentle on your dog's gastrointestinal tract while providing ample amounts of protein. When preparing chicken for your dog, be sure to shred it or chop it up into bite-size bits. Also, avoid the skin, as it contains fat that may aggravate your dog's stomach.
Rice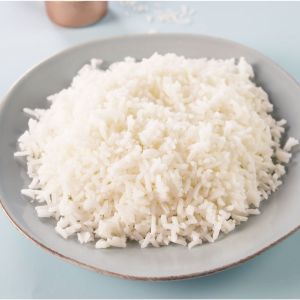 White rice, as long as it's plain, is a great source of fiber and can help bulk up your dog's stool. It's one of the most recommended and commonly used foods to help mitigate doggy diarrhea.
Potatoes
Another popular option, plain potatoes, mashed up and cooled, are a great way to add solid fiber and calories to your dog's diet. Serve them with a protein, like chicken or scrambled eggs, to provide your dog with a well-rounded meal.
Oatmeal
Oatmeal is loved and revered by all for being a starchy, complex carbohydrate that can soothe gastrointestinal upset. Almost everyone has oatmeal on hand and it's great with scrambled eggs. That said, watch out for added sugars and other human-centric ingredients that aren't suitable for your dog.
Frequently Asked Questions
How much egg should you give a dog with diarrhea?
If your dog has diarrhea and you're looking to feed them scrambled eggs, how much you feed them depends on their weight and size. For smaller breeds, scramble one egg. For medium-sized breeds, scramble two eggs. And for larger breeds, scramble three eggs.
Do scrambled eggs stop diarrhea?
Scrambled eggs won't necessarily stop diarrhea, especially if it's a symptom of an underlying medical issue, but they can help bulk up a stool to get your dog's gastrointestinal tract back on track.
Can eggs firm up a dog's stool?
Yes, eggs are great for firming up a dog's stool. The protein and fiber help to absorb excess water and prevent dehydration.
Are scrambled eggs good for a dog's upset stomach?
Scrambled eggs are a great option if your dog has an upset stomach. They provide nutrients and prevent dehydration by bulking up food that's being digested in the intestines.
Conclusion for "Are Scrambled Eggs Good for Dogs with Diarrhea"
All in all, scrambled eggs are great for dogs with diarrhea. They provide adequate nutrients, protein, and fiber. Tweaking your dog's diet and adding in solid, whole foods can help bulk up stool and reset your dog's digestive system, assuming it's not a result of a major illness or infection. If diarrhea persists, be sure to consult your veterinarian right away.
If you find this guide, "Are Scrambled Eggs Good For Dogs with Diarrhea," helpful, check out:
Learn what foods are good for your dog by watching "How to Feed Your Dog (For Health and Longevity)" down below:
Garrett loves animals and is a huge advocate for all Doodle dog breeds. He owns his own Goldendoodle named Kona. In addition, he volunteers at the Humane Society of Silicon Valley, where he fosters dogs and helps animals. Garrett enjoys writing about Doodles and believes that dogs can teach humans more about how to live than humans can teach a dog.
Why Trust We Love Doodles?
At We Love Doodles, we're a team of writers, veterinarians, and puppy trainers that love dogs. Our team of qualified experts researches and provides reliable information on a wide range of dog topics. Our reviews are based on customer feedback, hands-on testing, and in-depth analysis. We are fully transparent and honest to our community of dog owners and future owners.