If you notice your dog is suffering from diarrhea and feel that bully sticks are the cause, you should stop allowing your dog to eat and chew on them. Give your dog plenty of water and offer it dry food or a bland diet of boiled chicken rice.
There are many chew products marketed as safe for dogs, but this is not the case for all of them. Bully sticks, however, should be safe for most dogs with supervision.
Bully sticks are easy for dogs to digest and are one of the best snack sticks you can give your dog. However, there are some dogs who have sensitive stomachs and may not be able to handle them. Stomach problems can occur if the dog eats too many sticks. Diarrhea is a common stomach problem dogs will experience as well as cramping, gas, and abdominal pain.
If diarrhea continues after a couple of days you may want to consult a veterinarian. Your dog could be suffering from an illness that requires medical treatment or at the very least some medications to help them recover faster. Your veterinarian can also tell you if your dog should continue to eat the stick or if it's best to find a suitable treat.
Before scrolling down this guide, "Can Bully Sticks Cause Diarrhea," check out: When Is Dog Diarrhea an Emergency? (2023) and Dog Has Diarrhea After Surgery – Vet Advice! (2023).
Is It Okay to Give My Dog a Bully Stick Every Day?
It's okay to give your dog a bully stick every day but it's probably best if you limit them to a few times a week. Some dogs will become more interested in the bully sticks than their own food and they may stop eating their usual diet. Although bully sticks are not unhealthy for dogs, they aren't a good substitution for healthy dog food and shouldn't replace your dog's food or interfere with their eating habits.
Are Bully Sticks Hard on a Dog's Stomach?
Bully sticks are easy for dogs to digest, and the body treats them just like normal food. Still, if your dog eats too much it could cause stomach pains. Since they are made from the byproducts of meat factories, they can contain high amounts of fat.
They are also high in protein and while dogs do need protein, they can get too much. This can lead to stomach pains, diarrhea, and cramping. In some cases, if a dog eats too many bully sticks and cannot digest them properly, it can lead to intestinal problems and even blockages. It's important to only feed dogs bully sticks as treats or occasional snacks so their stomachs have time to digest them.
Why You Shouldn't Give Your Dog Bully Sticks
There's no reason you shouldn't give your dog bully stick as long as they are not allergic to any of the ingredients. Bully sticks are a great option for dogs because they are safer than rawhide and bones and aren't likely to splinter or break off as your dog is chewing it.
Bully sticks are easy to swallow once chewed and the body digests them well. If your dog seems to be having stomach problems or any other health issues, you should stop feeding the treats.
If you notice your dog prefers treats and refuses to eat its own food, you may want to stop feeding bully sticks. You can also consult your veterinarian to make sure your dog is able to eat these treats.
Are Bully Sticks Bad for Dogs?
Using a bully stick for dogs has many health benefits. There will, however, be detractors, as with anything popular. Some concerns are valid, but for most dogs, the benefits outweigh the disadvantages.
All-natural beef bully sticks are available. Since most dogs eat meat, a meat-based stick of almost pure protein would be ideal.
Depending on the circumstances, some dogs may suffer. Dogs with pre-existing conditions appear to be more affected than those that are otherwise healthy.
In the event that the dog chews it down to a very small size, it can pose a choking hazard. If it gets small enough, you can easily remove it.
A dog's stomach is strong and can handle bacteria, but there is a risk of bacterial infection. However, most dogs should not be affected by it.
Overweight dogs may not benefit from these treats as they are high in calories. They also can have a bad smell, especially the larger ones, so some people only allow their dogs to chew on them outside.
Dogs with a beef allergy may experience stomach problems from bully sticks and should not chew them. Because bully sticks are high in protein, your dog may develop diarrhea if it eats too many.
Do Vets Recommend Bully Sticks?
Many veterinarians recommend bully sticks as a casual treat or snack for dogs. If your dog has a sensitive stomach or food allergies, you may want to ask your vet if these treats are safe for your dog.
Although these are recommended by veterinarians, most will also warn against feeding them to your dog too often. It can cause weight gain, diarrhea, and other health problems. Dogs should be fed a well-balanced diet and only given any type of treat or chewing stick occasionally.
Veterinarians tend to recommend bully sticks over hard bones or rawhide sticks. These harder bones are more likely to splinter or break into small pieces that can get stuck in a dog's throat, or even in the intestinal tract. Since bully sticks are made of natural and digestible materials, there is less of a risk of this happening if dogs chew and swallow them.
Do Bully Sticks Digest if Swallowed?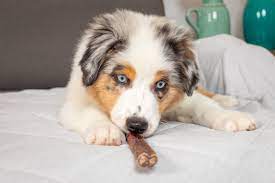 If swallowed, bully sticks are easily digestible. Dog owners should supervise their dogs because dogs can react differently. Large dogs should have no problem eating the sticks, but small dogs may need smaller sticks or small pieces.
They can still cause a choking hazard, regardless of the size, so never leave your dog with these sticks unattended.
Can Dogs Eat Too Many Bully Sticks?
A dog can suffer from health problems when he eats too many bully sticks, just like he would if he ate too much of any other food. The symptoms of overeating in dogs include upset stomachs, diarrhea, and vomiting.
If your dog chews off a large chunk that is too large, it is possible that he or she will choke or suffer from gastrointestinal obstruction. It is impossible to guarantee your pet's health with natural treats or chews.
You should always monitor your pet when it is chewing the bully sticks and when it is finished. It can sometimes take a while for your dog to have any type of reaction to the sticks so continue to keep a close eye on your dog until you know the sticks are safe for them.
How Long Should I Let My Dog Chew on a Bully Stick?
The stick will probably last your dog several days or an hour or so depending on his size. Bully sticks should not be given more than once a day to your dog, according to veterinarians.
The amount of time the dog actually chews on the stick can also vary. The fear that your puppy will damage their teeth or choke is often the reason you limit how long they chew on bully sticks. There is no evidence showing that bully sticks can harm dogs but it's still best to limit the number they eat.
Bully sticks are a perfect treat for young dogs in most cases. An ideal chewing time is between five and ten minutes.
A puppy's stomach can be negatively affected by a bully stick if they chew on it for too long. Bully sticks can sometimes damage puppies' teeth and gums due to excessive chewing.
How Much Bully Stick Should a Dog Eat?
Dogs can chew a bully stick as long as they want — or until it's gone — but it's up to you to figure out how much is too much.
Your dog should not consume more than one stick a day, and puppies or smaller dogs should be limited to smaller sticks or even have their stick cut in half to prevent them from eating too many.
Frequently Asked Questions
Can I give my dog a bully stick every day?
Don't feed more than one bully stick per day, and if your dog has a negative reaction to eating these treats, limit them even further.
What are the negatives of bully sticks?
While rare, there is a chance your dog could swallow a large piece of a bully stick.
How soon do dogs show signs of intestinal blockage?
Within 24 hours of a blockage, you should start to notice signs like vomiting, lethargy, a loss of appetite, and trouble pooping. Contact your vet immediately if you notice these symptoms.
Conclusion for "Can Bully Sticks Cause Diarrhea"
Bully sticks are meant to be easy for dogs to digest, which usually takes about 12 hours. Jumbo bullying sticks take longer to digest, and it is more likely that the sticks would cause diarrhea.
This type of food can irritate your dog's stomach and cause diarrhea if they are not used to it. Stomach problems can also be caused by bacterial issues. Most dogs will become accustomed to the rich flavor of the bully stick as they eat more of their regular food.
When your dog gets used to them, it won't suffer from diarrhea anymore. Let it eat them but continue to monitor it carefully to see if the diarrhea subsides after a few days.
It's important to keep in mind, however, that your dog could show signs of diarrhea if he is allergic to beef. This has been the only cause of long-term problems associated with the sticks. If your dog doesn't have this allergy, it should be able to tolerate the sticks just fine.
Vets can test for a beef allergy if they think this could be a problem. After a few days, if your pet doesn't seem to be getting better or hasn't adjusted to the sticks, stop giving them to it. You should then discuss your options with your veterinarian.
If you enjoyed reading this guide, "Can Bully Sticks Cause Diarrhea," check out:
Before you decide to feed your dog a bully stick, learn more by watching "Bully Sticks – Are Bully Sticks Safe For Dogs" down below:
Garrett loves animals and is a huge advocate for all Doodle dog breeds. He owns his own Goldendoodle named Kona. In addition, he volunteers at the Humane Society of Silicon Valley, where he fosters dogs and helps animals. Garrett enjoys writing about Doodles and believes that dogs can teach humans more about how to live than humans can teach a dog.
Why Trust We Love Doodles?
At We Love Doodles, we're a team of writers, veterinarians, and puppy trainers that love dogs. Our team of qualified experts researches and provides reliable information on a wide range of dog topics. Our reviews are based on customer feedback, hands-on testing, and in-depth analysis. We are fully transparent and honest to our community of dog owners and future owners.